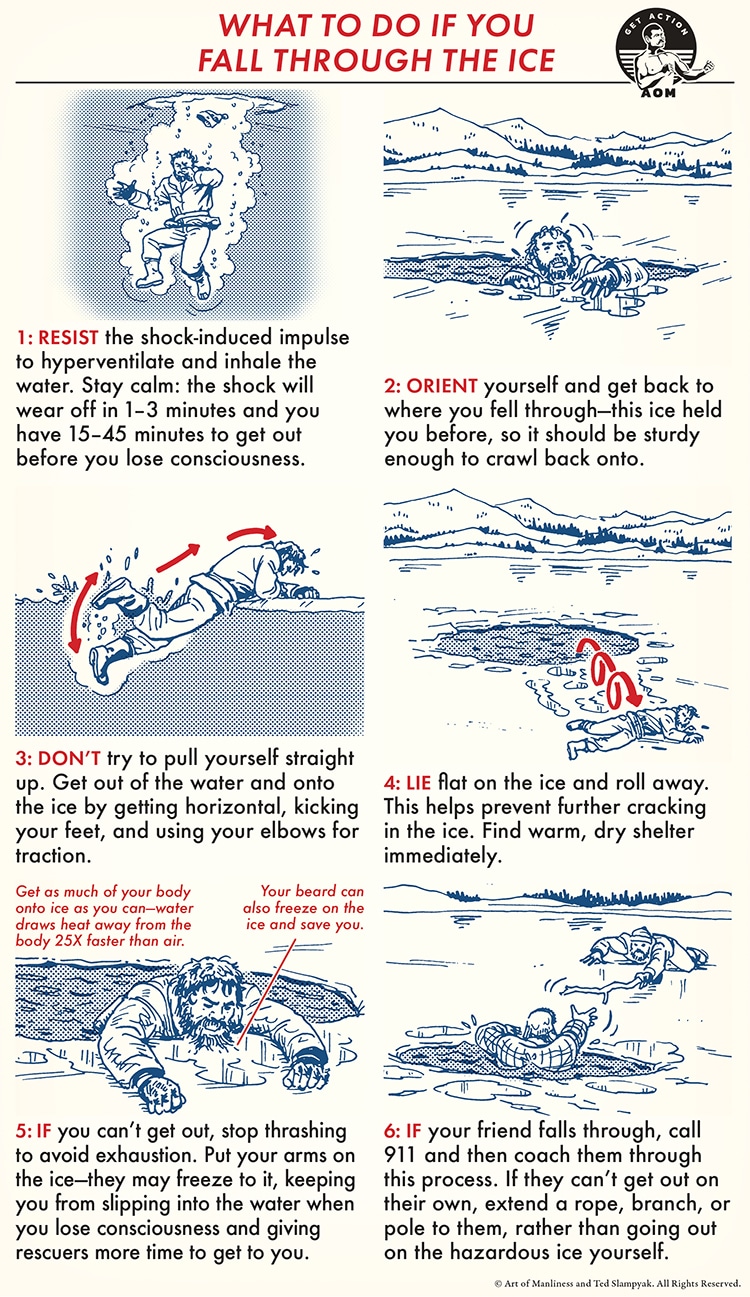 An important part of manhood has always been about having the competence to be effective in the world — having the breadth of skills, the savoir-faire, to handle any situation you find yourself in. With that in mind, each Sunday we'll be republishing one of the illustrated guides from our archives, so you can hone your manly know-how week by week.
If you live in a place where snowy and icy winters are the norm, you know the dangers of falling through the ice. And this guide is especially pertinent for those areas of the country where freezing weather only visits sporadically. When frigid temps descend for a short time upon a location that's not used to seeing them, people, especially children, are apt to go out exploring their neighborhood ponds and reservoirs. As you can imagine, this creates a danger because the cold weather hasn't been around long enough to create ice strong enough to walk on. That very scenario happened here in Tulsa a few winters back; two young men, in separate accidents, both drowned when venturing out onto a thinly-frozen creek and pond. So be sure to share this guide with your kids after you study the info yourself.
While no ice is guaranteed to be safe to walk on, the general rule of thumb is that you should only venture out onto clear/blue ice that is at least 4 inches thick. White/snowy ice should be double that thickness. For more details, review our guide to figuring out if ice is safe to walk on.
By the way, we're not making up that bit about your beard; it's just one of the ways facial hair can make your winter better. Watch this video for this and other fascinating and life-saving insights from a hypothermia expert and thermophysiologist.
Big thanks to Lieutenant Harold Osborn of Denver's North Metro Fire Rescue District for consulting on this piece.