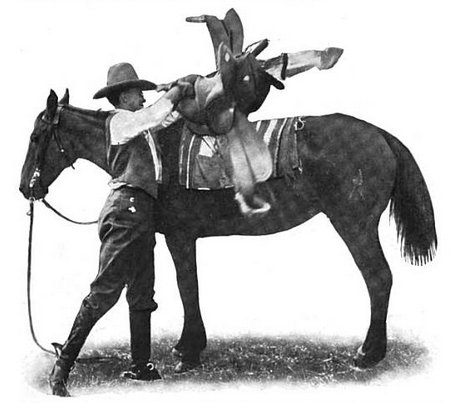 One of my fondest memories growing up was going to my grandpa's ranch in Bosque Farms, New Mexico and riding horses. The "grandkids' horse" was named Sugar. I loved that horse. Because I was just knee high to a grasshopper, Grandpa usually did all the saddling himself. And because Grandpa sold the old ranch while I was still young, I never got to saddle her myself.
Seventeen years later I decided it was time I learn this skill I had missed out on as a lad. Sure, if you're a city slicker or suburbanite, it's not exactly a basic life skill, but it's just one of those things that's cool to know (like how to throw a knife), and can help you avoid being called "punkin lily," "young squirt," "googoo," "Jane Dandy," or "dude" the next time you go on a cattle drive with Billy Crystal (those were just some of the names veteran Dakota cowboys called Theodore Roosevelt before he learned the ropes of ranching).
To learn how to saddle up, I visited our favorite cigar-chomping, tomahawk-throwing cowboy, Tom Warren, at Meadow Lake Ranch in Sand Springs, Oklahoma. Here's what Tom showed me.
Let's saddle up!
How to Bridle a Horse
Before we actually put the saddle on the horse, we need to put on the bridle. The bridle is the piece of horsetack that allows you to lead and direct the horse. It consists of some leather straps that go around the horse's muzzle and head and a bit that goes into the horse's mouth. The reins attach to the bit and you use them to "steer" the horse.
Here's how you bridle a horse:
Proper Bit Position
After you've bridled the horse, you want to make sure the bit is placed in the interdental space correctly. Traditionally, correct bit placement is determined by using the "wrinkle method," which involves looking at the horse's mouth and counting the number of wrinkles it has in the corner of its mouth where the mouth meets the bit. The more wrinkles in the horse's mouth the more constant pressure the horse experiences from the bit and the more it will feel it when you pull back on the reins. Suffice it to say, you don't want too many wrinkles in the horse's mouth or the bit will become painfully unbearable for it.
What number constitutes an appropriate amount of wrinkles will vary from horseman to horseman. Some say just one, while others say two is the right number. And of course, you'll find other horsemen who say the wrinkle method is a bunch of malarkey and a horse shouldn't have any wrinkles in its mouth.
The handler at Tom's ranch was a two-wrinkle man, but was humble enough to admit that his preference wasn't horse doctrine.
How to Saddle a Horse
Now that you have your horse bridled, it's time to saddle him up. Here's how.
Here's a video of the Texas T knot getting tied by the folks at 5 Minute Horse Lessons . It's super easy to follow:
________________________________________________________________
Special thanks to Tom for taking the time to show me how to throw a tomahawk. If you're ever in Oklahoma, I definitely recommend planning a weekend at Meadowlake Ranch. It's pretty much a playground for men–tomahawk throwing, long bow shooting, horse riding, fishing, hunting. You name it, you can probably do it at Tom's ranch.