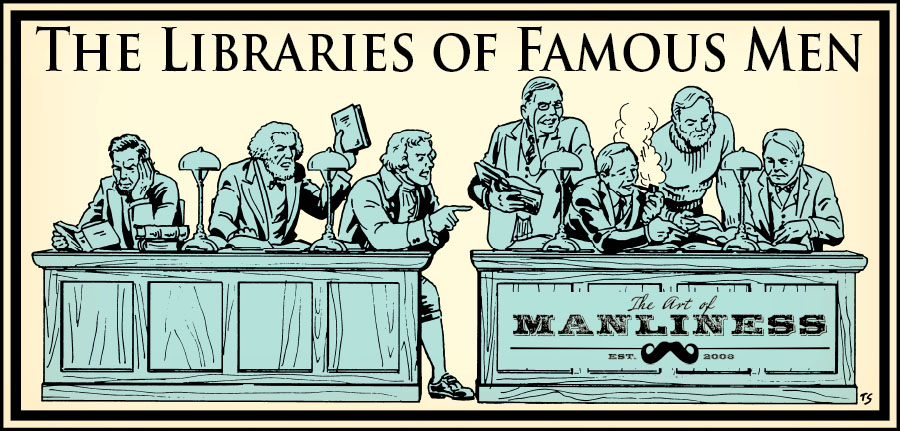 Welcome back to our series on the libraries of famous men.
Part of explorer Ernest Shackleton's genius for leadership, was how keenly he understood the way in which idleness can destroy men's morale. Thus when his ship, the Endurance, became stuck in pack ice en route to a planned Antarctic expedition, he didn't let his men simply sit on their hands. Instead, he charged them with daily maintenance tasks, organized games of football, hockey, and soccer on the ice outside the ship, and encouraged the keeping of daily diaries. As a help in biding the time, Shackleton also lent members of the crew books from his personal library, the exact contents of which were unknown, until recently.
Two years ago, when pictures taken by the expedition's photographer, Frank Hurley, were digitized and restored by the Royal Geographical Society, it became possible for the first time to clearly make out the titles of the books Shackleton kept in his shipboard cabin. We now know his field library contained quite a mix of genres, including a set of encyclopedias, popular and classic novels, collections of poetry and quotations, manuals of grammar, several dictionaries, and accounts of other polar expeditions.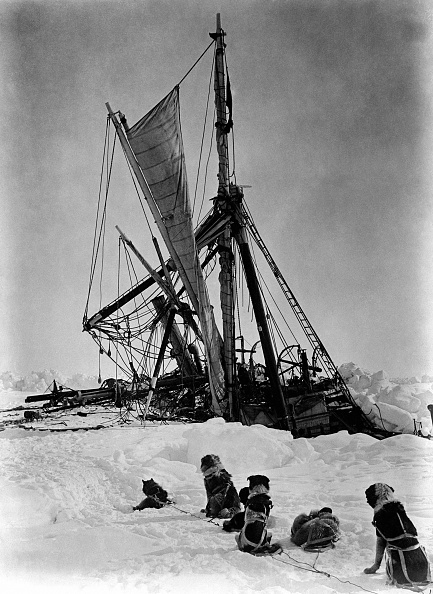 Unfortunately, most of these volumes never returned from the waters around Antarctica. When after an almost 10-month state of suspension the ice surrounding the Endurance began to shift and twist, splintering its hull, the crew was forced to abandon ship. Shackleton's original plan was to march with lifeboats and supplies across the ice, in order to launch out to open water. Given that the trek would be arduous, he ordered his men to travel light: each member of the team was allowed just the clothes on his back, plus two pairs of mittens, six pairs of socks, two pairs of boots, and a sleeping bag. Beyond these basic provisions, each man could only bring a maximum of two pounds of personal possessions.
While most of Shackleton's library could not be brought along, he did encourage his men to take one of his books if it fell under their weight allowance.
Shackleton himself tore out the flyleaf of his Bible, upon which Queen Alexandra had inscribed a prayer for his safety, as well as the pages for Psalm 23 and Job 38:29-30 ("Out of whose womb came the ice? and the hoary frost of heaven, who hath gendered it? The waters are hid as with a stone, and the face of the deep is frozen."), before laying the rest of the book down on the ice.
Fortunately, he took one more piece of inspiring literature with him before beginning a harrowing journey to safety that would last for another 10 months and nearly 1,000 miles, and take him through freezing 80-foot waves, beneath soaking squalls of rain and snow, and over steep glaciers, jagged mountain peaks, and impassable cliffs — a piece you can see hanging on the left wall of his cabin and which couldn't be more apropos: the poem "If," by Rudyard Kipling.
Ernest Shackleton's Expedition Library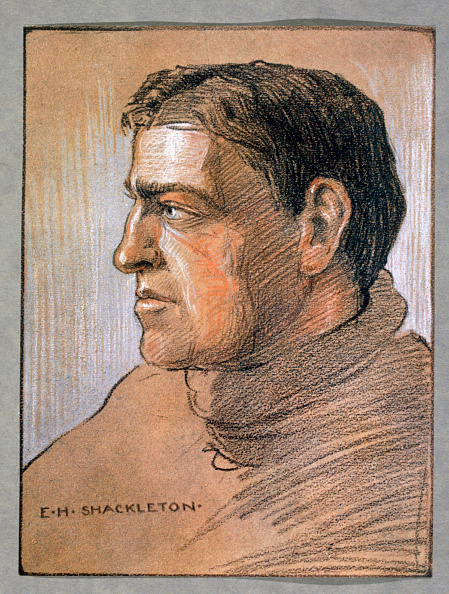 The contents of Ernest Shackleton's library aboard the Endurance, assessed through an examination of the photograph above of his cabin, was first reported by the BBC:
Encyclopedia Britannica
Seven Short Plays by Lady Gregory
Perch of the Devil by Gertrude Atherton
Pip by Ian Hay
Plays: Pleasant and Unpleasant, Vol 2: Pleasant by G B Shaw
Almayer's Folly by Joseph Conrad
Dr Brewer's Reader's Handbook
The Brassbounder by David Bone
The Case of Miss Elliott by Baroness Orczy
Raffles by E. W. Hornung
The Grand Babylon Hotel by Arnold Bennett
Pros and Cons: A Newspaper Reader's and Debater's Guide to the Leading Controversies of the Day by JB Askew
The Brothers Karamazov by Fyodor Dostoyevsky
The Woman's View by Herbert Flowerdew
Thou Fool! by JJ Bell
The Message by Louis Tracy
The Barrier by Rex Beach
Manual of English Grammar and Composition by John Nesfield
A book of light verse
Oddsfish! by Robert Hugh Benson
The Complete Poetical Works of Percy Bysshe Shelley
Monsieur de Rochefort by H. De Vere Stacpoole
The Voyage of the Vega by A.E. Nordenskiold
The Threshold of the Unknown Region by Clements Markham
Cassell's Book of Quotations by William Gurney Benham
Cassell's New German-English English-German Dictionary
The Concise Oxford Dictionary
Chambers Biographical Dictionary
Chambers 20th Century Dictionary
The North West Passage by Roald Amundsen
The Voyage of the "Fox" in Arctic seas by Francis Leopold M'Clintock
Whitaker's Almanac
World's End by Amelie Rives
Potash and Perlmutter by Montague Glass
Round the Horn Before the Mast by Basil Lubbock
The Witness for the Defence by A. E. W. Mason
Five Years of My Life by Alfred Dreyfuss
The Morals of Marcus Ordeyne by William Locke
The Rescue of Greely by Winfield Scott Schley
The United States Grinnell Expedition in Search of Sir John Franklin by Elisha Kent Kane
Three Years of Arctic Service by Adolphus Greely
Narrative of a Voyage to the Polar Sea by George S. Nares
Journal of HMS Enterprise by Richard Collinson
_______________________________________________
Related Resources:
Tags:
Books