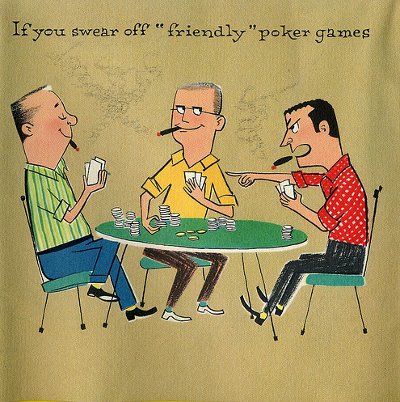 Editor's note: This is a guest post from Tim Chilcote.
After years in poker, both as a writer and mildly successful player, I finally ponied up the $1,500 buy-in for event #16 at the 2010 World Series of Poker, a six-handed no-limit Hold 'em tournament. It was my first real shot at poker glory – I lasted all of an hour and a half when I turned a set of eights and my opponent rivered a straight. After busting, I walked around the Rio for an hour feeling like I'd taken a baseball bat to the chest. It wasn't the money – though that was a bummer too – it was was the end of the dream that I would someday hit the big time as a poker pro. Despite the loss, I still enjoy the game. In fact, I prefer to do just that; enjoy the game. I put together a reminder sheet for myself –
13 back-to-basics beginner's tips to help put the fun back in poker:
1. Don't expect to lose, but plan to. Poker is an imperfect game, and no matter how well you play there's no guarantee you'll come out ahead. Sure, over time skill will prevail, but to put the odds in your favor would require such a large sample size of hands that you'd have to be an insomniac. If you go to a poker game with $200, plan to lose it all, consider it the cost of an evening on the town. If you win, great; if you lose, no big deal.
2. Smile at the table, tell a joke, chat with other players, enjoy yourself. Don't waste your days off of work turning poker into another job. There's no reason to stare down other players or to gripe about someone else's bad play. Of course, if you're playing with close friends, heckle at will, but don't belittle lesser players just because you can.
3. Listen to bad beat stories, but never tell one; nobody is listening anyway. Poker players are selfish in nature, they have to be. No matter how brutal your story is, other players are just waiting to one up you. Change the subject or be an observer.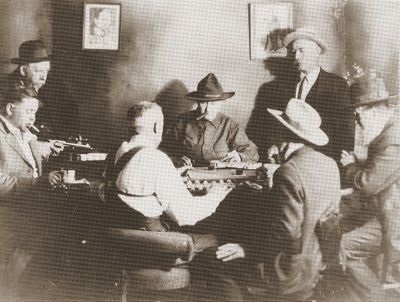 Bonus tip: Don't draw your gun during a game. Unless of course a man cheats. Then you can shoot him.
4. Know the rules and know when it's your turn to act. There's nothing worse than a player who slows down the game by not knowing when the action is on them. If you don't want the other players to hate you, pay attention. It will keep the game moving and other players will appreciate the courtesy. That said, be flexible. Sometimes amateur players make amateur mistakes, especially in home games. For help getting started there are a lot of how-to poker books on the market; one that I would recommend is Phil Hellmuth's Play Poker Like the Pros.
5. Win graciously, buy a round after the game. A broke loser always appreciates a free beer.
6. Lose graciously, buy a round anyway. If you can't afford to buy a round after the game, you had too much money on the table to begin with.
7. Learn games other than Hold 'em. You don't need to be a HORSE expert, but learn how to play Omaha and Stud, and learn one fun variation for dealer's choice for home games. I personally like Pineapple, a sort of hybrid of Omaha and Hold 'em where players are dealt three hole cards, only two of which play with the cards on the board, so your hand will change over the course of the action.
8. Chat up the dealer and be sure to tip. 99% of the time the dealer is the most interesting person at the table. Dealers catch a lot of grief – rarely get credit – and they'll appreciate a friendly conversation. Heck, you might learn something. If they don't appreciate the conversation, they'll appreciate the money and pretend to enjoy the conversation; it's their job.
9. Invite the ladies. Boys nights are for, well, boys. Women are just as good at poker, and a night of cards, cigars, and bourbon will make for a unique date. Added bonus: If you go bust, at least you'll have attractive woman to talk to on the rail.
10. Don't wear sunglasses or attempt other wardrobe gimmicks. Trust me, the table sees right through you.
11. Take it like a man. If you lose, or if you catch a bad beat, recognize that poker is full of life lessons. Shrug it off, learn something. A bad night at the poker table is nothing more than a handful of lemons…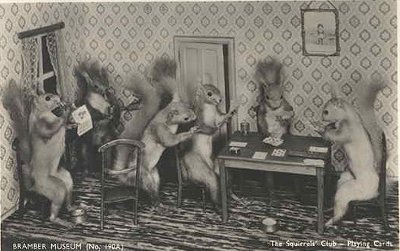 Bonus tip: Never invite squirrels to your game. They'll eat all your peanuts. But dogs live up to their billing.
12. Get comfortable handling chips. Like the old basketball coach's method of making players dribble a ball wherever they go, bring chips to work, to dinner, anywhere. It's one less thing you'll have to think about at the table. Try learning at least one trick too. There are plenty of good how-to videos on YouTube for chip shuffling, flipping, and twirling.
13. Drop the hammer, always drop the hammer. There's no better feeling in poker than taking down a pot with 7-2, the worst starting hand in no-limit Hold 'em. If you lose, which is likely, at least you've announced to the world that you came to party.
See you on the tables.
_____________________________________________________________________
Tim Chilcote is a writer based in Michigan. Follow him on Twitter @TimChilcote.