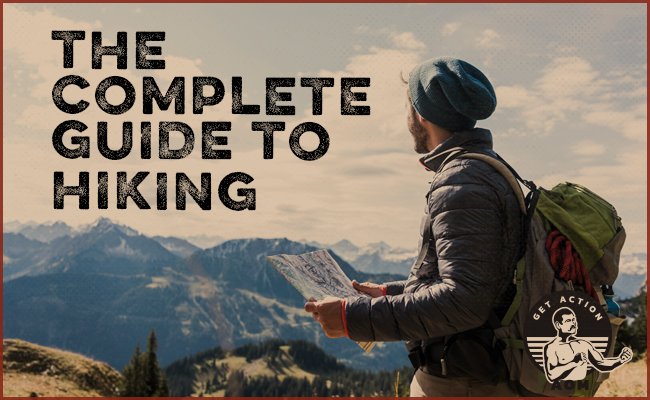 Hiking is undoubtedly one of the best recreational activities and hobbies around.
To begin with, it's a great way to get physical exercise. The amount of effort you expend can be ramped up or down depending on the length of time you're hiking and the trails you decide to tackle, and even when the level of exertion is high, it's a challenge that feels deeply satisfying.
Further, compared to other hobbies (and other forms of exercise), hiking is cheap. The gear you absolutely need is minimal, and while the items you choose to wear/bring can get expensive, they don't have to, and all the equipment tends to last a very long time. Beyond the gear, you'll sometimes have to pay to use the trails at a park, but it's never all that much, and annual passes that save a lot of money over the course of a year are almost always available.
The primary benefit of hiking, of course, is getting to experience the great outdoors and the natural beauty of our planet. Following a trail with your own two feet gets you to amazing destinations that aren't available to the motorist or casual walker. In times of stress or uncertainty, the calming effect of nature works on all your senses and seems to cleanse the soul. A good hike is literally and metaphorically a breath of fresh air.
If you've wanted to take advantage of these benefits and try hiking, but haven't yet taken the first steps towards this activity, below we've created a complete guide to getting started.
Now, you may be wondering, "Do I really need a guide to begin hiking? Don't I just put on some boots, strap on a backpack, and get goin'?" For the most part, yes! But, being prepared and having some general knowledge of troubleshooting for emergencies can make a big difference not only in your enjoyment of a particular hike, but in your very survival should you encounter the worst case scenario.
The vast majority of the info in this guide regards preparation — gear/clothes, safety tools, planning your hike, etc. After offering this thorough primer on prep, I'll share a few tips for getting the most out of the hike itself, as well as some emergency basics if something goes wrong.
Gear
There are plenty of cases where a new hobby leads to the purchase of a flood of new clothes and gear. This doesn't have to be the case with hiking: if you're taking short romps on easy, well-marked trails, you can pull up to a trailhead wearing jeans, a t-shirt, and sneakers, and just start walking.
However, as your hikes get longer, more regular, and increasingly challenging and technical, it pays to upgrade your gear. Specialized clothing and equipment actually makes a big difference in both your enjoyment of hiking, and in its safety. It's also a sound investment, as quality hiking gear lasts a long time. Personally, I've been using the same pack and pants for every hike for the last 5+ years, and I'm on my third pair of hiking boots in the 8 years we've lived in Colorado (and that's only because they get a lot of mileage).
Below I'll explain why upgrading your hiking equipment goes a long way in bolstering this hobby, and what exactly you need to successfully become a regular in the wilds.
Clothes
Let's start with clothing, which will include everything from your head to your feet.
No matter where you're hiking, weather conditions can and do change rapidly. And it's not just about freak storms coming in; the difference between morning and afternoon, or even hiking in sunlight vs. shade, can mean a temperature change of 20+ degrees.
Severe unpreparedness can have severe consequences, and while it's fine to tough it out sometimes in cases of mild mismatches between conditions and clothing, if you want to enjoy hiking, you should do your best to maintain your comfort. The key to doing that is layering, which allows you to adjust on the fly to fluctuations in your environment. So as I go over what to wear hiking, working my way from the top of the body to the bottom, I'll talk about what to wear over/under what, in addition to discussing the pieces that stand alone.
Hat. Hats, in my book, aren't even optional when it comes to hiking. They're a must-have. They keep sweat out of your eyes and face, protect you from the sun, and simply look cool. In the cold, of course, a stocking cap is your best bet (which won't protect from the sun, but will keep you warm). Otherwise, any old cap does the trick. Hats made from performance materials are lighter weight and better wick sweat, keeping your head cooler and more comfortable. Cotton/wool ball caps will feel heavier/hotter but work fine too. Mesh hats (trucker style or otherwise) aren't preferable, as they just don't absorb sweat as well. If you're going to be out in the bright sun for awhile, consider wearing a full brim hat to keep the rays off both your face and neck.
Sunglasses. There's really no reason to leave home without a pair of sunglasses. Something made of durable plastic and not too expensive is ideal.
Base layers. The base layer, or piece of clothing closest to your skin, is arguably the most important clothing item in your hiking wardrobe. When you research base layers, it can get confusing because a lot of what you see are long-sleeve items and the importance of always rocking three layers. But, much of that is in relation to serious mountaineering and other adventure sports. Most folks are hiking in warm, nice weather. So for your purposes, the base layer can almost always be short-sleeve, and in many cases will end up as your only layer by the end of the hike. My long-sleeve base layer only comes out in the winter.
Material is the key when it comes to this base layer. Cotton absorbs your sweat, and once it gets wet, it stays wet. Donning something more moisture-wicking is essential; Merino wool and a number of performance blends are what you want to choose here.
If you're going to splurge on clothing and gear, this is one place to do it. The increase in comfort is worth it.
Outer layers. You have more latitude with your outer layers if you've done well with base layers. Morning hikes often start chilly and cold fronts can come in during the day. Even if it's hot and the forecast calls for perfect weather, I always have a warm long-sleeve option available in my pack. You just never know; I've used that "emergency" layer enough times to never leave home without it.
While performance materials are fine here, they aren't strictly necessary. Your favorite hoodie will do, and that's almost always what you'll find me in on the trail. With a Merino base layer, it just doesn't matter too much what's on top of that.
Jackets. Depending on your hiking habits, you may rarely need to don a jacket on the trail. But you should always have a waterproof rain jacket with you anyway — they're typically lightweight and can squash down into a little ball in your pack. When it's cold, I do add a fleece jacket to the base layer and outer layer.
Pants. One important note here at the very start: no matter the weather or the hike, you'll find me in pants rather than shorts. While they may be slightly less comfortable in terms of body temperature (though modern hiking pants keep you plenty cool), they're more comfortable in terms of protecting your legs from being scratched and scraped by brambles, branches, rocks, etc. They also prevent bugs (like dangerous ticks) from hitching a ride on your skin.
I wasn't a believer in the category of hiking pants until I bought some nice ones, and boy do they make a difference. It may be tempting to wear jogging pants or sweatpants or even a pair of comfortable jeans. Don't do it. Hiking pants are engineered for strenuous walking, full-contact scrambling, and keeping you comfortable throughout changes in weather and environment.
While not all companies share their exact fabric specifications, most are a performance material that's moisture-wicking, breathable, abrasion resistant (surprisingly handy), and even a little stretchy to ensure your legs have full range of motion. I've been rocking two pairs of Prana's Zion pants for years and they show zero signs of letting up anytime soon. I've also heard great things about Kuhl, North Face, Colombia, and REI brand. They will wear and fit differently on every guy, so be sure to try some on in the store (or find something online that's easily returnable). Once you find a pair you like, buy a couple and don't look back.
Socks. Socks, you'll come to find, are oh so important for a successful hike. At all costs, avoid cotton. Wool or some performance blend is definitely the way to go. Wool socks might sound too warm on your feet, but nowadays they're blended and woven to be pretty breathable. And even if they're a bit toastier, it's better to have warm feet than painful feet; cotton material keeps moisture on the skin rather than wicking it away, leading to painful rubbing, hot spots, and blisters.
Brands like SmartWool, Darn Tough, Fits, and others have sprung up to cater to the activewear market. While you might balk at the price tag (usually $20 per pair), they're well worth it. In the case of Darn Tough, they even come with a lifetime guarantee; if you wear a hole in a sock, you can send 'em back for a free replacement pair. I've taken them up on this multiple times.
Do not skimp on the socks.
Shoes. I've seen folks hiking in flip-flops. I've seen men hiking in boat shoes. I've seen women hiking in Uggs. Don't be any of those people. True hiking shoes/boots will maximize your comfort and minimize the chance of accidents and injuries.
There's a huge breadth of options when it comes to hiking-specific shoes; what sets them apart from other types of footwear is a combination of materials, durability, and construction:
Materials. Hiking shoe uppers are made from a variety of materials -- nylon, mesh, leather, etc. Insoles tend to be cushier and outsoles are made from a very sturdy rubber and thick tread. Many hiking shoes are either water-resistant or waterproof.
Durability. The uppers in hiking boots tend to be reinforced in multiple areas, and the rubber soles, while being sturdy, are also generally rather bendy. A hiking boot has to be able to flex and bend in a number of directions in order to contour with the environment. Hiking boots are more expensive than ordinary athletic shoes because they're made to take a beating.
Construction. While not always the case, hikers tend to have more ankle support and are often either mid- to high-tops, with eyelets going all the way up to really be able to cinch down the boot and keep the ankle from moving.
The hard part about shopping for hikers is that there are so many varieties -- from trail runners, to heavyweight legacy brands like Danner, to lightweight new school brands like Hoka. To search online or walk into an outdoors shop is an intimidating affair. Your best bet is to personally visit a brick and mortar outdoors retailer (this is a good area in which to patronize a locally-owned shop, though stores like REI work too) and ask for help. They're happy to give it and the people working those shoe departments really are experts; they'll help you find exactly what will fit best with your feet and your hiking plans.
If you'd like some personal recommendations, I wear Garmont GTX boots (a heavier pair, which I prefer) and have also had good experience with Vasque (Red Wing's hiking/adventure brand). Brett and Kate are both fans of these Teva Arrowoods for day hikes and short backpacking trips; they feel like a lightweight basketball shoe.
All that said, for shorter, less technical hikes you can certainly hit the trail in a pair of athletic sneakers if it's all you have. You might feel some rocks under your feet more so than in a hiking boot, but in most instances, you'll be just fine for a few outings here and there.
If the hiking bug bites and you plan to make this activity a somewhat regular part of your life, it's well worth investing $100-$200 in a pair of specialized boots.
Packs
No matter the type of hike you're on, you should always have a backpack along to carry at least some water, and ideally some emergency essentials as well (more on these below).
While any backpack can serve as your hiking day pack (especially for shorter, less strenuous outings), those made with hiking in mind really do feel better and bring more efficiency to the task.
There are number of features that set hiking packs apart from your standard backpack:
Framing. Most of your average backpacks have padding that sits directly on your back. Sometimes it's a hard, thick, rigid padding and sometimes it's a little squishier. Hiking packs, on the other hand, often utilize a hard mesh frame that puts a couple inches of space between your back and the padding of the pack. This keeps your back from getting super sweaty and also works to prevent irritation from constant rubbing. Depending on the size and purpose of the pack, you may even get metal framing that keeps everything tightly in place.
Water compartment. Most modern hiking bags are designed with Camelbak-like water pouches in mind. These "bladders" hold multiple liters of water and make staying hydrated super easy. Hiking packs usually have a separate compartment (and sometimes a hook as well) to hold the bladder in place and keep it out of your way so that you don't have to rummage around it while trying to get other things from your bag. A straw runs from the bladder and over your shoulder and attaches to a strap in the front of the pack so that you can drink and hike without ever needing to stop. In a standard backpack, the bladder would be sloshing back and forth in the interior and the straw wouldn't be easily accessible.
Hardy water bottle pockets. Many backpacks have holsters on the side for water bottles, but in my experience, they aren't big enough or strong enough to hold larger water bottles. Hiking packs have strong mesh pockets that are deep enough for any bottle you can throw their way; or, if you're using a bladder for your water, the pockets work great for stashing other things like sunglasses, snacks, kids' toys, etc.
Hip/chest straps. Ordinary backpacks often only have the usual shoulder straps, placing the weight of your pack directly onto your shoulders, neck, and upper back. This is fine for commuting, short hikes (with lightweight packs), etc., but for longer hikes, it gets to be a real pain . . . literally. Hiking packs use thick hip straps that buckle at the front of your waist, as well as smaller straps that buckle across the chest, to more evenly distribute weight. It seems like a small thing, but it makes a huge difference with heavy packs carried over long distances.
Built-in emergency tools. While you should have these essentials anyway, many hiking packs have compasses, survival whistles, and paracord built right in. These can come in handy should things go south (and you need to find north).
Everything about hiking packs is made with a specific activity in mind. If you do a lot of hiking, buying one is well worth the small investment — while you can spend hundreds of dollars if you feel like it, my preferred Osprey Talon 22 can often be found on sale for less than $100.
One thing to keep in mind when looking at hiking packs is size. They tend to come in a number of sizes, most often measured in liters. When I first moved to Colorado, I naively bought a really big 45L pack. I used it for a few years, but it was just too bulky and there was too much empty space on the vast majority of hikes. The material that these types of bags use is meant to be stretched and abused. You can stuff a lot — everything you need for a day hike, really — into a 20L pack. It's only if you're doing overnights or exceptionally long and strenuous hikes that you should get something bigger than that.
The Ten Essentials
When out in the wilds for an activity of any duration, it's in your interest to be aware of what wilderness experts call "the ten essentials." It's not 10 items, per se, but 10 categories or systems of items to have at the ready should you get lost, have a medical emergency, unexpectedly end up on the trail overnight, or any other number of scenarios. They're also involved in hiking prep, which is why we'll cover them at this point in the guide.
2. Sun protection. Includes hats, sunglasses, and sunscreen. Especially at higher elevations, the sun does its damage rather quickly. While it may seem more like a nuisance than a real threat, serious and prolonged sun exposure can be painful and disorienting. The more skin you can have covered, the better, which is why I always snicker at the bros on the trail going shirtless. As mentioned above, hats are a no-brainer when hiking. They protect your eyes and face (and sometimes neck, depending on the size/direction/brim-style of your cap) and absorb sweat too. Even with a cap, sunglasses are also a necessity. Finally, don't neglect sunscreen, and don't forget to apply to every inch of exposed skin. In the mountains, even the tops of my hands have gotten sunburned. The sun can be brutal out there, so prepare accordingly.
3. Insulation. Includes stocking caps, gloves, rain shells, etc. The weather is unpredictable. We all know that. A sunny day on the trail can become a cold walk in the rain very quickly and unexpectedly. While some environments are more volatile than others, it's always advisable to have cold-weather gear handy. Even in the summer, I like to have an extra sweatshirt in my pack, as well as a stocking cap, rain shell, and lightweight emergency poncho (for others, or to double as an emergency blanket).
4. Illumination. Includes flashlights and headlamps. A small tactical flashlight can sit in your pack for years and still get the job done when needed (I know from experience). Buy one, stow it at the bottom of your pack, and forget about it. Headlamps aren't a bad idea either, depending on your plans. You never want to rely on your phone as a source of light on a dark trail.
5. First aid. Includes bandages, gauze pads, etc. You can buy a small ready-made version from Amazon or any outdoor retailer, or you can make your own. If you're not sure what you need in a first aid kit, we've got a comprehensive guide and list here; you'll of course want to tailor what you pack in a hiking-specific kit to the injuries/ailments you might reasonably encounter on the trail, and with an eye towards size and weight -- you don't want to carry something overly bulky and heavy in your backpack. As with the flashlight, stow it in your pack and forget about it.
6. Fire. Includes matches, lighters, and fire-starters. In any emergency scenario, fire is one of your most important tools. While fire can be made without technological assistance, it's not easy. Given how small and lightweight matches and lighters are, there's no reason for them not to have a place in your pack. You can buy a waterproof match set (usually with a case that you can strike the matches against), or make your own. If carrying a lighter, make sure it's not a Zippo or other lighter of that type that needs a lot of manual refilling; they look cool but you sure as heck don't want to run out of fuel.
7. Repair Kit and Tools. Includes duct tape, pocket knives, multi-tools, etc. This is sort of a catch-all category for EDC gear that might be useful for any number of problems that could arise while out in the wild. Duct tape has a number of survival uses, but also just comes in handy to make life easier in the face of minor inconveniences: busted strap on a backpack, blister on your heel, etc. Be sure to read up on how to make carrying duct tape a bit easier; you don't want to lug around an entire roll.
When it comes to knives and multi-tools, getting yourself something high-quality like a Leatherman is well worth it. With a dozen or more tools at your disposal, you'll be set for years of saving the day.
8. Nutrition. Includes food and snacks. An integral part of any hike, for both fuel and fun. It's always good to bring more food than you think you'll need; if you're out longer than expected, or God-forbid stuck overnight or longer, it will come in handy. There's no real set amount, but a good rule of thumb I use is to throw in enough so that I get to the point of saying, "We'll never eat all that." And we never do, but I'm always glad we have it available.
If you're lunching on the trail, sandwiches are a great option. Peanut butter and jelly is a classic, but meat and cheese will do, too (they'll be fine unrefrigerated in your bag for a few hours). For snacks, you can't beat granola bars, nuts, hard fruits (apples, especially), etc. You sure don't want anything too sugary, and the more calorie-dense and protein/fiber-rich you can get, the better.
9. Hydration. Includes water and water treatment/purification. Though ninth on the list, this is perhaps the most important of the Ten Essentials. Don't dare leave on a hike without any water, no matter the length or temperature outside. The standard guideline is to bring about ½ liter per hour of hiking. That can be hard to do on an especially long hike, but stick to that as close as you can.
The other key, of course, is to actually drink that water. I can't tell you the number of times I've gotten back to the car from a long hike and been surprised at how little water I've consumed. I didn't necessarily notice in the moment, but then the rest of the day I have inevitably felt like crap. Drink water regularly — if you feel thirsty before you start drinking, you're already behind.
The other piece of this is treatment/purification. While boiling water is always an option in an emergency, it's never a bad idea to carry along a LifeStraw or iodine/chlorine. Knowing how to find water and filter/purify it multiple ways is crucially important as well.
10. Shelter. Includes, tent, tarp, emergency blanket, etc. This is admittedly a tricky one. While shelter is important in an overnight emergency scenario, it's also a pain logistically to carry along every time. I'm sure as heck not packing a tent on every hike — even a lightweight one takes up plenty of space. The easiest route, by far, is to simply have one of those ultra-lightweight emergency blankets at all times, and know how to use it for building an emergency shelter.
Planning Your Hike
Though it can seem a bit too Type-A to some people, taking some time to plan out your hike before ever leaving the house is incredibly important to not only staying safe, but getting the most fun out of your adventure too. The times I've not planned things out well, I've ended up plagued by indecision at a fork in the trail and generally just felt a little more anxious and frustrated.
Here are a few planning tips to make sure everything goes smoothly on hike day.
Choosing a Hike
Much in the way of planning goes simply into choosing the hike! In hiking-heavy locales, the options can keep you busy for a lifetime.
So how do you choose? Knowing what you like sure helps — waterfalls and lakes are always popular destinations, as are opportunities for wide vistas. The easiest way to select a hike is to spend some quality time with your favorite search engine: "best hiking trails around Denver," "prettiest waterfall hikes in Washington" . . . you know the drill.
Sites that specialize in hiking, like AllTrails, TrailLink, and BringFido (for dog owners), are rather handy too; they'll pinpoint trails that are close by, tell you the strenuosity level of the terrain/elevation gain, and offer user reviews that can give you "insider" information you won't find on other websites. Local guidebooks are also great, as they'll go a little deeper than the tourist-y results that the internet tends to provide.
Once you have a few ideas in mind, take into account some of the trail stats: distance and elevation gain, in particular. When it comes to distance, don't base your ability on what you think you can walk. Hiking is slower and more strenuous; give yourself at least 20-30 minutes per mile, and even more when there's a lot of elevation gain. Speaking of that . . . a 4-mile hike with 100 feet of gain is far different from a 4-mile hike with 700 feet of gain, which is far different from a 4-mile hike with 3,000 feet of gain. It's hard to fully know what a hike is going to be like before embarking, of course, but having an idea of distance and how much gain you're looking at will set expectations. While I'd love to be able to give you a formula for how long or how strenuous things are, the reality is that there are too many variables to really do that — fitness level, starting elevation, type of terrain, etc.
When you look at trails online, they're taking those stats into account when they give "easy," "moderate," or "difficult" ratings (or some variation thereof). Know that these ratings are subjective and that there is no universal system for how trails are graded. What's "moderate" in one locale may be very different than what's "moderate" in another.
One other thing to take into account is the trail condition. You can often check trail conditions on park websites and even social media accounts; it's handy to check the reviews left on trail apps as well -- they'll often provide up-to-date, on-the-ground observations that haven't made their way to more static websites. Look for information about muddiness, downed trees, snow/ice, washed-out areas, trail closures, and any other notes of interest for hikers. This is more important during the transitional seasons of spring and fall, when ice, snow, and mud can play more of an unpredictable part in your hiking plans, but is still worth considering in the summer too. There have been times when my planned hike has had to be altered due to trail maintenance or a bridge being out; knowing what you're in for ahead of time can prevent unexpected detours and ease some possible headaches and letdowns.
When to Start
While it may not seem like an important factor, knowing when to hit the road and the trail can make a big difference in your ultimate success and enjoyment.
Unfortunately, there's no hard and fast rule here. Much of it comes down to local weather/environment, how busy trailheads are, and your own predilections (if getting up at 6am is torture for you, early morning hiking just may not be your thing). Here in Colorado, storms come in on most summer days between mid and late afternoon, which means you want to reach your destination late morning or around lunchtime. In the Pacific Northwest, some hiking around the San Juan Islands taught me that things were different there. My wife and I assumed that the best window for hiking was similar to back home, so we started a long-ish hike nice and early, only to find our destination shrouded in fog and low cloud cover. Turns out that in a lot of coastal environs, mornings start out foggy and not necessarily ideal for hiking, only to clear out into perfect afternoons. Totally different.
The other factor mentioned above that's worth exploring just a little bit further is trail congestion. In most national parks, and plenty of state/local parks too, trailhead parking lots fill up very quickly by mid to late morning. This is especially true on weekends. Not only do you risk not finding a parking spot come 10 or 11am, you also inevitably find a lot more people on the trails.
It's worth calling ranger stations in places you're unfamiliar with to ask about ideal times for arriving in order to snag a parking spot and avoid big crowds. Without fail, the earlier the better.
If you're a vacationer hiking on a weekday, finding parking is less of a concern, but still something to consider during peak seasons at the busiest parks — Zion, Yosemite, Great Smoky Mountains, etc.
Know the Rules
Depending on where you go, you may run into various rules and regulations regarding trail use. National parks, as a rule, don't allow dogs on trails. (It's not because rangers hate dogs, but because of various factors involving strong scents, leaving waste on trails, etc.) Each state and municipality has different rules regarding their parks, including whether trails are for hiking only, biking only, or multi-use.
On the Trail
Once you get to the trail, things are generally a little more self-explanatory. Put one foot in front of the other, pay attention to signage to get to where you're trying to go, enjoy your destination. And that's about it. Most of what I'm going to cover here is in regards to troubleshooting should things go wrong.
Before getting to that, however, let's take a quick look at accepted hiking/trail etiquette.
Hiking Etiquette
Leave No Trace
You should always be aware of and abide by the Leave No Trace principle of "Pack It In; Pack It Out." Make every effort to not leave any trash, no matter how organic, behind on the trail or at your hiking destination. Perhaps surprisingly, this includes fruit peels/cores and other biodegradable items you'd possibly discard along the way without a second thought; an animal may snack on these remains, and eating things that aren't natural to its environment can really mess with its digestive system, among other problems. If you've brought anything into the environment you're trekking through, bring it back out.
If you're so inclined, it's also good to pick up litter other people have left on the trail. Most trails I encounter in established national and state parks are actually pretty clean (rangers and volunteers do a lot), which makes it easy to pick up a stray granola bar wrapper every now and then and toss it in my pack. Give back to the outdoors which gives you so much.
Yield to Uphill Hikers
Always yield to uphill traffic. If you've ever been plodding up a hill at a nice steady pace, only to be run into by someone in a hurry to get down, then you understand the logic behind this rule. Going uphill is hard work and changing up your speed can quash your momentum. Of course, sometimes the uphill hiker (myself included) will welcome the chance for a quick break; if that's the case for you, give a clear signal for the downhill hikers to pass. If it's a narrow trail, don't try to just keep on walking on the side, but come to a full stop just off the trail to make plenty of room.
Walk on the Right, Pass to the Left
In this way, trail etiquette mimics the rules of the road. When a trail is wide enough, traffic can go up and down without the theatrics of yielding and stepping to the side. In that case, just as on the road in your car, you should keep on the right side and pass on the left. If a trail is not so wide, or people are taking up the full width of it, sometimes an audible "Passing on your left" is necessary for those in front of you to clear a lane, though it's worth noting that as a hiker you should be paying enough attention to your surroundings to sense when someone is coming up behind you and to step to the side to let them pass.
Tech Use
It only takes one encounter with a hiker blaring music from a smartphone to convince you that that particular act is a royally rude no-no on the trail. Even if the music is nice (to you) it can be downright jarring to others when encountered in the serenity of the outdoors. If you must listen to music, do so with headphones. But really, I recommend just taking it all in with nothing but the soundtrack of nature.
Now, for most people, your phone will inevitably get heavy camera use, which is why I don't curmudgeonly tell you to leave it at home. I get it; I take a million pics on hikes too, and I've lived within spitting distance of the mountains for the better part of a decade. The key is to not hog up valuable space at photogenic spots for too long. Take a couple pics and move along; don't stand there angling for the perfect snapshot for 10 minutes (unless there's nobody around). If you see folks struggling with selfies, offer to take their pic for them; as a bonus, they're bound to reciprocate if needed.
Be Friendly
In my experience, hikers are a pretty friendly group of people. There isn't competition involved (except perhaps from within). Attention isn't co-opted by the virtual world, but planted firmly in the beautiful here and now. The serenity of the activity seems to capture people in a unique way and there are more friendly howdy's and hello's than when just walking down the street. Everyone is after the same high from vitamin N.
This is all to say that the trail can be a surprisingly good place for friendly small talk. Say hi to folks, offer help to those who seem a little lost (if you're actually able to help, of course), and generally just wear a smile. It tends to happen quite naturally on the trail anyways.
A Few General Hiking Tips
Slow and Steady Wins the Hike
Follow the advice of the tortoise and you'll generally have a much more enjoyable hike. My wife and I always chuckle at the hikers who blast by us at the start of a trail, only for us to pass them shortly thereafter while they're huffing and puffing and pulled off to the side. Now, I get that what's happening there is not necessarily intentional. If you're a quick walker and you're new to hikes at higher elevations, it can be tempting to just go the same speed you always do on flat land. But even if not gaining a ton of elevation, it pays to intentionally slow yourself down. When walking around my neighborhood, I tend to naturally do a fast-paced ~15-minute mile. On the trail, I shoot for 17-20-minute miles, which grows to 30 or more for especially steep chunks. Slow yourself down and you won't be as winded or dog-tired, meaning you'll enjoy the hike more.
Drink a Lot of Water
This was briefly mentioned above, but it bears repeating. Bring a lot of water -- more than you think you need -- and drink that water. If you wait until you feel thirsty, it's too late. I've encountered multiple people on the trail who've needed to take some of my own water because they weren't prepared and weren't staying hydrated. It's not something to mess around with, especially at high elevations. Aim to consume about ½ liter per hour; on hot days, it may very well be more.
This may, of course, mean urinating in the woods. That's just fine. Step off the trail a ways and hike back the way you came to ensure the least damage possible to the flora along the way.
Turn Back If Needed; Don't Be Dumb
I get that in most cases, you're not just out for a walk in the woods -- there is some sort of destination in mind, be it a lake, waterfall, or mountain peak. There are a lot of people who set grand visions for their hiking when they visit famous parks and landmarks and inevitably bite off far more than they can chew. Rocky Mountain National Park frequently encourages folks to turn back from certain famous peaks unless they're experienced, acclimatized hikers. And yet people walk right past those signs wearing flip flops and carrying a 12oz bottle of water. What happens is that those people either (smartly) turn back or (not so smartly) need rescuing. The latter is the real worry; folks who aren't prepared or aren't in the right shape for an intense hike will get stranded on a trail and use the time and resources of the park agency and local law enforcement in order to be rescued.
If at any point you don't feel prepared enough (you realize you didn't bring enough water), or you're in the middle of a hike and your body sends signals that something isn't right (in the form of nausea or excessive cramping), or the terrain gets more treacherous than you're truly comfortable with, or you don't have a flashlight and realize you won't be able to make it your destination and back to your car before it gets dark, turn back. Be smart out there.
When it comes to your actual time on the trail, that's about it. Put one foot in front of the other and enjoy the outdoors with all your senses.
Troubleshooting
Besides preparation and simply hitting the dirt, the other things you need to know about hiking revolve around troubleshooting problems you might run into on the trail. We've written dozens of articles about all sorts of things related to surviving in the outdoors, so what follows is mostly a list of those pieces, which explore their subjects in full.
Food & Water
If you've simply run out of water on the trail due to not being adequately prepared, you'll have to ask a fellow hiker for some of theirs if you get into a desperate situation. Again, though, you should always be well-prepared and if you realize you don't have enough, you should be turning back before it gets dire. Know that if you ask for some from a fellow hiker you're also potentially putting them at risk for dehydration.
If, however, you're in a scenario where you've perhaps gotten lost and need to find water for a day or two in the outdoors that you weren't prepared for, here's a couple articles:
If you're on a day hike and didn't bring enough food, you'll be okay. Perhaps hungry, but okay. If again you're in a survival situation, you'll need to know how to do some foraging:
Wild Animals
If you hike long enough, you're bound to encounter wild animals. Most will be small, some will be large. Most will be far away and not pose any problems, some may be close and a little bit scary. Above all, never approach wildlife. You wouldn't believe how many people we hear about here in Colorado who got too close to elk, moose, even deer, and end up with (mostly) minor injuries. Your camera and binoculars can zoom in; don't get close to the wildlife, folks!
If you encounter something a little more ferocious, we have a number of guides below that can make a real difference in your confidence if you see an animal in the wild. True story: just one week after I worked on the "How to Survive a Bear Attack" illustration below, my wife and I encountered two black bears — one on either side of the trail we were hiking. Having just done the research, I was actually pretty confident in my abilities to get out of the situation unharmed. Thankfully, the bears kept strolling along, not paying any attention to our recreation. Still, having the knowledge was certainly nice!
Getting Lost
Most trails you're going to be hiking will be very obvious and very well marked with signage. Your chances of getting lost are rather small if you're paying attention and not doing anything dumb (like going off-trail). That said, it does happen. If it gets dark, if there's snow on the ground (trail-finding can be very tricky in the winter), if the signage isn't well maintained or wasn't put in clearly in the first place, or the trail just sort of peters out . . . you can be up a creek.
The best thing to do is to try to backtrack and check your paper map (and pull out your compass if needs be). Or if your cell phone has service, a lot of park trails can be found in map applications. Once upon a time I was with some friends on a winter hike and we lost the trail; we spent some time wandering around before someone in the group just happened to pull out their phone and realized it had reception; the map loaded up just fine and we were easily able to find our way back to the trail. We had assumed it wouldn't work, but service gets better and better with each passing year.
If the map application on your phone doesn't work, you can try making an emergency phone call. If you're out of service or your phone is dead, some good old fashioned shouting might be in order.
And in the rarest of instances, you may end up needing to overnight (or longer) in the wild. In that scenario, your biggest concerns are shelter (and staying warm), water, and food. We covered food and water above, so here's a bit on shelter and fire:
You or Someone Else Got Hurt
If it's a minor injury, you'll be thankful you had your first aid kit along (from the 10 essentials, remember?). If it's something more serious where you or someone you've encountered can't get back to the trailhead or has been rendered unconscious, more serious steps are needed.
The first course of action is to try calling 911. If that doesn't work, you'll need to either quickly get the attention of fellow hikers or get yourself to some sort of civilization. Not every possible injury/emergency can be covered here, but here are some to be aware of:
You now know just about everything you need to know to get started with the mind-centering, spirit-lifting, body-strengthening pursuit of hiking. All that's left to do is lace up your boots, throw on your pack, and hit the trail!