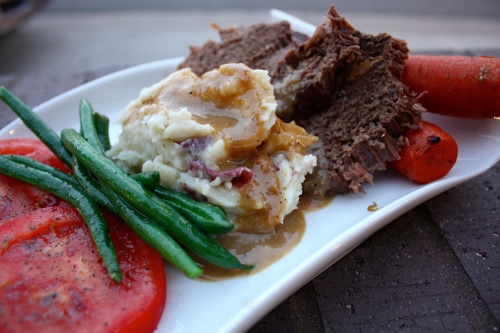 These days, it's rare for me to spend a weekend at home in Nashville. Between the demands of work, relationships, and other opportunities, it seems my time is spent on the road more often than not. Many of you share my pain of hitting the deck at 11 p.m. on a Sunday evening just as you roll into town, only to get back to business early Monday morning. But such is life, and besides, travel does have its perks.
When I do find myself lucky enough to spend a weekend in town I tend to savor every moment, especially now that fall is in full swing. I like to start my Saturdays with a long run, prepping my body for the abuse of tailgate food, a few cold beers, and hour upon hours of watching college football.
But Sundays are different. I wake up early, clean the house, go to church, and start cooking. Many of you were probably nodding your heads in agreement up until the cooking part – or the waking up early part! Don't worry, there are always a few NFL games providing my entertainment soundtrack while I am in the kitchen.
Cooking a Sunday Supper gives me a chance to reconnect to the town and friends I love. I head down to the Nashville Farmers Market to pick up fresh vegetables, shoot over to Lazzaroli Pasta to chew the fat with Tom, and finally round things out by visiting my favorite butchers at the local market. I'm not an outspoken foodie or "locavore," but there's something about creating relationships behind the food that tends to make my meals taste better.
That being said, at this stage in my life, my social scene is all over the map. I have friends who are single, dating, engaged, or just starting out with young families. It's a unique stage as some are yearning for companionship and others just looking for a break from the routine. Then there's always the musician friend or two that's looking for a square meal after a solid week on the road – a common theme here in Music City. So, I usually receive a resounding YES when I invite ten or twelve of my closest friends over for a Sunday Supper. In fact, most of them have grown to dislike my busy travel schedule – for selfish reasons of course!
Sunday Suppers are always casual. I like to make comforting meals that can be prepped far in advance, and finished off with little to no hassle. After all, the whole point of hosting and entertaining friends is to enjoy their company – not to be stuck sweating away in the kitchen.
Whether you are single and looking to entertain friends, or you are taking over the kitchen duties to cook your family a hearty meal, I recommend my favorite Sunday Supper menu below. I've even gone so far as to create a shopping and prep list to assist you when making the recipes.
Whatever your Sunday routine or meal might be, I can guarantee your food will always taste best when shared with others. Plus, it never hurts to have leftovers to start the work week!
Cheers!
MM
Shopping List
Produce/Vegetables Department
2 Heads Whole Garlic
1 Large Onion
12 Whole Carrots
2 lbs Fresh Green Beans
5 lbs Baby Red Potatoes
10 Heirloom Tomatoes
Meat Department
Dairy Department
1 Package Unsalted Butter
12 oz Sharp White Cheddar Cheese
8 oz Heavy Cream
General Grocery
Black Pepper
Kosher Salt
1 Bottle Red Wine
1 Can Cream of Mushroom Soup
Dry Italian Seasoning Blend
Sunday Prep List
Prep, sear, and place roast in oven for 3-5 hours, depending on size of the cut.
Watch football for a few hours.
When one hour of cooking time remains on the roast, get back into the kitchen.
Blanch green beans, place in ice bath, drain, and set aside.
Wash, cut, and boil potatoes and garlic.
Meanwhile, add carrots to pot with roast and cook for 30 more minutes.
Mash potatoes, cover, and keep warm on low heat – adding more cream if necessary.
Remove roast and carrots, tent with foil. Make gravy.
Friends arrive. Table is set.
Reheat green beans in butter.
Slice tomatoes and season. Arrange on platter.
Slice beef, and arrange on platter with carrots.
Serve.
Sunday Supper Recipes

(Serves 8 – 12)
Sunday Slow Roast Beef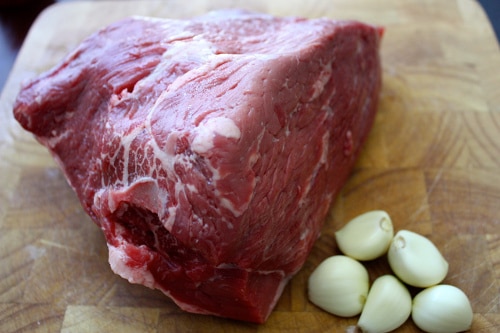 A foolproof dish that will make you the king of the kitchen. The garlic will slowly cook down to the consistency of butter, lending its wonderful flavor throughout the meat. Don't worry too much if your meat shreds more than slices – it will be tender, juicy, and delicious.
1 3-5 lb Rump Roast
8 Whole Cloves Peeled Garlic
Kosher Salt
Freshly Cracked Pepper
1 Large Onion, roughly chopped
2 Cups Red Wine
12 Whole Carrots, ends trimmed, unpeeled
Preheat oven to 325 degrees F. Next, preheat a Dutch oven over medium-high heat. Meanwhile, use a knife to cut small inserts into the beef, stuffing the holes with garlic. Liberally season the entire roast with kosher salt and freshly cracked pepper. Next, sear all sides (except fat cap side) for 2-3 minutes, or until browned. Add onions to the bottom of the pot, set roast on top, and deglaze with red wine. Cover and place into the oven to roast undisturbed for 3-5 hours (approximately 1 hour per pound). When thirty minutes remain, add carrots to the pot, cover and continue to cook. Remove roast and carrots and tent with foil (15 minutes) prior to slicing thin and on the bias for service.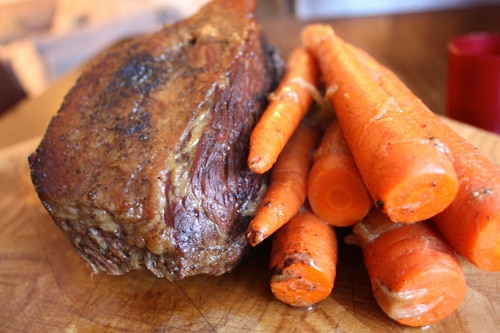 Mushroom and Onion Pan Gravy
Guilty as charged. I promise this is the ONE time I'll ever endorse using that canned concoction. But damn, this gravy is absolutely delicious – and ridiculously simple. Trust me; I've won over several chef friends with this gravy, many of whom have also joined me on the dark side of canned, processed goodness. If you prefer to make your gravy the classic way, make a slurry of flour/water and add it to the reduced drippings and finish with butter. I promise this version is better though . . . just saying.
Beef/Wine/Onion Drippings
1 Can Cream of Mushroom Soup

With the roast removed; skim off any fat from the top of the drippings (the oily stuff floating at the top). Next, crank up the heat to medium-high on the stovetop and reduce the drippings mixture by half. Add canned soup to dripping mixture, reduce heat to medium-low, and whisk for a minute or so until evenly combined. Allow the mixture to come back up to a slow simmer (to thicken), and turn down heat to low. Serve alongside roast beef and sides.
Fresh Green Beans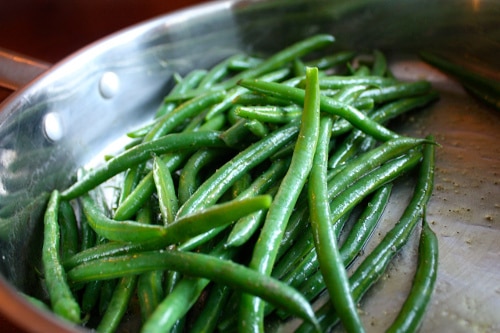 These will always beat those things out of the can (ignore my comments above!). Again, this is a super simple recipe that can be prepped hours in advance and finished off just prior to serving.
2 lbs Fresh Green Beans, washed and ends trimmed
Kosher Salt
Butter
Fill a large pan with two inches of water, bring to a boil over high heat. Add 1 tablespoon of salt — blanch green beans in the boiling water for 60 seconds. Strain beans and place in an ice bath until completely cooled. When ready for service, return beans to the same pan and sauté in melted butter until heated through. Season with kosher salt to taste, and serve.
Quick & Hearty Garlic Mash
A rustic and informal version of a traditional favorite. The garlic and sharp cheddar flavors provide a nice contrast to the earthiness of the dry seasonings. Topped with plenty of gravy, this is comfort food at its finest.
5 lbs Baby Red Potatoes, quartered
Kosher Salt
8 Cloves Garlic, smashed and peeled
1 Tablespoon Italian Dry Seasoning
12 oz Sharp White Cheddar Cheese, grated
1 1/2 Sticks Unsalted Butter
1 Cup Heavy Cream
Freshly Cracked Pepper
Bring potatoes and garlic to a boil in a large pot with a generous pinch of salt — boil for 12-15 minutes. Strain potatoes, and add back into the pot with remaining ingredients. Using a potato masher, roughly mash the potatoes until all ingredients are incorporated and combined. Season to taste with salt and pepper. Serve.
Sliced Heirloom Tomatoes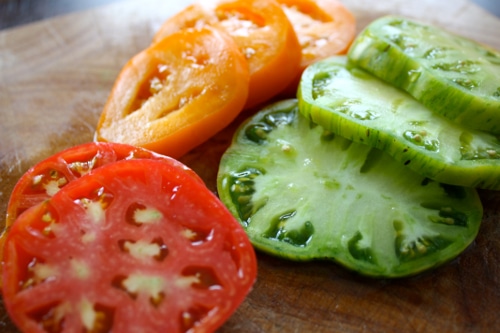 Simple and straightforward. I find that the acidity in the tomatoes and their cool, crisp flavor helps to cut through the rest of this hefty meal. Besides, the colors look killer.
10 Heirloom Tomatoes
Kosher Salt
Freshly Cracked Pepper
Slice tomatoes, season with salt and pepper. Serve.
Tags:
Recipes