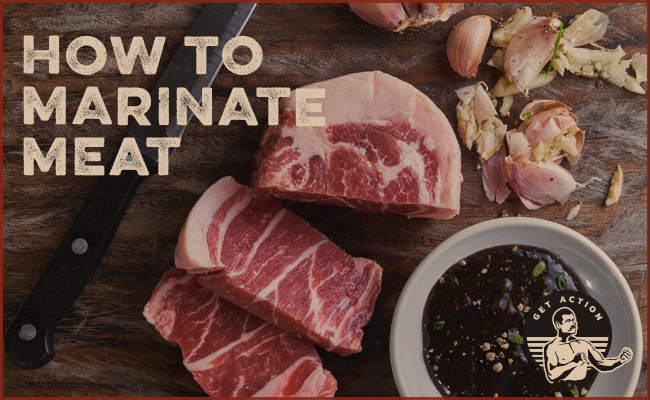 When I first started grilling, I would marinate and season the heck out of everything. If there were enough other flavors going on, I couldn't go wrong with the meat itself. Right? I figured the sauce would cover up my imperfect cooking skills. As the years have gone on, I've become more of a meat purist, utilizing just salt, pepper, and a little bit of oil for most of my grilling. A perfectly-cooked piece of meat tastes great on its own with minimal doctoring needed.
But every once a while, I still get a hankering for a sweeter, saucier cut of meat. That's where a flavorful, homemade marinade comes in. Something about it is just a little more festive, especially on a holiday weekend. It shows you've put a touch more effort into the meal rather than just slappin' a hunk of meat on the grill.
A marinade is just a sauce that you soak a raw food in — it's usually a cut of chicken or steak, but seafood and veggies are common too. While I used to think the purpose of a marinade was to move its essence into the interior of the meat, I now realize it's primarily to coat the outside of the food and give it a flavor-packed, caramelized exterior. The liquid will certainly penetrate some, but it's never going to get all the way in. You're aiming for a crispy crust and a juicy interior (which is why you should never poke holes in your marinating meat; see below).
While pre-made marinades abound in grocery store aisles, they're often too thick. A viscous, syrupy marinade won't penetrate the meat as well as something a little thinner. Those store-bought bottles are also expensive for what usually amounts to just 1-2 uses. Instead, whip up a homemade marinade; I'll bet you already have on hand most of the ingredients for the recipes I'll share below.
General Guidelines for Successful Marinating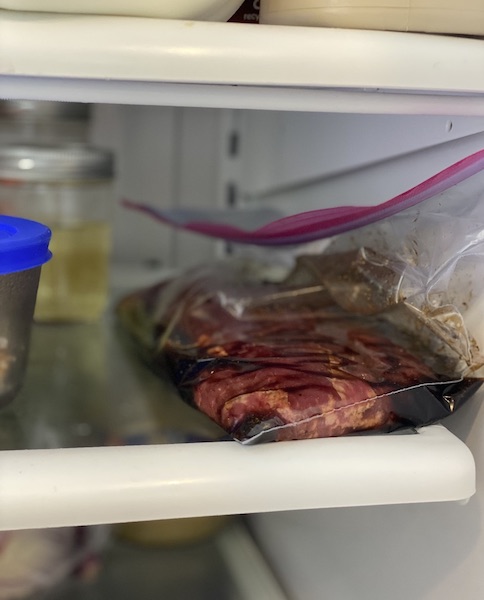 Every category of food requires different marinating times. Too short, and you won't get the flavor as fully incorporated; too long, and the food will start breaking down in various ways and will end up with a mushy, unpleasant texture. In general, you should lean towards less marinating time instead of more (this is especially true with more acidic marinades which use a lot of citrus juice or vinegar). Remember, your goal is mostly about the exterior and the top layers of whatever you're cooking.
Here's the timeline breakdown for your food groups:
Seafood/fish: 15-20 minutes

Vegetables: 30 minutes

Chicken

Whole: 4-12 hours

Bone-in pieces: 2-6 hours

Boneless pieces: 1-2 hours

Pork chops/loin: 1-4 hours

Red meat

Smaller cuts like steak: 1-4 hours

Larger roasts: 6-24 hours
In addition to keeping these timelines in mind, here are some additional rules to make the most of your marinating:
While just about any container works, gallon-size Ziploc bags are just about perfect. They're liquid safe, don't take much fridge space, and better ensure a fully-surrounded product vs. tupperware or dishware.

Always refrigerate your marinating meats. If marinating seafood or vegetables you can generally leave them out on the counter since it's a short timeframe.

Your marinade can be used as a sauce, but it needs to boil for a few minutes in order to kill off the bad bacteria.

When grilling marinated foods — which is my preferred method of cooking for all meats at all times — you'll want to oil the grill a little bit to help mitigate sticking, which is common when you're grilling with a sauce. Put a little bit of oil — about a teaspoon — on a paper towel and wipe the towel on the grill grates.

Don't poke holes in the meat. I used to do this, thinking it would allow the marinade to better soak in. Instead, what it does is allow the meat's juices to run out and you end up with a drier interior. The combo of caramelized exterior and dry interior will then resemble slightly chewier sandpaper.
3 Easy Marinade Recipes for 3 Kinds of Meat
Marinades are a great way to express your creativity in the kitchen; it's the sort of thing where you can throw your favorite flavors together in a bag and likely come away with something really tasty. That said, there are definitely some tried-and-true combinations that go great with specific cuts of meat. Below are 3 can't-miss recipes to get you started.
Mediterranean Chicken Kabobs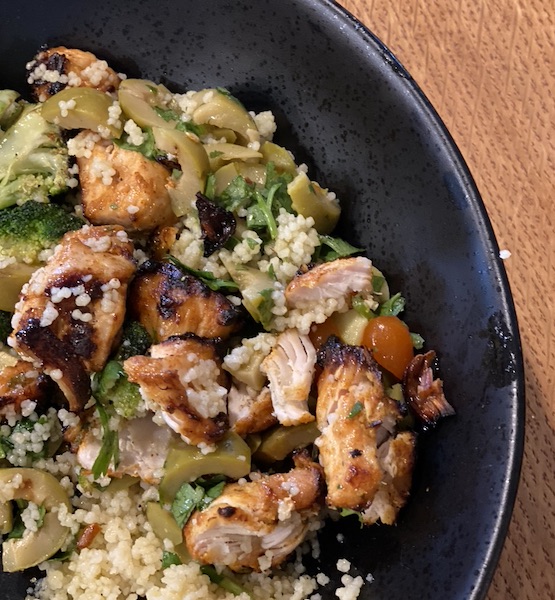 Serves 2
This recipe has hints of Greek and Middle Eastern cuisine and is versatile enough to be served with or over just about anything — I went with sides of broccoli, couscous, and olives to give the meal a real Mediterranean flair.
When marinating meat for kabobs, it's easier to cut it into smaller chunks right away rather than waiting until post-marinating. It's far cleaner. Instead of cutting the meat into true bite-sized pieces, think more along the lines of two bites — it'll shrink some while cooking and you're less likely to burn it (which can happen with pieces that are too small).
Ingredients
2 lbs boneless chicken breasts, cut into kabob-sized pieces

2 Tbsp olive oil

⅓ cup Greek yogurt (or sour cream)

1 Tbsp paprika

1 Tbsp cilantro

2 tsp cumin

2 garlic cloves, minced
Directions
Combine all the marinade ingredients in a small bowl and whisk together until it's smooth. Add to a large ziploc bag with the chicken; using your hands, ensure that the marinade is evenly coating all the pieces of chicken. Keep in the refrigerator for at least 30 minutes, up to 2 hours.
If using wooden skewers, soak them in water for 10-30 minutes in a shallow dish. I like to give the skewers a quick shot of cooking spray as well in order to minimize sticking. Put 6-7 pieces of chicken on each skewer, giving them a little bit of space in between; you don't want them touching, as this will inhibit their browning and caramelization. Grill the kabobs on medium-high heat for about 10 minutes (possibly less), giving 'em a turn every few minutes. Check the larger pieces with a digital thermometer to ensure doneness; you're looking for 165 degrees.
Serve with cooked grains or vegetables, or both.
Asian-Inspired Flat Iron Steak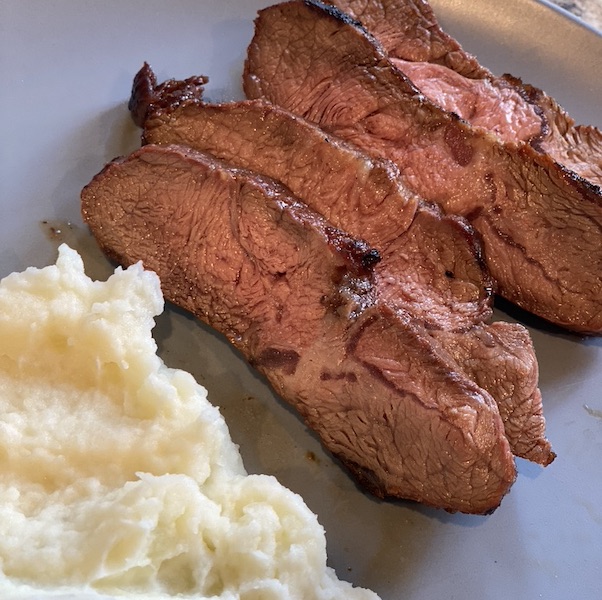 Serves 2
I'm not normally one to marinate steak and you shouldn't be either. When done right, beef is so flavorful on its own that it doesn't need extra saucing. But flat cuts — like flanks or flat irons — are particularly suited to marinade because of their greater surface area. Most sauce-laden beef dishes at Asian restaurants are using these cuts of meat.
With this recipe, you can replicate that flavor right at home, while still giving it a unique profile since it's grilled rather than cooked in a wok. The ratios for this one in particular aren't strict; play with it and see what you like.
Ingredients
1 flat iron steak (or flank)

¼ cup soy sauce

¼ cup maple syrup

2 Tbsp balsamic vinegar

2 Tbsp Worcestershire sauce

1 tsp garlic powder

1 tsp onion powder
Directions
Combine all the marinade ingredients in a small bowl and whisk together until smooth. Add the steak and marinade to a large ziploc bag. Keep in the refrigerator at least 1 hour, up to 4.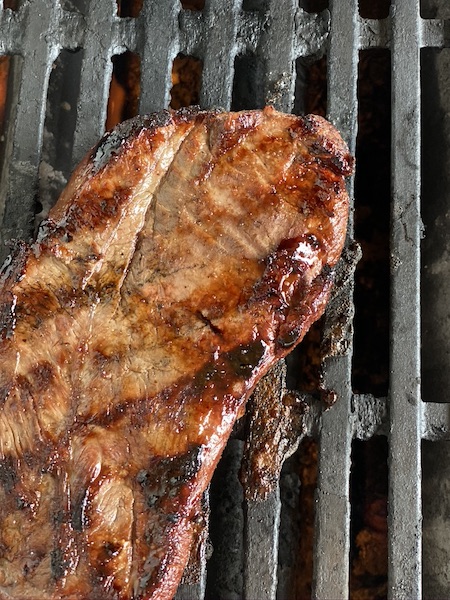 Grill over medium-high heat until you reach your desired level of doneness, cooking with indirect heat towards the end if needed.
Let the meat rest 5-10 minutes. Slicing the short way, cut the steak into strips for serving. Serve with mashed potatoes, because steak and potatoes always works.
Peanut Butter Pork Loin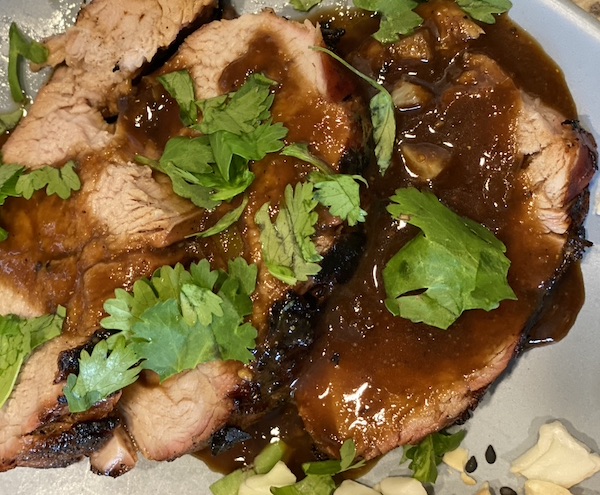 Serves 2-4
This is one of my favorite recipes and probably the most flavor-packed marinade I make. I always enjoy grilled pork tenderloin and this really takes it up a notch. Unlike the above recipes, this one utilizes the marinade not only for a pre-cooking soak, but as a delectable sweet and savory sauce to drizzle on the post-cooked meat. Be careful when cooking this one; the sugar combined with the long cook time makes it prone to burning.
Ingredients
1 pork tenderloin

¼ cup apricot preserves

2 garlic cloves, minced

½ tsp coriander

¼ soy sauce

1 Tbsp rice vinegar

2 Tbsp creamy peanut butter

Juice of 1 lime

¼ cup orange juice

Cilantro, for topping
Directions
Combine all the marinade ingredients (apricot preserves through OJ) in a small bowl and whisk together until it's mostly smooth. With the peanut butter and preserves, it'll take a little extra elbow grease, and even then it's not going to be perfectly smooth. Add to a large ziploc bag with the pork loin and use your hands to sort of mix up any remaining chunks of peanut butter or preserves. Keep in the refrigerator at least 1 hour, up to 4.
Remove the loin from the marinade and instead of discarding the sauce, put into a small pan for later use as a sauce.
Pork loins, especially marinated ones, are a little tricky to grill. They take a while to cook, so if you use direct heat the whole time you'll probably burn it. Cook the loin over direct medium heat for the first 10 minutes, turning once halfway through. Then turn the heat down on the side of the grill on which the loin lies and cook with indirect heat for another 20-25 minutes, turning every 5 minutes, until you've reached your desired doneness, about 150-155 degrees.
Let it rest 5-10 minutes. While it's resting, heat up the marinade that you've reserved in the pan and bring it to a rolling boil for 5 minutes, until it's been reduced a bit.
To serve, slice the loin, liberally drizzle the sauce over it, and add a bounty of cilantro. Goes great with Caesar salad and/or any roasted vegetable, especially cauliflower.
Tags:
Recipes