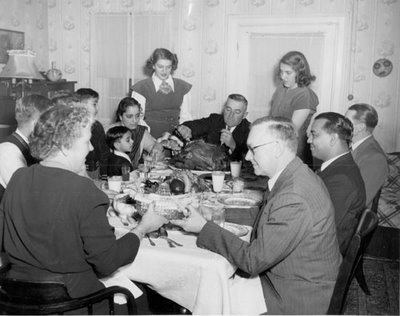 Thanksgiving Day in the United States is next week. Last year, we had our friend Karl Engel teach you how to cook and carve a Thanksgiving turkey like a man. But a man needs stuffing to go along with that bird, so we brought Karl back to show you how to make a killer stuffing that will please any Thanksgiving crowd. Karl heads up Pigcasso, an award winning BBQ team. He's been featured on the Travel Channel and Food Network, so Karl knows his stuff. Today Karl gives us a rundown on how to give a traditional Thanksgiving staple a twist with his Manly Cornbread Stuffing. Thanks Karl!
Manly Cornbread Stuffing
By Karl "The Pigman" Engel
(Very large batch, serves 12 to 15)
Ingredients
2 boxes Jiffy cornbread mix
1 package Pepperidge Farm Cornbread Dressing Mix
1 head or bunch of celery
1 medium yellow onion, chopped
3 beaten eggs
Chicken stock or broth (I use Swanson, but it can be homemade or any brand)
Directions
The day before you cook and serve the dressing: cook the Jiffy cornbread mix according to package directions and let cool. Clean and chop celery, including leaves of the heart. Chop onion and wilt or sauté it in a tablespoon of butter, let cool. When the cornbread is cool, crumble it into a large bowl, add most or all of the package of Pepperidge Farm Cornbread Dressing Mix, stir to combine. Next add the celery and onion and stir to combine. Cover and let sit in a cool dry place overnight to allow flavors to develop.
When you are ready to cook it, add chicken stock or broth and beaten eggs to the cornbread mix, then stir to thoroughly combine. There is not an exact amount of broth, but add enough so that the mixture resembles a very course and thick cake batter.
Heat oven to 375. In a very large, heavy pan or two iron skillets, add enough oil or shortening to cover the pan. When the oven is ready, melt shortening or heat oil in the oven till it is smoking (watch carefully). Remove and immediately pour the dressing batter into the hot pan or pans. This helps to create a tasty crust. Bake 45 minutes or until it is cooked through and a tester comes out clean.
Note: because the Pepperidge Farm Dressing Mix is pre-seasoned with herbs, this adds just the right amount of traditional sage and "Thanksgiving" taste to the mix, eliminating the need to add further seasonings. This is a traditional recipe handed down through several generations of our family. Enjoy!
What are your favorite stuffing recipes? Are you a cook the stuffing inside the bird or outside the bird kind of guy? Share your tips with us in the comments!
Tags:
Recipes