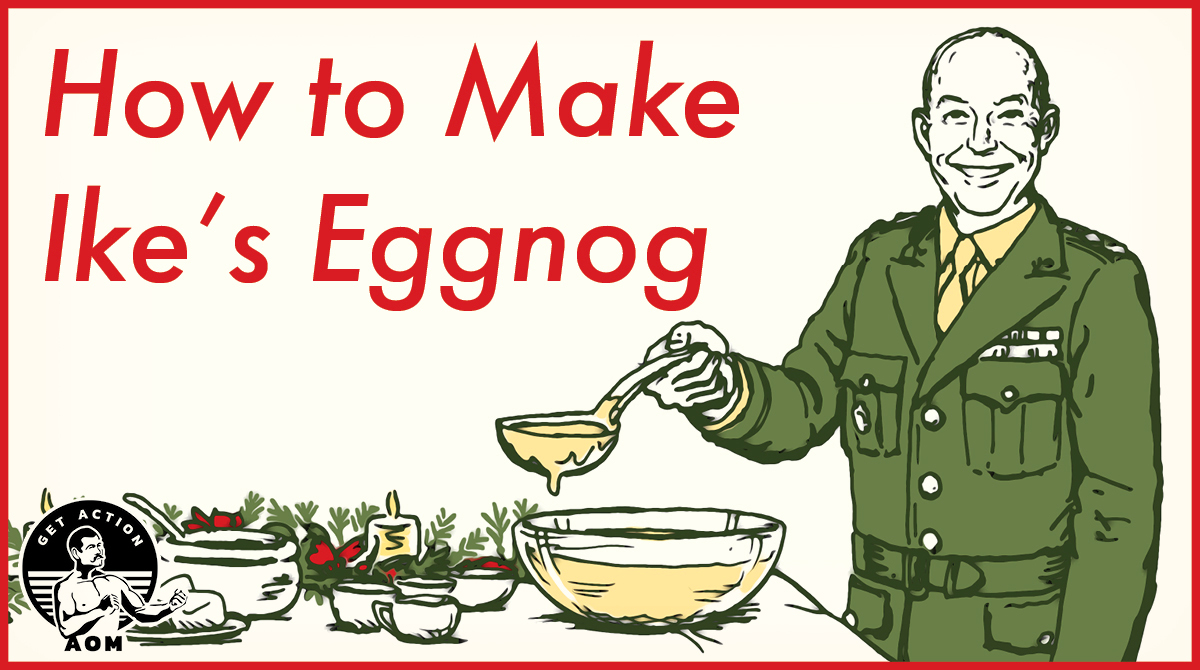 Editor's Note: This is a guest article by author Jonathan W. Jordan.
Before he commanded the liberation of Europe and led the nation through the height of the Cold War, Dwight D. Eisenhower grew up with traditional Midwestern tastes. In England, commanding forces that would successfully invade two continents, he turned down fancy meals his assigned cook offered in favor of fried steak, corn pudding, chicken soup, and other dishes reflecting his Kansas boyhood. As the pressure of the looming D-Day invasion mounted in the spring of 1944, Ike would occasionally relieve the almost unbelievable stress by cooking his own breakfast, even washing his own dishes.
Ike took pride in his down-home familiarity with the kitchen, and as president, he collected some of his favorite recipes in a White House file. One, found in the Dwight D. Eisenhower Presidential Library, was Ike's special favorite around holiday time. Archived in the Presidential Papers under "Beverages," President Eisenhower kept a declassified recipe for bourbon eggnog. As a boy, Ike worked in an Abilene creamery, and like Eisenhower the President, Ike's recipe takes the "middle way," combining the enjoyable sweet wholesomeness of postwar America with bourbon-backed strength Ike believed in.
I made Ike's 5-star recipe after researching my book Brothers Rivals Victors and found his holiday drink spectacular. If you enjoy a glass of nog as part of your yuletide festivities, this recipe is as good as anything you'll find in stores. It doesn't take long to make, and you can substitute your favorite rum or brandy in place of the General's preferred bourbon.
How to Make Eisenhower's Homemade Eggnog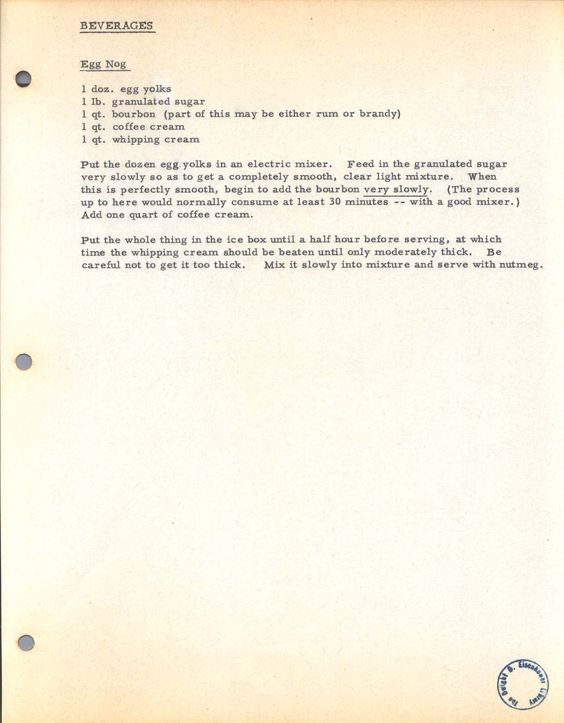 Assembling Your Forces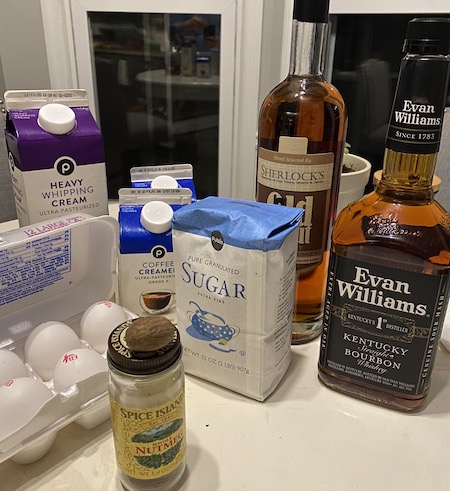 The Eisenhower plan of attack starts with a solid, disciplined force of easily obtainable ingredients:
A dozen egg yolks. Buy a dozen eggs, crack them gently, and use the egg shells to pour the yolk back and forth until the clear liquid is gone and the heavier yolk remains. Put them into a separate bowl as you work through the dozen.
One pound of granulated sugar. Your basic white sugar will do.
One quart of bourbon. You don't need a high-level small batch, or an expensive bottle of Pappy Van Winkle. When blended with the other ingredients, the sherry cask oak and smoky flavors of top-shelf bourbon won't be noticeable, so stick with your favorite go-to weekend brand. I used a $24 bottle of Evan Williams and it worked just fine. Rum and brandy make fine substitutes, and can give your nog a slight Caribe or Euro flare.
One quart coffee cream. I used half-and-half from my local grocery store.
One quart whipping cream. Heavy whipping cream works best.
Nutmeg. Whole nutmeg and a grater are what I used, but you can cheat with ground nutmeg from the store. You won't need much.
Your base of operations for this mission will be a standard electric mixing bowl.
Order of Battle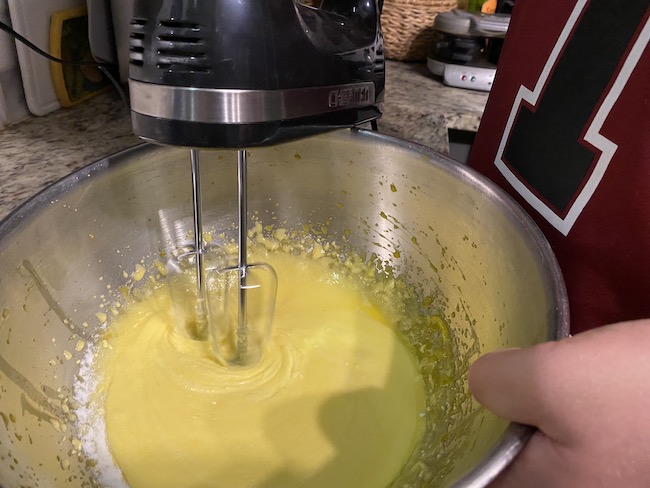 Dump the egg yolks into the mixer and give them a short blend. Next comes the sugar, added little by little so the egg-sugar mixture takes a semi-gloss, light yellow appearance. Maintain rigid military discipline as you add the bourbon to the mix — little by little, letting the mixture absorb the bourbon reinforcements before adding more. ("Very slowly," Ike orders, advising, "The process up to here would normally consume at least 30 minutes — with a good mixer." Here, Ike was a little bit conservative; in my experience, 15-20 minutes should do just fine.)
Next comes the coffee creamer, which can go in a little faster. When all is in order, put the bowl into the refrigerator ("icebox" in early 20th century parlance), and let it cool until about 30 minutes before you are ready to serve it. A few to several hours of refrigeration is optimal; in my case, I left it in overnight.
Hit the Beaches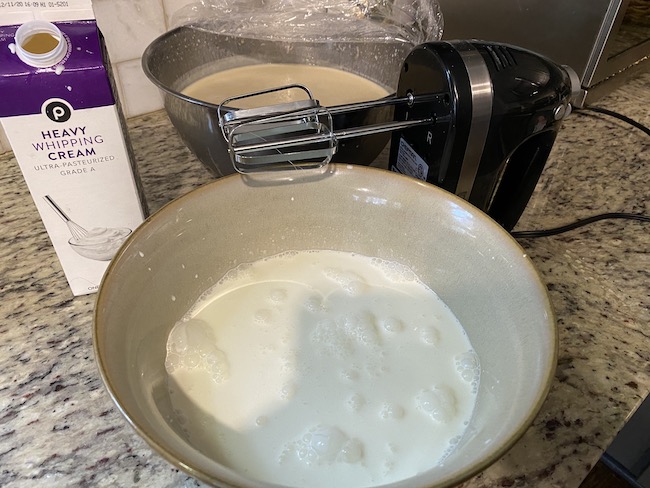 At about 30 minutes to H-Hour, pour the whipping cream into a separate bowl and beat it with a whisk until it is "moderately thick." Here Ike gives his local commander on the scene some discretion. Don't make it meringue-thick, just aerated enough to make it run a little slower. Mix the whipping cream into the refrigerated mixture — again slowly and deliberately — then pour the mix into the serving bowl. Top with ground or grated nutmeg, then get out the glasses and ladle.
Victory!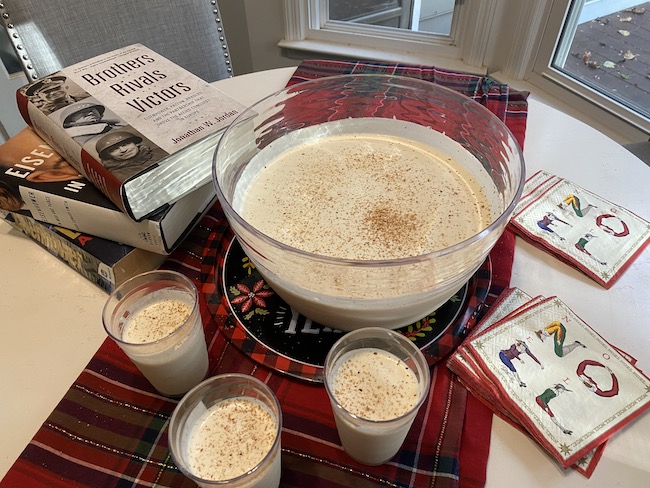 Allowing for spillage and taste-testing, Ike's eggnog produces approximately one gallon (enough for about 30 good-sized glasses). It doesn't pack the kick you would expect from a dish made with a quart of bourbon. It is sweet, but not overly so, and in keeping with Ike's moderation, it is a balanced mixture, where sugar and cream work together like Patton and Bradley. (Actually, it pairs better than those two headstrong generals did in Sicily.)
What Price Victory
As you can see from the ingredients, this is not a low-calorie treat. Toast the holidays, savor your culinary victory, and have your aide-de-camp remind you to do a few extra exercises later, to keep your waistline from becoming a casualty of your holiday offensive.
_________________
Jonathan W. Jordan is the author of Brothers Rivals Victors: Eisenhower, Patton, Bradley, and the Partnership That Drove the Allied Conquest in Europe. He appeared on AoM Podcast Episode #463 to talk about that book.
Tags:
Vices