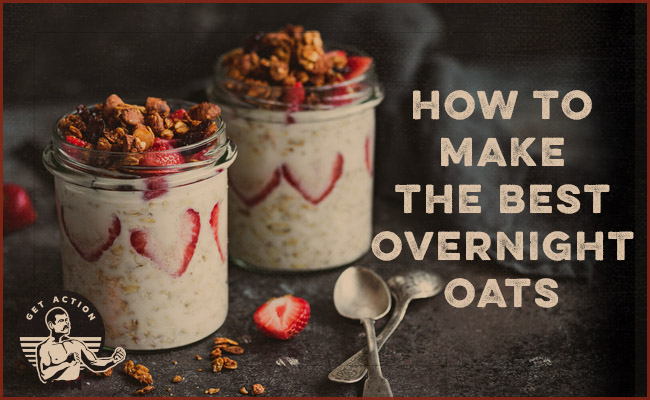 In your efforts to streamline your mornings, one of the first and best places to optimize efficiency is with breakfast. You want something nutritious and filling (and tasty!) — a combination which can be hard to cook and consume in a speedy manner. In the past we've covered make-ahead breakfast burritos and sandwiches, which can be frozen and heated up in a microwave. Today, we're going to add to those options with overnight oats. These are, remarkably, even faster in the mornings. Just grab a jar out of the fridge, pop the top, and chow. You can even take it on the go if needed for a quick and easy breakfast at your desk.
The gist of overnight oats is rather simple: combine oats with a liquid and let it sit and soften overnight for a no-cook version of oatmeal. It can be enjoyed cold, especially in the warmer months, or can be heated up for a minute or two in the microwave if that's your preference. The fact that it's not needed though is a major boon.
The liquid is generally some sort of milk — the kind you use being up to you. On top of that, any variety of sweeteners, additions, and toppings can be added; from fruits to nuts to spices, the options really are limitless. You can be as simple or as gourmet as you like, and you can make some truly delicious creations.
The oats are good for about 5 days in the fridge before the texture gets a little funky, which means you can make a handful ahead of time, even prepping an entire work/school week's worth on Sunday evening if you're feeling particularly ambitious. It's also something that could be whipped up in the morning for an easy lunch; the oats only really need 2-3 hours to be ready for eating.
One final note before jumping into the how-to: these are best prepped in a mason jar. Any tupperware would work, of course, but mason jars are preferable for a few reasons: 1) the super tight seal prevents any liquid leakage (not all tupperware does that), 2) it's glass, which is just better than plastic anyway, and is especially good for re-usability and microwaving, 3) mason jars are an excellent shape for eating out of with a spoon; hold the jar in one hand, the spoon in the other, and eat darn near anywhere, and finally, 4) most mason jars have cup/ounce markings on the sides, making for super easy measuring without getting a bunch of stuff out of the cupboards.
While a lot of folks make these in 8 oz jars, I've found pint jars to be a better size for piling on toppings and for stirring without spilling over the edge. (They usually have 12 oz marked out on the sides and are 16 oz filled to the top.)
Base Ingredients
Oats.

These should be standard rolled oats (like the big Quaker tub). Steel-cut may not be softened enough overnight, and instant will be too much so.

Milk.

Theoretically you could just use water, but that's not very tasty. Any number of milks will do depending on your preferences, be it regular (including lactose-free versions), almond, coconut, oat, etc.

Chia seeds.

While not necessary, many recipes for overnight oats include them. There are a couple reasons for that: 1) while not very calorie-heavy, they're little nutrition-packed bombs containing fiber, protein, and good fats, and 2) when immersed in liquid they add a nice pudding-like texture to your concoction.

Sweetener.

Again, not strictly necessary, but adds some extra interest and flavor. 1-2 Tbsp per serving is common in the form of honey, syrup, brown sugar, etc.

Greek yogurt.

Adds some tangy protein and extra flavor too; if you use flavored Greek yogurt, you can use that as your sweetener.
Base Recipe
Most overnight oats recipes utilize a 1:1 ratio of oats to liquid. All recipes can of course be scaled up and made in a big batch to then be portioned out into individual jars. Below is the base recipe I like to use, though even the variations on this are many, as we'll see below:
1/2 cup rolled oats

1/2 cup milk

1 Tbsp chia seeds

1 Tbsp sweetener of choice

1/4 cup Greek yogurt (if flavored, you probably don't need sweetener)

1 Tbsp protein powder (if you want to really amp up the protein factor)
Simply mix all the ingredients in the jar until there aren't any big clumps and put it in the fridge. You can either add some things to this base mix, or just top your oats the next morning. See below for more on that . . .
Additional Fillings/Toppings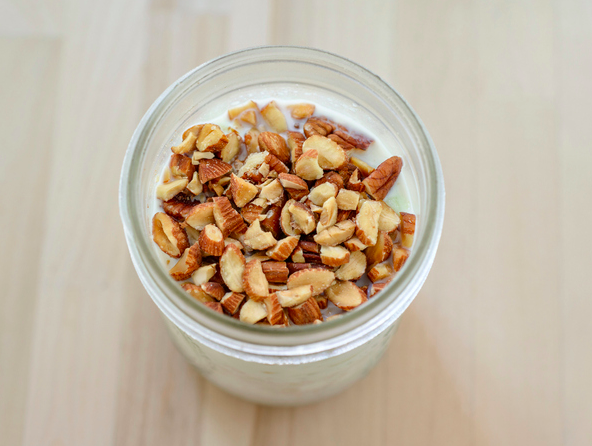 You can literally put almost anything you can dream up into your overnight oats. Things that are already sort of mushy or where texture isn't a factor — fruit, nut butters, spices (cinnamon, nutmeg), etc. — can be put into the mixture the night before (but don't have to be). Things that you want to retain the texture and shape of — nuts, chocolate chips, bacon crumbles, etc. — can be added and stirred in right before eating.
Below is but a sampling of ideas for fillings/toppings, followed by some specific recipes that have been proven to be delicious so that you don't have to experiment too much before finding something you love:
Any fresh fruit

Any dried fruit (including raisins, dates, etc.)

Any nut (often crushed/chopped, but not always)

Any nut butter (or Nutella!)

Bacon (cooked and crumbled)

Jam/jelly

Coconut

Chocolate chips (or cinnamon chips, butterscotch chips, etc.)

Spices (cinnamon, ground ginger, cardamom, nutmeg, etc.)

Cream cheese

Cocoa powder

Pumpkin puree

Vanilla extract

Anything else!
A Few Recipes
As a general note, you'll notice that amounts and base ingredients vary a lot from recipe to recipe. Everyone has different preferences, so just make the recipe as is first, then experiment from there.
Brownie Batter
Makes 2 servings
1 cup rolled oats

3 tablespoons cocoa powder

1 tablespoon chia seeds

pinch of salt

1/4 cup greek yogurt

1 cup almond milk, unsweetened

2 tablespoons maple syrup

1 teaspoon vanilla extract
First, mix dry ingredients in a bowl (through salt). Then add wet ingredients and mix again.

Place in the refrigerator, covered, for at least 2 hours or overnight. Serve cold.

Top with greek yogurt and fresh strawberries, if desired.
Maple Nut Bacon
1/2 cup oats

1/2 cup low-fat milk

1/4 cup bacon, cooked and crumbled

3 tablespoons walnuts, chopped

2 tablespoons maple syrup

Pinch of ground cinnamon
Combine oats, milk, 1 tablespoon maple syrup, and cinnamon in a glass jar and leave in the fridge overnight.

In the morning, combine bacon crumbles, walnuts, and the rest of the maple syrup and top the cinnamon oats.
Peanut Butter & Jelly
Makes 2 servings
3/4 cup oats

3/4 cup almond milk

2 tablespoons peanut butter

1 tablespoon chia seeds

1/2 cup chopped fresh strawberries

1 tablespoon strawberry jam
Stir together oats, almond milk, peanut butter, and chia seeds in a bowl. In another small bowl, stir together jam and strawberries.

Fill 2 jars with half of the oat mixture. Top each evenly with strawberry mixture and remaining oat mixture. Cover and refrigerate. Top each with a small spoonful of peanut butter and strawberry jam just before serving, if desired.
Banana Nutella
3/4 cup oats

3/4 cup almond milk

1 tablespoon flaxseed (or chia seed)

1/2 banana (sliced)

1 large spoonful Nutella
Stir to combine, cover, and refrigerate overnight. Top with more banana and Nutella if you're feeling crazy.
Protein-Packed Peach Cobbler
1/2 cup old-fashioned oats

1/4 cup plain Greek-style yogurt

1/2 cup unsweetened vanilla almond milk or other milk of choice

1 tablespoon sweetener (honey, stevia, sugar, or other sweetener of your choice)

1/8 teaspoon salt

1/4 teaspoon almond extract

2 tablespoons vanilla protein powder

1 small peach diced

1/4 teaspoon cinnamon

Pinch of nutmeg

2 tablespoons crushed graham crackers

1 tablespoon chopped toasted pecans
In a small bowl, stir together first 7 ingredients (oats through protein powder).

In a separate bowl, toss together peaches, cinnamon, and nutmeg.

Place half of the oat mixture in a small bowl or a large mason jar. Add half of the peach mixture. Add the remaining oat mixture and cover.

Refrigerate overnight (or for a few hours) so that the oats soften and absorb the liquid.

Just before serving, top with remaining peach mixture, graham cracker crumbs, and pecans.
Tags:
Recipes