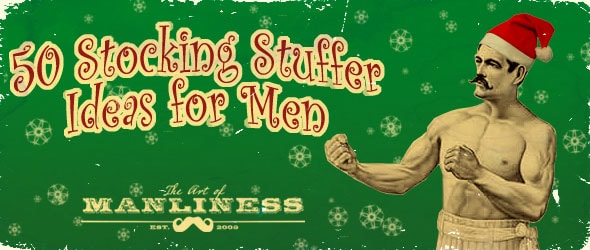 What do you put in a man's stocking?
Stocking stuffers often get overlooked in the rush to see the bigger gifts Santa's left. But they're one of my favorite parts of Christmas. There's something so fun about little gifts small enough to be stuffed in a giant sock. Yet once a man ages out of the novelty toys of his youth, it can be hard to know how to fill his stocking with things that are both neat and useful. For that reason, we've created this guide that includes 50 stocking stuffers a father, husband, or brother will find both practical and delightful. While every stocking should have one or two just-for-fun items, too many stocking stuffers are bits of junk that get thrown in a desk drawer, and then, once the feeling of guilt wears off, put in a trash can or tag sale. So the things we've chosen are those a man will enjoy using the moment he pulls them from his stocking and for a long time afterwards.
1. Grooming Stocking Stuffers For Men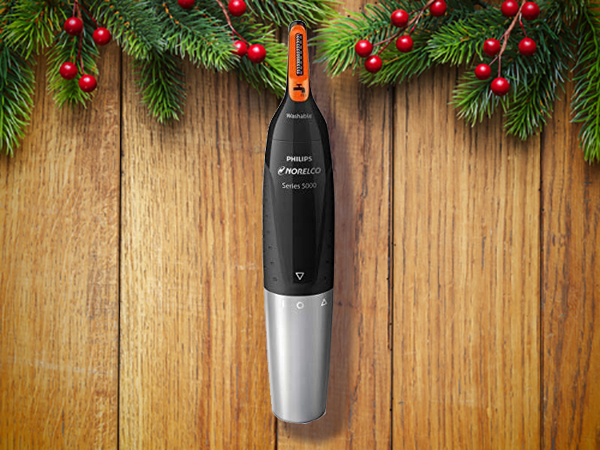 Growing little sprouts from our nostrils and ears is just part of the natural life cycle of human males. While that hair growth can't and shouldn't be totally eradicated, it can easily be managed. Despite a number of trimming options, by far the best is the electric trimmer. They're easy to use, get the job done fast, and don't have any of the pinching or yanking of the other options.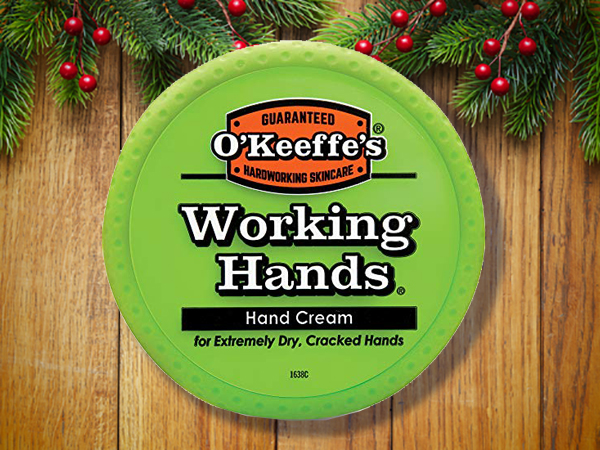 After a long day of house projects, a hard session of weightlifting, or a few hours spent on a woodworking project, even the toughest man's hands need moisturizing relief. Working Hands is made for especially dry and cracked paws and will help heal and repair any damage inflicted from manly labors.
Most men lather up using some green goop from a can. These mass-produced shaving creams smell like you should be cleaning the floor with them. Share the pleasure of shaving with natural shaving creams and soaps with manly scents like almond or sandalwood. They cost more than the drugstore variety, but last far longer. My personal favorite is the sandalwood-scented shaving cream from Art of Shaving.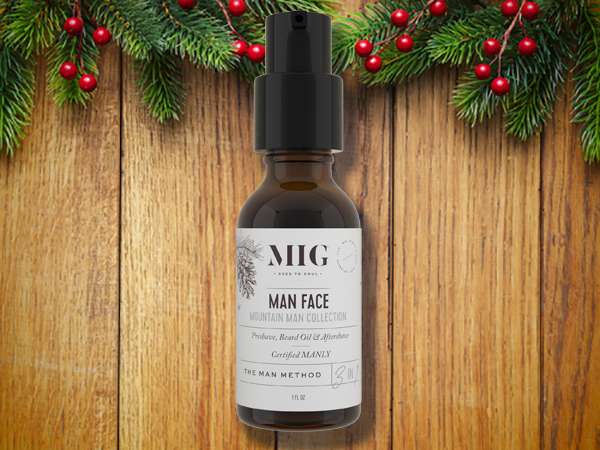 Every beard deserves oil. It keeps the skin beneath from getting dry, wrangles scraggly whiskers, and smells good to boot. What's great about Man Face is that it can also be gifted to the non-bearded man as it works great as an aftershave and moisturizing face oil as well. Give the gift of a happier face.
Favorite Hair Product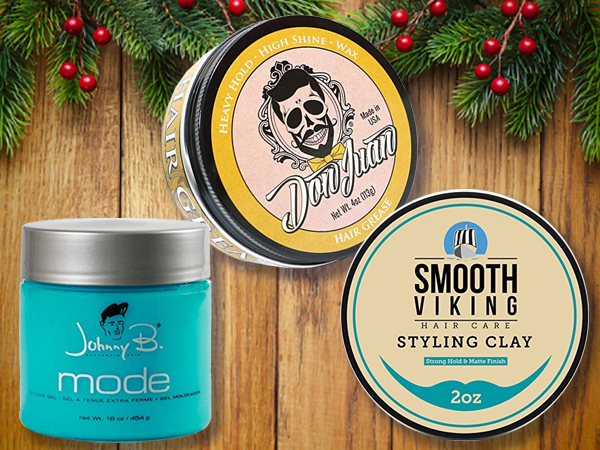 A lot of guys are probably still rocking an old school multi-purpose gel for their hair styling needs. In the last handful of years though, the hair product market for men has exploded, to the benefit of gentlemen the world over. This boom has introduced a number of high-quality options based on your preferred style, environment, hair texture, etc. If the fella you're shopping for doesn't necessarily have a favorite, buy something he can try out; our guide to men's hair products will assuredly aid you in this endeavor.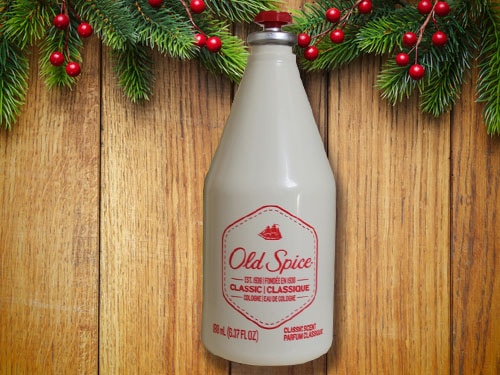 We wrote about six forgotten and manly drugstore colognes and aftershaves in 2012. It was a big hit. Cheap drugstore cologne was a staple in my dad's stocking growing up, and I remember getting my first bottle of Brute in my stocking when I was twelve. Any of the old drugstore standbys make a great stocking stuffer gift. You can't go wrong with Old Spice.
2. Every Day Carry Stocking Stuffers for Men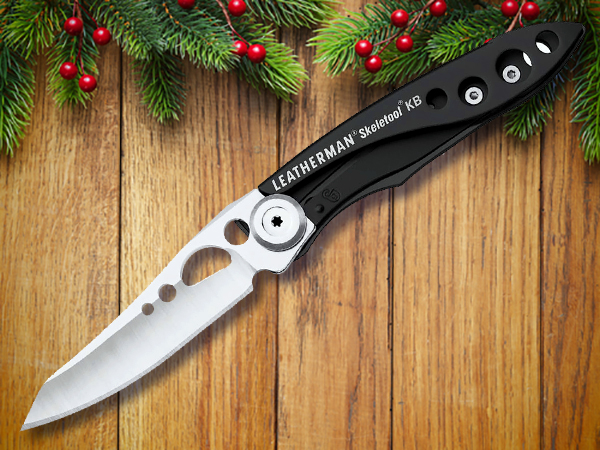 Every man should carry a pocket knife. Huckberry carries a number of nice pocket knives like the Leatherman Skeletool.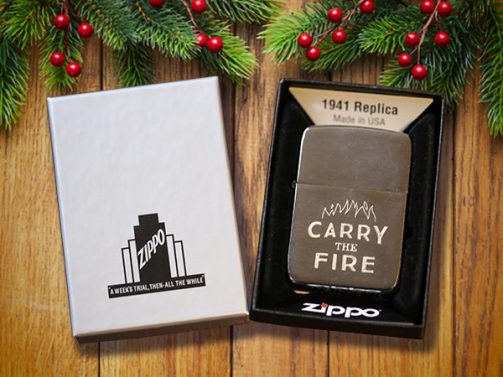 Inspired by a famous line in Cormac McCarthy's The Road, our "Carry the Fire" zippo serves as a tangible reminder to choose idealism over cynicism, virtue over vice, decency over dereliction, and hope over hopelessness. To continue carrying the fire of goodness and honor that has been passed down to you as well as to pass it down to the next generation.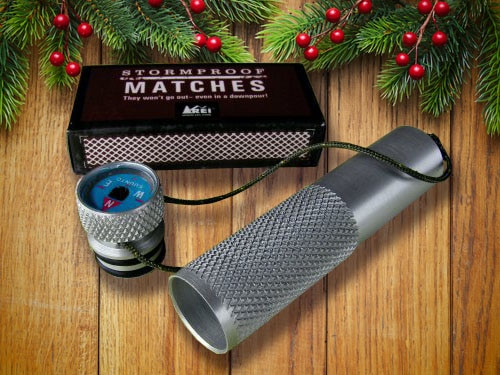 Matchcases are designed to keep your matches (or anything else, like pills) bone dry, no matter how inclement the conditions. As you don't want to take chances with an item like this, get your matchcase from the best source around: K&M Matchcases. A true mom and pop operation based in Elk River, Idaho, their matchcases are made in the US, come with a compass in the top, feature a double o-ring seal, are guaranteed waterproof to 2000 PSI, and are backed with an unlimited lifetime warranty. These are the matchcases issued to US Air Force down-pilot rescue crews, and have been a favorite of soldiers, outdoorsmen, bushcrafters, and Antarctic explorers. They make a standard-size and a long; get the long so you'll be sure to be able to fit your stormproof matches inside (include some matches if you're giving as a gift!).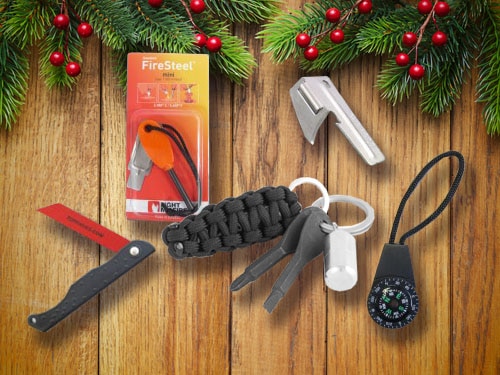 According to the Every-Day Carry website, "Everyday Carry, or EDC, generally refers to small items or gadgets worn, carried, or made available in pockets, holsters, or bags on a daily basis to manage common tasks or for use in unexpected situations or emergencies. In a broader sense, it is a lifestyle, discipline, or philosophy of preparedness." If you know a guy who ascribes to the EDC philosophy, nothing will delight him more than seeing some cool new pocket-sized things in his stocking. We've already covered pocket knives, flashlights, and handkerchiefs, but there are many more handy and neat things available.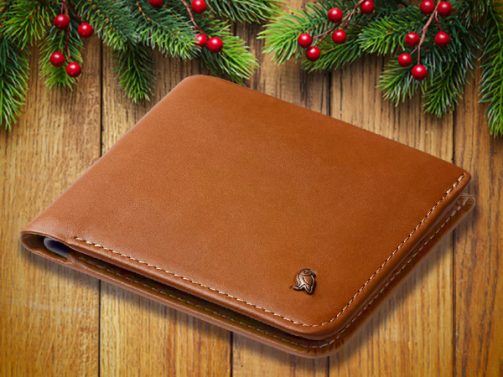 The Hide & Seek Wallet is a natural starting point for those looking to slim their wallet. It's conventional, yet loaded with hidden features and compartments that will Houdini away your extra bulk. Cut from premium vegetable tanned cow leather, it'll protect your bills and plastic and photo of your sweetheart for years to come. This version of the Hide & Seek sports an RFID-blocking upgrade that protects your personal information contained in RFID enabled identification cards, passports and smart cards.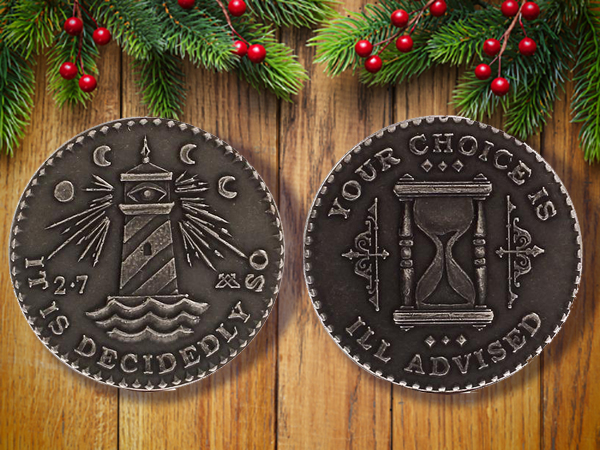 Minted from solid metal, the decision coin is a far more fun way to make coin flip decisions. Beyond that, it can be kept in a wallet as a reminder of the role that fate plays in all of our lives.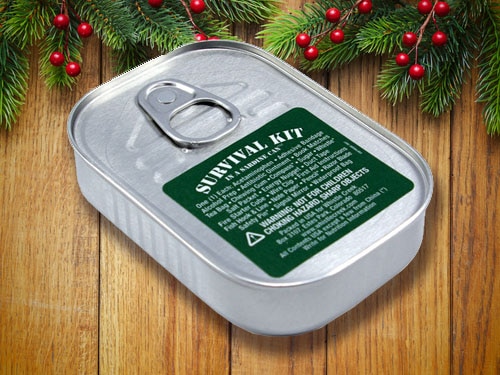 This air-tight, waterproof, crushproof sardine can is packed with 25 survival items, including a fishhook, signal mirror, fire starter cube, and first aid supplies. Now, because of the variety and quality of the items in the can, this is far more of a novelty item than an actual survival kit. But it's pretty cheap and a lot of fun; every stocking needs at least one item that's simply designed to delight and act as a conversation piece. This fits the bill nicely.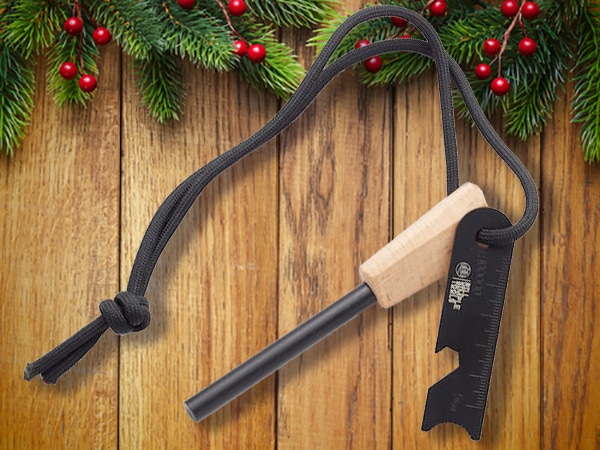 Knowing how to start a fire in a variety of ways is manly. The Firestarter and Striker tool set from Rill Simple Tools will make sure you're always prepared to start a fire in a wilderness survival situation. The aluminum striker ignites magnesium in all conditions, regardless of wind, rain, snow, or temperature.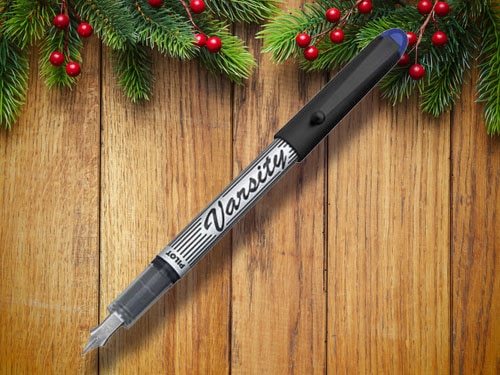 I love writing with a fountain pen. It makes writing even a lowly grocery list feel like a dignified affair. Unfortunately, a decent fountain pen can cost upwards of $50. If you want the fountain pen experience without the cost (and worry of losing an expensive pen) check out Varsity disposable fountain pens from Pilot. A 3-pack costs only $8 and writes almost as smoothly as more expensive fountain pens. These make a great stocking stuffer for a man who's been curious about fountain pens, but hasn't had the dough to try out an expensive one.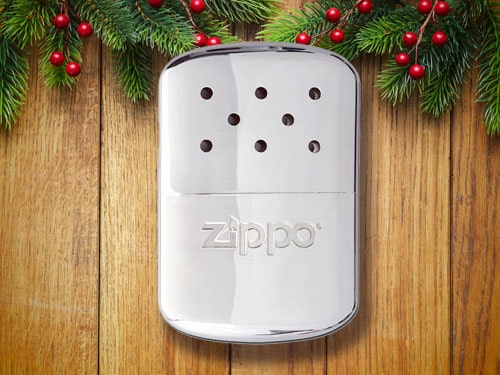 This handsome handwarmer from Zippo makes the perfect stocking stuffer for the man who spends a lot of time in the freezing cold. My dad would have loved this in his game warden days on those cold mornings checking duck hunters.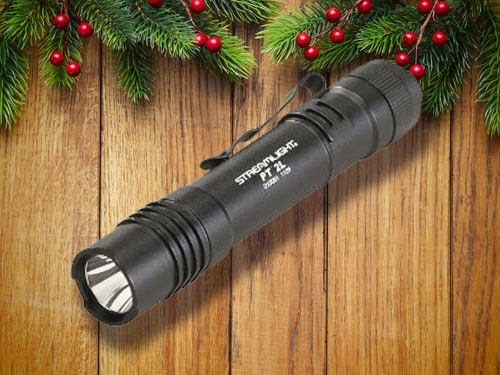 Besides helping you find your car keys in a dark parking lot when you accidentally drop them, a small tactical flashlight can also serve as a useful self-defense tool. Shine the bright light from the tactical flashlight in a would-be attacker's eyes to temporarily blind him and give yourself enough time to run or counter-attack. High quality tactical flashlights can cost well over $100. For most folks, that's probably too much for a stocking stuffer. At about $40, the Streamlight 88301 Protac Tactical flashlight puts itself on the potential stocking stuffer bubble. While it doesn't emit 500 lumens like its more expensive cousins, the 88301 does offer enough light output (180 lumens) to blind an attacker momentarily.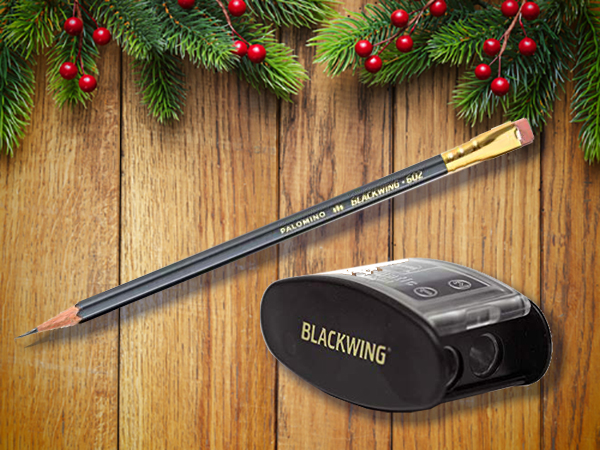 These aren't the standard yellow #2 pencils that you grew to hate during middle school. Just as fountain pens are a step up from the leaky ballpoints you buy in bulk, these Blackwing pencils are an upgrade over that old Ticonderoga. Made with California cedar wood and high-quality Japanese graphite, they deliver a surprisingly smooth, pencil-paradigm-changing writing experience. There's a reason these iconic pencils have had a cult following since the 1930s. Be sure to grab the two-step sharpener as well.
3. Technology Stocking Stuffers For Men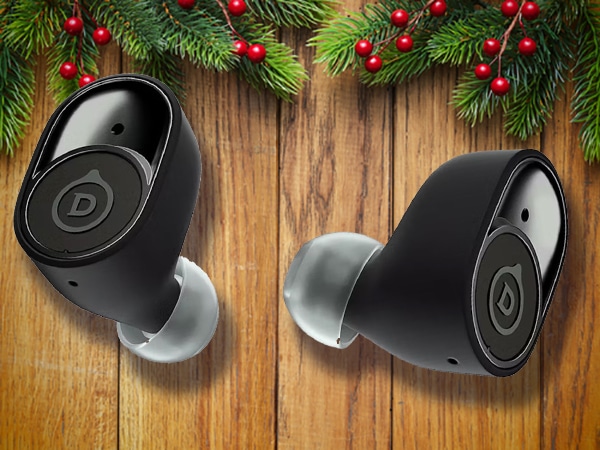 There's a stark difference between music played from a standard set of earbuds and music played from studio-grade speakers—yet one is clearly superior to the other. Devialet bridges the gap between the two, allowing you to have a premium audio experience without needing a studio engineering background. Their tried-and-true piece we never leave the house without is their Gemini Earbuds. Compact and 100% wireless, these earbuds offer premium, noise-cancelling sound in a sleek, modern package.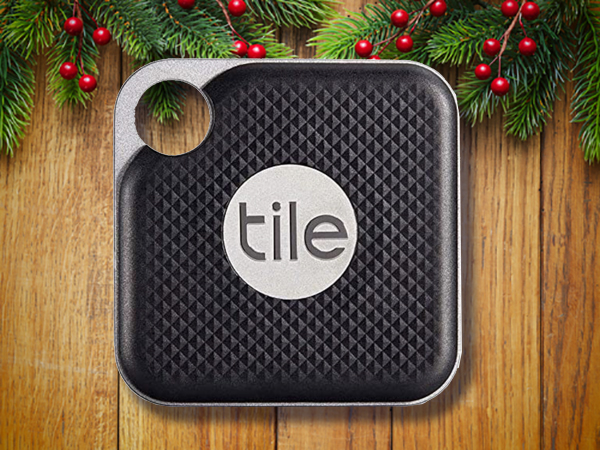 Help your loved ones never lose their phone, keys, TV remote, or other essentials ever again. The Tile tracker easily attaches to any number of items and the handy smartphone app will ping the item if lost. If you can't find your phone, another Tile (like the one on your keyking) can find that for you. Talk about handy.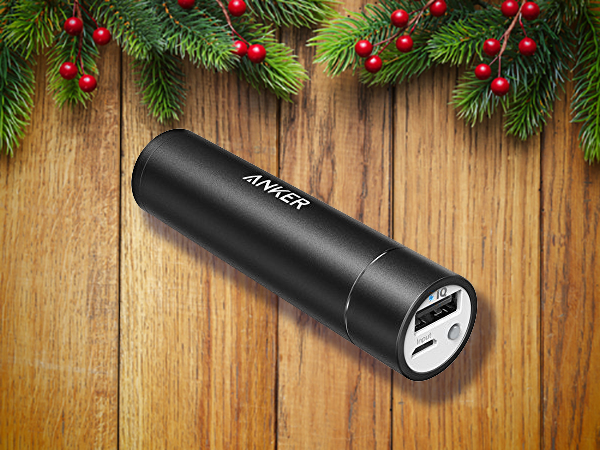 While many folks carry phone chargers as part of their EDC these days, outlets aren't always easy to come by when you're in need. That's where portable chargers come in especially handy. The charger itself needs to be charged, of course, and then it can provide a full battery boost to your phone no matter where in the world you are.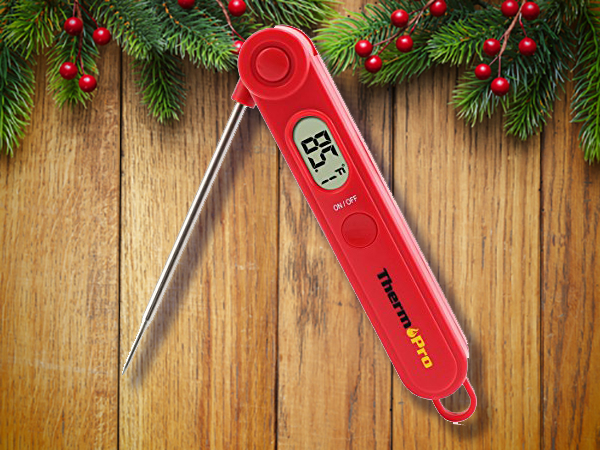 Every backyard barbecuer needs a good meat thermometer. The usual variety, though, can be sort of fickle to use. You never know if you've waited long enough, or even how accurate it is since the needles tend to move a bit. With an instant read version, you don't have to worry about that at all. Stick it in, and a couple seconds later you have an accurate reading. Can also be used with baked goods, homebrewed beer, and other foodstuffs that require precise temperature readings.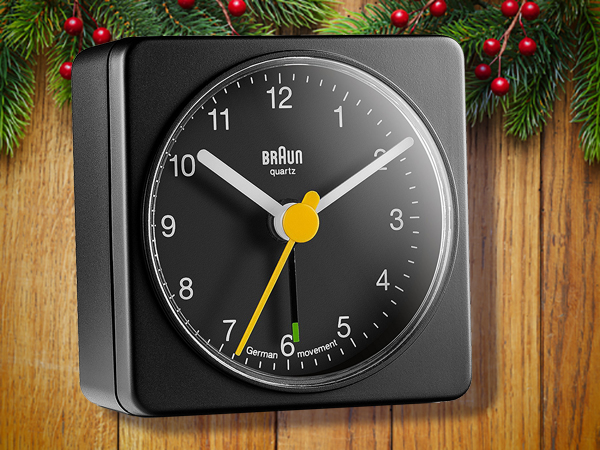 Give the gift of better sleep! Most folks' smartphones are in their rooms with them come bedtime. Whether diddling around and staying up too late (and sacrificing sleep) or using its alarm to wake you up, your phone ends up being the last thing you see at night and the first thing you see in the morning. But plenty of research — both anecdotal and scientific — has shown that getting your phone out of your room makes for improved sleeping, waking, and mental and physical health. When you give the gift of a "throwback" alarm clock, you give the gift of better well-being.
4. Book Stocking Stuffers for Men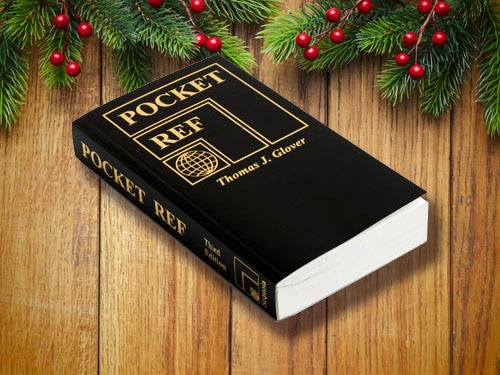 I love a good reference book and my favorite by far is the Pocket Ref, 4th Edition by Thomas J. Glover. This small, black book is crammed with just about every piece of information a man might want to know. Want to know about different lumber types? How about how to tie the fifty most common knots? Need a formula to determine the area of an oblique triangle? It's all there in the Pocket Ref Guide and much, much more. Sure, you can find this info online these days, but this guide serves as a great book to have by the toilet so you can thumb through it while taking care of business.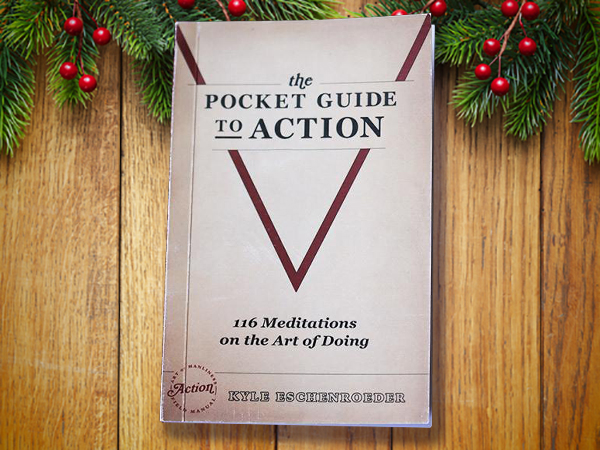 For the man who's ready to have a better year next year than the one he had this year, and is itching to move on his dreams, get him the The Pocket Guide to Action (available both in the AoM Store and on Amazon). It's packed with wisdom on how to turn one's abstract intentions into concrete actions, and finally pull the trigger on long-contemplated thoughts and plans.
Every bathroom needs a bathroom reader — a handy little book that can be perused a few minutes at a time while doing your business. The classic in the genre is the Uncle John's series, which is now in its 32nd edition. With short tidbits of interesting facts and longer tales of daring and misdeed, there's always something fascinating to be found in its pages, no matter how long the visit.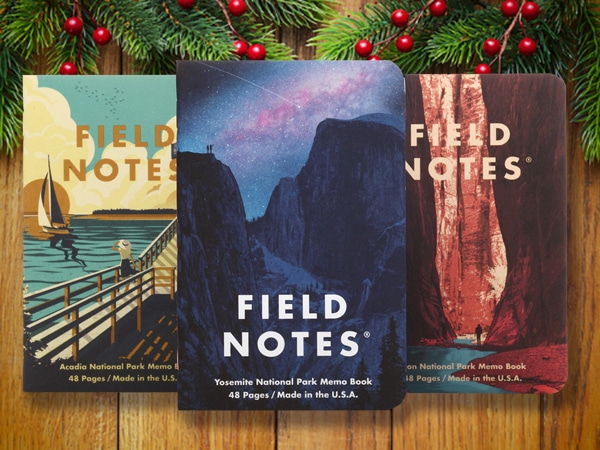 We've extolled the benefits of the pocket notebook numerous times -- they're so handy for writing down ideas, to-do tasks, or just capturing your bored scribbling. There are a variety of great pocket notebooks out there. Field Notes are a classic Made in America brand that have a nice vintage look to them. Huckberry has a series of Field Notes that pay homage to American National Parks. They've got a Rite in the Rain are cool because, well, you can write in them in the rain without losing your world-changing idea.
5. Food and Drink Stocking Stuffers For Men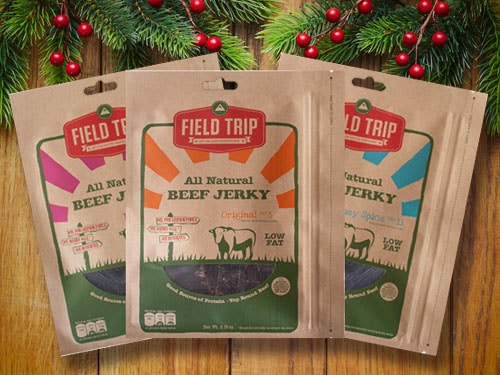 It used to be that when it came to buying beef jerky, your only option was the mass-produced, chemical-ridden, barely-edible corporate varieties available at your local gas station or grocer. These days, the beef jerky gods have been smiling upon us and many independent jerky makers have sprouted up. There are lots choices out there, and I always enjoy trying new ones. One of my favorites makers is Field Trip -- all-natural and delicious.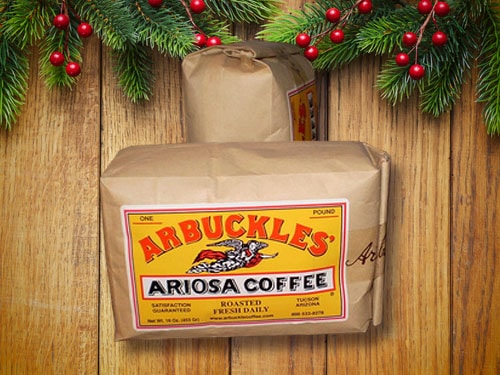 Getting a coffee-lover a bag of beans is a no-brainer. But which should you choose? Instead of grabbing a bag from Starbucks on Christmas Eve, try the Ariosa blend from the Arbuckles' coffee company. Touted as the "Original Cowboy Coffee," and the "Coffee That Won the West," John and Charles Arbuckle first made their coffee way back in 1864, pioneering the practice of selling pre-roasted beans and putting them in 1lb sacks. Packages come with a peppermint stick, just as they did over a century ago.
Old Fashioned Chewing Gum

Black Jack gum was first made by Thomas Adams all the way back in 1884. Made with aniseed, it was the first flavored gum made in the US and also the first gum to be offered in stick form. Adams' company, American Chicle Co., then acquired Beeman's in 1898 from its inventor, Edward E. Beeman. Beeman had incorporated pepsin in his recipe, a digestive enzyme, and Beeman's became incredibly popular among pilots as an aid in both popping their ears and an antacid to settle their stomach acid during flight. Clove was another zippy flavor added by the company later on. These classic chewing gums were discontinued in the 70s and then brought back by Cadbury Adams and now make a great stocking stuffer for the man who wants to taste what Gramps was chomping on while playing stickball. Look for these gums at speciality candy stores.
Mini Bottle of Booze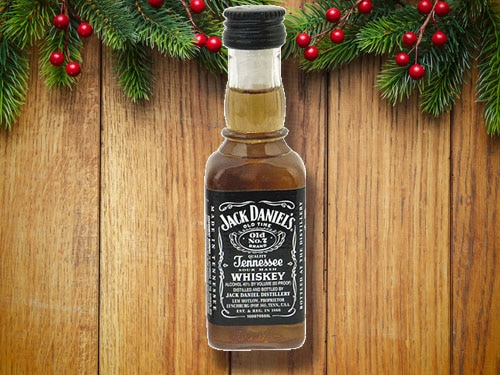 You can buy mini bottles of alcohol at most liquor stores. Pair a mini bottle of whiskey with a favorite cigar to create a memorable manly-vice-themed stocking stuffer. Generally available in any number of options.
6. Stylish Stocking Stuffers For Men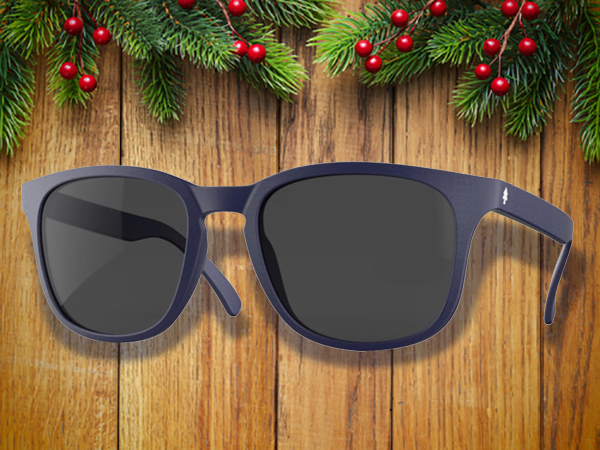 An all day, everyday pair of sunglasses that doesn't break the bank. Lightweight but with a hardy construction, polarized lenses, and crucial hinge protection (which is where sunglasses always fail when/if they take a tumble), these can truly be taken anywhere. While a nice pair of shades makes for a good under-the-tree gift, everyone needs a pair or two that they don't have to worry too much about.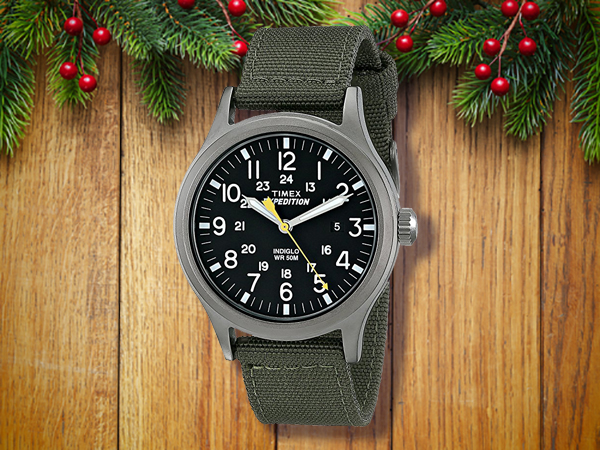 Does a watch belong in a stocking or under the tree? When it's as affordable as this one, it can be tucked inside the former. This line of watches by Timex was inspired by the field watches issued to soldiers during the first half of the 20th century and, while affordable, looks great with a wide variety of get-ups. The perfect timepiece for everyday, casual use.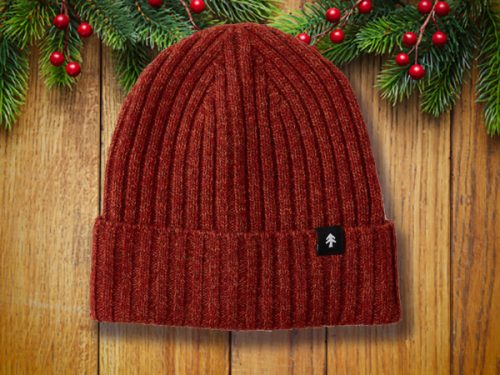 A Japanese-made beanie that blocks out the cold and keeps you stylish in the process. It's also durable as heck. Include it in your loved one's stocking this year, and he'll be chomping at the bit to go outside and snowshoe or split some wood for the fireplace.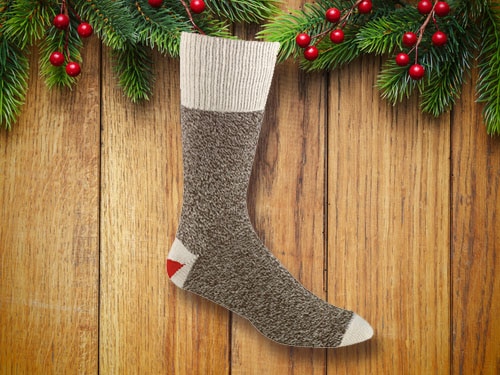 Monkey socks have become all the rage in the form of sock-monkey-themed everything. But before they become a delightful stuffed animal for children, they actually start out as darn good socks -- made in the USA of moisture-absorbing cotton and acrylic by the Fox River Mill. Available in different colors than monkey brown too.
Tins of Shoe Polish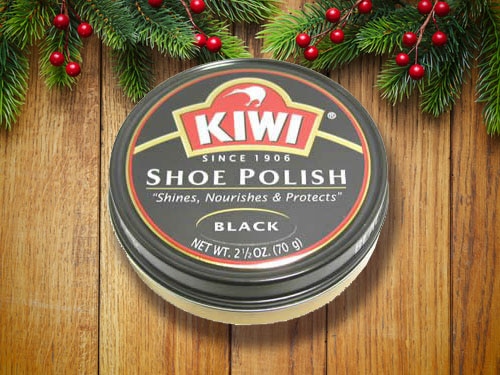 I don't know about you, but I always seem to be out of shoe polish whenever I actually need it. I'll make a mental note to pick some up on my next trip to the grocery store, and of course, I'll go to the store and forget to buy some. The occasion will arise again when I need to shine my shoes and the vicious cycle repeats itself. It'd be nice just to have copious amounts of shoe polish tins in my shoe shine box so I'd never have to worry about buying a can ever again. I'm pretty sure if Santa left two or three cans in my stocking each year my wish would be a reality. At $4 a tin, it's the perfect stocking stuffer.
7. Random Manly Stocking Stuffers For Men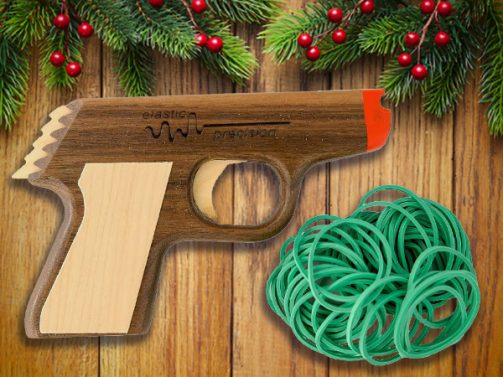 Modeled after the classic Walther PPK made famous by James Bond, this rubber band gun will give you a license to annoy your cat and wife. For England, James.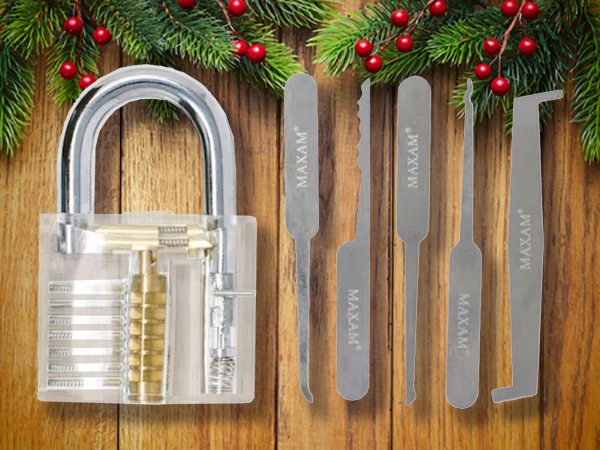 At AoM, we're aficionados of the fine art of lock picking. This clear lock pick training set you can fine tune your lock picking craft by seeing how the tumblers and springs move as you rake your way to opening the lock. Set comes with clear training lock, tension wrench, and four picks.
Ammo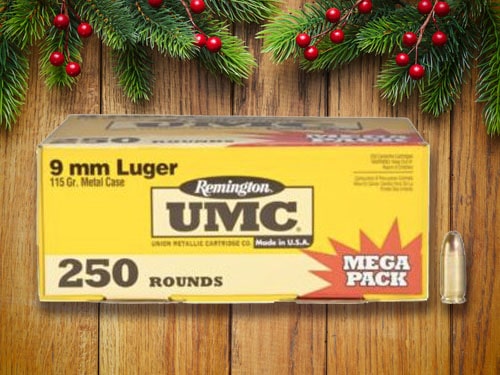 Ammo is kind of expensive and you want plenty of it on hand for those impromptu trips to the gun range. Make sure you get the right kind of ammo, though. It'd be a bummer to get boxes of 9mm bullets when your gun is a .38 special. I'm hoping Santa drops a few boxes of shotgun shells in my stocking this year.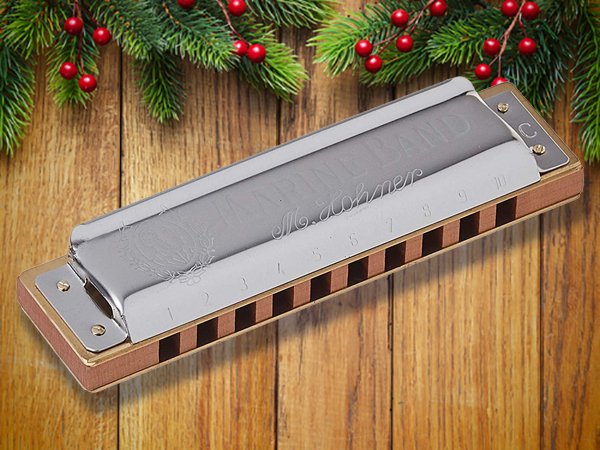 The tin sandwich has a long and rich history, especially in the American South and West. The beauty of this instrument is threefold: it's relatively inexpensive (even for a quality model), it's small and portable (easily fitting into nearly any pocket), and it's one of the easiest instruments to learn (to the point of playing recognizable tunes). Get one for everyone in the family and have some Christmas singalong time right then and there.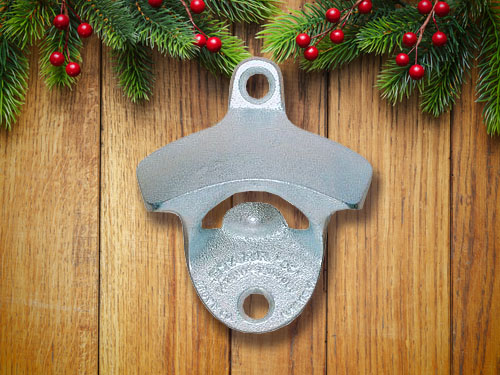 A classic wall mount bottle opener placed right next to the fridge eliminates the hassle of twisting off a bottle cap, plus it makes opening a cold one a bit more enjoyable.
Cigar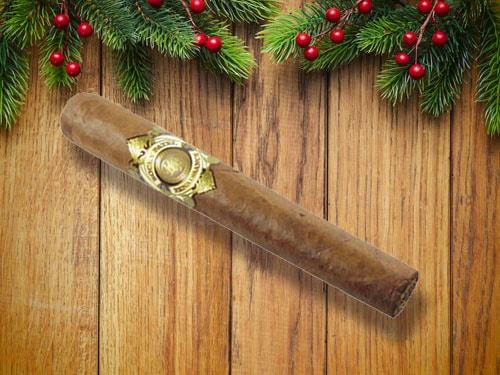 Besides ammo, cigars and mini bottles of booze topped the list of reader suggestions. If you know a guy who enjoys a good stogie every now and then, a few of his favorite cigars placed in his stocking will catapult you to number one friend/son/brother/nephew. You can usually buy cigars individually at your local cigar shop.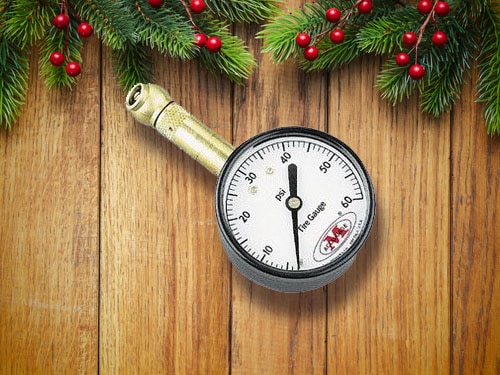 Maintaining proper tire pressure will keep you safe and even save you a little dough. Improperly inflated tires — and this may mean over-inflated or under-inflated — don't handle or stop as well as tires with the correct pressure. They also increase your chance of a blow out. Plus, tires with the correct pressure have a longer life and increase your fuel efficiency. A tire pressure gauge is an essential tool in properly maintaining your tire pressure. This tire gauge from Accugage is one of the best in the industry, and comes in at less than $10.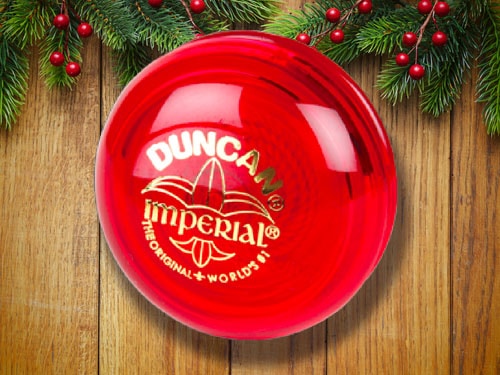 Even as a grown man, I enjoy getting a kid's toy in my stocking. It's fun to have something to play with on Christmas morning and it just makes me feel like a boy again. You can't go wrong with stuffing a stocking with an Imperial yo-yo from Duncan Yo-Yos. Besides giving a dad or uncle a chance to show off some cool tricks to the kiddos on Christmas morning, throwing the yo-yo is a surprisingly great activity for quieting the mind when you're sorting through a problem.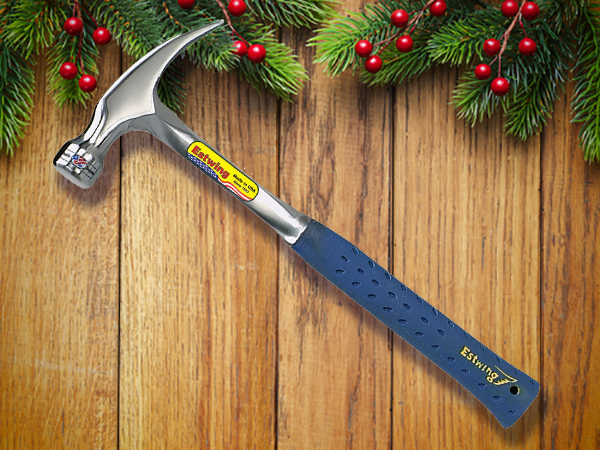 Every man should have a high-quality hammer in his garage or tool chest. It's not always easy to throw down $20 on a hammer when there's a $7 version right next to it at the hardware store. It's worth the extra bucks though, making it a great stocking stuffer. Practical, but also just kinda fun. Bonus: Estwing tools are made right here in the USA.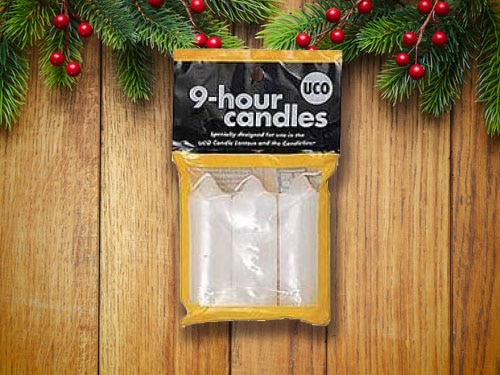 Candles are incredibly handy for when the lights go out, and these are some of the longest lasting ever made. They burn cleanly without residue or dripping either. Might want to get a UCO lantern too, which are designed to hold the candles, and are handy for camping.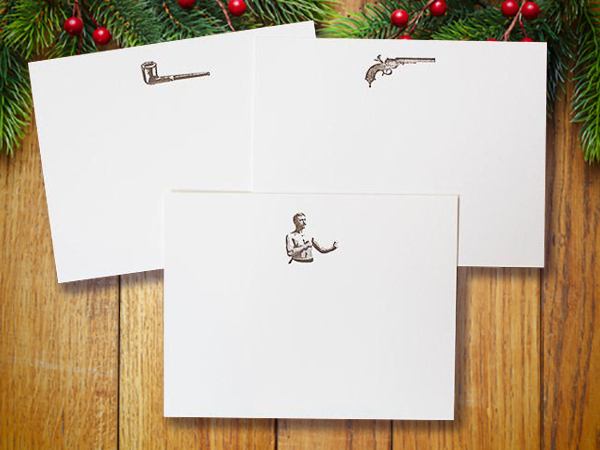 Every man needs a set of correspondence cards in his desk for jotting off thank you notes and the like. But most of the stationery available these days is made for women. Enter the AoM line of stationery. The cards are made from quality stock and there are several different sets of designs to choose from.
If you're going to put a pocket knife in a man's stocking, he'll also need a good sharpening stone to keep his blade in tiptop shape. You might also include a slip of paper with a link to our guide on how to sharpen a pocket knife. Smith's Sharpening Kit has everything a man needs to start sharpening his knife: a medium-grained stone, a fine-grained stone, and oil.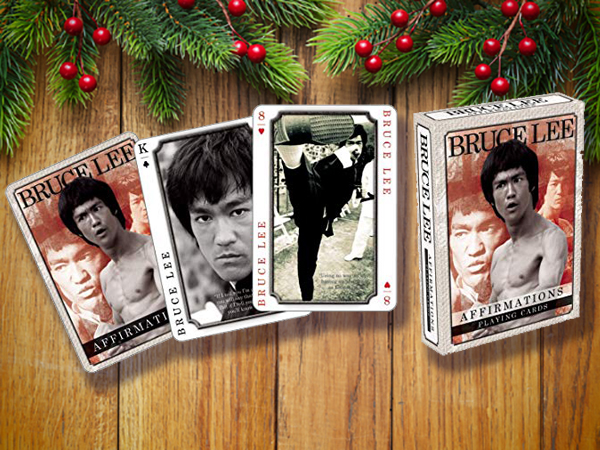 Analog games should be a part of everyone's life, whether it's nightly or just occasionally. They don't require electricity, encourage social interaction and conversation, and provide a nostalgic type of fun that perhaps shouldn't be nostalgic. While the classic Hoyle playing cards do the trick just fine, it's more fun when your pack sports a unique design. These Bruce Lee cards fit the bill, with each card featuring a different image of the kung-fu legend as well as one of his philosophical affirmations.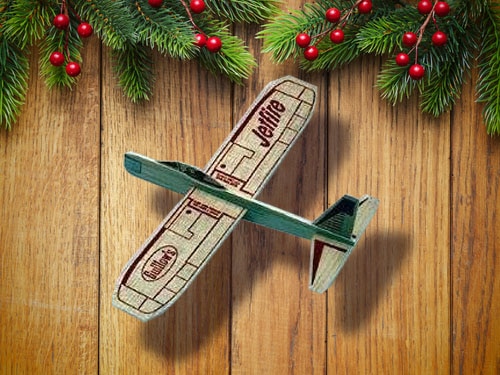 Another fun toy to give a man in his stocking stuffer is a balsa wood airplane. They're easy to put together and you'll have a blast tossing them around the house. The Duluth Trading Co. is offering a squadron of 12 made by a company that's been making the planes here in America for decades.