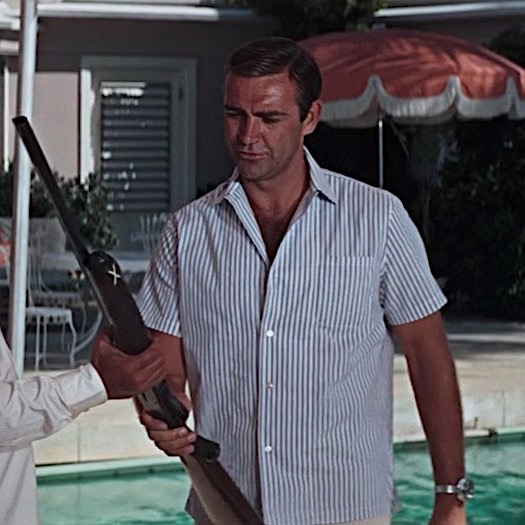 Summer is almost here so I've been thinking about refreshing my wardrobe for the warmer weather.
Dressing for warm weather has always been befuddling for me. I usually end up wearing a simple t-shirt with a pair of shorts. If I need to dress up a bit, I'll go with a polo shirt. But sometimes a polo shirt feels a little too dressy, or at least a little too "square." Like if I'm at an outdoor pool party lounging around eating a burger, I don't want to feel like I'm in a Ralph Lauren ad. I want something that's casual, but not too casual. It'd be nice if there was a warm weather shirt that's a step above a t-shirt and a step below a polo.
Well, thankfully, that shirt exists! In fact, it was likely a summer style staple for your grandpa.
It's the camp collar shirt (aka the camp shirt, the vacation shirt, the aloha shirt, the bowling shirt).
What Makes a Camp Collar Shirt, a Camp Collar Shirt
A camp collar shirt is a short-sleeve, button-down shirt that is characterized by its open, unstructured, lay-flat collar (called a camp collar) that creates a lower-cut v-neck; this relaxed collar is part of what distinguishes it from a short-sleeve dress shirt which buttons up higher and sports a stand-up collar. The camp shirt is also defined by its loose-fitting, almost boxy silhouette and straight bottom hem.
Because it's a warm weather top, camp collar shirts typically use light, breezy fabrics to keep you cool. And because of its association with the carefree bliss of summer, camp collar shirts often come in bold colors and patterns. That Hawaiian shirt you wear when you want to show everyone you're a fun guy? That's a camp collar shirt. The retro bowling shirt you wore to ska concerts in the late 90s? Camp collar.
The History of the Camp Collar Shirt
The likely origin of the camp collar shirt was the guayabera, a traditional Latin American work shirt. Several Latin American and Spanish-speaking countries lay claim to being the originators of the guayabera. Ask a Mexican, and they'll say it was created by people living in the Yucatan peninsula and the Cubans copied it. Cubans say they created the camp collar shirt without any help from Mexico. Meanwhile, Filipinos will say they've been rocking the guayabera since the 19th century.
Whatever the origin of the guayabera, it was Cubans, especially in the wave of immigration following the Cuban revolution of 1959, who brought the garment to the United States and popularized it on our shores. Mid-century Americans kept the open collar style of the guayabera, replaced the long sleeves with short sleeves, and started using bold fabric patterns. The camp collar shirt was born.
It became the go-to casual shirt for men in America. And it cut across classes. Prominent figures like Bobby Kennedy and Elvis Presley rocked camp collar shirts. But so did working class WWII vets living in Levittown. Bowling teams made the camp collar shirt their uniform. Vacationing Americans turned the camp collar shirt into the ultimate vacation shirt by donning ones with splashy tropical patterns, giving rise to the iconic Hawaiian shirt.
The camp collar shirt was truly a democratic piece of clothing and was a summer style staple for men in America from the 1950s through the 1980s.
But then in the 1990s and early 2000s, the camp collar shirt went out of style. The only place you'd still see it was on guys skanking at ska concerts or dudes wearing a Hawaiian shirt at comic book conventions.
In the past few years, the camp collar shirt has made a comeback. While modern camp collar shirts maintain the open collar and relaxed look of camp collar shirts from yesteryear, subtle changes in design and fabrics have given them a more up-to-date feel.
How to Rock a Camp Collar Shirt
You can wear a camp collar shirt anytime a polo shirt wouldn't be out of place, but the event has a laid-back vibe that would make a more casual shirt a better fit. Think pool parties, beach outings, backyard BBQs, patio dinners, and rooftop hangouts. Camp collar shirts are a great choice for most casual outdoor social occasions.
Styling a camp shirt is pretty dang easy because it's such a casual garment. You can wear it with shorts, khakis, or jeans, or with linen trousers for that full "I'm on vacation" look.
The key is to keep whatever bottom you're wearing simple, especially if your camp collar shirt has a bold pattern (like an aloha print). Madras shorts don't look good with a camp collar shirt. But solid-colored khakis or linen shorts do.
For a relaxed look, keep your camp collar shirt untucked. For a more refined (yet still-casual) look, tuck in your camp collar shirt.
If you're feeling particularly bold, you can even dress up a camp collar shirt by wearing it with a suit. If you look like you're headed to Palm Springs to hang out with Frank Sinatra, you pulled this look off; if you look like a stereotypical 1980s used car salesman, you failed. Abort mission.
In the footwear department, pair a casual camp shirt get-up with canvas sneakers (worn sockless), boat shoes, or Mohinders. If you're dressing the shirt up a little, couple it with nicer leather loafers.
If you're looking for more tips on how to style a camp collar shirt, check out Primer's great piece on the topic.
Otherwise, go forth in this retro-inspired, but perfect-for-the-present piece of elevated leisurewear and enjoy the ring-a-ding heck out of this summer.