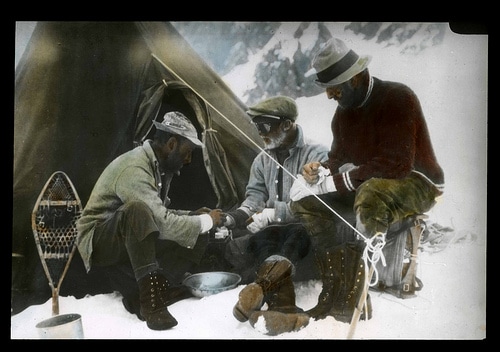 The Call
By: Earl H. Emmons
Did you ever have a longin' to get out and buck the trail,
And to face the crashin' lightnin' and the thunder and the gale?
Not for no partic'lar reason but to give the world the laugh,
And to show the roarin' elyments you still can stand the gaff.
Don't you ever feel a yearnin' just to try your luck again
Down the rippin' plungin' rapids with a bunch of reg'lar men?
Don't you ever sorta hanker for a rough and risky trip,
Just to prove you're still a livin' and you haven't lost your grip?
Can't you hear the woods a-callin' for to have another try
Sleepin' out beneath the spruces with a roof of moonlit sky,
With the wind a sorta singin' through the branches overhead
And your fire a gaily crackin' and your pipe a-glowin' red?
Don't you often get to feelin' sorta cramped and useless there,
Makin' figgers and a-shinin' your pants upon a chair?
Don't you yearn to get acquainted once again with Life and God?
If you don't, then Heaven help you, for you're a dyin' in yer pod.
Tags:
Manvotionals