There was never a decade in America as sports crazy as the 1920's. The true frontier had vanished into legend, and the playing field became the new arena for "pioneers" to demonstrate their ruggedness, determination, and ingenuity. Americans thus elevated the status of athletes and coaches to that of saintly heroes. Few of these heroes shined so brightly as Knute Rockne. Knute (pronounced ka-noot) was one of the greatest football coaches of all time. Although Rockne was famous for spinning yarns and exaggerating his exploits, such embellishments were hardly necessary; the facts stood for themselves. In his 13 years as the head coach of the Notre Dame football team, Rockne racked up 5 undefeated seasons and 6 national championships. Most importantly, he loved and embraced manliness. He encouraged men to stop dallying in effeminate hobbies and take up rough, physical pursuits like football. "America should be a place for rugged men, not flabby ones," he proclaimed. While a plane crash cut short his life at age 43, his lessons in manliness echo on:
Be a renaissance man. Knute was a jock who loved sports and was passionate about football. But he cultivated his mind too. While a student at Notre Dame, he didn't let his role as an athlete take away from his studies. A diligent student, Rockne's average was a 90.52% (this was before the grade point system). He was equally adept as science (receiving a 97% in chemistry) as he was in English and philosophy (earning a 98% and 94% respectively). He also found time to serve as a yearbook editor and play the flute in the orchestra (if Knute Rockne played the flute, I may have to reconsider the manliness quotient of that instrument). Knute graduated magna cum laude from Notre Dame and was offered a job as chemistry assistant at the school, a position he took in addition to various coaching jobs.
Be in tune with the winds of change and don't be afraid to ride them. Contrary to popular myth, Rockne did not invent the forward pass, but he was one of the first players to see and then utilize its potential. During the summer of 1913, while other players were taking a break from football, Knute and his friend and teammate Gus Dorais were relentlessly perfecting the art of passing and receiving. In the fall, during their first ever meeting with national powerhouse Army, Rockne and the Hoosiers (as the Fighting Irish were then known) unleashed their new offensive weapon. At first, the Black Knights' defense pummeled Notre Dame. But then Dorais stepped back and Rockne headed downfield. Dorais started shooting passes to Knute and the other Hoosier receivers, just as they had practiced many times. Army was caught completely flat footed. The final score was 35-13 and the game of football had been opened up and forever changed. Seeing the potential of the forward pass required some forward thinking, and Knute was a guy who was always looking for a new edge.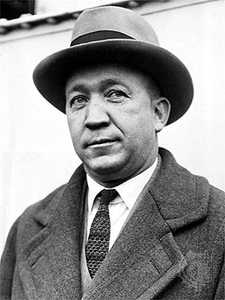 Stay humble and hungry. Rockne believed that "overconfidence is the toughest poison a coach has to face. It can wreck any team…If your team isn't keyed up and the other team is, the other team can easily overcome a handicap of two or three touchdowns." Rockne always worked to keep his team's confidence from turning into arrogant cockiness. In 1916, while riding by train to the annual Army-Notre Dame game, fellow passenger and former president Theodore Roosevelt chatted up the team. One the players boasted of how they were going to make mincemeat of Army. TR, a lover of bravado, declared, "That sounds just bully, Coach! "Yes sir, just plain bull sir," Rockne replied. Indeed, Army went on to demolish Notre Dame 30-10. Knute understood that football, like everything in life, is "60 percent leg drive and 30 percent fight." You gotta stay hungry.
Learn how to wield the power of oratory. Rockne practically invented the art of the inspiring locker room speech. He was a master of oratory. The motivational pep talk was an essential part of his coaching tools. He would spin together humor, sentiment, machismo, and folksy wisdom into a magnetic speech. His gift extended beyond the locker room; he could wax poetic on a myriad of subjects at the drop of hat and in any setting. But he was never boring. He always kept his remarks short and pithy, leaving the audience riveted and wanting more. His most famous speech took place during halftime of the 1928 Army-Notre Dame matchup. Rockne fired up his players by telling them that George Gipp, a legendary Hoosier who had died of a strep infection while playing for Rockne, had on his deathbed told Knute that if the team was ever down, to "Win one for the Gipper." Whether Gipp ever said this is highly debatable (it certainly sounded good coming out of Reagan's mouth), but the effect of the speech was electric; the players charged from the locker room and went on to win the game. What made Rockne's oratory skills all the more remarkable was the fact that he wasn't born with them; for most of his life he had stammered when he tried to speak publicly. But he worked on this weakness, taking speech lessons and practicing until he had attained a powerful silver tongue. Here's another one of Rockne's famous locker room speeches:
Be loyal. Today's coaches promise to stay forever with a team, only to bolt the minute another school waves some dollar bills in their face. Not Knute. In 1921, after suffering a bitter loss to Iowa which snapped their 22 game winning streak, Rockne and his players gloomily traveled by train back to South Bend. Arriving at one o'clock in the morning, the train was met by over a thousand students who had hoofed the 3 mile walk into town to greet their heroes. They implored Rockne to make some remarks. Overcome by this show of support in the face of defeat, Knute proclaimed, "As long as you want me, I'll be here." His success would soon have colleges across the country chomping at the bit to have him on board and during his 13 year tenure at Notre Dame, Rockne was sorely tempted to jump ship (and during a debacle with Columbia almost did). Yet even with a less than stellar salary, and an often unsupportive university administration, Rockne was true to his word.