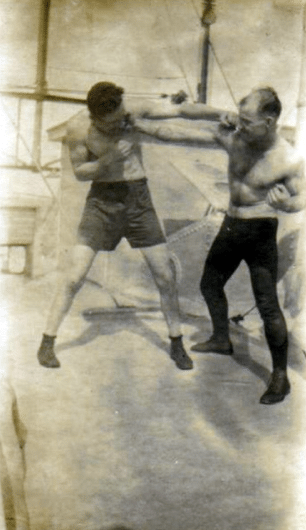 Editor's note: This is a guest post from Billy Coffey.

Four years ago…
It started the way most good stories do, over lunch with a friend. This particular friend was named Charlie, an iron-fisted brawler disguised as a nerdy engineer who worked in the building next to mine.
"You should stop by tonight," he said. "Great workout. It'll make a man out of you."
"I'm already a man," I answered.
Charlie nodded and said, "Maybe. You ever been punched?"
"No."
He put his fork down, looked me in the eye, and said, "A man never knows what he's made of until he gets punched."
I didn't know what that meant, but it sounded philosophical enough to get my attention. "I'll be there," I told him.
All true boxing gyms are located in much the same place — the nearest poor neighborhood of the nearest city (you've seen Rocky III, right?). Which made getting there from the quiet confines of the country an adventure in itself. Charlie had warned me that the gym was much more old school than new, and he was right. There was no heat, no air, and no bathroom. There was merely a ring, several punching bags, dirty mirrors for shadowboxing, and a bucket to throw up in when the trainers pushed you that far. Written in bright red letters above the ring were the words "JESUS SAVES."
It was, in a word, perfect.
I met with Charlie, the fighters who were warming up, and the trainers. "Gotta hand it to you," the head trainer said. "Takes stones to show up the first time on sparring night."
"Sparring night?" I asked. I looked at Charlie, who had looked away. I could see the smile on his face, though.
"You're gettin' in the ring, right?" the trainer asked me.
Gettin' in the ring? No, I was not gettin' in the ring. I was not stupid.
"Yeah, I'm gettin' in," I said. Because macho manliness trumps stupidity every day of the week and twice on Thursday.
"Good," the trainer said. "You can get in with me, then."
Charlie looked at me with a look that was part humor and part "Oh, boy."
"What?" I asked him.
"Nothing," he said. "You'll be fine."
I stared at him.
"He won Tough Man last year," he confessed. "But don't worry."
Don't worry. Famous last words of rednecks everywhere. On par with, "Hey ya'll, watch this!"
So. Into the ring.
Charlie adjusted my headgear and said, "Move. Don't forget that."
I nodded.
"And keep your hands up. Block and punch. Make your defense offense."
I nodded again.
He checked my gloves and wiped them against his T-shirt. "And for the love of God Almighty, keep your chin down. You expose that chin, and you're a goner."
"I ain't goin' down," I said, and smiled to prove it. "So what is this, sparring or more?"
Charlie looked across the ring, paused, and said, "He'll let you know. And wipe that smirk off your face. This will not be fun for you."
"What makes you think—"
And that's all I managed to say. I was silenced by Charlie shoving my mouthpiece in and yelling, "Time!"
We met in the center of the ring ("Hands up," Charlie shouted. "Move…move!"), touched gloves, and nodded to one another.
I'd taken plenty of martial arts, and sparring in a dojo was very controlled and normally done at half-speed. But this wasn't a dojo, and I wasn't sure what I was supposed to do.
"So," I said to the trainer, circling him, "what am I—"
SMACK!!

He threw a jab that managed to sneak between my headgear and connect with my nose. And it was not at half-speed. It was so fast I didn't see his hand until he was pulling it away from my face.
"Move!" Charlie shouted.
SMACK-SMACK-SMACK!
Jab-jab-cross.
"Don't stand there, do something!"
Boxing is controlled violence. It is technique. It is the mastery of how to punch and angles that are honed to precision by countless hours of training. Anger won't get you through ten rounds in the ring.
It will, however, get you through one. Because when that right cross snuck through my headgear and cut my eye, I got mad. Very mad.
He threw another jab, but I slipped it to the left and threw a hook into his side and another to the side of his head. His eyes widened a bit, and Charlie yelled, "Yes! Stick and move! Thirty seconds!"
I learned that night that thirty seconds in a boxing ring is a lot longer than thirty seconds outside of one. Because it felt like we stood in the middle of that ring pounding on each other for an eternity.
"Time!" Charlie shouted. Finally.
We stood there in the middle of the ring, smiling. "Awesome," the trainer said.
Awesome indeed.
That gym was my home away from home for a while, but in the end family and a lack of time forced me to quit. But there's still a heavy bag in our exercise room, and I still go a few rounds on it every night.
Because Charlie was right. You don't know what you're made of until you get punched. And whether that punch comes by standing in the middle of a boxing ring or the middle of a life, you survive the same way. You keep your chin down, you keep moving, and you never stop swinging.
We're all going to get hit sooner or later. It's a given in this world. But I know this. I can take a punch. I've taken many. But I can give one, too.
_____________
Billy Coffey is a part-time writer and a full-time father. Check out his newest novel When Mockingbirds Sing and meet him on his blog, www.billycoffey.com.