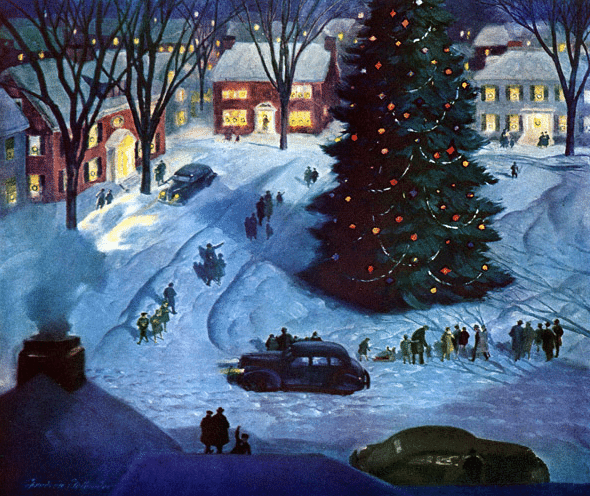 Instead of being a time of unusual behavior, Christmas is perhaps the only time in the year when people can obey their natural impulses and express their true sentiments without feeling self-conscious and, perhaps, foolish. Christmas, in short, is about the only chance a man has to be himself. –Francis C. Farley
There are just two more weeks until Christmas. But you know, it still doesn't really feel like Christmas to me.
I'm currently in the holiday spirit wasteland — that time after you leave adolescence but before the fun of Christmas is reignited by the arrival of Santa Claus-believing children. Some time during this period, typically in college, the holiday season starts to feel like any other time of year. You barely notice it and then suddenly Christmas comes and goes.
It's all part of growing up, of course. But while we advocate striving for mature manhood here on AoM, we also believe that paradoxically enough, the mature man is someone who retains a good deal of his boyish spirit. He simply knows how to harness it — when to reign it in and when to let it out. The holiday season is an appropriate time for the latter.
I don't know if there's anything distinctly manly about the holiday season, but I do know that I've always really admired men who truly get into it. The men who don red vests and cheesy sweaters, who put up elaborate light displays and put on Santa suits, the ones who delight in finding just the right gift for people, and who just seem . . . jolly. Their eyes have that unmistakable twinkle of a man who hasn't given up on the idea of magic.
These men understand that while you have to grow up, it's important to maintain a sense of wonder about the world and its possibilities. That in a cynical age, it's okay to let go sometimes and tap into our less jaded selves.
So if your holiday spirit-o-meter has been running low, here are 11 steps to letting in the sights, sounds, and tastes of Christmas and getting into the holiday spirit.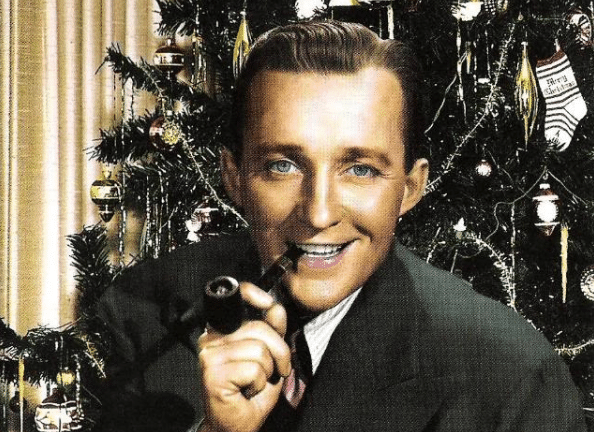 Happy, happy Christmas, that can win us back to the delusions of our childish days; that can recall to the old man the pleasures of his youth! -Charles Dickens
1. Turn on the holiday tunes.
Nothing gets you in the holiday spirit faster than music. Once you hear those familiar notes, those same strains you've been singing along with since you were 5, the warm and fuzzy Christmas feelings come rushing back. But to have maximum effect, you've got to listen to the good stuff, the classics. And sing along. Because as Buddy the Elf has wisely instructed us, "The best way to spread Christmas cheer, is singing loud for all to hear." Here's a few of my favorites:
"White Christmas" by Bing Crosby
"The Christmas Song" by Nat King Cole
"Holly Jolly Christmas" by Burl Ives
"It's Beginning to Look a Lot Like Christmas" by Bing Crosby
"Sleigh Ride" by Johnny Mathis
"The Most Wonderful Time of the Year" by Andy Williams
And when it comes to albums, you can't go wrong with
2. Watch some old school Christmas cartoons.
When I was a kid, a holiday tradition my family had was watching old Christmas cartoons. We had a VHS with a bunch of cartoons from the 1930s and 40s that are in the public domain. We watched it so much, the tape wore out and we had to chuck the video. It's been years since I've seen these charming Christmas cartoons, but thanks to the wonders of YouTube, I'm able to recapture a piece of my childhood. Here are two of my favorites:
"Christmas Comes But Once a Year"
<
"Rudolph the Red-nosed Reindeer"
3. Make some hot chocolate or eggnog.
The edibles of Christmas are an integral part of what makes the season special. So take time to whip up and savor a seasonal beverage like hot chocolate or eggnog. Make a roaring fire in the fireplace, settle into your man chair, pick up a good book, and sip on a tasty drink.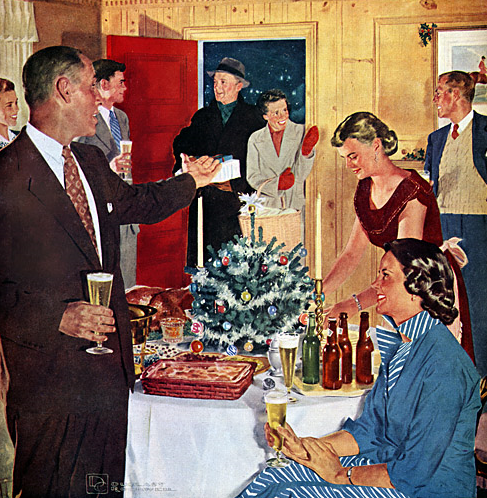 Christmas is the season for kindling the fire of hospitality in the hall, the genial flame of charity in the heart. —Washington Irving
4. Throw a holiday party.
If you're a single guy and/or far from home, it can be hard to get in the holiday swing of things. One way to force yourself to go whole hog into the season is to throw a party. Planning the food, decorations, and tunes will thrust you head-first into the holidays. And the party will warm your spirit with the company of friends and family.
5. Watch a Christmas movie.
You've seen them a million times, but they never fail to pull at the heart strings. Here are my go-to films for getting a dose of the Christmas spirit:
Every Christmas Eve my family would gather round and read some classic Christmas books together. Even now I like to crack one open when I'm in need of a holiday spirit infusion. The Polar Express and A Night Before Christmas are my old-time favorites.
He who has not Christmas in his heart will never find it under a tree. —Roy L. Smith
7. Look at Christmas lights.
Nothing quite puts the Christmas magic back in your heart like Christmas lights. Ordinary houses and trees are transformed into something extraordinary. It's seeing the Christmas lights that lets you know it's a special time of year. Drive around town and check out the neighborhood displays. Also be sure to check out the massive displays that are sometimes put on in parks by community organizations, where you can walk around in a winter wonderland of millions of lights.
8. Put up a tree.
If you're single or childless, it's hard to get motivated to really deck the halls. But a spartan apartment or dorm room is perhaps the single greatest sapper of holiday spirit. Throw up a few strings of lights and boughs of holly. At the very least, put up a tree; it will bring the sights, lights, and smell of Christmas to your abode. Get a real tree that will give off that all important scent of pine. If you don't have the room or money for a real tree, get one of those mini trees. Decorate it with some tiny ornaments. Sounds a little silly, but it's important to go through the ritual even in miniature. I've got a little tree lit up on my desk, and I tell ya, it really helps.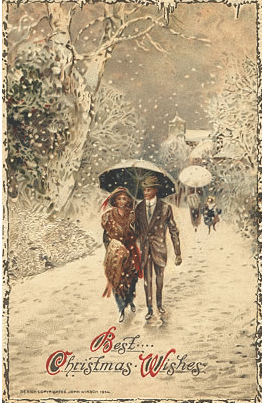 To me, the closest thing to the magic you felt as a kid around Christmas, is the romantic feeling you get from sharing the holiday with someone you love. The magic comes back when you're experiencing old traditions with a lady by your side. So plan a festive date: take a sleigh or horse drawn carriage ride, go to an outdoor skating rink, look at the lights, and then make some cocoa and snuggle by the fire.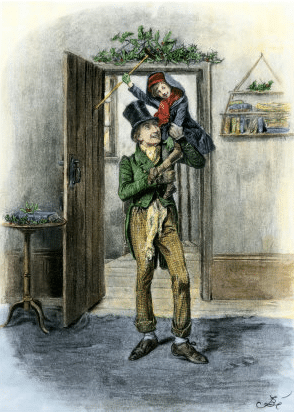 10. Go see A Christmas Carol as a play.
Some have argued that our modern idea of Christmas really began with Dickens' A Christmas Carol. It's a story that never gets old and never fails to lift and inspire one's spirit. The theater in every town of appreciable size will put on A Christmas Carol during the holidays. Go and see the show. It's the kind of human story that's made for live action theater.
I have always thought of Christmas time, when it has come round, as a good time; a kind, forgiving, charitable time; the only time I know of, in the long calendar of the year, when men and women seem by one consent to open their shut-up hearts freely, and to think of people below them as if they really were fellow passengers to the grave, and not another race of creatures bound on other journeys. —Charles Dickens
11. Do Service.
Of course all of the above are simply a means to an end, that end being a warmed heart, a spirit that melts away the cynicism and primes the heart for a renewed sense of generosity. If you're not feeling jolly this holiday season, the easiest way to change that is to do some service for someone else. Shovel the driveway for the old lady next door, volunteer at the soup kitchen, or anonymously leave a donation for someone in need.
I will honor Christmas in my heart, and try to keep it all the year. —Charles Dickens
Listen to my podcast with Meik Wiking about making your holiday season more memorable: