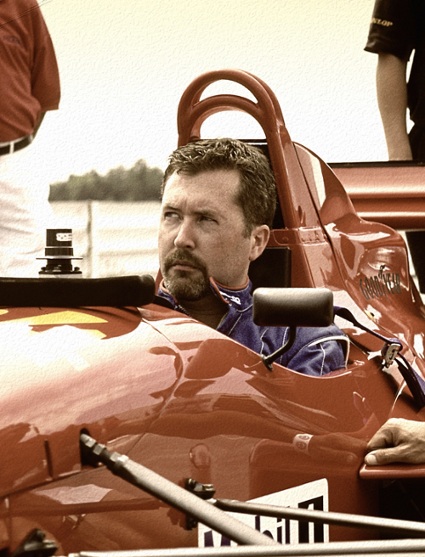 Arthur St. Antoine test-driving a Reynard Formula 3000 race car in Canada.
Once again we return to our So You Want My Job series, in which we interview men who are employed in desirable jobs and ask them about the reality of their work and for advice on how men can live their dream.
Do you like adventure? Would you like to get paid to go on one? Do you like cars? Do you like to drive them really fast? Would you like to get paid to write about going on adventures and driving fast?
Sound too good to be true? Well, Arthur St. Antoine has such a job. Mr. St Antoine's background is James Bond-ian in nature; he is an experienced racing driver, pilot, scuba diver, and photographer. But instead of using these skills in the field of espionage, he employs these passions as an adventurer, writer, and Editor at Large for Motor Trend, where he tests and reviews 150-200 cars every year.
Whether or not you'll every get to strap into a Ferrari for a day at the office, Mr. St. Antoine's tips on winning your dream job are right on the money. Many thanks to Arthur for this engaging and inspiring interview!
If you'd like to learn more about Arthur and read more of his writings, check out his blog at Motor Trend, "The Asphalt Jungle" .
1. Tell us a little about yourself (Where are you from? How old are you? Where did you go to school?)
I was born in Washington D.C. on Pearl Harbor Day 1960, just prior to John F. Kennedy assuming the Oval Office. Washington was an inspirational place to live as a wide-eyed young boy—especially at the time I was there. In particular, I remember visiting the old Smithsonian and seeing some of the early Mercury and Gemini spacecraft not long after they'd flown in space—they were practically still hot from re-entry. Had a life-lasting effect on me.
My family later moved to Ann Arbor, Michigan (my father was a law professor and, for seven years, dean of the Michigan law school). I attended the University of Michigan myself—though I can't say I amounted to much academically. Managed to graduate with an English degree. My younger brother and two younger sisters would later go on to earn post-graduate degrees from Ivy League universities. Me? After college I went to race-driving school.
2. Why did you want to become a writer/road test driver/road test editor? When did you know it was what you wanted to do?
I can't say that I ever knew precisely "what I wanted to be." I still don't. I do know that I've always been drawn to writing, adventure, exploration, and interesting machines. As a boy, "The Undersea World of Jacques Cousteau" changed my whole concept of what's "out there," what's possible in life. When I watched Cousteau, I knew one day I wanted to live as he did—travel, explore, discover, push myself to learn new and unusual skills. I didn't know how I'd do so, of course. The moon landing in 1969—which I followed live on our battered old Zenith—was also a revelation. While I never actually entertained the notion of becoming an astronaut myself, certainly the audacity of Apollo 11 and the other missions sparked an ambition within. I've since gone on to become both an advanced scuba diver and a licensed airplane pilot.
Cars also fascinated me—particularly Formula 1 racing machines. As a teen, I chanced upon a Saturday afternoon showing of the 1966 movie "Grand Prix," and was immediately hooked. Here were modern-day knights in little cigar-shaped missiles doing battle at incredible speeds in places like Monte Carlo. It wasn't enough simply to watch such romance and spectacle from the sidelines; I knew someday I had to partake for myself. Thus, my post-college visit to a race-driving class.
3. Your job would make many men foam at the mouth with envy. How did you find your way into the position?
Take every job seriously, no matter how small. It teaches you professionalism. And you simply can't predict the connections you might make, the examples you might set for yourself. During college, I worked summers (and some nights during the school year) waiting tables and doing catering jobs for a high-end Ann Arbor restaurant. After I left college (and my restaurant job), the restaurant happened to cater a party for Car and Driver magazine, also based in Ann Arbor. My ex-boss mentioned to one of the C/D staffers, "You know, we have a former employee who loves your magazine and loves cars. In fact, he just took off for racing school." And the Car and Driver person replied, "Really? Well, send him over. We're looking for an intern."
It was lightning in a bottle. Without knowing how I'd ever parlay my loves of writing, cars, and adventure into a career, suddenly I had a foot in the door at a blue-chip enthusiast publication. Within a year, then-editor in chief Don Sherman, to whom I'm forever grateful, gave me my dream shot, promoting me to associate editor—a full-time job writing road tests and news stories. Two years after that, I became managing editor. The ME position was more of a desk job than I wanted—I was mostly editing the work of other writers and running the production aspects of the magazine—but I took it on because I knew it would be good training for the future. After three years, I quit as managing editor to become a full-time freelancer, with Car and Driver as my main client. Luckily, I had a boss (C/D editor in chief William Jeanes) who understood my desire to branch out as a writer—and actually encouraged me to do so.
After moving to Los Angeles in the early 1990s, I began doing more and more adventure and car writing for magazines like Men's Journal, Marlboro's Unlimited, Los Angeles, and others. I'd think up some dream idea I wanted to do—climb icebergs in Alaska, hang out with NASA astronauts at the Johnson Space Center, scuba dive on the wrecks where they filmed the James Bond movies in Nassau—then I'd sell the idea to a magazine and get them to pay for it.
By the mid-1990s I dabbled as a copywriter in the advertising business for a few years, always freelancing on the side (many nights I didn't sleep!). Around 2002, I "traded team flags" and joined Los-Angeles based Motor Trend magazine as Editor at Large. The position allows an exceptional amount of freedom—I write a column, road tests, features, and blogs for Motor Trend, but I'm also able to pursue outside stories such as my adventure writing. I'm very lucky in that respect. I've always placed personal freedom very high on my life-priorities list.
4. If a man wants to follow in your footsteps, how should he best prepare? What kinds of things are a magazine or company looking for when they hire a road test driver? How important are personal connections to people already in the biz?
Being a car enthusiast, of course, helps considerably. Back when I started in the biz, what certainly bolstered my chances for securing a full-time gig was my encyclopedic knowledge of Formula 1 ("Hey, Art. Who won the 1961 World Driving Championship?" "Mmmm, that was Phil Hill.") I was passionate about it, and it showed. Also, I could write. Simply loving cars isn't enough. You must have strong journalistic/English skills—whether from college classes, working for a local newspaper, etc. Of course, before my first auto-magazine job I'd also saved up for performance-driving classes on my own, and have continued to take such courses throughout my career. I've now attended something like 12-14 racing/high-performance driving schools in North America and France, plus I've raced in categories ranging from Showroom Stock to various formula cars. Nothing builds your driving skills quicker than wheel time at a race track (and, no, performance driving is a skill that cannot be learned on public roads).
Being savvy with a camera helps, too. I spent much of my free time in junior high and high school shooting pictures with friends and working in my own darkroom. Even if you don't end up shooting photos yourself, knowing what the photographer needs in terms of light, positioning, etc., can really help during hectic assignments.
For sure, industry connections are big. In fact, any connection can yield unexpected benefits. That's why I say, don't ever think any job is too small. You might be painting some guy's house, and he's really impressed by your work, and it turns out he knows someone who works at the office you're trying to break into and he's happy to put in a good word. Such personal connection gets you right past the pile of résumés on an HR person's desk. It works the same once you're writing for magazines. One editor knows another, and they recommend you, and suddenly you have more work. It amazes me how lightly some people treat great opportunities. I've seen guys land internships at the car magazines I've worked at, then blow their futures by not listening, being cocky, driving recklessly, or simply not trying hard enough. You're either a professional people can count on, or you're not. There isn't a halfway point.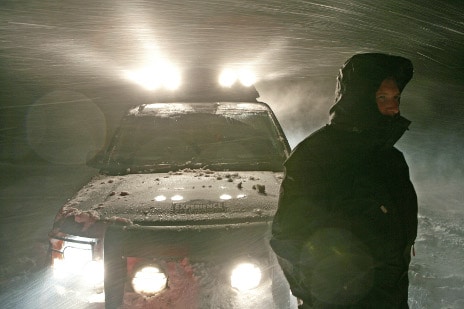 Caught in a blizzard during a Land Rover expedition in Iceland
5. What is a doing a road test like? How does one go down?
There are a lot of misconceptions about road-testing, mostly by people who think you simply jump into the car and mash your right foot to the floor. In fact, a road test is very methodical, a combination of carefully derived scientific fact and finely honed personal observations.
The various manufacturers generally supply test cars to us from press fleets they maintain around the country. Or, if a model is just being introduced, we'll travel to wherever the press event is being held—and that could be anywhere in the world (manufacturers usually pick locales with great driving roads or scenery that will show well in photographs).
At Motor Trend, we try to limit the actual instrumented testing to one or two guys who do it all the time—helps keep the results standardized. We'll take the car to a test track (in Southern California we use the drag strip at Auto Club Speedway or the runways of the former El Toro Marine Air Station), then run acceleration tests, braking, Figure 8, and more. All data are weather-corrected. Often, after our driver is done with instrumented runs, I'll make an acceleration blast or two myself, or a few laps around the Figure 8 course, just to get a feel for the car when it's pushed to the max. We also often rent race tracks (such as Willow Springs in the Mojave), where we can run laps at high speed in relative safety. Pushing a car to its limits reveals a lot about its character, but, again, it's something you can't do on a public road.
Road tests also comprise a lot of much more sedate on-road driving. How does the car ride? How is visibility? Quietness on the highway? Ease of using the various electronics and controls? After doing this for a while (I've been road-testing for around 25 years now) you know what to look for—and you build up a database of experience from which to compare all sorts of cars. That's why we try to drive and spend time in every new car that hits the market—it's the only way you can correctly assess one car's strengths and weaknesses versus another's. I probably drive, conservatively, 150 to 200 different cars every year.
Once all the actual test-driving and photography is done (photos take more time than anything else), you sit down to write the review—usually incorporating notes and impressions from other colleagues if they've also driven the car.
6. What's the coolest car you've ever gotten to drive?
As I noted, we drive almost every car available for sale in the U.S.—and more. So you could throw a dart at a car catalog and I've probably driven it. But, for sure, I do have a few standouts from my career.
Way back in the 1980s I had a chance to drive a 1931 Bugatti Royale, one of only six built and at the time the single most expensive car in the world (Tom Monaghan of Domino's Pizza fame had paid $8.1 million for it). It was a once-in-a-lifetime experience, but during the entire drive all I could think about was the chance that I'd bump into a hummingbird or something and cause $500,000 worth of damage. At one point the engine did overheat a bit and steam squeezed out of the radiator—which was terrifying—but in fact the car was fine.
I've driven Ferraris on the Italian maker's private race track (Fiorano) in Italy, ridden with three-time world driving champion Sir Jackie Stewart in an original Ford GT40 LeMans race car, and recently raced a Chevrolet Corvette ZR1 against a Blue Angels F/A-18 fighter jet. This job does have its memorable moments.
In 1998, I even reached the summit of my own personal Everest: a test drive in a genuine Formula 1 Grand Prix racing car. The car itself was mind-blowing, of course, but it was the entire experience that proved almost overwhelming. Here I was, behind the wheel of the ultimate race car, the kind I'd fantasized about when first watching 'Grand Prix" more than 20 years earlier, actually hurling it around a racetrack myself. By the end of the test my eyes were pretty misty…
7. What is the best part of your job?
The cars are part of it, for sure. It's like being a test pilot for the military: nowhere else can you get your hands on the hardware we drive. Doesn't matter if you're as rich as Bill Gates; you're not going to get to drive, say, a prototype sports car six months to a year before it's released to the public. That's pretty special.
The travel also has its moments—when the planes are on time and the locale is memorable. And I've met some really exceptional people over the years: champion race drivers, world-class pilots, writers, explorers, industry captains, brilliant engineers.
Best of all, though, is combining all of it into a story, the creative outlet, the writing. It can be both frustrating as hell and immensely satisfying.
8. What is the worst part of your job?
Deadlines! Also, the hours can be really long—during comparison tests, for instance, 12-14 hour days in the broiling desert are common—and the travel can get to you. I've been to Germany three times in the past two months; the last time I returned from Germany's Nürburgring race track late Friday night then, at dawn on Saturday, left straight for the desert and our annual Motor Trend Car of the Year competition. Jet lag isn't allowable.
9. What's the work/family/life balance like?
That's the hardest part: being away from my wife and daughter (she's nine). I miss a lot of my daughter's school events, and though she's been taking tennis lessons since last spring I have yet to see her play. That gets to you. When I'm home, I try to spend as much time as possible with my girls—we'll go on a hike in Malibu, to the beach, the Getty museum, just hang out. I'm lucky to have a great wife who not only understands the realities of my job, but also keeps our house running when I'm not there. I could not do this without her.
I get homesick all the time, but I just have to put that out of my mind. The reality is, this is my livelihood. You can't be an adventurer behind a desk.
10. What is the biggest misconception people have about your job?
All Ferraris all the time! Yes, we drive Ferraris—and Lamborghinis and Porsches and the like—but there are a lot of Hyundai Elantras and Toyota Corollas in there, too. It's like the old myth about the test pilots with the silk scarves and the bravado; in fact, like test flying, the job involves a lot of tedium, careful observation, and detailed note-taking. Besides, for every hour I'm behind the wheel of a cool car, I probably spend 15-20 hours behind the computer keyboard, writing road tests or features or blogs.
11. Any other advice, tips, or anecdotes you'd like to share?
Do things that scare you—as often as you can. By that I don't necessarily mean jumping out of an airplane every day. It might be a job move you're unsure about, or an experience that intrigues you but you're afraid to try, or simply asking that pretty girl out for a date. The things you'll regret most later in life are the things you didn't do. When I was a younger man, I watched a few of my idols die in racing accidents (Gilles Villeneuve's death at the 1982 Belgian Grand Prix was a terrible shock.) I made a vow then: Push, Arthur. The clock is ticking. I don't want to be 70 years old saying, "I wish I'd . . ."
When I first soloed in an airplane—I'm all alone, and I've got to get this thing safely back to earth all by myself—I felt hot flashes of panic zinging through me. It was terrible, and I had to consciously talk myself into remaining calm and landing. Well, I could have quit flying the moment I returned to the runway. But I didn't. And the very next time I flew solo, a week later, I was fine. I've found that most "scary" things are only scary because you don't understand them—and you only understand them by first pushing past your silly fears.
I've long believed this: The worst word in the English language is "complacency."
Tags:
So You Want My Job