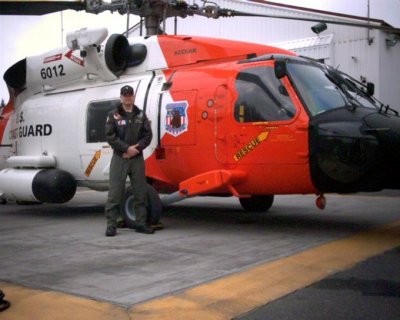 Once again we return to our So You Want My Job series, in which we interview men who are employed in desirable jobs and ask them about the reality of their work and for advice on how men can live their dream.
Well we've covered the Air Force, the Army, the Navy, and the Marines. Today we finally round out our tour of the armed forces by featuring a Coastie. Adam Sustachek offers us an inside look at life in the US Coast Guard. Thanks for the awesome interview, Adam!
1. Tell us a little about yourself (Where are you from? How old are you? Describe your job and how long you've been at it, etc).
My name is Adam Sustachek, and I'm from Oceanside, CA. I am 39 years old and joined the Coast Guard in 1991. I am an Aviation Maintenance Technician First Class (AMT1) and a Flight Mechanic on the Sikorsky MH60 helicopter. As an AMT1 I specialize in maintaining, repairing, and troubleshooting the aircraft's engines, rotary and hydraulic systems, and repairing any damage to the airframe itself. As a Flight Mechanic I am qualified, as part of the flight crew, to deploy and recover the swimmer from the water, vessel, or land, recover any survivors, and give direction to the pilot while hoisting.
2. Why did you want to join the Coast Guard? What made your choose this branch of the armed forces?
Two years after graduating from high school I felt lost. I had held several different jobs from dishwasher to deli worker to security guard and attempted college but nothing felt fulfilling. I started to party quite a bit and realized I needed to get my butt in gear. I looked at different services but finally settled on the Coast Guard when my dad brought it up and took me to the recruiter. This was during Desert Storm, and I liked the idea of saving lives instead of taking them.
3. I think the Coast Guard remains somewhat mysterious for a lot of people because of its size and mission. Is the process of joining generally the same as for the other branches of the military? Does the culture of the Coast Guard differ from that of other branches?
The Coast Guard is the smallest branch of the armed forces. We became part of the Department of Homeland Security after September 11, 2001. Prior to that we were part of the Department of Transportation and before that the Department of Treasury. Our rank structure is the same as the Navy and our pay scale falls in line with that of the other services. We have been mistaken for a branch of the Navy and during wartime our assets that are assisting overseas may fall under their command. So this may be where the confusion lies.
Joining the Coast Guard is very similar to the other services. You go and see a recruiter, take the entry exam, go through a physical, sign the paperwork, and head off to boot camp. Once you graduate boot camp you will most likely head off to your first unit unless you've been approved to attend a rating school right out of boot camp. Your first unit will give you the opportunity to see what the Coast Guard is all about and what kind of job you qualify for and may want to pursue. Once you've figured that out you put your name on the school list and wait. Sometimes the list is really short, and you'll leave right away. Other jobs, like aviation, may keep you waiting close to a year before you're sent over to one of our air stations to complete your airman program for 6 months and then get to school. After graduating school you head off to your new unit as a new Petty Officer Third Class and start working!
The culture of the Coast Guard is the same as the other services but different. Our rank structure and customs and courtesies and benefits are virtually the same. We have the enlisted ranks, Chief's Corp and Officer's Corp. We wear a uniform, salute our officers, and respect our senior enlisted. We also have access to other military installations and their exchange and commissary stores. The big difference is that because we are the smallest branch of the armed forces, we tend to be more personable among our ranks. We are more like a family.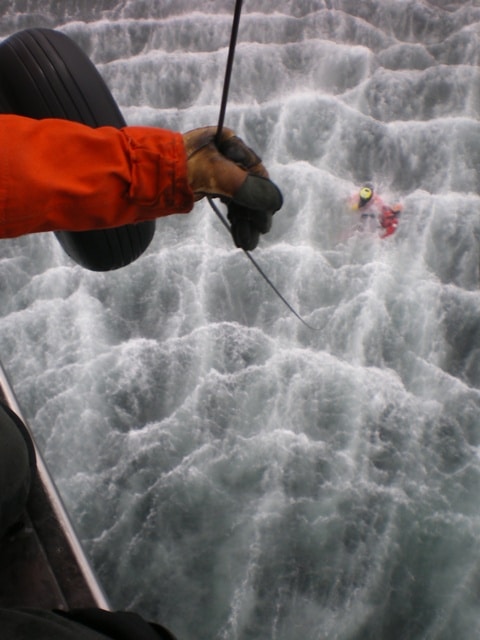 4. You serve in the Coast Guard as a Helicopter Flight Mechanic. How much choice do you get in what job you are assigned to? Do you apply for what job you want and how does that process work?
Our aviation rating schools teach the basics on how to repair aircraft. The flight training comes when the graduate gets to their first unit. When a person signs up to be in aviation and gets approved for school there comes the understanding that that person will perform as part of a flight crew no matter the type of aircraft they end up on. We are considered "fixers" and "flyers." In most of the other services you are either one or the other.
Upon graduation I requested to be on helicopters versus fixed-wing aircraft and got it. As you end your tour at a unit, usually three to four years, you submit a resume with your picks of where you want to go next. The open spots are on what we call a "shopping list." Sometimes you like your choices and sometimes you don't. Lucky for us it's always temporary. I am currently stationed in Sitka, Alaska, which I chose, for the second time. I have previously been stationed in San Diego, CA, Kodiak, AK, and Elizabeth City, NC. All of them good units of which I have fond memories.
5. Describe a "typical" day at your job.
Oh man, every day is different! Let's see…I'm a Primary Quality Assurance Inspector, so I might be inspecting the work performed on the aircraft by the other mechanics throughout the day or, if I am the ready Flight Mechanic for the day, I may get launched 250 miles off shore to pull an injured crewmember from a tanker. Since we are a small service we tend to wear many hats at our units. No two days are the same.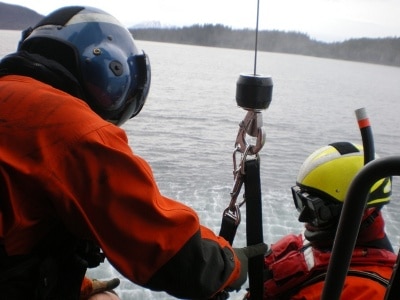 6. What is the best part of your job?
The flying and performing search and rescue. The anticipation as you arrive on scene and pull into a hover. You sling open the cabin door and see the small light bobbing in the darkness below. You motion for the rescue swimmer to move towards the door and feel the cold salty spray of the ocean just thirty feet below and call out over the intercom, "Rescue checklist part 2 complete. Ready to deploy swimmer." The pilot replies with "Roger, conn me in." "Roger," I say, "Forward and right 40"…..you get in the zone. What feels like an hour takes maybe half that. You complete the hoisting evolutions, close the door, and you're on your way home, adrenaline still pumping. You assist the swimmer with stabilizing and comforting the survivor. There is nothing like the feeling of saving someone's life.
7. What is the worst part of your job?
When they don't make it. We launched on a case out of Kodiak, Alaska where a 5 year old boy had turned up missing in a remote village. We found him on the beach face down at the waterline. He had fallen off a ten foot cliff and couldn't swim. We landed in a field behind the house, ran down, grabbed the boy, and jumped in the helicopter with him and his mom. We performed CPR all the way back to Kodiak but he was gone……
8. What's the work/family/life balance like?
Great! The nice thing about our aircraft is that we don't deploy much. In Kodiak, AK or Clearwater, FL you will deploy to remote locations for 2-4 weeks at a time but that's it. Most other units with the MH60 may deploy up to 2-3 nights due to search and rescue, law enforcement, or mechanical issues.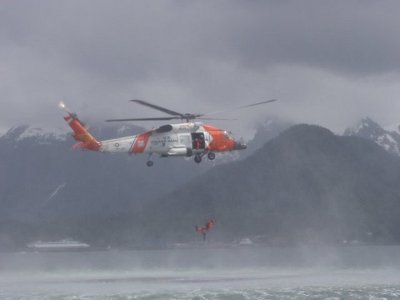 9. What is the biggest misconception people have about your job or about the Coast Guard in general?
Most people think that our assets stay within our local waters only. This is indeed not the case. We have small boats, ships and law enforcement teams that deploy all over the world just like the other services. We assist with enforcing maritime treaties, clearing shipping lanes of ice during the winter, and training the coast guards of other countries.
10. Any other advice, tips, or anecdotes you'd like to share?
If you're a boater, please make sure you have all the proper survival equipment onboard and take a boaters safety course. The ocean is unpredictable and conditions can change in an instant. It could mean the difference between life and death for you or your loved ones. Wear your life jackets and stay safe!
Tags:
So You Want My Job