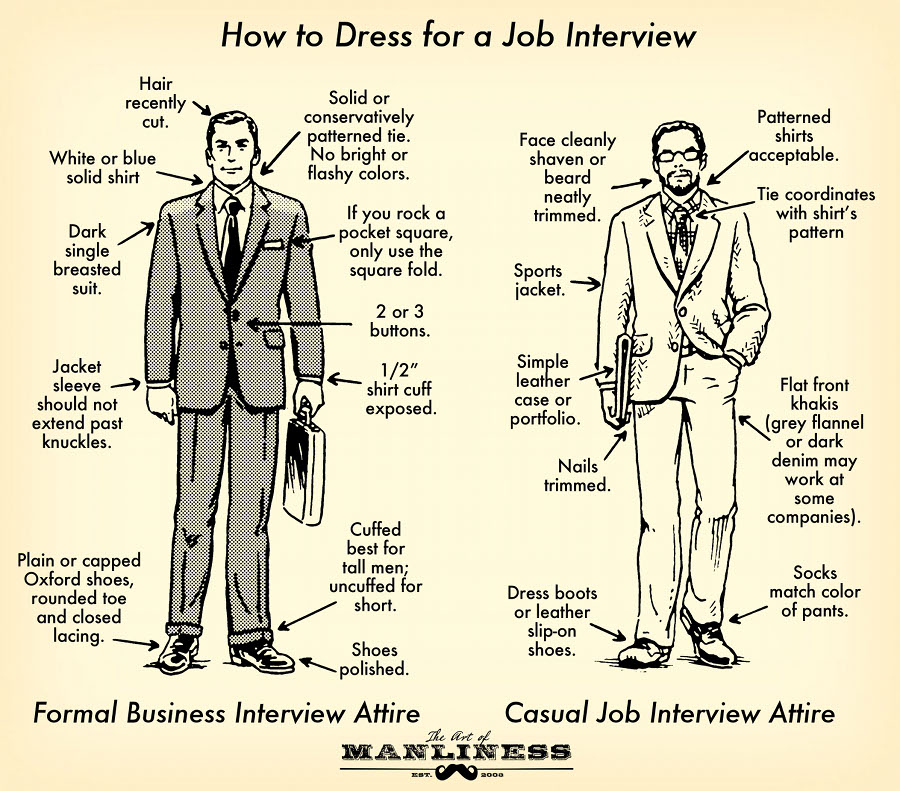 Got a job interview coming up and are wondering how to dress? Here are some general guidelines to follow at a glance.
Like this illustrated guide? Then you're going to love our book The Illustrated Art of Manliness! Pick up a copy on Amazon.
How to dress for a job interview
Formal business interview attire
Hair recently cut.
Solid conservatively patterned tie. No bright or flashy colors.
White or blue solid shirt.
If you rock a pocket square, only use the square fold.
2-3 buttons.
Dark single-breasted suit.
Jacket sleeve should not extend past knuckles.
1/2″ shirt cuff exposed.
Cuffed best for tall men; uncuffed for short.
Plain or capped oxford shoes, rounded toe, and closed lacing.
Shoes polished.
Casual job interview attire
Pattened shirts acceptable.
Face cleanly shaven or beard neatly trimmed.
Tie coordinates with shirt's pattern.
Sports jacket.
Simple leather case or portfolio.
Flat front khakis (grey flannel or dark denim may work at some companies).
Nails trimmed.
Socks match color of pants.
Dress boots or leather slip-on shoes.
Watch the Video