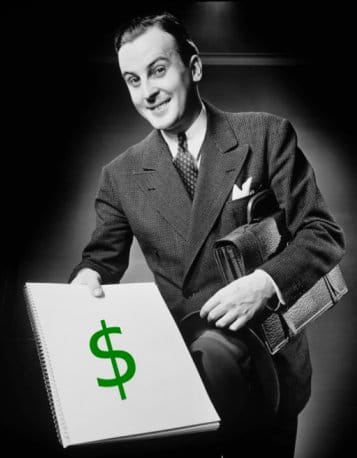 You've rocked the job interview and landed an offer. Way to go! Now comes the part that many dread: talking about the pay and benefits package with their potential employer. Some men want a job so bad that they'd much rather skip this discussion and accept whatever the company offers them lest they offend their potential employer and lose the opportunity. But doing so can be a costly mistake.
For many young men starting out in life, the fear of this discussion with a potential employer stems from simply not knowing what questions to ask. Sure, discussing salary is obvious, but what other things should you ask about and possibly negotiate? To find out, we talked to Doug Arms, Senior VP of Accounting Principals. Doug says there are eight basic finance questions you should ask when considering a job offer. These questions will give you the information you need for possible negotiation (something we'll cover in a later post) or deciding to accept or decline the offer.
When in the Hiring Process Should You Ask Finance Questions?
Before we get to the questions themselves, let's touch on the issue of timing. Should you save your finance questions for when an employer makes you an offer, or is it okay to ask them in your interview? In general, it's best to wait until an offer is made (unless the interviewer brings the subject up himself – and he may very well do so). Why?
First, inquiring as to things like pay and benefits during your interview can come off as a little presumptuous — the interviewer is going to be thinking that it's not something you need to worry about yet, and it may also give the interviewer the impression that you're only interested in the financial aspect of the job.
Secondly, there isn't a good response to whatever the interviewer replies with in this scenario. If the salary they quote to you is too small, you're very unlikely to say, "Well, in that case, I don't want the job," and get up and leave — nor can you at that point negotiate since you don't have the job yet. And even if the salary is enticing, there's still really no good, non-awkward response. "Oh, okay." You don't want to effuse at this point, as you may be able to negotiate the salary up higher still later on. So where does the conversation pivot from there? You'll also need to know more about what the job will entail and the total benefits package to even be able to judge whether a stated salary is a good deal or not.
All of which is to say, don't jump the gun on talking about pay and benefits too soon, as it's basically a moot point until they make you an offer. Wait to ask your finance questions until you know they want you. That's the time to either walk way, negotiate, or sign on.
8 Finance Questions to Ask When Considering a Job Offer
1. Does the company have a 401(k) plan?
Simply put, a 401(k) plan allows you to put tax-deferred funds (money that is deducted from your paycheck before taxes) into a savings account. The money is then taxed when withdrawn for retirement. While the 401(k) is a popular retirement option, this may not be the plan your company offers. Understanding the benefits of different plans (perhaps stock options, for instance) and what kind of retirement you will be able to have as a result is important for long-term planning. (Don't know anything about 401(k)s? Read our guide to 401(k)s for young men.)
2. What is the company's matching policy for retirement?
Depending on the retirement program, a portion of your contribution may be matched by your employer. This is an especially important question to ask today, as some companies have discontinued their matching programs in response to the ailing economy. Understanding the matching policy will allow you to understand how much you need to start saving in the short-term to meet your long-term goals. As this can have a big impact on long-term savings, it can certainly be a deciding factor if choosing between multiple offers.
3. Am I bonus eligible? And if so, is the offer for base compensation only, or does it include bonuses?
Not all companies offer bonuses and not all employees are bonus eligible. So it's important to understand what your total compensation package entails. For example, if you receive a base offer, you should ask if you are eligible for bonuses and what is required to be considered. Is it based on performance? What kinds of metrics determine that performance? Is it based simply on length of time with the company?
4. Do you offer overtime/who is overtime eligible?
Prior to accepting a job, it's okay to ask what the core hours you will be required to work are and how you may be compensated for overtime. Many hourly positions offer overtime, so it is important that you ask so you know to file for your overtime compensation.
5. Am I eligible for company-owned work devices (cell phone, laptop, etc.) If not, can I get reimbursed for them?
Mobile devices are a big expense — for example, getting reimbursed for your cell phone bill could save you up to $100 a month, which is $1,200 annually. According to a recent Accounting Principals survey only 17% of graduates can afford necessities like these. Before joining a company, you should determine if you are eligible for company devices, or reimbursement for either devices or a data/cell phone plan, and which portion of the bill you can expect the company to pay.
6. Will the company help me with my moving expenses?
If you are relocating for a new job, moving can become a significant expense, especially if you're moving long distance or abroad. Costs vary between cities as well, but are often around $150/hour for experienced movers. This does not include the time that you may need to take off from work to pack your belongings. Many companies do have moving policies and packages, so if you're accepting a job that requires you to move be sure to inquire about this so that you can financially prepare.
7. Can I review the benefits package?
Benefits include everything from retirement and health insurance to stock options and vacation time. Every company has a unique package, so it's important to understand what is most important to you. For example, is vacation time of higher value to you than a matching retirement plan? In addition, not all benefits start on your first day. You should consider when your benefits start, especially your health insurance coverage, when planning your transition. For example, it may be a month or more before your health insurance policy starts, which may require you to budget for extra COBRA coverage until the policy kicks in.
8. Does your company have a tuition reimbursement program?
If you intend to continue your education this is very important, and if your potential employer has a tuition reimbursement program, you should understand the ins and outs. For example, the amount of reimbursement may be limited or there may be eligibility requirements (e.g., you have to work there for a certain amount of time, pursue a degree within a program related to your field, or maintain a certain GPA). Knowing if you'll qualify for tuition reimbursement will allow you to financially plan for your future degree.
An additional question to consider if you work at a downtown job is the company's policy on parking. Some employers offer reimbursement for your travel/parking expenses or a bus pass, and some tech companies in Silicon Valley even provide a company shuttle to take employees from San Francisco to their campus.
What questions do you recommend asking when considering a job offer? Share them with us in the comments!