Editor's Note: This promotional post was put together by the gents at Huckberry.
Valentine's Day is nigh upon us, and if you're like us, you're not embarrassed to show your gal how much you appreciate her. It's easy for this day to get lost between all the birthdays, anniversaries, and holidays (which felt like they were just last week), so putting in a little effort here can really go a long way. It's the only holiday dedicated to your relationship, so why not turn up the charm dial and pepper in some extra thoughtfulness? Go on a waterfall hike, have a coastal picnic, or take her to a fancy restaurant (or maybe her favorite wine bar, if that's her thing). For whatever swoon-worthy activity you can't wait to surprise her with, we can help you prepare with the perfect grooming gear and a handsome-as-hell outfit selection.
Prep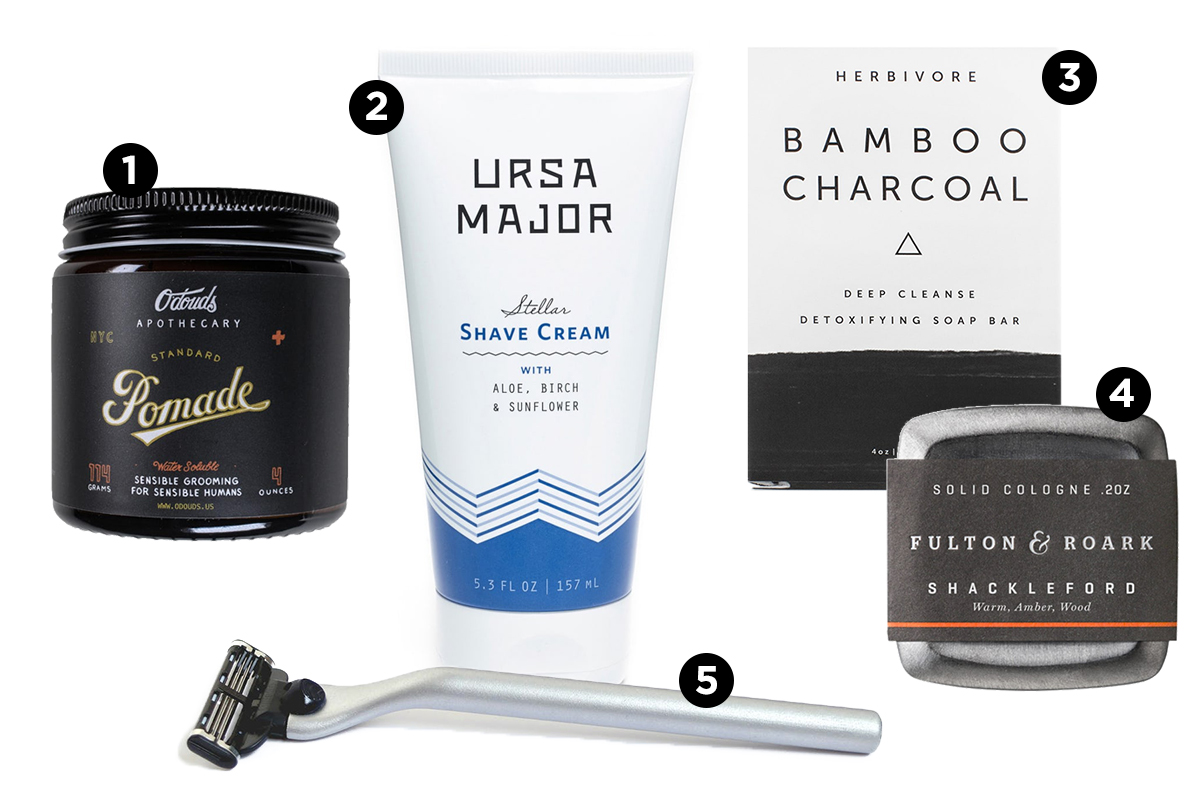 Just like any important meeting, big climb, or family getaway, Valentine's Day requires a little preparation. Making sure you've got the right set of tools going in can make or break any experience, and you'll be sure to benefit from a few key grooming essentials. We've rounded up our favorite Dopp kit must-haves to help you knock this one outta the park:
1. O'Douds Pomade. Helps you get that effortlessly tousled, neatly combed, or slightly styled 'do. It's got a firm, but not-too-stiff hold on your locks and can easily be re-styled throughout the day and into the night. So if you're heading out for a humid shoreline stroll and straight to cocktails, your cut will keep its shape.
2. Ursa Major All-Natural Shave Cream. This Ursa Major cream softens any stubborn whiskers, and ensures an ultra-close shave. It's a thoughtful gesture for both your skin and your lady's. No one likes beard burn.
3. Herbivore Charcoal Soap. Activated bamboo charcoal has been used for centuries in the East, and when used as skincare, it cleanses and detoxifies your skin — using powerful absorption properties to draw impurities from deep within your pores. An ideal first step to putting your best face forward this Valentine's Day.
4. Fulton & Roark Solid Cologne. More so than any of the other senses, scent is closely linked to memory, so why not make it one that leaves a (positive) lasting impression? With Fulton & Roark's lineup of solid, nature-infused colognes, you won't be carrying an overpowering scent wherever you go. Instead, you'll be leaving your own personal, and dare we say seductive, mark.
5. Ockham Classic Razor. Precision ergonomics and balanced weight make for a razor that's a pleasure to shave with. Careful grooming says a lot about a guy, and we're betting your date will appreciate those clean lines.
Game Day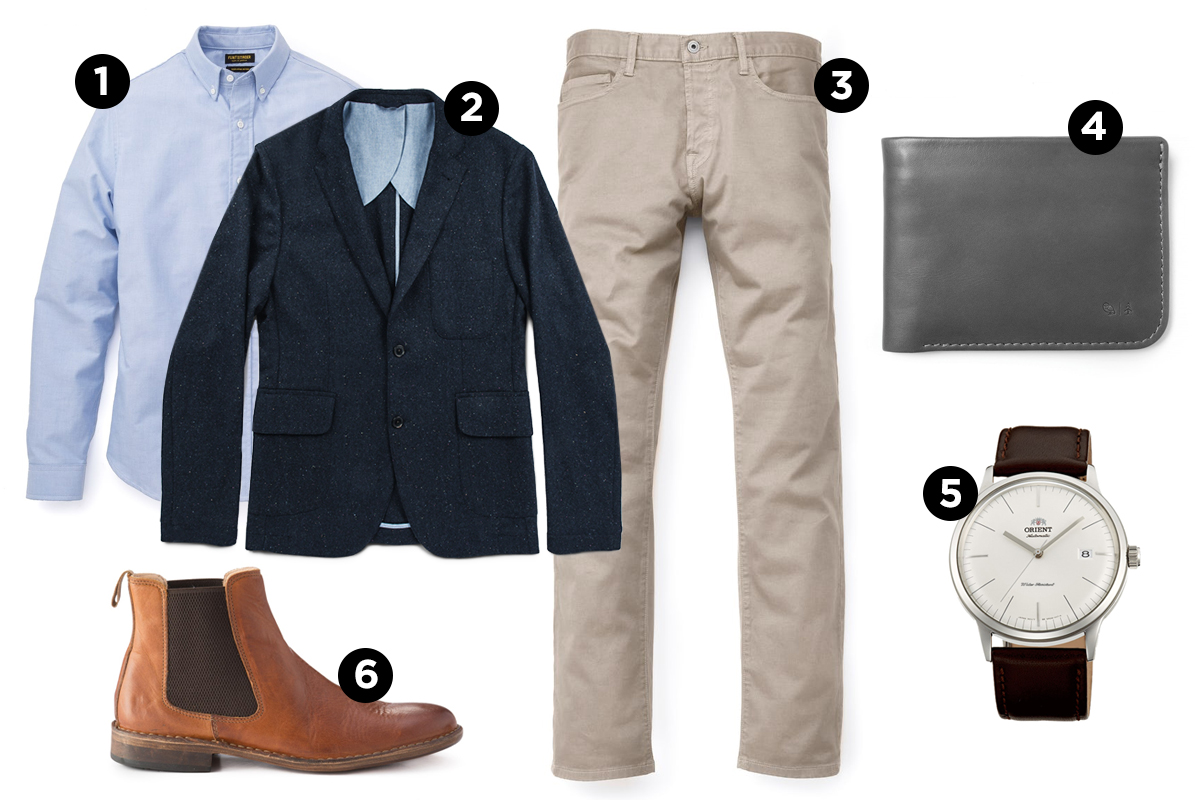 After you've groomed yourself into fifth, sixth, or 100th-date worthy shape, you need a solid set of layers to show her you're capable of cleaning up when it matters. Carefully considered clothing stands out from your everyday jeans-and-tee uniform.
In relationships, it's easy to fall into a routine, and getting comfortable with someone is the ultimate goal here, but you get a ton of charm points when you show up lookin' just a little sharper than usual. She'll appreciate the elevated duds and you'll get a boost in confidence. With that in mind, we've put together a list of our favorite "look good, feel good" styles for wooing her socks off and staying comfortable at the same time:
1. Flint and Tinder Oxford Shirt. This lightweight button-up made from Portuguese cotton is unbelievably soft, airy, and breathable. It's the perfect shirt for date night — simple and sharp, and because it's so light and breathable, you can forget about stress sweat making a third-wheel appearance.
2. Taylor Stitch Telegraph Jacket. This Taylor Stitch crafted jacket is just so damn dapper. The unstructured fit drapes perfectly to polish up any outfit, while a super soft wool blend keeps you toasty on a chilly February night. It's the perfect second layer to level-up your look.
3. Flint and Tinder 365 Pant. These Flint and Tinder bestsellers are named the 365 Pant for a reason. They combine the tailored fit of your favorite chinos with the stretch of a performance pant — creating a pant so comfortable, you'll want to wear them every day of the year. We absolutely suggest wearing them on this particular day.
4. Bellroy Hide & Seek Wallet. Premium leather, sturdy build, slim design and exclusively sold at Huckberry — this is one of our favorite wallets of all time. It sits perfectly in your pocket, whether you carry in the front or back. The fine leather picks up a patina over time that makes it uniquely yours. It's a cherry-on-top detail to go with your Valentine's Day ensemble.
5. Orient Bambino V3. The Bambino V3 Automatic by Orient is as straightforward as it gets in the world of timeless design. Quality Japanese craftsmanship and simplicity make this watch a must-have addition to any upscaled outfit.
6. Astorflex Chelsea Boot. 95% of your outfit is above the ankles, but the 5% below can kick your outfit up a notch (or ten). Handmade in Italy, these slip-on dress boots instantly elevate any outfit, but are still comfortable enough to take you through the whole day and into the night.
Just In Case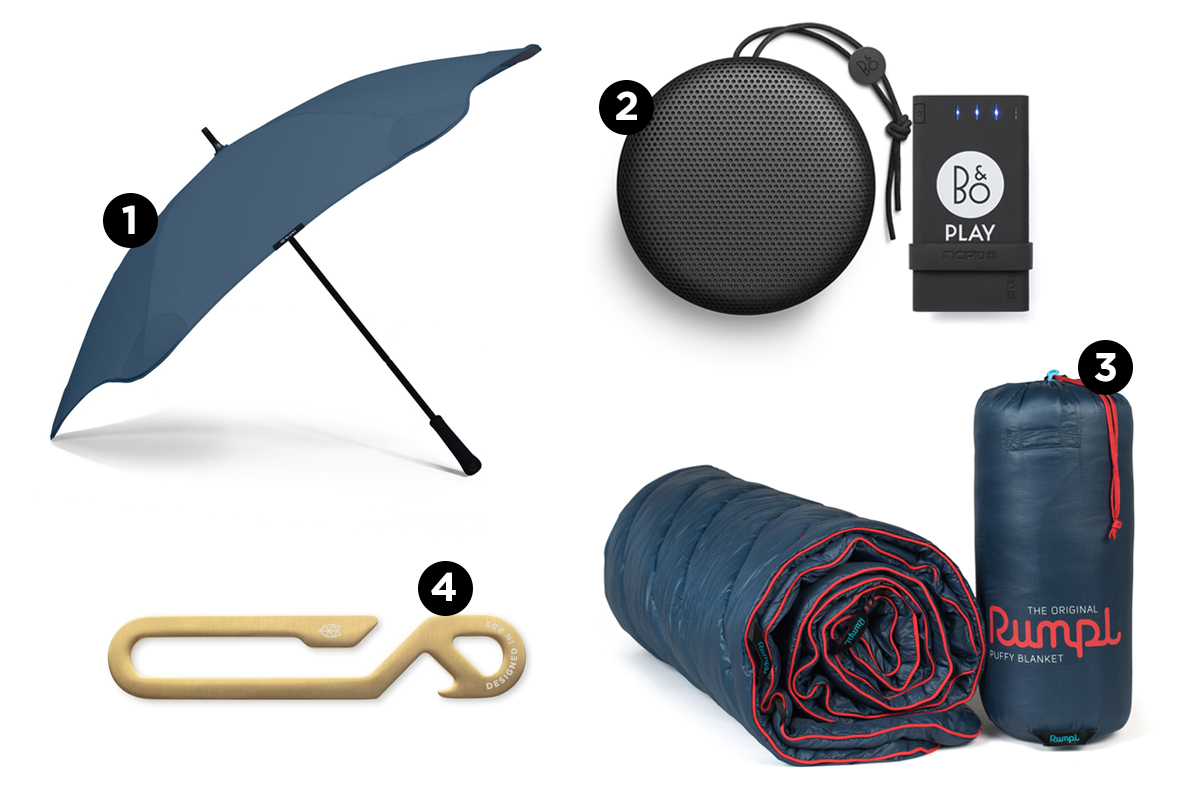 It's safe to say we like to be prepared around here, and it can't hurt your chances when you're trying to impress. Meet the just-in-case essentials that can save the day when your plans (or just the weather) get spontaneous. Whether you're unexpectedly caught in a drizzly downpour, or find yourself in desperate need of a bottle opener, we've got your emergency kit ready to go:
1. Blunt Umbrella. February isn't famous for high temps and a sunny disposition, so it's wise to be armed with weatherproof essentials. This isn't just any ordinary umbrella; Blunt's products are much sleeker, featuring telescopic ribs, a modern wind-shearing shape, and a unique radial tensioning system. This means it won't blow out, give up, or fly away, so you can still look suave while protecting you both from a torrential downpour.
2. B&O Beoplay Speaker. Whatever your Valentine's Day plans involve, we hope that a properly vetted playlist is a part of them. Finding your soulmate is hard enough, so setting up some killer background music can really lighten the mood and ensure that those silences aren't so awkward. This speaker packs a serious audio punch into a small, portable package you can take anywhere — and we suggest you do.
3. Rumpl Original Puffy Blanket. Rumpl blankets use the same technical materials found in premium sleeping bags and puffy jackets. That means they're super comfy and ultra-warm — ideal for when the date goes so well, you've ended up on secluded beach at sunset (or just in front of a cozy fireplace) with your favorite bottle of wine.
4. The James Brand Pocket Hook. We've all done it. Hiked, biked, or drove to the middle of nowhere, a place with epic views and no one around, with a six-pack in your bag and your partner by your side. You settle down to enjoy the view and, lo and behold, you don't have a bottle opener. Save the date with this trusty key hook, a USA-made and sleekly designed key ring addition, complete with emergency bottle opener.
_____________________
Join Huckberry's 1 million+ adventure community. We deliver the coolest gear at the best prices, inspirational stories, and a hell of a lot more to your inbox every week. Membership is free and takes seconds.