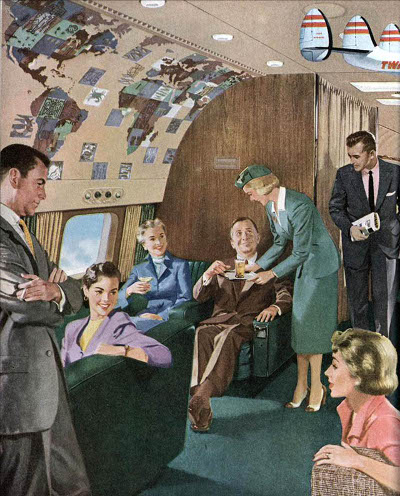 Image from Modern Mechanix
Why "Stylish" Travel Clothing?
Traveling used to be a glamorous endeavor. As it was more rare than it is today, going on a trip was really something special. This was particularly true of the golden age of flying; men in suits and ties relaxed in plush chairs, stretched their legs out, and were served full meals by cheerful, attractive stewardesses.
These days, getting to your destination feels more like a trip to the dentist than the beginning of a holiday. We're herded like cattle, poked and prodded, and led into a cramped chute, with only a packet of peanuts for consolation.
I guess it's no wonder people have checked out from the experience altogether. Perhaps this is why the last time I was at the airport I saw a man dressed in an oversized t-shirt, pajamas pants with holes…and fuzzy slippers.
This casual vibe extends outside the airport as well, with tourists never leaving their sneakers and cargo shorts for the entirety of their trip.
But venturing away from home doesn't have to mean completely letting yourself go. Dressing with a little style can heighten your experience, adding a bit of the old charm back into travel for you–and for your fellow travelers as well. You never know who you're going to meet when you're exploring a new location-a special someone, a new friend, or a potential business contact, and you never know what opportunities will arise on your trip. When you're dressed sharp, you're prepared to meet anyone and go anywhere. Finally, dressing well while you travel shows your respect for others and the places they call home.
While it may seem overwhelming to pack stylish clothes while also packing light, it need not be. The following guidelines are designed to help you dress sharp while you're living out of a suitcase.
Characteristics of Stylish Travel Clothing
Quality Build – By quality build I mean the clothing is constructed to resist expected tear and abrasion. Seams are either double sewn or stitched to at least 12 per inch (higher is better for pressure points and tight fabrics like shirting). Fabrics are selected based off need, although cotton and wools are excellent choices for 95% of tourist travel and 99% of business trips. If you're headed to an extreme weather destination, it's well worth learning more about synthetic fabrics and purchasing specialty travel clothing with the help of an experienced salesman.
Classic Style – Choose conservative clothing that does not stand out (if possible) and complements your build and complexion. A problem with wearing clothing that draws attention to itself is that it's memorable; a brightly colored windowpane tweed sport jacket will look great the first night into your cruise – at the end of the week you'll be known as "The Scott" despite your Italian heritage.
Comfortable Fit – When you feel good in a piece of clothing you can wear it all day, an important attribute when doing so becomes a necessity. Ideal travel clothing has been worn many times before the trip, especially when it comes to footwear. Many travelers purchase clothing exclusively for a trip and only find out their first day that their shoes are too tight and hot or their trousers are rubbing them wrong in the worst possible areas.
Stylish Clothing that Travels – The List
A Classic Coat – Much depends on where and when you are traveling, but assuming you are headed to a place that is cold or wet, a stylish coat may get more wear than anything else you bring. Options for the stylish traveler include the classic trench coat, a wool overcoat, or perhaps an lightly lined windbreaker that's water resistant. Either way, choose a coat that fits well and is made with a non-attention grabbing color with minimal pattern.
Sweaters – If the weather is cool, sweaters are an almost perfect travel item. Sweaters are both stylish and functional and the right cut and color can accent a wide variety of clothing combinations. A light-weight cashmere sweater can dress up a shirt and jeans or dress down a stuffy 2 piece suit. Sweaters don't require ironing, match a wide variety of styles, and are surprisingly durable– the only down side to a sweater is the amount of room they can take up in your luggage. If possible, travel wearing one and save the space in your bag.
Boots – In particular, dress boots that slip on if you spend time in airports, laced if you'll be walking extensively. Boots are a solid choice for the traveling man because they protect the ankles in poor weather, provide support, and are excellent for walking if equipped with the proper sole. Boots can be worn with a suit or sport jacket and trousers if they are not too casual.
Other Footwear Options – classic slip-on dress shoes like plain loafers are a fine warm weather choice, and like slip on boots save you time in airports. Select a dark colored leather and rubber heel that doesn't give too much of a sport look. These are excellent travel shoes for moving through an airport and then walking all day on cobblestone streets.
Black Socks – You may be thinking, why worry about socks? I'll just take enough pairs so this isn't an issue. Not so fast. As any experienced traveler can tell you, everything counts when you seek to travel light and in my experience there is no need to ever take more than 4 pairs of socks on any length trip (I met a man who traveled with 3, but that's for another article). The key is to eliminate the white gym socks and only travel with black ones. Yes, you can exercise with black socks. And each night, before going to bed, simply wash them and hang them to dry.
Dark Jeans – No holes, no fading, no visible signs of heavy wear and a fit that complements your build. Many of us wear jeans like they are an extension of our body – for those who don't wish to give up denim when they travel, simply switch to a style that could be mistaken for slacks. Dark and not too tight or loose, these are jeans that can serve you in a wide variety of situations. You can dress them up with Chelsea boots and a sport jacket, or lounge around by mixing them with a sweater and casual leather slip-ons.
Wool Trousers – Lighter-weight and dressier than jeans, grey wool slacks are a neutral wardrobe piece for the traveling man. Their strength is their simplicity and classic heritage. Dark wool trousers will match almost any jacket that is clearly a different shade, can be worn along with a dress shirt, or paired with a sweater.
Wool Jacket – Sport jackets and navy blazers are perfect travel pieces, especially when they are made from a dark fabric with a lightly patterned weave. A wool sport jacket can be worn to the airport, on the plane, and used as a pillow or blanket on a long flight. A few hours later that same jacket will have you looking respectable checking into your hotel, ensure the hostess at your restaurant seats you quickly, and finally will ensure you meet club dress code requirements when you're out on the town. A classic dark colored wool jacket can be dressed up by pairing it with a crisp dress shirt and tie or dressed down with a soft check button down and sweater.
Solid Light and Medium Blue Dress Shirts – Simple, classic, and versatile, blue complements most men and can handle light dirt marks. Light blue is second only to white in formality, but it has fewer of its issues in terms of commonality, association with waiters in Europe, and the issue of keeping white clean. Semi-solid and lightly patterned shirts are an option as well, but if the fabric is too memorable, you run into the issue of overuse. Pertaining to style, hidden button downs are great but hard to find. Medium spread collars are another option, and the classic point a solid choice if you'll be wearing a tie occasionally.
The Right Undershirt – Undershirts make the list because they are critical to soaking up sweat and grime before it soils your outer shirt and jacket. This allows you stay fresh looking longer, and in the evening they can easily be washed and laid out to dry. My go-to undershirt is made by Ribbed-Tee, as I feel the elastic woven cotton does the best job of keeping me comfortable while absorbing perspiration. And they dry fast – so I only have to travel with 2 or 3. For more info on undershirts, visit Tug the Undershirt Guy.
A Proper Hat – Personally, I am not an avid hat wearer. However when I do wear one I do so because I feel wearing it is functionally appropriate. Rain, sleet, snow, the bright sun – each of these conditions can be mitigated to some extent by the appropriate headgear. Spending two weeks in Seattle? Why not compliment your trench coat with a hat that protects you from the drizzle. Headed to Phoenix? The right hat will shave 10 degrees off the temperature when you're out watching baseball. Hats also make great "do not disturb signs" when you decide to catch some sleep on the plane.
Worth Mentioning – The SCOTTeVEST – Designed by a company that specializes in "pocket clothing," the advantage of this travel vest is that it is simply styled (thus versatile) and incredibly functional. The large number of pockets allows you to ditch the travel pouch and still carry everything you need. This is a casual travel style, and is more appropriate for day sightseeing than a night out in Paris. Also, be careful of overstuffing your pockets.
Clothing Specifically Designed for Travel
Pros

Wrinkle and Stain Resistant – clothing designed specifically for travel has often been specially treated so that the fibers are non-porous or repel liquids and semi-solids when they try to penetrate. The advantage here is that the clothing you spilled coffee on and perspired in for 20 hours still looks fresh.
Machine Washable – This is a huge plus with jackets as a wool jacket has to be either sport cleaned or dry-cleaned. If you're headed to a part of the world where services like this are non-existent, machine washable stylish travel-wear makes life simple.
Cons

Cost – Specialty travel gear, especially the good stuff, is almost impossible to find thrifting and has to be bought new. Rarely on sale, you'll pay a premium for performance gear. Because of this I often recommend a man spend a bit more and get a quality wool or cotton piece that will travel just as well and can be used once the trip is over.
Limited Style & Fit Options – Targeting a niche market, travel clothing doesn't have as wide an audience and as such there will be far fewer style and fit options available. If you are a hard to fit individual already, finding a quality wrinkle resistant shirt in your size may take twice as long.
Wrinkle Resistant Does Not Mean Wrinkle Free – Make sure to purchase wrinkle resistant clothing that has a money-back guarantee and can be returned if it fails to live up to expectations.
Travel clothing has its place. If you're traveling across Russia by train, travel clothing is perfect as it can handle spills and be washed and dried right there without inconvenience. If you're headed to London or Berlin you'll have all the conveniences of home (and perhaps more) at your disposal.
I personally select quality wool pieces over wrinkle resistant clothing; I like the wider fabric and style selection, quality wool has a better hand, and it feels softer against the skin. For many men it is better to invest in quality pieces that they can add to their existing wardrobe and continue to use after the trip.
Companies that carry stylish specialty travel menswear http://www.magellans.com/
Useful Travel Tools
Travel Iron – Most hotels will have an iron either in your room or available upon request. However, there is no guarantee of the quality and if your travel arrangements are more budget oriented you may find an iron is unavailable. A good travel iron is well worth the cost and added weight. Don't know how to iron? Here's a primer on how to iron a dress shirt.
Emergency sewing kit – if outside of the hotel system an emergency sewing kit is a smart thing to carry. You need simply a needle, black and white rolled thread (2 feet), a few buttons, and various sized safety pins. Package all of this in a small matchbox or puncture resistant box – duct tape shut and put it away in a side pocket within your luggage. Most likely you won't need it, but the 1% of the time you will it will be a lifesaver.
Items to Consider Leaving at Home
Fleece Jackets – Unless you're climbing in the Carpathians or exploring Patagonia, leave the adventure travel gear for adventure travel. Wearing clothing like this makes you stand out as a tourist, and nothing attracts a pickpocket like an easy target.
Designer T-shirts – There are situations that call for an AC/DC T-shirt. Sightseeing in Rome is probably not one of them You might want to think twice about wearing that shirt to the Vatican.
Sandals, hiking boots, sneakers – Comfortable, yes. But rarely appropriate for anything more than sightseeing. If you're going to be walking all over European cities, hiking boots are appropriate. But if you're going to a sales convention in Las Vegas, leave them at home.
Exercise Gear (Sweatshirt, gym shorts, running shoes) – Be honest – are you really going to exercise or are you packing your workout clothing just to feel better about yourself? Workout clothes can substantially increase the size of your baggage especially if you bring a track suit or sweatshirt. I find if I'm going for a couple days I plan my workout the early morning of my trip or the night before. That being said, I double my workout gear as my lounging around the hotel room clothing when I do bring it with me.
What are your tips for looking sharp when you travel? Are there things about dressing well while traveling that you'd like to know more about? Share your comments, questions, and suggestions with us!
Written by
Antonio Centeno
Real Men Real Style – Wardrobe Advice
A Tailored Suit – Custom Clothier