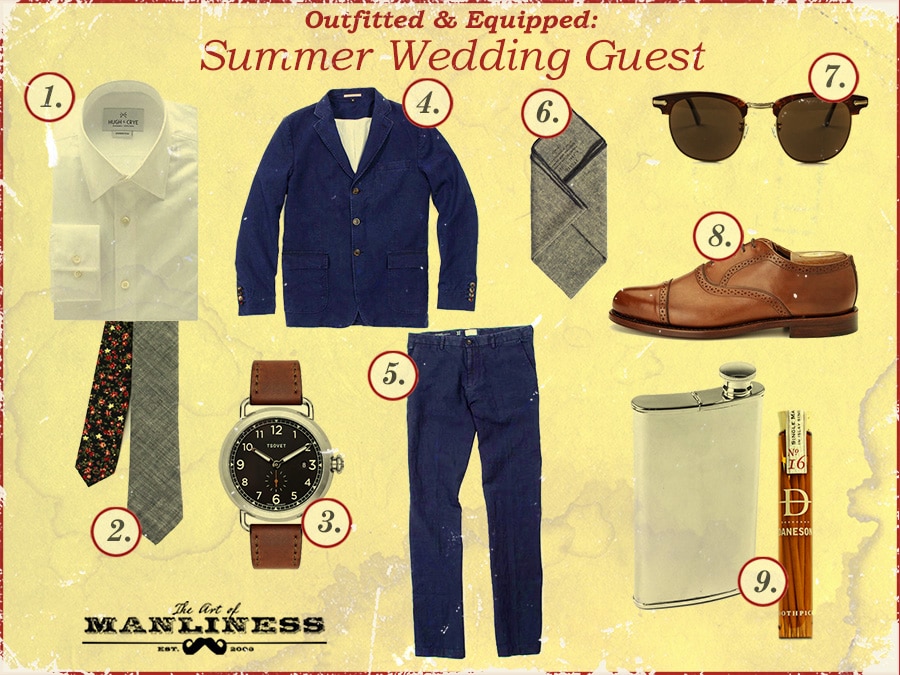 Editor's note: To help you dress for your part and nail the mission-critical details of dressing for a summer wedding, we've tasked Huckberry's Managing Editor Zach Pina with assembling a list of a few of his essentials and style favorites from the Huckberry store.
First rule about wedding attendance: it's not your day. Sure, the bride and groom need to be the center of attention, but that doesn't mean you can't still stand out a little amongst the sea of ill-fitting khakis and untucked polo shirts in attendance this summer wedding season. But don't worry — unless you're coiffed in a tuxedo, custom John Lobb brogues, and flipping the keys to a borrowed Aston Martin to the church valet, it's not terribly difficult to up your wedding style without stealing the spotlight.
The get-up below will be equally at home at a semi-formal wedding that trends toward the casual, or a casual wedding that leans toward the dressy; it's quite versatile and can be dressed up or down to suit the occasion.
1. The Shirt. No amount of tucking, pinning, or hiding under a blazer will ever conceal an ill-fitting shirt, so I'd definitely recommend getting it right the first time. Hugh & Crye makes my favorite option in the Logan Dress Shirt — a trim, thoughtfully tailored classic made from 100% Egyptian cotton, which moves with you (re: stays tucked in on the dance floor), and breathes exceptionally well. H&C has also done an excellent job of re-interpreting how we determine our shirt size, leading to a confident purchase the first time.
2. The Tie. If it shines, it's out. Nailing the shirt-blazer combo is all about *ahem* marrying the two with a little texture, so skip the flashy "Wall Street" silk look and go with something a little more muted — like the General Knot Light Indigo Tie. Here, you'll find the hue adds a subtle touch of contrast between the earthier tones in your slacks and blazer.
3. The Watch. I'm sort of a watch guy, and I love the sheer simplicity and good looks of the Tsovet SVT-CV 43 — an ultra-clean 3-hander whose small seconds layout was inspired by vintage field watches. I'm especially a fan of the classic wire lugs, how the raised Arabic indices add a third dimension to the dial, and how the luminous hands deliver a confident glow well into the night.
4. The Blazer. It's tough shopping for wedding essentials if you're not confident they can be worn anywhere else. The Apolis Washed Linen Blazer is a strapping solution and the centerpiece of a versatile closet. I love this particular option, as it can be easily dressed up with the right shirt and matching slacks, or dressed down with a crew-neck tee and raw denim for more casual outings. Washed for a subtly faded look, the cotton/linen blend is structured, yet highly breathable, and should work to keep you cool for even those beach weddings.
5. The Pants. While matching your blazer isn't required, the tonal Apolis Washed Linen Pants complete the semi-casual suit look, while still giving you the same benefits of the fabric blend. Best thing about these pants though? If you skip the blazer, they'll look amazing at more casual nuptials when paired with a white button-down (sleeves rolled up, of course), skinny tie, and a killer pair of sunglasses.
6. The Square. Because the details aren't always just about you, the pocket square is one thing you just can't fake. Particularly, the Apolis Pocket Square, which says "This guy paid attention in class," and if you bring along a second one for the teary-eyed girl in the pew behind, it also says "This guy is catching the garter belt."
7. The Sunnies. In addition to being a watch guy, I'm also something of an optics nerd, so maybe I'm already biased, but there are fewer ways to make a more confident first impression than with the right pair of sunglasses — especially at an outdoors wedding. The Shuron Escapades have proved again and again that they look amazing on a wide variety of face shapes — from Hollywood superstars and political dignitaries, to style tastemakers and revolutionaries — making this a must-own optics icon whose silhouette pre-dates even the Wayfarer.
8. The Brogues. A fella by the name of Hardy Aimes is known for a great deal of style and fashion-related savvy, and also for having said, "It is totally impossible to be well-dressed in cheap shoes," and while I might disagree with the sentiment that style and cost are invariably related, in some regard, he's mostly right. A great pair of shoes never goes out of style, and only gets better with age, which is why the Bartlett Oxford from Rancourt is an easy choice here. Lovingly handmade in Maine with exceptional Italian calfskin, these are shoes that you can expect to keep in your closet for a very long time.
9. The Thought That Counts. Generally speaking, if it's on the registry, there's a pretty good chance that they'll never remember it was from you. Having said that, it's dangerous to go entirely off-registry. So, get them their George Foreman, but then come up with a unique gift that's just for the groom — on a day that's largely made for the bride, he'll appreciate the thought. The rad Cigar Holder and Flask from Visol, or the cool Toothpicks from Daneson are great choices.