Editor's Note: These promotional galleries were put together by the gents at Huckberry.
It's here — the season of holiday parties, the time of the year when we dust off our favorite blazer/sweater combos and become a devourer of turkey dinners, connoisseur of egg nog, orator of toasts, and chief engineer of tree lighting. We've always been big supporters of the "look good, feel good" mentality. So to help you be your most cheerful self while attending this season's parties, we've compiled these three collections of our favorite winter duds and accessories: "Classy Holiday Party" and "Casual Holiday Party," as well as "Gifts for the Host" since a gentleman never arrives empty-handed.
Classy Holiday Party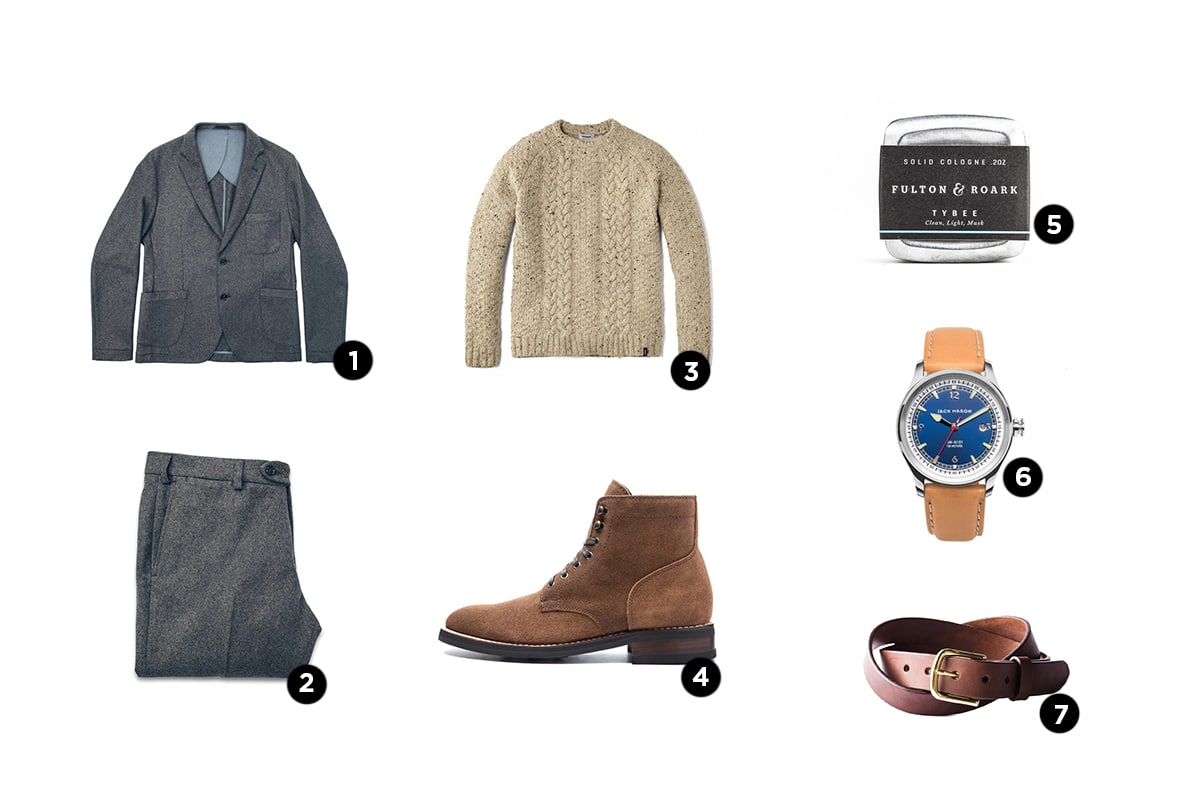 The Suit: Pull out all the stops this holiday season with Taylor Stitch's silky-soft (1) Telegraph Jacket. It's cut from a warm wool blend that's built with a touch of stretch so it's tailored for an effortless fit. Pair it with matching (2) Telegraph Trousers for a suited-up look. This combo is a go-to you'll turn to for seasons to come.
…or Cable Knit Sweater: Not a suit guy? Throw on (3) Finisterre's Westray Crew over a button down shirt with a pair of dark denim. This timeless, fisherman-style sweater is so popular around Huckberry HQ, that we have to check in with each other on chilly mornings to avoid looking like an office of clones.
The Dress Boot: A good dress boot is one of the most versatile pieces of footwear a man can have in his wardrobe. For a particularly winter-ready entry into this category, we recommend (4) Thursday's sturdy suede kicks, with a waterproof Weathersafe® coating. They're dressy enough to wear with a suit, and tough enough to keep your feet warm and dry on wintery walks.
The Cologne: With their packable, uncomplicated design that fits perfectly into our on-the-go daily grind, (5) Fulton & Roark's Solid Colognes have really won us over. For freshening up before you give your big toast or ringing in the New Year, there's no better choice than these effortless, fresh-smelling scents.
The Nautical Watch: Looking for an understated but handsome wristwatch with an air of seafaring charm about it? The (6) Jack Mason's 3-Hand Nautical is for you. More JFK than Popeye, this essential style stays classy while keeping its cool.
The Belt: No holiday getup feels complete without the details. (7) Tanner Goods' US-made Classic Leather Belt is a polished choice for dressier occasions. Cognac-colored, vegetable-tanned leather, and brass hardware make it fit with slacks, corduroys, chinos, and jeans for any festive occasion.
Casual Holiday Party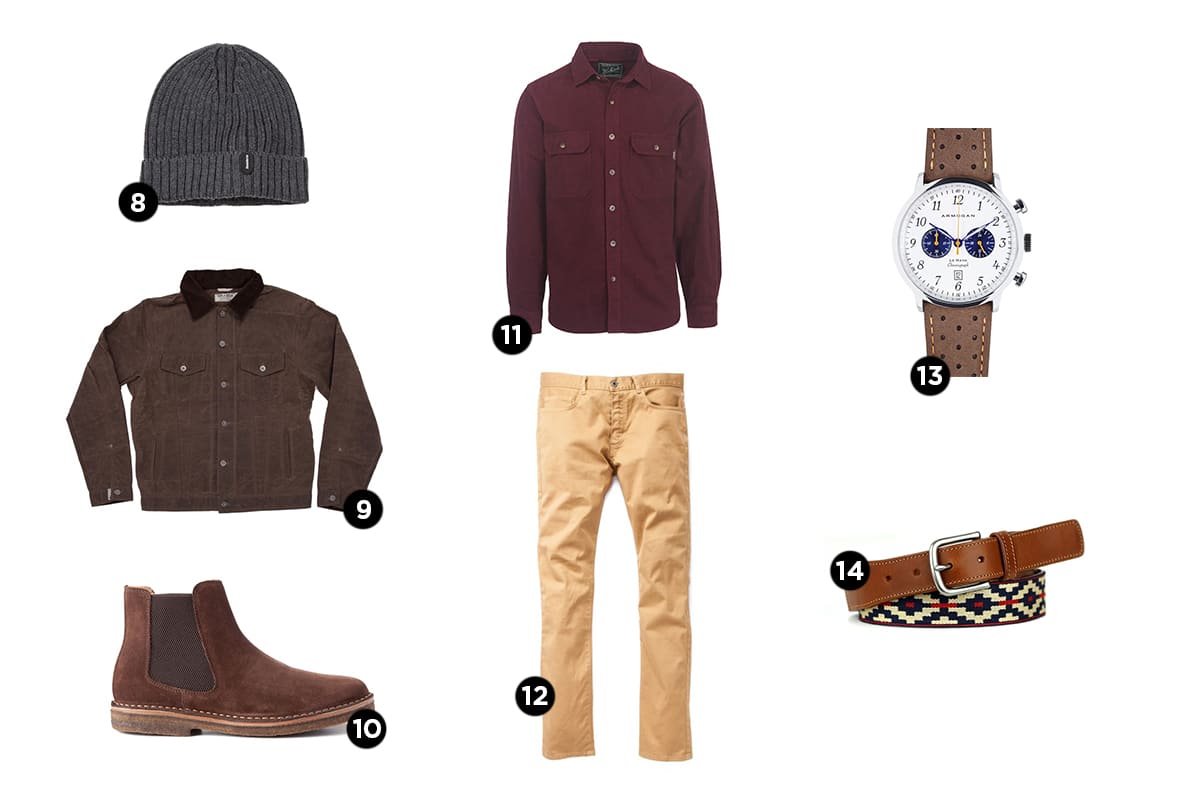 The Layers: If the dress code's casual but you still want to look your best, we have three words for you: layer, layer, layer. For a warm, shirt-over-a-shirt look, go for the (11) Woolrich Expedition Chamois, made by the legendary woolen mill with a history dating back all the way to 1830. And if your wardrobe needs a jacket with that special something, (9) Iron and Resin's Rambler, is the one to invest in. Stylish, and built from waxed canvas, it's a jacket that'll only get better with age. Of course, no winter outfit is properly topped off without a knit hat. Our pick is (8) Finisterre's Fisherman Beanie made from super-soft, moisture-wicking Merino wool.
The Shoes: The secret's finally out about (10) Astorflex's Italian-made chukkas, our favorite casual boot of the season. Handsomely constructed with a leather lining and comfy crepe sole, these are our go-to's whether headed to a holiday bash or just out for a stroll around town.
The Pants: The cut of a jean, the feel of a chino, and the stretch of a pair of performance pants: (12) Flint and Tinder's 365 Pant has it all. Just like the rest of the brand's collection, the 365s are 100% sourced, cut, sewn, and dyed in America.
The Racing Watch: After seeing all the failed ugly christmas sweaters and red suspenders, we know the best place to make a statement at your holiday party is on your wrist. (13) Armogan's Le Man's Chronograph is a great choice for those looking for a handsome watch at a great value. Its racing inspired design, with a perforated suede strap and stopwatch function, sports better-looking details than watches at many times its price.
The Casual Belt: For a belt that brings a bit more color to your outfit, try (14) La Matera's Western-inspired lineup that's hand-stitched with Argentine woven fabric on premium, vegetable-tanned leather.
Gifts for the Host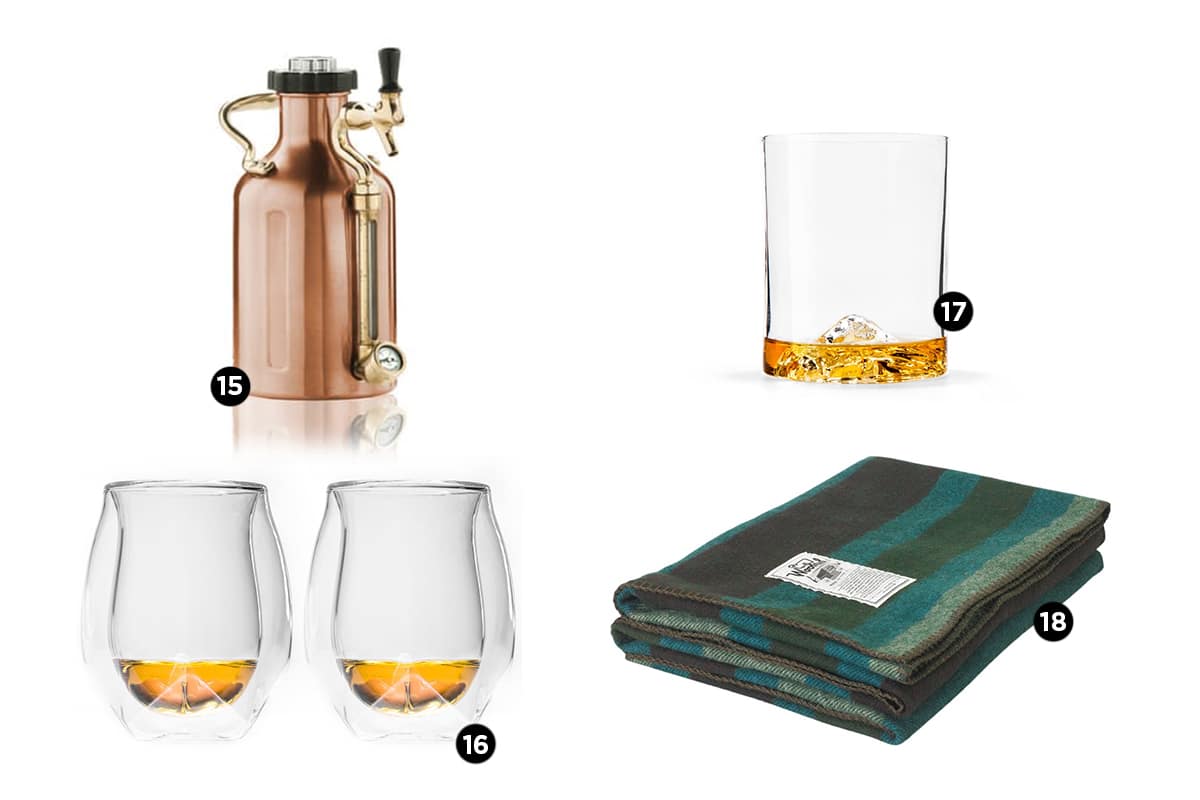 The Mini Keg Growler: If your host is into beer, fill up (15) Growlerwerks copper uKeg 64 with a quality brew, throw it in the fridge, and keep it cool and carbonated for as long as it takes for you to hand it over (just don't sample too much for yourself).
The Whiskey Glasses: Once it's time to toast to your host, give the gift of (16) Norlan Glass, whiskey tumblers scientifically designed by master distillers to give your whiskey a mellower, more expressive taste. They make an eye-catching addition to any bar cart, along with (17) Whiskey Peaks' handblown crystal glasses featuring topographic impressions of four of America's greatest mountains — Denali, Half Dome, Rainier, and Whitney.
The All-American Blanket: There's no better way to thank your host this winter than with (18) Woolrich's Legendary Rough Rider Blanket. Woven from cozy wool in Woolrich, Pennsylvania, once they get in front of a fire wrapped in one of these, they'll hope winter never ends, and think of you warmly the rest of the year through.
_____________________
Join Huckberry's 1 million+ adventure community. We deliver the coolest gear at the best prices, inspirational stories, and a hell of a lot more to your inbox every week. Membership is free and takes seconds.