Editor's note: These galleries were put together by the fine gents at Huckberry.
Layering: that's the name of the game as we cruise into the coldest days of the season. And to really excel in cold weather styling, we've got to *ahem* lay down a few ground rules first, which, if you follow 'em to the *ahem* tee (okay, we'll stop), no doubt you'll be as cozy as it gets as the temperatures fall.
Mix contrasting fabrics and materials, especially wool, denim, and canvas. Leather boots never hurt either.
Fall colors. Think "burgundy" over "fire engine red." Bright blues and whites are out. Brown and greens are in. For inspiration just take a look at the leaves on the street.
Watch your lengths. Shortest sleeves and hems on the innermost layer; longest on the outermost.
Like we said, as easy as 1-2-3. You'll be in especially good hands if you study these four, super-versatile gameplans below — and don't worry, we made sure to draw one up to suit your own style.
Look #1: Casual Weekday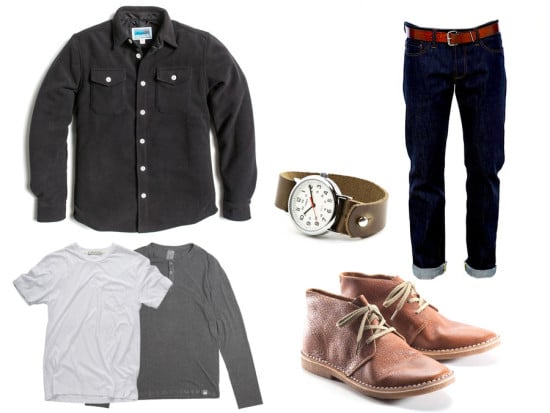 First, undershirt; we nod here to Freenote's Pocket Tee (cotton, polyester, chest pocket, USA-made). Next, throw on a henley, the Swiss Army knife of long-sleeve insulators. No shortage of options here, though we've got a soft spot for the Cory Vine Neighborhood Henley. Close out the top half with a Bonded Fleece Shirt Jacket from Edgevale. Wears like a dress shirt, feels like your favorite blanket. Perhaps most essential are pants and shoes. In our eyes you can't beat selvedge denim, especially these indigo dyed, Cone Mills-sourced 16.5 oz. JGM Slim Straight jeans from Tellason. And paired best with jeans are leather or suede shoes. Rugged but casual, Seavees' Eye Chukka is a shoe-in here (okay, now we promise we're done). Finish the look with a handsome, but decidedly casual Timex Weekender timepiece.
Look #2: Thanksgiving With the In-Laws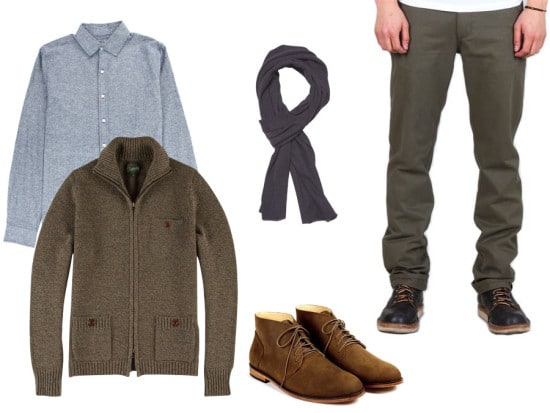 When you want to dress to impress, trade in the t-shirt-henley combo for a stylish button-down or flannel. Thread For Thought's brushed cotton long-sleeve paired with Trumaker's Potomac shawl cardigan will do the trick. If you're heading into the perma-frost for turkey day, try Apolis' Boiled Wool Blazer (not pictured) for a warmer alternative; throw on a Mercury Scarf for added insulation. Next, ditch the denim for a handsome chino or corduroy pant — we like the Workers Chino from Freenote. Make sure your feet are all style and no mud. One idea is the Emilio Chukka Boot; it's cut from sheep leather and well-cushioned too. Remember darker, subtle colors are your fall weather friends.
Look #3: Urban Technical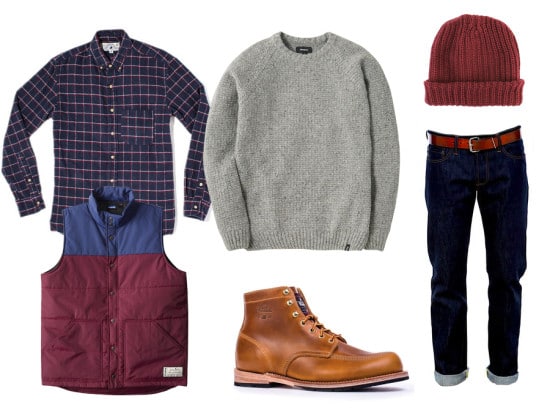 Here's where fabric can matter a little more. When warmth is key, go flannel. We can't recommend Wellen enough for its exceptional cotton-cut, wood-button oxford. Finish your main layers with the Millook Crew Sweater, a rugged fisherman's jumper that's all merino wool (plush, warm, fuzzy) and polyamide (for added durability). As you head outside, top it off with Kavu's Switchback Vest for its vintage printing and nylon liner. Of course, you're never fully dressed without a cotton burgundy Watch Cap. On your legs, we turn once again to the JGM Slim Straight by Tellason. You just can't go wrong there. For shoe inspiration, check out Woolrich's Yankee — a classic accessory from an American brand that has been making wool blankets and boots since the Civil War for the hustlers of this country.
Look #4: Casual Weekend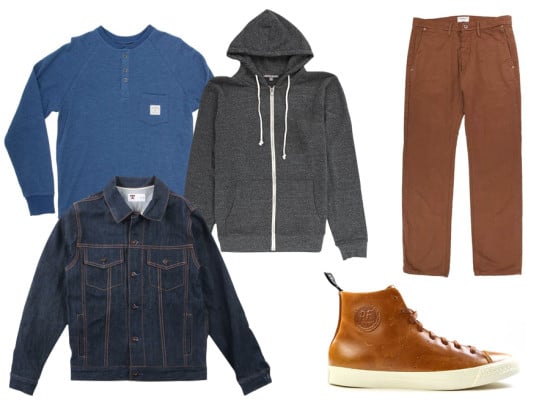 Draw from your casual weekday options, but it never hurts to have some garments that can handle a day on the move. Try Iron and Resin's Paradigm Henley. Its cotton/polyester waffle knit blend makes it a perfect base layer or standalone shirt. For the impromptu walk or food run, zip up with this super plush, featherweight Hoodie from Threads For Thought or the vintage-styled Tellason Denim Jacket. And if you're looking for utility, it pays to invest in a Quarter Century Pant from RPM West. Sewn from 100% cotton 3-ply twill, and backed by a 25-year warranty, these guys feature a double reinforced crotch and military grade hardware. Lastly, save the sneakers for softball night, because if you really want some truly awesome kicks, slide into a pair of Lux Chevaux leather Rambler Hi Tops.
Did something catch your eye? Huckberry's offering FREE shipping (U.S. only) on nearly everything in their store through Saturday, Oct. 31. Just enter the code LAYERUP at checkout!