Editor's Note: This is a promotional post from the fine gents at Huckberry.
Call us cynical, but our here-today, gone-tomorrow economy is increasingly full of purchasing pitfalls. Especially in menswear. Ever heard of planned obsolescence? It's real. That's why finding the perfect pair of boots is like unearthing buried treasure. Maybe they're not literally from another time, but they'll sure feel like it, because the right boots are built for the long haul.
Leather boots were once standard footwear for blue collar laborers, soldiers, and outdoor ramblers. Today the basic designs haven't changed all that much, and there are ones still appropriate for work, those that are a little dressier, and plenty that easily straddle both scenarios. That's really the beauty of a good pair of classic-looking leather boots: they pair just as well with a t-shirt and jeans, as khakis and a sports coat. Get a pair and they'll become one of the most versatile things in your closet.
To aid you in finding the right leather boots for you, here are three tips every discerning boot hunter should know, as well as a few of our own personal recommendations: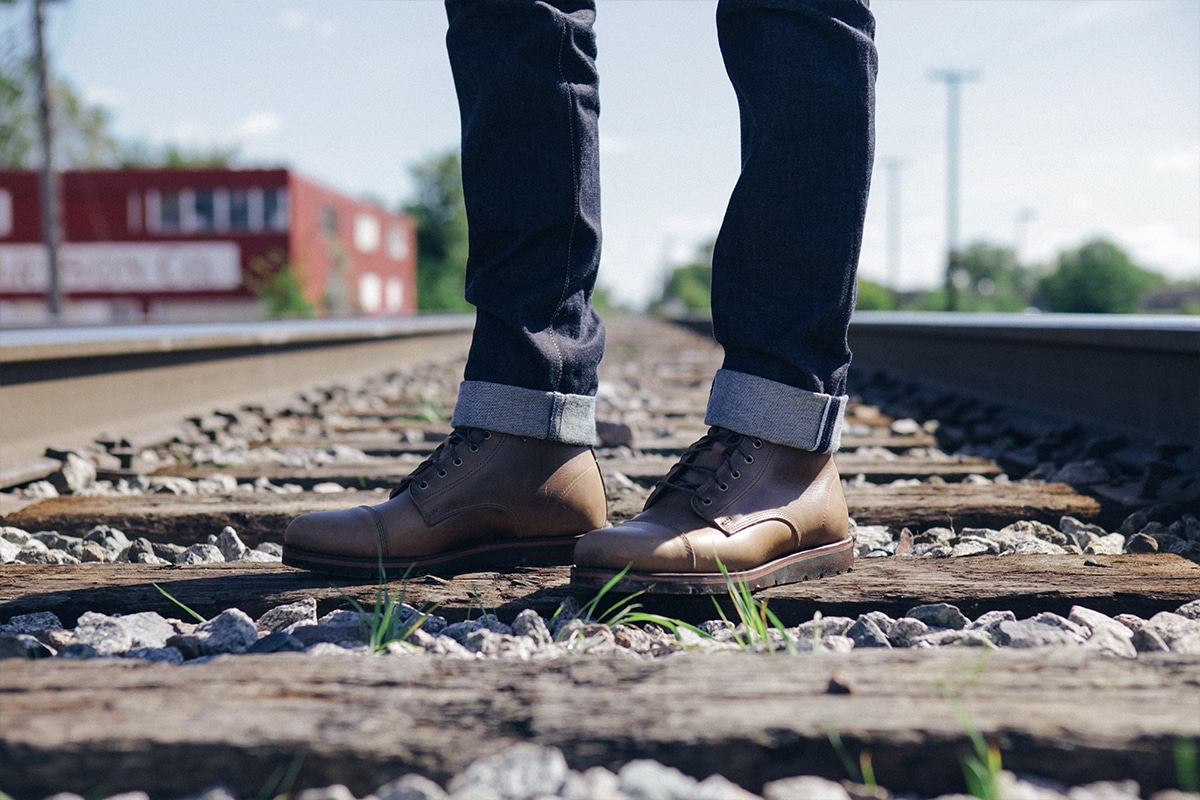 1. Not All Leather Is Created Equal
There are actually a lot of differences between leathers. If the boot just says "leather," it's potentially of much lower quality, so watch out. Instead, keep your eyes peeled for "Full Grain" leather, which is rugged, handsome, ages exceptionally well, and more importantly, is of top quality. (We're partial to Thorogood's Dodgeville for its Horween Chromexcel leather in Cognac and Brown.) On the opposite end of the quality spectrum, you'll find stuff like "Bonded Leather," which sounds neat, but is basically leather bits, dust, and shavings all pressed together. Leather branded as "Genuine" is great for leather suede, but not for a boot's high-stress areas like the toe. "Top Grain" is second best, just below "Full Grain." It's durable enough to get the job done, but probably won't win any beauty contests.
2. Make Sure They're Resoleable
If you want a pair that will run the gauntlet and still have some miles left for your grandkids, invest in resoleable boots. Yes, they're more expensive. Yes, you'll have to get them resoled a few times over the decades. But these are the highest quality boots out there. Period. Look for boots made with either the "Blake Welt" (Rancourt's Knox) or "Goodyear Welt" (see: Frye's Walter Lace Up and Prison Boot, and Original Chippewa's Service Boot). "Goodyear Welting" is actually the oldest (circa 1869), most labor intensive, and most durable way to construct a shoe. It uses a strip of leather or rubber that runs along the perimeter of a boot's sole, which is then lockstitched to the sole, upper, and insole. The benefits? It's easy to resole by hand or machine, while providing extra foot support and even a little bit of added water resistance due to the extra layering.
3. Trust Heritage Brands
Look to the feet of America's bravest and most badass dudes for help. What were the lumberjacks and mountain men and construction workers who built this country wearing? Answer: a few brands that are still crushing it — Rancourt (Est. 1967), Red Wing (1905), Original Chippewa (1901), and Thorogood (1892). The highest quality materials and construction don't lie. Heritage like this is living proof that "if it ain't broke, don't fix it."
Our Recommendations
Alright, now that you're an expert on all things boots, here are some options for both work and play. They have our full blessing. Whichever suits your style, you get exactly what you pay for: the highest quality materials and construction from legacy brands. Win. Win. Win. Below are three of our favorites for varying styles:
Built For Fridays: Eastland's High Fidelity Boot
The High Fidelity Cap Toe Boot looks sharp but is built with comfort in mind, meaning you can comfortably wear it all day before bolting to Happy Hour. Its authentic style pairs well with a man who means business — especially on weekends. It features shock-absorbing insoles with extra comfort zones, a grippy TPR outsole for flexibility and insulation, and full grain, premium leather construction. Polish these bad boys once a week and they'll love you forever.
Rugged Yet Refined: Chippewa's 6" Service Boot
Originating in 1901 up in Chippewa Falls, Wisconsin, this brand's boots shod everyone from soldiers to pilots to explorers. The 6" Service Boot is still built with American pride and handmade stateside with premium components — Vibram outsoles, full grain American leather, and comfort insert insoles. Zero break-in time necessary. The Goodyear leather welt construction and soft Texon insole with Maple Leather heel make it super comfy from Day 1. This is Original Chippewa's flagship boot, and it reflects the authenticity and heritage in every step.
The Splurge: Rancourt's Knox Boot
We personally teamed up with Rancourt to make this one. Aptly named after Maine's coastal Knox County — a place both jaw-droppingly beautiful and unflinchingly rugged, the Knox is a sleek, fully custom-made boot using Rancourt's signature 115 last, but with all our favorite trimmings. We started with a hardy Chromexcel leather that'll wear exceptionally well over the life of the boot, and built it with a weatherproof "Blake" last into two classic sole options (choose between a classic heel, or a more workboot-inspired wedge) from super-cushy Lactae Hevea (literally translated: "heaven's milk") from France. We finished the boot with a cap toe — an enduring style statement that dates all the way back to the early 1900s, making the Knox a perfect choice for dressing up or dressing down — or in other words, a "one-boot" closet.