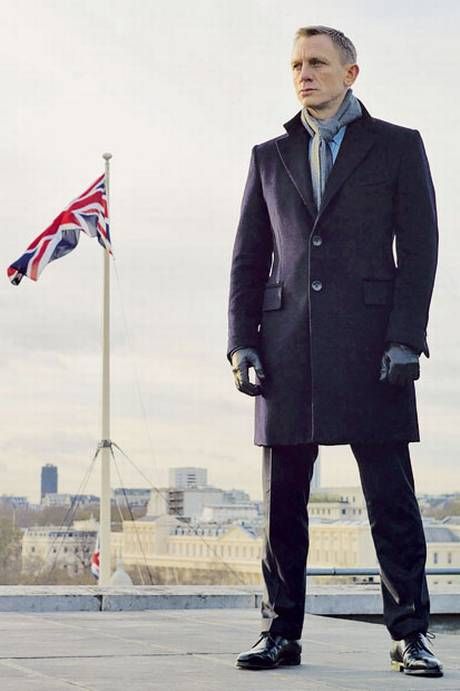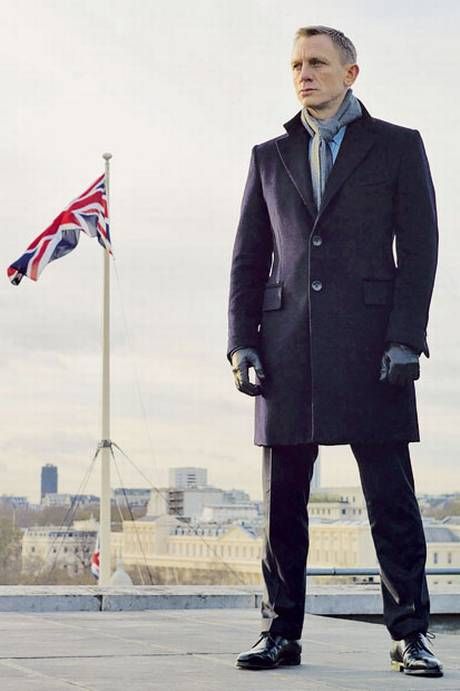 With our archives now 3,500+ articles deep, we've decided to republish a classic piece each Sunday to help our newer readers discover some of the best, evergreen gems from the past. This article was originally published in December 2015.
How many cold-weather coats does the average man need?
There are those men, often younger, who don't have to dress professionally each day, who try to get by with just one: a "technical," ski/snowboard-inspired puffy jacket or parka. Such a coat works fine for outdoors pursuits and when paired with very casual clothing. But when layered over a suit, sports jacket, or even a nice sweater, the casual coat jars with the man's dressier clothes, spoiling the overall effect of the get-up. And should the parka-only man be invited to a really swanky black tie event, he'll be up a creek.
On the other side are men who have a variety of jackets for every occasion. The parka for activities outdoors, a mackinaw for casual get-togethers, a duffle or pea coat for layering over smart casual clothes, and a couple different kinds of overcoats for wearing atop suits and tuxes.
For the sartorially inclined, having a closet full of coats may be desirable. But for those who prefer having a very simple, minimal wardrobe, I have good news: it's possible to get by with just two winter coats — a technical casual one and a traditional overcoat.
The overcoat — a heavy, ankle-to-thigh-length piece of outerwear with a collar and lapels — is one of the most classic and flattering staples of menswear. It projects confidence and authority and enhances a man's silhouette — widening the shoulders, lengthening the body, and draping over any problem areas. Its functionality can't be beat either; made of thick fabric, it'll protect you from the elements and keep you warm all winter long. Best of all, it works when worn over both casual and formalwear. Good-looking, functional, and highly adaptable, the overcoat can truly be the only other coat you own besides a technical one — as long as you pick the most versatile style.
How to choose such a "Swiss Army" overcoat is what we'll lay out today.
Note: Some of the images below show a topcoat rather than an overcoat; a topcoat is simply a lighter-weight overcoat, and the same principles discussed apply.
Why an Overcoat?
A ski-inspired jacket is good for outdoor activities and very casual get-ups. Beyond that, though, you need a nicer coat for a wide variety of events: daily work at a professional job or the occasional job interview; going out to a bar, restaurant, or movie; coffee dates, theater dates, and every kind of date in between; winter weddings or funerals; Christmas mass and a New Year's Eve gala.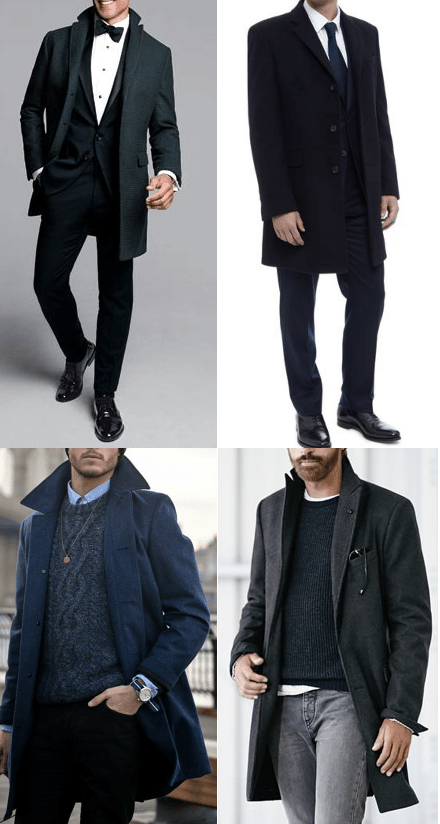 It might seem no one coat could possibly be appropriate for all those different occasions, but an overcoat can be. It's the one coat that can go all the way from being thrown over a sweater and jeans to being layered over a tuxedo. In fact, in recent years the more fashion-forward have even been wearing overcoats atop sweatshirts. That's a harder look to pull off, but the fact that it even can be pulled off in the right hands attests to the overcoat's incredible versatility.
Not every kind of overcoat achieves the same all-around adaptability, however. Some are more casual and don't work with formalwear as well, while some are so formal they'd look out of place over jeans. The key is to pick an overcoat with the fit, length, fabric, and style that give it a not-too-formal, not-too-casual look that will be appropriate for nearly every occasion.
What to Look for in a "Swiss Army" Overcoat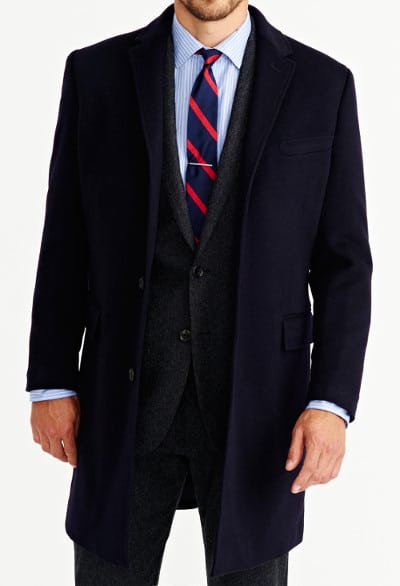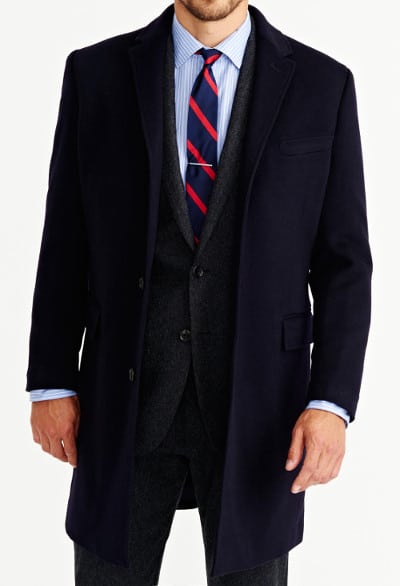 The following features combine to make the most versatile possible overcoat. In general, we're going to choose more casual features over more formal ones, as a dressier coat atop casual clothes looks more incongruous than a casual coat atop dressier clothes.
It's not always possible to find all these features in a single overcoat — just look for as many as you can:
Single-breasted. The double-breasted overcoat goes in and out of style, and is a nice choice for wearing to a conservative workplace or more formal events. But a single-breasted coat is more classic and versatile, and pairs as well with a suit as a sweater and jeans. While a double-breasted overcoat should be worn buttoned and closed, a single-breasted can be worn open for a casual look. The single-breasted, as it involves less fabric around your midsection, is also more flattering and slimming. Single-breasted overcoats are especially recommended for short men; the double-breasted variety tends to swallow the petite man up.
3-buttons. A 3-button overcoat is the most classic way to go. 4-button coats tend to be more formal.
Notched lapels. Notched lapels are typical of single-breasted overcoats and are more casual. Peak lapels are usually found on double-breasted coats and are more formal. Go with notched.
Unbelted. The extra fabric of a belt inhibits a sleeker silhouette, and can make your coat look overly twee or like something of a bathrobe. And remember, we want the option of wearing the coat open for a more casual look. But wearing a belted coat open leaves your belt flapping in the wind, and a man doesn't want dangling bits about him.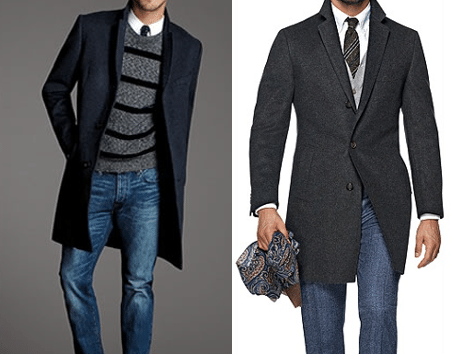 Navy or gray color. Rather than black, navy blue is your best and most versatile color choice. It's serious without being solemn, and looks equally good with both day and evening wear. Dark gray comes in as the second runner up in the color category.
A camel-colored number is an attention-grabbing but viable option if you own multiple overcoats, but for our minimalistic purposes, navy or gray will be more versatile; you're not going to pull a brown coat on over your formalwear.
100% wool fabric. For weight and durability, 100% wool is the way to go; it's warm and durable and will last forever. Cashmere coats have a nice, rich-looking finish, and are lighter, softer, and warmer. But cashmere comes with an enormous price tag, doesn't hold up to the elements as well, and wears out and pills easier. And since this is outerwear we're talking about, extra softness doesn't matter much.
Some coats add a layer of synthetic microfiber for extra warmth, which can be a good idea if you live in a particularly cold place, but 100% wool should do it for most. Look for a nice hefty fabric; a good overcoat should weigh around 4 pounds.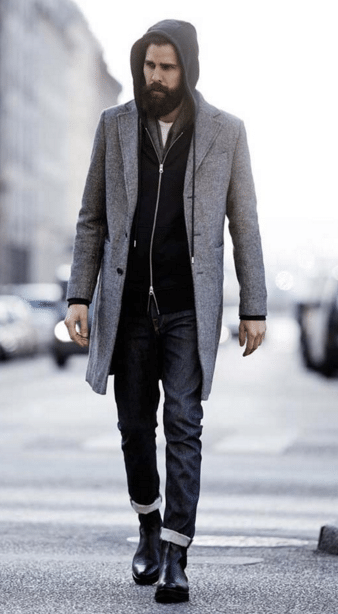 Three-quarter length. In times past, overcoats came all the way down to a man's calves. Men were hoofing it more outside, and needed a coat that kept their whole body wrapped up and warm. But with the advent of the automobile, all that long-flowing fabric became a hindrance in driving and getting in and out of the car. At the same time, men were spending less time walking in winter, so that the extra warmth from added length wasn't as necessary. As a result, the length of overcoats migrated upwards during the 20th century. Today, a long overcoat generally looks outdated and costume-y.
So look for what's called a three-quarter-length overcoat. Its length can range anywhere from the bottom of the knee to the top of the thigh. A knee-length coat looks too formal, while a shorter coat looks boxy and cuts your body in half (which isn't aesthetically pleasing), starts trending into pea coat territory, and may fail to cover a suit jacket (which an overcoat must do). This makes an overcoat that hits from about 2 inches above the knee to mid-thigh the most stylish and versatile choice.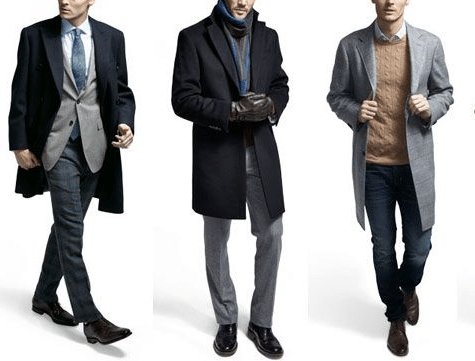 Well-fitted. The single most important factor in the style and versatility of any garment is fit; an overcoat won't look good in any situation if it's too small or too baggy. Some men will like their coat a little tighter, some a littler roomier, but err on the side of looseness; you can get away with a bit of extra bagginess in a coat, and you can always have a tailor bring it in (while we typically think of tailors working on suits and shirts, they can do coats too). Having a tailor let it out for more room, however, is expensive, if it's even a possibility at all (depends on how the coat was made).
When you try on an overcoat be sure to be wearing the maximum number of layers you'll be donning with it. That is, you're not going to be wearing it with a t-shirt, so try it on while wearing a suit, sweater, sports jacket, etc. Then lift your arms up and out, sit down, stand up, bend over, and so on. If the coat feels tight and unduly restricts your movement, it's too small.
Then consider these factors:
Shoulders. Shoulder fit is very important, because a tailor's not going to be able to create any extra room there. The shoulders should fit squarely and be slightly snug when you're wearing your thickest clothes underneath; that way, when you wear it with a thinner layer, it'll still fit well.
Collar. The coat's collar should cover the collar of your suit jacket, wrap smoothly and snugly around your neck without any gaping, and hang so that the lapels of your suit aren't visible from the front.
Sleeves. The sleeves of the coat should cover your shirt cuffs and the sleeves of your suit jacket, extending just slightly beyond the wrist bone. A coat sleeve that's about 1/2" longer than your suit sleeves is usually about right.
Silhouette. The coat should drape nicely over your hips and backside, without any awkward bulges or flares.
Body. If the buttons pull and form x-wrinkles when the coat is closed, then it's too small for you.
While many men mistakenly believe you should purchase an overcoat one size up from your suit size in order to make room for the garments worn underneath it, coat manufacturers have already factored that in. So you should generally get an overcoat in the very same size as your suit.
Investing In and Preserving a Quality Overcoat
A quality, well-made overcoat isn't cheap; you'll be looking to spend at least several hundred dollars. But it's a very good long-term investment. Few pieces of menswear have changed as little as overcoats over the past three centuries, so they're almost assuredly never going out of style. And if you make your overcoat the coat in your closet, you're going to be wearing it almost every day in the winter, for darn near everything. Thus, its cost per use is going to be very small — much smaller than if you had 3-4 coats that you each wore only occasionally.
You can purchase an overcoat from a department store, local haberdashery, or even a thrift store. Or you can have one custom-made. For more details on how to buy an overcoat, see here.
Because an overcoat is an investment, you're going to want to take care of it and ensure it has the longest life possible. To preserve your coat for many years:
Brush the coat after wearing it with a soft suede or lint brush to remove soil, lint, and other organic matter.
Hang up the coat on a sturdy, broad, wooden hanger that will support its shoulders. Make sure the coat is allowed to hang freely, so that the fabric has a chance to relax out any wrinkles, and it doesn't get crumpled by being pressed against adjoining clothes.
Remove spills and stains as soon as they happen. Blot and spot clean the stain with cool water; rubbing will only work the offending matter deeper into the wool.
Dry clean once a year at the end of the wearing season. The less you dry clean it, the longer the coat will last.
For long-term storage, store inside a breathable garment bag. This will protect the wool from moths and other insects.
If you're trying to put together a minimal wardrobe for the winter, the only two outerwear pieces you need are a technical jacket for your outdoor adventures, and a Swiss Army overcoat for everywhere else life takes you.