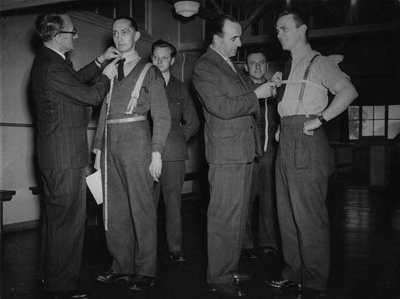 The other day I walked into J.C. Penney's to pick up a white oxford shirt. I looked down at the table crowded with shirts and took in all the different sizes available: 14 1/2, 15, 17.
Uh oh.
I forgot that you needed to know your neck size when you buy a dress shirt.
This isn't the first time this has happened to me. I'll walk into a clothing store needing to pick something out, but I don't know what my measurements are. When you're looking for a pair of trousers or a nice shirt, knowing that you're a L or an XL won't cut it. A clerk can usually give me a quick measurement, but I'd rather just be able to walk into a store, pick up what I need, and not have to bother with measuring myself every time I need a new dress shirt or a pair of new slacks.
I figure I'm not the only man out there who has had this problem. So I whipped up this article on how to measure yourself for clothing, but more importantly, I created a card that you can write your measurements on and keep in your wallet. The next time you walk into a store, you'll have your sartorial vitals on hand so you can make your purchase quickly and get on to doing more important things!
How to Measure Yourself For Clothing
We're going to take measurements that you can use to buy standard sized products like oxford shirts, khakis, or off-the-rack sport coats. These are general measurements. You will, of course, need to alter clothing (particularly sport coats and dress pants) to get the best fit possible. And custom clothing requires much more extensive measurements. For guidance on how to measure yourself for custom clothing, check out A Tailored Suit's Measuring Guide.
Download the Art of Manliness Clothing Measurement Card
Print if off, cut along the dotted lines, fold in half, write down your measurements, and stick it in your wallet. Now you'll never again have to worry about remembering your pant size.
Chest. When you go into a haberdashery looking for a sport coat, you'll notice the sizes for jackets will have numbers like 40L or 38R. That number comes from your chest measurement. Also, when you buy a nice dress shirt, you can't just tell the clerk you want one in a large. You'll need to know your chest size.
How to measure your chest:
Wrap the tape measure under your armpits, around the fullest part of your chest.
The tape measure should be snug. Not so tight that it constricts breathing, but not so loose that the tape measure slides down.
Don't puff out or flex your chest. Just stand normally.
The letter in off-the-rack jacket measurements corresponds to your height. If you're between 5'7″ and and 6′ you're a Regular(R). If you're between 6'1″-6″3 you're a Long(L).
Neck. You need to know your neck size lest you strangle yourself to death with a tight collar.
How to measure your neck:
Wrap the tape measure around the lower part of your neck. It should be about an inch below your Adam's Apple.
Don't choke yourself with the tape measure. For a comfortable fit, place 2 fingers between the tape and your neck. Round up to the next 1/2″.
Sleeve. Many off-the-shelf dress shirts come in different sleeve lengths too. Moreover, you'll need to know your sleeve length in order to adjust the sleeve length of any off-the-rack jacket you buy.
How to measure your sleeve length:
Measure from the shoulder joint to the wrist bone.
Waist. For the past few decades, men have been wearing their pants lower and lower around their hips instead of around their waist. That may be fine for khakis or jeans, but it doesn't work for trousers. We'll be measuring our "real" waist here.
How to measure your waist:
Measure around your waist at about navel level.
Put a finger between your body and the tape measure to ensure maximum comfort.
You can use this "real waist" measurement for casual pants like khakis and jeans too. They'll just fit a little looser. But that's okay-that's what belts are for.
Inseam. In addition to your waist measurement, pant sizes also come in different inseam lengths. When you look at pant sizes, it will often say something like "34×32." The first number-34-is your waist measurement. The second number-32-is your inseam measurement.
How to measure your inseam:
Remove your shoes.
Get your girlfriend (or a friend you really trust) to measure your inner leg from the lowest part of your crotch (the bottom of your family jewels) to your foot.
One small caveat when buying off-the-rack pants, especially jeans and khakis: They're often designed to shrink a bit, so it might be wise to buy a pair with a slightly longer length to compensate for that.
Shoe size. There are ways to measure your feet at home, but the easiest way is to use the Brannock Device (that silver and black thing you see at shoe stores). Don't just measure the length of your foot, but also the width. Measure your feet at the end of the day when they'll be at their biggest and most swollen.
Hat size. Every man should have at least one good hat they can wear out on the town. And you need to know your hat size when buying a fitted ball cap as well. When you go into the store (and especially if you're buying online), knowing your hat size will save you time (and the headache of sending things back). Hat sizes come in numbers like 7 and 7 3/4. To figure out what your hat size is, you first need to measure your head in inches.
How to measure your hat size:
Loop the tape measure around your brain canister about an inch and a half above your ears. Write down the measurement.
Now convert your measurement into your appropriate hat size using this handy little chart.
| | | |
| --- | --- | --- |
| Inches | Cm. | Hat Size |
| 21 | 53 | 6 5/8 |
| 21 1/2 | 54 | 6 3/4 |
| 21 5/8 | 55 | 6 7/8 |
| 22 1/8 | 56 | 7 |
| 22 1/2 | 57 | 7 1/8 |
| 23 | 58 | 7 1/4 |
| 23 3/8 | 59 | 7 3/8 |
| 23 3/4 | 60 | 7 1/2 |
| 24 | 61 | 7 5/8 |
| 24 1/2 | 62 | 7 3/4 |
| 25 | 63 | 7 7/8 |