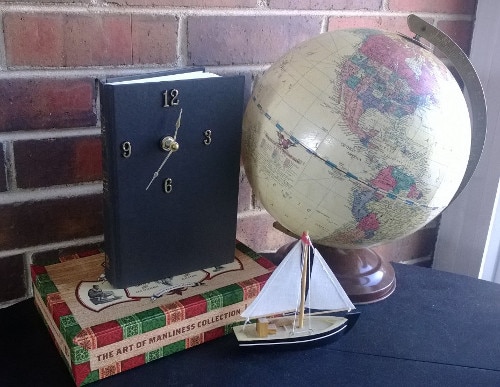 From pocket watches to grandfather clocks, men have long held a fascination with keeping time in stylish and classic ways. What better way to do so than turning a handsome hardcover book into a working clock? This project is similar to what Brett did a couple years back with turning a hardcover book into a secret safe. Instead of stashing this on a bookshelf and hoping it's not seen, however, this project is meant to be proudly displayed in your home or workplace. Coming in at under $10 and a few hours of your time at the most, this makes for a great Saturday afternoon project and an inexpensive way to decorate your apartment or man room.
Plus, with Valentine's Day around the corner, this would make for an inexpensive but highly romantic gift for your sweetheart. Pick a book that makes her swoon (say, Pride and Prejudice) and inscribe the inside cover with a time-related sweet-nothing, like this baby from Henry Van Dyke: "Time is too slow for those who wait, too swift for those who fear, too long for those who grieve, too short for those who rejoice, but for those who love, time is eternity." Better have some smelling salts handy.
Supplies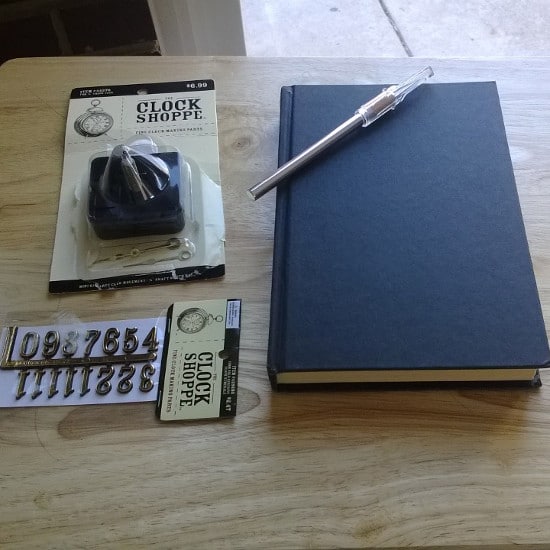 Hardcover book. Hardcover is your best bet so that it can stand on its own. I used an old book that I never planned on reading, but another option is to find something with a unique design on the cover. Those are hard to come by these days (because they're more money to produce), so you may need to look in antique stores. You could also use a favorite book of yours — I know it seems sacrilegious to some, but you can always buy another copy. And this way not only will you be reminded of your favorite work on a regular basis, it will serve as a great conversation piece that will allow you to share your love of it with those who visit.
Utility knife or X-Acto knife
Power drill
Clock kit (can be found at most hobby/craft stores — this one was from Hobby Lobby for $7)
Clock kit numbers ($2.50)
Optional: super glue
1. Decide where to place the clock on the book, draw your template, and get cutting.
2. Every once in a while, check the hole you're cutting out.
3. Cut through enough pages to almost cover the entire mechanism, including the clock shaft.
4. Drill a hole in the cover.
5. Place the clock mechanism through the hole in the cover.
6. Clean up the edges created from pushing the clock through the cover.
7. Assemble the clock according to your kit's instructions.
8. Add numbers as desired.
9. Insert battery, set time, and enjoy for years to come!