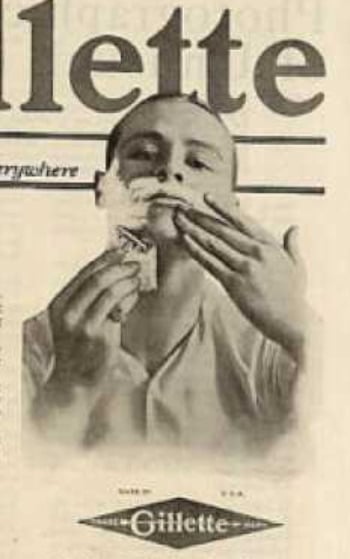 Editor's note: Here at AoM, we're big proponents of bringing back the traditional wet shave by learning how to shave like your grandpa (with a safety razor) or even like your great-grandpa (with a straight razor). If you decide to trade in your multi-blade cartridge razor for the old fashioned variety, you may find yourself with an old piece of gear that has a lot of character and history, but is also a bit worse for wear. What do you do to bring it back to looking the way it did when Grandpa unwrapped it on Christmas morning? To answer that question, I asked the vintage shaving experts at RazorEmporium.com, Matt Pisarcik & Sebastian Sandersius, to provide AoM readers with some advice on how to get their old razors looking like new.
The classic style of shaving is back. That's right, men everywhere are turning in their plastic multi-blade cartridge razors for sleek metal safety razors and some are even going for straight razors. And who can blame them with the price of new multi-blade cartridges going for around $4! A straight razor can last a lifetime and double edge blades for safety-razors cost around 20¢ a pop. Frugality isn't the only issue though; it has been argued countless times that you can actually get better shaves doing it the old fashioned way. There are even a few manufacturers today still making vintage style safety razors: iKon, Merkur, Mühle, Parker and Pils just to name a few. While these modern manufacturers exist, many men are discovering the fun of using a vintage razor made decades ago. Besides bringing some history and tradition to your morning routine, you can take pride in the craftsmanship and mechanical niftiness of some of these fantastic vintage shavers.
Where to Get 'Em
When looking for classic style razors to shave with, the first thing you may ask is, "Where do I find these old things?" The answer could be closer than you think. Your uncle, father, or grandfather may have old razors from days gone by that have been hidden away in a bathroom cabinet, just waiting to be rediscovered. However, if you don't have luck there, try antique stores, online auction sites and even online stores specializing in vintage shaving products.
You may have thought that antique stores were only for old Chinaware or furniture, but they can very well be a treasure-trove for vintage shaving gear. When checking out an antique store, look for the display cases with other manly items such as belts, ties, eye-glasses, flasks, pipes, cuff-links, etc. These are usually great places to find a vintage razor just waiting to be put back in service. Also be sure to ask one of the antique dealers if they have any shaving items, as there are often razors tucked away somewhere in the store.
If you're lucky enough to come across some old razors, take note that not all finds are worth purchasing, of course. Over the years, several manufactures made many different types of safety-razors and blades. This brings us to the next important thing to consider…
What to Look For
You are looking for a razor that you likely want to shave with, so most importantly you're going to need to know if blades are still being produced for your find. Fortunately, there are three major types of blades still made and widely available for vintage shavers.

As shown in the picture above, the three major blade types are:
1) "Double edge blades" which are mostly for razors branded Gillette.
2) "Single edge blades" which are mostly for razors branded GEM, Ever-Ready, and Star.
3) "Injector blades" which are mostly for razors branded Schick or Eversharp.
The aforementioned brands are the ones you want to look for. Here are a few razor models which you will commonly find: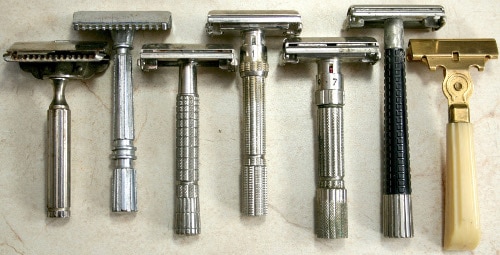 Colloquially these razors have names (from left to right): GEM "1912," GEM Micromatic, Gillette "Flair Tip" Super Speed, Gillette Slim Adjustable, Gillette "Fatboy" Adjustable, Schick Krona, and Schick Injector. Each of these models are known to give great shaves, but keep in mind that one may work better than another for certain men. Whatever you get, it is likely to be very dirty so now you need to know how to make it "shave ready."
How to Clean Your Razor
So when you find an old razor at an antique store or via the web, it will likely be caked with disgusting old soap scum: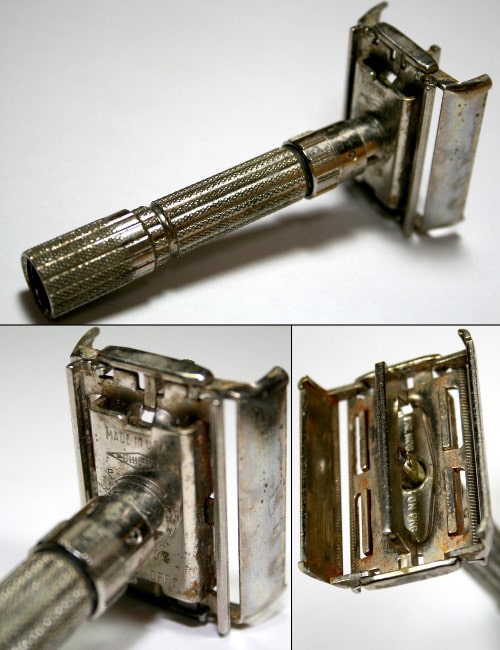 You may be wondering how to get that razor looking new and shiny again. Thankfully with enough elbow-grease and some common store-bought cleaning products, most of your antique store finds can be brought back to great shaving condition. Here are some excellent products and simple steps to follow that will be incredibly helpful in making your razor sparkling clean: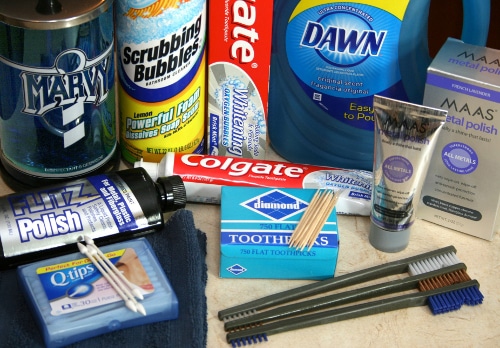 1) Pre-soak the razor in some warm water and maybe spray it down with Scrubbing Bubbles to initially loosen up all the gunk.
2) Use a nylon brush and/or a brass brush to scrub off remaining gunk. Note that a brass brush with fine/thin bristles is particularly good for cleaning out knurling. Such a brass brush can be found in the gun cleaning section of your local sporting goods store.
3) Scrub the razor down with some toothpaste. Whitening toothpaste is particularly good for polishing up metal.
4) Dry the razor and use a cloth rag to buff it up with some metal polish. Note that Maas or Flitz metal polish are excellent for this.
5) Use some toothpicks and cotton swabs with some metal polish to clean the tight nooks and crannies.
6) Scrub the razor one last time with a nylon brush and some dish detergent.
7) As a last measure of disinfecting the razor, dunk it in some blue barbicide solution commonly found in beauty supply stores.
You don't need to follow these steps too rigidly, but done in any sequence they should get your razor to look much better and "shave ready."
Further Razor Restoration
The next level of restoring your razor to be "like new" can be attained with the use of an ultrasonic cleaner and jeweler's cleaning solutions. Further, a tumbler with proper soft media (such as ground walnut shell) can gently bring your razor to a highly polished mirror finish.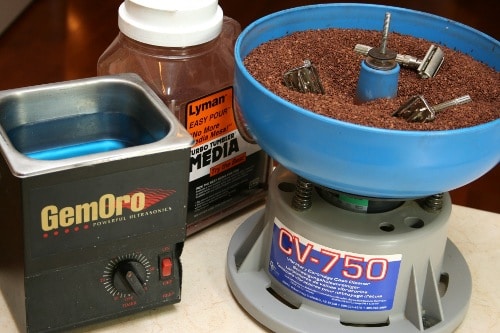 These more specialized methods are what we employ in restoring all the fine razors we sell at RazorEmporium.com. With these restoration methods, you should be able to make that nasty looking razor shown above clean up like this: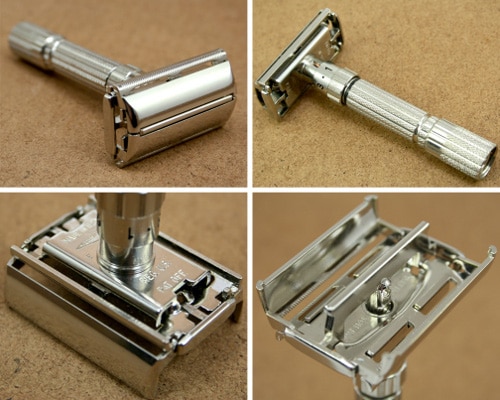 This Gillette "Fatboy" Adjustable has the original-factory nickel plating. Sometime a razor you find may have some flaws such as plating wear or scrapes/scratches in the metal. These don't usually take away from the functioning of the razor but even these aesthetic imperfections can be remedied. At RazorEmporium.com we offer a professional custom plating service. We can strip old plating, smooth scratches in the metal, and plate a razor in nickel, silver, 24K gold, and even rhodium. As an example, here is a Gillette "Fatboy" Adjustable plated in rhodium: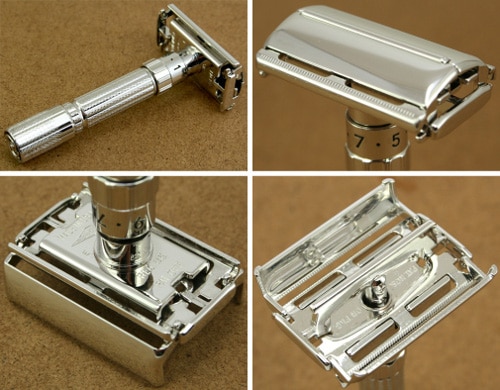 Take note that this razor has much more luster than the nickel plated razor shown before. Rhodium is a precious metal, more expensive than gold and platinum, that has a brilliant white shine. Rhodium is a particularly beautiful metal to use because it has a wonderful luster, and it doesn't tarnish like nickel or silver, keeping your razor looking brand new for good!
Final Thoughts
The information in this article is truly a culmination of many years of reading up on the subject, trial & error, experimentation and gaining the advice of others. We've found these methods to be the most effective in going about the restoration of vintage shavers. We hope you will have fun finding, cleaning, and shaving with the kind of razors your grandfather may have used. There's truly something nostalgic about getting a great shave from something that has been around for so long and is still a testament to manufacturing quality and craftsmanship. Please feel free to contact us for further information about the history, collection or restoration of vintage double edge, single edge or straight razors.
___________________________________________________________
Many thanks for the article guys! Be sure to check out RazorEmporium.com: A gentlemen's source for all your vintage shaving needs.