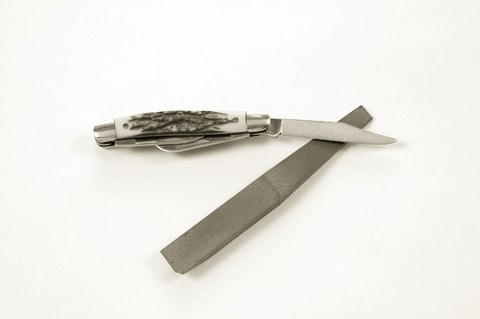 About a year ago, we wrote an article on why every man should carry a pocket knife. A lot of you out there agreed that the pocket knife deserves a permanent place in every man's pocket. After we wrote the post, we started getting emails from men who were first time pocket knife owners asking how to sharpen their new prized possession. Well today we're going to answer that question.
Important Caveats
Before we start, I want to make clear that there are dozens of different ways to sharpen a knife. Everyone has a way they think is best, and men have all sorts of techniques and tools that they feel are essential in getting a sharp blade. In the end, much of it comes down to personal preference. I'm going to show you the way I learned how to sharpen a pocket knife. It's very basic, good for beginners, and best of all, it works. If you have an alternative method that you prefer, great. Share it with us in the comments. I'd love to hear your tips.
Also, there are different ways to sharpen a blade depending on what you'll be using your knife for- whittling, cooking, etc. So unless you plan on cooking world class meals with your pocket knife, you don't need to sharpen it the same way you would an expensive chef knife.
Tools Needed
To sharpen a pocket knife you don't need much. Just two things: a sharpening stone and a lubricant.
Sharpening stone/whetstones. Just as there are dozens of different ways to sharpen a knife, there are dozens of different sharpening stones. There are Japanese water stones, stones with diamond encrusted surfaces, and stones with different grades of grit. Again, choosing a stone is a matter of function and preference. Play around with different kinds of stones to find the one that gives you the results you're looking for.
If you're sharpening high quality knives, you probably don't want to use a cheapo sharpening stone. But if you're just getting started with sharpening your pocket knife, there's no need to get too fancy right off the bat. You can find a sharpening stone at most hardware stores for about $10. This one is very similar to the one I use. Nothing fancy. Most basic sharpening stones come with two sides: a rough grit and a fine grit. The finer the grit, the finer or sharper you can get your blade. You usually start off sharpening on the rough grit and then finish sharpening it on the finer grit.
Lubricant. Most knife sharpening experts recommend you use some sort of lubricant when sharpening your knife. The lubricant can come in a variety of forms, from water to oil. Most of the literature out there recommends mineral oil to be used for knife sharpening. The lubricant reduces heat from the friction that is created from sharpening your knife. Too much heat can actually warp your blade. Lubrication also helps clear out the debris, or swarf, that is created as you grind your knife blade on the stone. You can pick this up at most hardware stores for about $5. I used Norton Sharpening Stone Oil in the video.
I should note, however, that lubricant isn't necessary with most basic stones. So if you're out in the field and need to sharpen your knife, don't stop yourself just because you don't have some mineral oil handy.
How to Sharpen a Pocket Knife
You're in luck. You get to see my ugly mug. I've made a video demonstrating how to sharpen a knife for all you visual learners out there. If you don't want to watch the video, I've provided written instructions after the video.
1. Start off with the rough grit. If you have a particularly dull blade, start off with the rough grit side of your sharpening stone. How do you tell which side is the rough grit? Sometimes you can tell by sight. If you can't do that, do a thumbnail test. Scratch the surface with your thumbnail and whichever side feels rougher, that's the side you want to start off with. Also, rough grits tend to be more porous than finer grits. So if you put water on one side and the stone really drinks it up, chances are it's the rough grit.
2. Prep the stone. If you're using a lubricant, get it out. Pour an ample amount of mineral oil all over the surface of the stone. You don't need to drench it, but don't be stingy either.
3. Place the knife blade flat on the stone and raise it to a 10 to 15 degree angle. The key to knife sharpening is maintaining a constant angle. Different knives require different sharpening angles. For a pocket knife, shoot for a 10 to 15 degree angle. This will give you an edge that's sharp enough for most daily needs, but not sharp enough to perform heart surgery. Keeping a constant angle by hand takes a lot of practice. If you're having difficulty, you might consider investing in a sharpening guide. It takes all the guess work out of maintaining the needed angle. They cost about $10.
4. Start sharpening the first side of the blade. With your blade set at the prefect angle, you're ready to start sharpening. Imagine you're carving off a slim piece of the stone's surface. Personally, I bring the blade into the stone. Other people stroke the blade away from the stone. Both ways work, so just use whatever technique you prefer. If the knife blade is curved or if it's longer than the stone, you'll need to sweep the blade sideways as you work, so the entire edge is sharpened evenly. Apply moderate pressure as you sharpen. No need to bear down hard on the blade. After you make one stroke, start back at the beginning and repeat. Do this about 6-12 times.
5. Sharpen the other side of the blade. Flip the blade and do the same thing on the other side.
6. Take alternating strokes. After you've sharpened each side, make several alternating strokes- sharpening one side and then sharpening the other successively.
7. Flip the stone over on the fine grit and repeat above process.
8. That's it… for a basic sharpening.
If you're looking for advanced techniques, check out Sharpening Made Easy by Steve Bottorff.
Update: Many readers recommend the Spyderco Sharpmaker for all your knife sharpening needs. Check it out.
Tags:
Pocket Knives