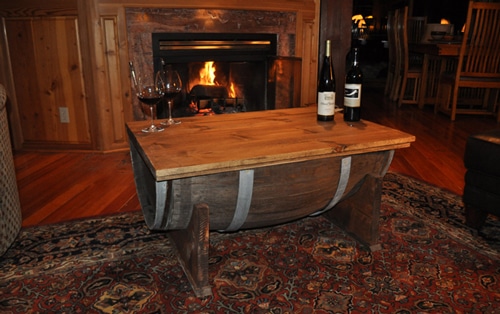 Editor's Note: This is a guest post from Pete Sveen. It originally appeared on his website, diypete.com.
A while back, a buddy of mine came across a few old whiskey barrels and called to tell me we had to do a project with them. So, we pondered a few ideas and decided to make a whiskey barrel coffee table. After a little more brainstorming we came up with the idea to add hinges so we could use the barrel for storage as well. Turns out the barrel can hold quite a few ice cold beverages! Hence, we finished the project just in time for the Super Bowl and it was quite a hit with both the guys and the gals. And now I'd like to share that project with you!
I didn't have any luck finding plans to go off, so we came up with our own and documented the entire process so you can easily create your own whiskey or wine barrel coffee table. This table is sure to be a conversation starter and will get compliments left and right. In addition to acting as a cooler, this functional table can be used to store blankets, pillows, firewood, and other household items.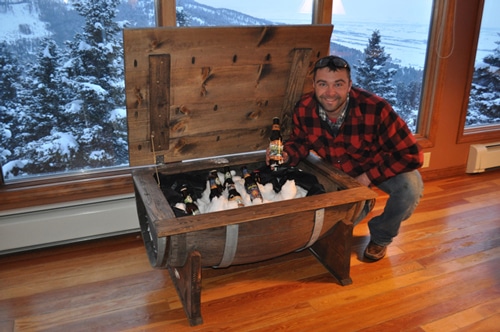 In this tutorial you'll find out what tools are needed, where to source a barrel, and how to turn that old worn-out barrel into the coolest piece of furniture in your home (or out on the patio!). Also, we've included an instructional video of the entire process at the bottom of the post.
Note: Your specific measurements may vary, depending on the size of the barrel you use. Be sure to make your own measurements based on these instructions before embarking on your own.
Non-Lumber Supplies
Whiskey barrel – between $25 and $200 depending on its condition and where you find it
Wood screws – 3-inch (~10 screws), 1 1/2-inch (15-20), and 1-inch (~15)
Kreg Jig screws – 1 1/4-inch (1 box) to connect tabletop boards and frame
Wood stain – I used a stain from Minwax called "Special Walnut"
Polyurethane (Minwax) – to help protect the tabletop
2 chest hinges
1 chest lid support
120- and/or 220-grit sandpaper
Level
Tape measure
Lumber List
One 2×12, length: 6 feet (used for table base)
One 1×4, length: 10 feet (used for table apron)
Two 1×8, length: 8 feet (used for tabletop)
One 1×3 or 1×2, length: 6 feet (used for decorative base pieces)
Tools Needed
Miter saw – a hand saw would work, but a miter saw will make it quicker
Kreg Jig – used for attaching the tabletop boards to each other
Jig saw – used to cut the arch for the base and could be used to cut a full barrel in half
Reciprocating saw – used to cut the metal bands if you are splitting a full barrel in half
Circular saw (optional)
Drill
Orbital sander
Clamps
Pry bar and rubber mallet – used to remove the metal bands and to even out the boards
Where to Find a Whiskey or Wine Barrel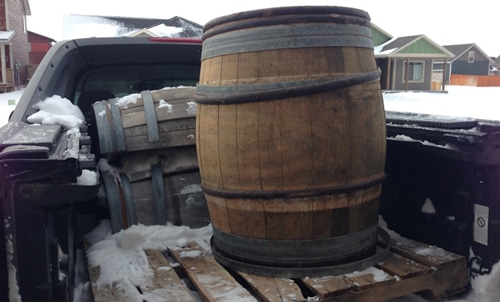 The first step to building the table is finding a whiskey or wine barrel for the project. You have a few different options for sourcing barrels. First, I'd call around to local whiskey distilleries and/or vineyards in your area to see if they are looking to sell or recycle old inventory. The next idea is to check Craigslist by searching for both wine barrels and whiskey barrels. I was lucky enough to find a very nice businessman in my hometown in Montana who was looking to get rid of a few things, including barrels. They needed a new home and went to good use! Home and garden stores also carry barrels from time to time, which are commonly marketed as planters.
If you don't have any luck locally, I'd recommend ordering a used barrel from Amazon or eBay. They are going to be somewhat expensive, however, and shipping can be as high as $100! If you aren't in a huge hurry, I'd say to watch Craigslist for a few weeks. You can even do a wanted ad telling people you are trying to find an old barrel to use for a furniture project. You might be surprised at your results.
I bought as many barrels as the local guy would sell me. The half barrels were $25 each and the whole barrel was $100.
1. Disassemble Barrel
2. Stain the Barrel
3. Reassemble
4. Build the Table Bases
Now we get to cut the arc in the 2×12 board to give the barrel a place to sit. This is one of the more complex parts of the project simply because we want to get a somewhat snug fit between the barrel and the base. I explain and show the process in the video tutorial (at the bottom of the post) as well so check that out if you have any other questions about this step. If you look at the photo below you can see the depth of the barrel where the base attaches is 13 inches. The barrel width at that point is 25 inches.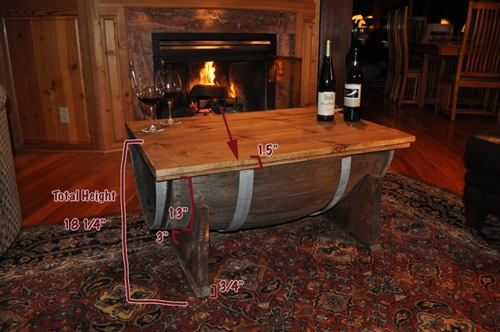 5. Construct the Table Apron
6. Make and Attach Decorative Base Pieces
7. Assemble the Tabletop
8. Attach Hinges and Lid Support
Final Tips
Finish staining the boards you haven't coated yet, then apply polyurethane to the top. I used 3 thin coats of an oil-based polyurethane from Minwax. It gave the top a nice warm glow and protects it from spills.
Cheers! Job well done. Sit back, relax, and enjoy your new furniture.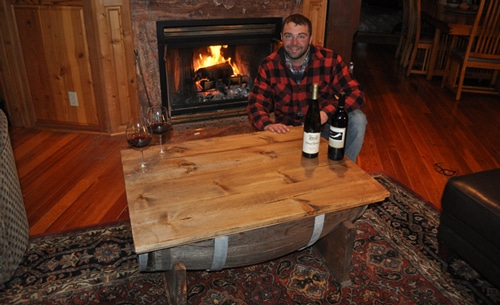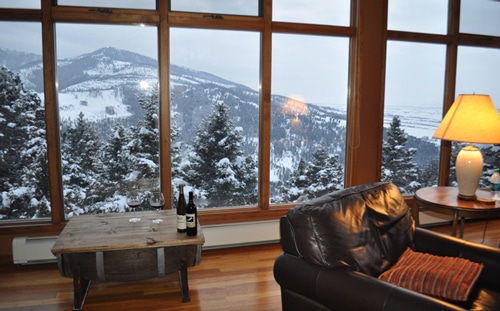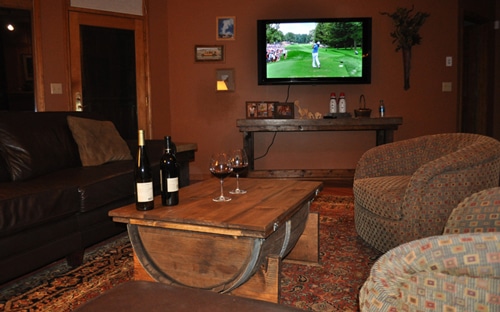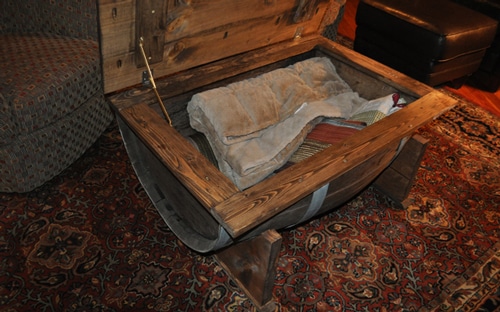 Good luck and have fun with your whiskey barrel project!
Watch a Video Tutorial of the Project:
__________________________________________
Pete currently lives and plays in Bozeman, Montana. In addition to all of his hobbies out in the garage, he enjoys skiing, kayaking, running, flying airplanes, and hanging out with friends and family. He runs diypete.com, and recently started a podcast to help folks learn new skills and better express their creativity. Check it out!