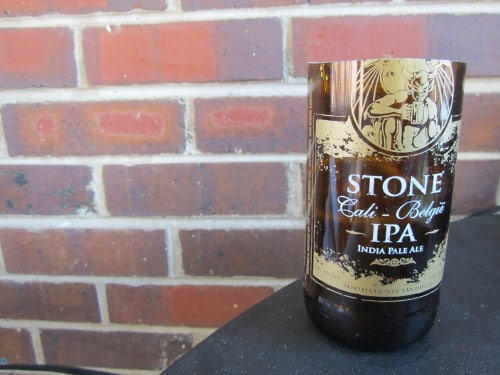 I've often admired the artwork on beer bottles, liquor bottles, even craft soda bottles. And I've often wondered how to capture some of this artwork in a way that doesn't involve simply collecting the bottles. When I stumbled across a shop in Vegas that sold beer and wine bottle drinking glasses, I knew I found my answer. With a little bit of research, I found out how easy it can be to make the same glasses without the hefty retail price tag. What's great about this project is how versatile it is. It could take the shape of wine bottles turned into vases for Mother's Day, manly wedding gifts for a groom using his favorite beverage, or you can use smaller bottles and create a set of tasting glasses.
It's also cheap, fast, and uses items that can be found in most households. And did I mention you get to play with fire?
With this project, you are using fire and chemicals, so take extra precautions. Having said that, I've done this a few times, and never had any issues or even felt nervous about the safety of it. You're just as likely to injure yourself using a drill or a hammer and nail.
Supplies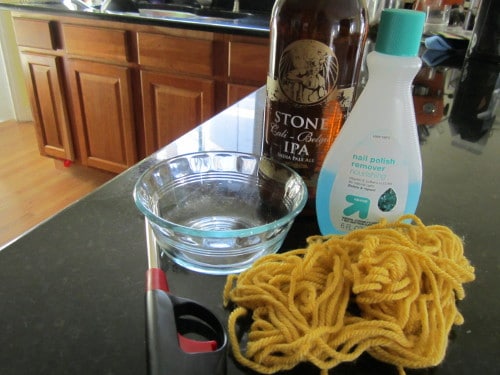 Any kind of bottle — beer, soda, wine, liquor
Acetone (found in nail polish remover, raided from my wife's cabinet)
Small dish for acetone
Rag/towel
Scrap yarn or string — yarn has the best absorption in my experience
Lighter
Sandpaper
Step 1: Choose Your Bottle
Step 2: Consume Beverage
Step 3: Create Ice Bath
Step 4: Pour Acetone into Dish
Step 5: Cut Yarn and Wrap Bottle
Step 6: Soak Yarn in Acetone
Step 7: Put Yarn Back Onto Bottle
Step 8 – Light Yarn on Fire
Step 9 – Submerge in Ice Bath
Step 10 – Sand Edges
Step 11 – Test Your New Glass