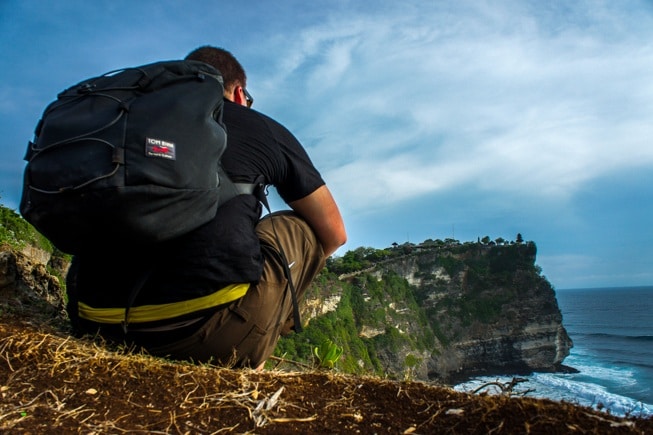 Editor's note: This is a guest post by David Danzeiser. All photos provided by David.
I hung up the phone with the travel agent. I had just finished booking 45,000 miles worth of flights around the world. The trip would last a year and take me to 23 different countries.
Over a year of planning and saving had culminated with a phone call and everything was booked successfully.
The trip took me to snowy, northern Norway past the Arctic Circle, the rainy and humid islands of Indonesia, and the sunny and sandy beaches of Australia. I hiked, swam, slept outside, ate in decent restaurants, and went out to clubs.
Basically, I experienced a huge range of temperatures, cultures, climates, terrain, and activities, and I did it all out of a backpack you'd take with you to school (my pack was 26 liters and weighed 20 pounds).
Initially, after hanging up the phone with the travel agent, I was elated.
However, the reality of what I had just signed myself up for slowly started to sink in and I realized I still had a lot of work to do.
Mainly, what was I going to take with me?
In this article I'm going to discuss how I did it and what worked for me — this isn't the solution, merely a solution.
It was a solution I put a lot of thought, effort, and research into, but ultimately, the gear I took was centered around mobility, efficiency, and inconspicuousness, and I'll get into each of these aspects in detail throughout the article.
Overall, the decision to travel so light turned out to be one of the best decisions I made, and the number one piece of advice I give anyone getting ready to travel is to pack less.
But why, and more importantly, how?
Mobility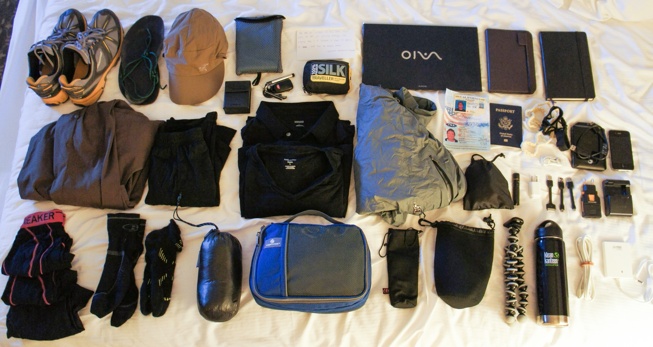 Mobility is the bread and butter of traveling minimally because there's a certain freedom in knowing everything you need is with you and accessible.
People I met along the way couldn't believe how small my backpack was when I told them I was traveling for a year. I had everything I needed, just not very much of it.
As the architectural saying goes, "Anyone can design a bridge that stands. It takes an engineer to design a bridge that barely stands."
I wanted to pack my backpack around the idea this quote represents — finding the essential amount of gear needed to make sure I was comfortable for any environment I might encounter, while also maximizing my mobility.
Therefore, I focused on finding high quality, versatile, and compact gear.
Clothing
There are two options when it comes to being minimal with your everyday clothing:
Buy cheaper clothes you can discard and replace when they get worn out/dirty/smelly.
Buy high quality clothing requiring more upkeep (washing and mending) but that will last much longer.
I chose option #2.
My socks, shirts, and undies were all made from Merino wool and I tried to pick dark colors to conceal the inevitable dirt and grime build-up.
Merino wool is an amazing material. It has great flow and insulation properties (it will keep you warm when it's cold outside and cool when it's hot outside), it dries quickly, it has high odor resistance (you can go longer before washing), it's not bulky or itchy, and unlike cotton it will still keep you warm if it gets wet.
Often times I'd jump into the shower wearing my shirt and undies, give them a good wash, wring them out in the sink, roll them up in my towel like a burrito, and step on it (to get more water out). Then I'd put the damp clothing back on and within minutes of walking around they would be dry and clean.
It's the perfect material for the minimal traveler.
The everyday clothing I packed included:
2 t-shirts (Icebreaker)
2 pairs of socks (one by SmartWool, one by Icebreaker)
3 underwear (2 by Icebreaker, one by Exofficio)
1 pair of pants (Prana)
running shorts (Prana)
cap (Arc'teryx Spiro)
shoes
sandals (Invisible Shoes)
The cold weather gear I took included:
long-sleeve Merino wool shirt (Icebreaker)
down jacket (Montbell EX Light)
rain jacket (Patagonia Super Cell)
mittens
long underwear bottoms
beanie
scarf/face-mask
Cold weather gear was compact and meant to be worn in layers.
For example, if it was freezing outside I could wear a t-shirt, my long sleeve shirt, my down jacket, and my outer shell rain coat.
This set up kept me warm in the coldest of weather, could be mixed up to be suitable for different climates and was much more compact/versatile than a large overcoat.
Electronics
Again, preference was given to small, light, and compact electronics, and I substituted many bulky charging cables for 3-inch replacements.
Electronics I packed:
laptop with charger (Sony Vaio Z-Series)
camera with charger (Sony NEX-5)
waterproof sport camera (Kodak Play Sport)
Amazon Kindle
pocket flashlight
universal travel adapter
USB mini-cables (3″ cables for phone, Kindle, and Kodak)
1.5 TB external hard drive
8 GB flash drive
Apple iPhone
Miscellaneous Gear
I hope you're beginning to sense a theme when it comes to being mobile on the road. The miscellaneous gear continues to follow this theme:
insulated water bottle
travel clothesline
sleep mask with ear plugs
silk sleep sack
tripod (Gorillapod)
sunglasses (Ray-Ban Foldable Wayfarers)
pen (Inka Expandable)
towel (PackTowl Ultralight XL)
notebook (Moleskine)
toiletries
That covers the nuts and bolts of what I took with me to fit everything into a small, single backpack so I could be as mobile as possible (if you want even more detail, check out my gear list).
With this mobility comes flexibility, and flexibility is what I found most satisfying, and why it's my number one piece of advice to any traveler.
The Benefits of Packing for Mobility
It allowed me to plan on the go, stretch my dollars, and minimize issues in airports:
Plan On the Go
I enjoy planning just as much as the next A-Type personality, but while you're traveling long-term, it can get exhausting, and sometimes planning isn't possible due to poor/non-existent internet connections.
With a small bag you're mobile and flexible, which allows you to plan on the fly.
Some of my favorite adventures and stories were unplanned and happened organically because I wasn't tied down by large amounts of luggage:
Finally, on my way to Bruges from Brussels I stopped for the day in Ghent. Since my bag was small enough I was able to rent a locker in the train station, and explore Ghent for the day before catching the evening train into Bruges.
Budget Friendly
When you're traveling on a budget, your largest cost will most likely be transportation (39% of my spending for the year went to it). Any way you can save money on transportation will mean extra money for entertainment and experiences.
One of the best ways to save money is to utilize public transportation like subways and buses. But, lugging around and keeping track of large luggage in a bus/subway where it's standing room only is not fun and sometimes impossible in the packed subways of larger cities.
The minimal luggage allows you to quickly navigate crowded transport areas instead of having to spend extra money on a cab with space for all of your stuff.
Breeze Through Airports
Packing for mobility makes airport travel a breeze in situations where it would normally be the most stressful part. A few benefits include:
You don't have to check luggage so checking in is easy and you don't have to wait around at baggage claim when you land.
You can change flights last minute and not have to worry about your luggage making it.
You don't have to worry about airlines losing your luggage.
No wasted money on checked-bag fees.
After you have minimized your packing list to the essentials, the next step is to pack your bag as efficiently as possible.
Efficiency
Everyone is going to have their own preferences of course, but what follows is my set up after about 6 months on the road when the kinks had been worked out.
Organization and compartmentalizing is the key to packing efficiently.
You want things you use often easy to reach, and when you need to get something at the bottom of the pack, it's nice to be able to quickly repack everything without having to refold clothes, or hunt down each pair of socks.
One of the reasons I chose my backpack (which is the Tom Bihn 26L Smart Alec), is because of its organizational capabilities.
On top of having many internal pockets to help with organization, it also has O-rings located within the pack which you can hook smaller organization pouches to, which lets you pull the smaller pouches out of the way while still keeping them attached to the pack so you can get what you need at the bottom.
This compartmentalization is amazing for not forgetting something when you're in a hurry. Imagine trying to catch the first bus out of town after you've woken up late and you have to pack everything quickly in the dark hostel dorm room while everyone else is still sleeping (may or may not be a true story).
My extra pouches/bags within the backpack:
toiletries bag
chargers/cables pouch
padded pouch for external hard drive
vertical padded laptop pouch
packing cube for cold weather gear
bag for clean clothing
bag for dirty clothing
As I traveled, I found I had a problem when I needed something (like my camera or journal with directions written in it) and I was walking around with the pack on.
I'd have to take off the pack, get what I needed, use it, put it back in the pack, and then put the pack back on.
I was in Australia and about a month into the trip, I realized I was having trouble sticking to my $50/day budget, so my solution was to start cooking more of my food, but I needed a way to carry the meals.
I ended up buying a reusable shopping bag for 99 cents and it was probably the most useful thing I have ever bought for a dollar.
The bag lasted the entire rest of the trip and I still use it when I travel today.
Since it's handheld and has an open top I use it to hold meals/groceries, my camera, journal, maps, or even my long-sleeve shirt; it also eliminates the need to take off my backpack to get something while I'm out and about.
Inconspicuousness
Finally, I wanted to blend in as best as I could in whatever culture I happened to be in:
I made sure to pick inconspicuous colors (browns, blacks, and grays) so I could minimize sticking out and being targeted as someone with valuables.
Instead of saving directions on my iPhone I'd write directions down by hand in my journal so if I was in a sketchy area I didn't have to pull out my phone to figure out where I needed to go.
When I was out taking photos I'd carry my camera in an opaque grocery bag instead of a camera case or around my neck.
These days, it's pretty safe to assume when you see a younger person with a giant bright backpack that they are likely carrying something valuable in the form of technology (phone, camera, computer, tablet, etc.) or at the very least, cash, credit cards, and a foreign passport, which can be a dangerous thing to signal when you're in larger cities known for theft.
Having a small backpack was very helpful in being inconspicuous, and since it was so small I didn't even stick out as a backpacker.
Final Words
As I said in the beginning, deciding to travel for a year out of a 26-liter backpack was one of the best decisions I have ever made.
Not only did it allow me the freedom and flexibility to have some amazing and organic adventures, which could have been lost had I been tied down by obnoxious luggage, but it was also an amazing lesson in being content with what I did have and learning about what's really important to me.
It also taught me to be very aware of consumption.
Anything I bought meant I would have to carry it for the rest of my journey. Was it worth it? Did I really need it or would the money be better spent on a new experience?
Living for an entire year out of a backpack and never feeling like I was missing anything really put things in focus when I came back to the US, where I feel constantly pressured to buy and consume.
I came to realize the more stuff I owned the more freedom I gave up to store and maintain it; sometimes it is worth it, but sometimes it's not, and this year-long trip out of a 26-liter bag really helped to put it in perspective.
My goal for this article was to give you some insight from someone who has done it and what worked for me. Obviously everyone is different and everyone has different values and goals when they travel, but I hope next time you are packing for a trip you try to be content with less and see what kind of experiences you can have with the added flexibility.
_____________
David Danzeiser is the creator of The Quest for Awesome, where his goal is to connect with people striving to pursue their own vision of excellence through whatever they are doing. He is determined to become location independent to continue traveling full time and along the way he'd love to connect with like-minded people to learn from and help in any way he can.