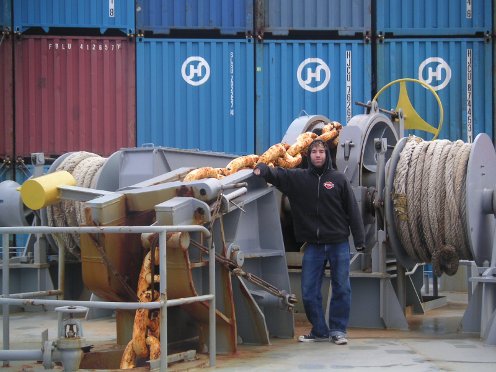 Editor's note: This is a guest post from Joseph P. Lenze. A few weeks ago Mr. Lenze shared his tips for international backpacking. Now, by popular demand, he gives us his advice on traveling by freighter ship, a manly adventure I'm willing to bet every man has dreamed about at one time or another.

At the Port of Long Beach, California, I boarded a freighter named the Punjab Senator. Twenty-two days later I got off the ship in Singapore after a winter crossing of the Pacific. This trip wasn't for everyone, but it was definitely an adventure I'll remember for the rest of my life.
If you're tired of ho-hum traveling by plane and want to experience a trip aboard a freighter ship, here's what you need to know to get started.
First Things First: Common Misconceptions About Freighter Travel
1. Freighter travel is a cheap alternative to flying on a plane. The popular old-school romantic notion of showing up penniless at a dock with a rucksack and then "earning" your passage by swabbing the decks will have to remain in Robert Louis Stevenson novels. Traveling on a freighter requires advanced booking and it is generally more expensive than flying. A fifteen-day cruise from Oakland to Shanghai will cost about $2,000 (US). When traveling on a freighter ship you are essentially paying for many days and nights of food and accommodation in addition to the transportation.
2. Freighter travel is similar to being on a cruise. The purpose of a cruise ship is to provide a relaxing and enjoyable time for everyone on board. The purpose of a freighter is to get cargo from point A to point B as quickly as possible. Cruise ships troll around tranquil seas, with stabilizers so that you barely know you are moving. Freighters haul at a breakneck pace across the open ocean, often through storms. A cruise will be populated with thousands of people, whereas a freighter is often a larger vessel with only 20 or so people on it. While a cruise ship has restaurants, spas, gymnasiums, and tons of activities, a freighter will have a TV with a DVD player, a radio, and if you're lucky, an old Nautilus machine for working out.
3. You can ride a freighter from anywhere to anywhere. Most freighter ships follow well-defined shipping routes and make stops at the large port cities (Long Beach, Oakland, Singapore, Hong Kong, Kaohsiung, etc.). But if your dream is to catch a freighter from the Jersey shore to Isla Mujeres, Mexico….it's not going to happen.
Now that we've gone over the negatives, here's how you can get started. There are several companies that book freighter cruises – just google freighter travel. I used www.freighterworld.com and I was extremely happy with them. If you browse the site you can get a good idea of the duration, cost, and ports that you can travel to and from. Their FAQ section contains a wealth of information. As a further affront to your Kerouac dreams of spontaneous adventure, you will have to book your passage at least a month in advance and proof of insurance is also necessary.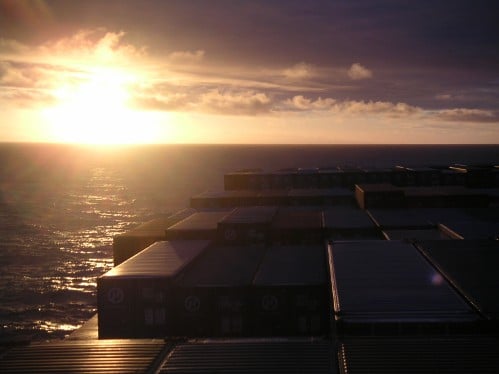 If you decide to go for it, here are some tips:
1. Bring Sea-Bands. I had spent a significant amount of time on fishing boats, cruise ships, and sailboats without ever getting seasick. However, when the Punjab Senator cruised out of the Port of Oakland into the open Pacific, I felt my stomach turn. I used Sea-Bands which are little wrist bands that exert pressure on your wrist to alleviate the effects of nausea. I am unsure if the seasickness was psychosomatic or real – the idea of trudging straight into the Pacific during winter was slightly unsettling – but the Sea-Bands definitely made me feel better when I was wearing them. During a storm, our ship hit a roll of 20 degrees, which is a tremendous amount of motion. The good news is that by the end of the trip I was able to sleep through motion that left my belongings scattered about my room.
2. Bring books. I am not a fast reader, but during this trip I completed some monster works by Dostoyevsky, Ayn Rand, Solzhenitsyn, and John Steinbeck. The ship had a good library, but many of the works were in German since the crew was mostly German. On a typical day I worked out twice, watched a DVD or two, wrote extensively, took two naps, ate three meals, and still had enough down time to finish four novels.
3. Understand that you must entertain yourself. On my ship the officers consisted of 7 Germans and 4 Russians, and the remainder of the crew consisted of 10 Kiribati. English is the language of the sea, but no one else on the boat was a native English speaker. Additionally, in spite of the friends I made on the ship, the seamen are there to work, and there were many times when everyone was too busy to hang out. At the majority of the ports we stopped at, I went to the shore alone because the entire crew was busy supervising the loading and unloading of cargo.
4. Special diets are not accommodated. The hardest part about freighter traveling (for me) was the food. As a passenger you eat with the officers — on my boat they were German and Russian. They ate a meat-intensive diet and I am a vegetarian. On land, it is never a problem for me to find acceptable cuisine anywhere, but in the galley you can't simply choose somewhere else to eat. For me, that meant many weeks of eating cheese sandwiches. Thank goodness I brought a tub of peanut butter.
5. Know where your ship is. Some of the ports are HUGE, as in miles across…a seemingly endless maze of containers stacked four stories high. If you go onshore alone, it is much easier to get out of the port than it is to come back to the port to re-board. There are often several exits for a port and not knowing where to go can be extremely frustrating. I was lost in the port of Singapore for a significant amount of time trying to find my way back to my ship.
6. Freighter room etiquette. In general, the setting is informal and the rules are similar to college dorm room etiquette. If someone's door is open, you are welcome to go in. If someone's door is shut, they are either not there or they would like privacy.
In this article, I tended to focus on some of the negative aspects of freighter travel. To be best prepared, you should know about the difficulties. You don't need instructions on how to drink gin and tonics while celebrating an International Date Line crossing. Overall, I really enjoyed the unique experience of freighter travel. I have an understanding and appreciation of the ocean I would not have otherwise. The informal atmosphere that allowed you to sit in the bridge while the first mate navigated was matchless. Finally, freighter travel gives some adventure street-cred that is tough to get. When you're drinking a beer in Phnom Pehn, Cambodia and some backpacker asks you where you flew into, it feels pretty manly to look up and say, "I didn't."