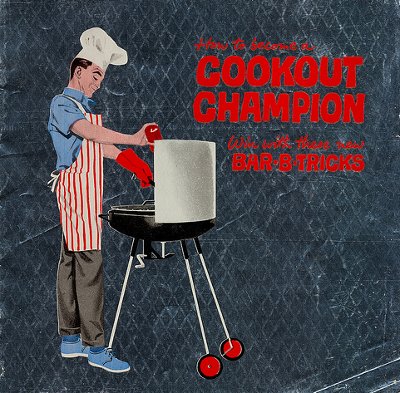 Image from Eudaemonius
Editor's note: This is a guest post from Matt Moore.
The afternoon sun pounding down your back, smells of fresh cut grass and charred meats in the air, a cold beer in one hand and a spatula in the other. At last . . . summer grilling season has arrived. I'm convinced that one of life's most primal experiences is standing over raw meat and an open flame.
In my family, when it comes to cooking, mom has always been somewhat of a miracle worker. Her 'kitchen space' is her own world, and if you have any hope in getting one of her famous meals, you'd best stay out of her kitchen. The grill, however, is always dad's domain. Rain or shine, dad tends the flames. As men, it's in our nature to take charge of the fire.
Let's get one thing clear. There is a fine line between grilling and BBQ'ing. As a Southerner, I fall into a pretty passionate culture regarding these two distinctions. For those raised in the South, grilling out typically refers to cooking items over direct heat on a grill, ex. grilled steaks, chicken, hamburgers, etc. BBQ is a whole different ballgame. It's a lifestyle of love, patience, smoke, and mystery. Ask ten men on how to smoke a pork shoulder and you are likely to get ten independent, and fiercely debated, methods. With that said, I'm not here to cause friction.
Instead, I'd like to let you in on a little known fact regarding grilling. Most of you are probably not grilling enough. There, I said it.
Your grill is truly the beast of all your culinary appliances. With the proper technique and know-how, you can utilize your grill as a stove, broiler, oven, and smoker; all-in-one. By harnessing all of the grill's power, you are able to expand well beyond foods typically considered traditional for the grill. In other words, it's time to get creative and think outside the burger box.
I've outlined a great summer meal that ups the ante on traditional cookout fare. Anybody can grill a hamburger or a hot dog. Stand out amongst the crowd by offering up these items the next time you entertain. Your guests will be impressed that you had them over.
Get outside, tend the flames, crack open a cold beer, and get to work!
Definitions and Methods
In order to maximize your results, it's good to understand a few basic terms and methods. Most grilling recipes will always state whether items should be cooked over direct or indirect heat. Whether you are using gas or charcoal, it's a good idea to set up different "hot points" over the grate. Essentially, you will want to maximize your grilling space based on the items you are cooking. If you are cooking several steaks, you will want the entire surface to be scorching hot. However, if you are also going to be preparing some grilled vegetables, you will want part of the grill devoted to lower heat. As most gas-burning grills contain separate burners, this is fairly easy to control. When working with charcoal, however, you will want to create piles of different height and density to get varying temperature zones. Formal definitions and setups follow for getting the most out of your grill.
Direct Heat – to cook by direct exposure to the heat source
In-Direct Heat – to cook by offsetting the heat source from the food
Stovetop – place a sauté pan or skillet directly on the grate over direct heat
Broiler – place items on the grate over direct heat
Oven – place items over indirect heat with the lid closed
Smoker – place items over indirect heat with the lid closed. Soaked wood chips can be used on the coals to enhance smoke flavor.
The Meal
Grilled Caesar Salad – Be adventurous and give the homemade dressing a try. If you are cramped for time, this whole salad can be simplified with store-bought croutons and dressing. Grilling the hearts of romaine lettuce will create a nice smoky flavor, while also creating a warm contrast to the cool, crisp layers of the rest of the salad.
Dressing
2 Cloves Garlic, minced fine
2 Anchovy Filets, minced fine
¼ Teaspoon Kosher Salt
1 Egg
1 Lemon, juiced
1 Teaspoon Balsamic Vinegar
¼ Cup Finely Grated Parmigiano Reggiano Cheese
½ Teaspoon Fresh Cracked Pepper
¼ Cup Extra Virgin Olive Oil
On a cutting board, combine the minced garlic, anchovies, and kosher salt. Using a chef's knife, work ingredients into a paste on the board. Combine paste, egg, lemon juice, and balsamic vinegar into a large mixing bowl or food processor and mix vigorously for at least one minute, until mixture is smooth and almost beige in color. Add cheese and pepper and mix for another 30 seconds. Continue to whisk/mix vigorously and slowly stream in olive oil at the same time, to combine, or emulsify. Serve, or keep the dressing in the refrigerator until ready, up to 2 days.
Salad
½ Small French Baguette, cut into bite sized cubes
4 Tablespoons Extra Virgin Olive Oil
Kosher Salt
Fresh Cracked Pepper
1 Heart of Romaine Lettuce, sliced lengthwise
2 oz Shaved Parmigiano Reggiano Cheese
Directions-Preheat grill over medium high. In a sauté pan, lay out the French bread cubes in a single layer. Drizzle with olive oil and season with salt and pepper to taste. Toss the bread cubes to coat evenly with the oil and place over direct heat on the grill. Sauté croutons 5 – 7 minutes, shaking on occasion, until cubes are crisp and browned. Set croutons aside and allow to cool. Next, add the hearts of romaine, cut side down and grill for 45 – 90 seconds, or until nice grill marks appear. Immediately remove from grill and place each half on a serving plate, grilled side facing up. Top with croutons, cheese, and dressing. Serve immediately.
Grilled Pizza with Italian Sausage, Black Olives, Red Onion, and Feta Cheese – Pizza on the grill? Absolutely. Most conventional ovens do not get hot enough to replicate the crispy crusts you crave at your favorite pizzeria. Have no fear. By utilizing the high heat of the grill, you can make that perfect crust time and again in the comfort of your very own home. The following recipe is one of my favorites; however, feel free to use the basic format of this recipe for any of your beloved pizza combinations. From the classic vegetarian friendly Margherita Pizza (fresh mozzarella, tomato, basil) to a meat lover's paradise, this method remains versatile and consistent. No matter what, always make sure any raw ingredients are cooked prior to arrangement on the pizza.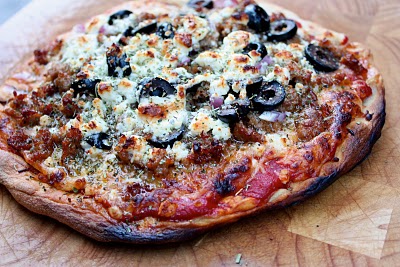 ½ lb Mild Italian Sausage, casings removed
16 oz Fresh or Store-Bought Pizza Dough
¼ Cup Extra Virgin Olive Oil
1 Cup Tomato Sauce
8 oz Mozzarella Cheese, grated
¼ Cup Black Olives, sliced
¼ Cup Red Onion, thinly sliced
¼ Cup Feta Cheese, crumbled
Heat one side of the grill to medium high; if using charcoal place coals on one side only. In a skillet over direct heat on the grill, brown sausage for 7 – 9 minutes; drain excess fat and set aside. Follow instructions on dough package to allow sufficient time for the dough to rise if needed. Drizzle the olive oil on a non-stick baking sheet. Using a sharp knife, cut the dough ball in half and roll each half in the oil to coat. Using your hands, roughly work the dough into two equal shapes of your preference, about 8-10 inches in diameter and ¼ inch thick. Make sure the thickness is consistent throughout. Using a paper towel dipped in olive oil, quickly brush the entire grill grate to create a non-stick surface. Carefully place each portion directly over the hot surface of the grill, catching any edges using tongs. After roughly 1 minute, the top of the dough will become puffy and the underside will stiffen, leaving nice grill marks. Immediately flip each portion using tongs and place on the cool side of the grill. Spread an even layer of the tomato sauce on top of each portion, leaving the edges clean to create a crust. Next, top each portion with mozzarella cheese. Working quickly, spread an even layer of the sausage, black olives, red onion, and feta cheese on top of each pizza. Move dough back towards the heat, but not completely over direct heat. Using tongs, continue to rotate each pizza every 45-60 seconds, careful not to burn, to ensure each section receives high heat. Continue for 6-8 minutes covering the grill from time to time, until the top is bubbly and the cheese has melted. Cut each pizza into quarters and serve immediately.

Grilled Peach and Blueberry Cobbler – Fruits are absolutely fantastic on the grill. The heat brings out their natural sweetness, allowing the sugars to caramelize while on the hot grate. You can prep this dessert in advance, and then 'bake' it on the grill while your guests are enjoying their entrée.
4 Ripe Peaches, cut in half and pitted
1 Cup Ripe Blueberries
6 Tablespoons Unsalted Butter, melted
6 Tablespoons Light Brown Sugar
½ Teaspoon Ground Cinnamon
¼ Cup Cinnamon Granola
Vanilla Ice Cream, if desired
Heat one side of the grill to medium high; if using charcoal place coals on one side only. Add peaches, cut side down, over direct heat and grill 3 – 4 minutes, or until browned. Remove from grill, cut into wedges, and place into a small oven-safe baking dish. Add the next 4 ingredients and toss until combined. Top the mixture with the granola and place the dish on the grill over indirect heat. Bake until the granola is golden brown and crisp, about 15 – 20 minutes. Serve alongside scoops of vanilla ice cream.
For more great recipes from Matt, check out the Have Her Over for Dinner website and book.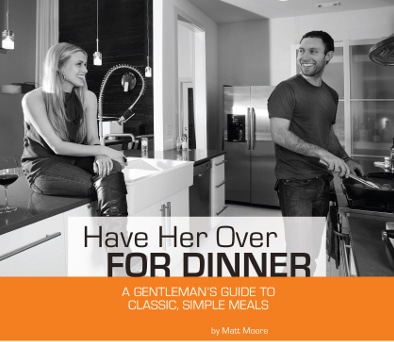 What are some different things you like to throw on the grill? Share you recipes and grilling tips in the comments!