A few weeks back, I had the opportunity to dine with friends at one of NYC's hipper steakhouses. For those who've spent time reading my work, it shouldn't surprise you that I typically don't like to frequent places that are considered both trendy and expensive. Nevertheless, I was in the company of a few investment banker friends, so I shut my mouth, ordered, and graciously accepted their offer to pick up the tab. After all, I was a guest in their city!
As much as I hate to eat crow, I will confess . . . the place was awesome. Aside from the fact that the atmosphere sported over-the-top décor and "club music," my meal was fantastic. The best part? The highlight of their menu was not a traditional filet, rib-eye, or porterhouse. Rather, the specialty of the house was my favorite cut of all: the skirt steak.
For those unaware of this cut of steak, allow me to enlighten you. Skirt steaks are actually the diaphragm muscle, located in the area just below the ribs on the cow. The outer skirt steak is from the plate section, below the rib and in-between the brisket and flank. For the outside cut, butchers will typically leave the membrane attached, which should be removed before cooking. Simply use a sharp knife to cut and pull away this membrane before cooking. More commonly, you will find the inside skirt steak at your local grocery store. This cut is a bit thinner, trimmed free of fat and membranes, and comes from the flank. Regardless of either cut, this long, flat strip of meat has incredible flavor, but has often been considered tough and mysterious to outsiders (except Texans who swear by using skirt steak for fajitas). However, the secret is finally out. When marinated and prepared correctly, this cut is an excellent choice for flavor, value, and versatility.
Not surprisingly, an increase in awareness in "alternative" cuts has spawned somewhat of a movement in the restaurant world. Diners are branching out by choosing these types of cuts (skirt, flat-iron, hanger, flank) over the more traditional steakhouse fare. If you ask me, it's a win-win for both diners and restaurateurs. As patrons, we are stepping out of our comfort zones by enjoying new types of cuts, preparations, and flavors. Restaurants are cutting back on expensive food costs by serving more "humble" cuts to intrigued diners. The end result? Better value, great flavor, and a new experience.
To get the same results at home, I've provided five outstanding recipes that will showcase the superb versatility and flavor of this cut. A common attribute of all of these recipes is that skirt steaks take well to high heat. Such heat will render the fat (flavor) and also allow you to prepare these meals rather quickly. Always be sure to slice the steak against the grain and at an angle–this will ensure maximum tenderness.
Crack open a cold beer and get to work!
MM
Skirt Steak Sandwiches with Garlic/Basil Mayo and Caramelized Onions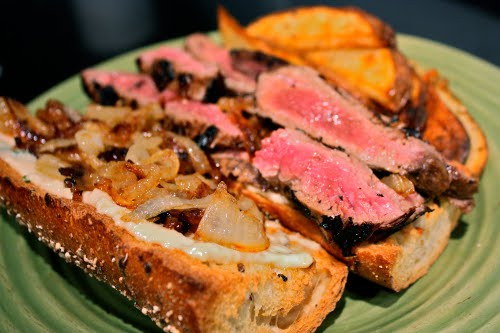 Just in time for football season, steak sandwiches are some of my favorite "game-day" foods. This recipe ups the ante by fortifying a store-bought mayonnaise with a few fresh ingredients that will set this sandwich over-the-top. (Prep 10 minutes. Cook 30 minutes. Serves 2)
Caramelized Onions
2 Tablespoons Extra Virgin Olive Oil
2 Cups Yellow Sweet Onions, sliced thin
1/2 Teaspoon Kosher Salt
Garlic/Basil Mayo
1/4 Cup Mayonnaise
2 Cloves Garlic, minced
1 Pinch Kosher Salt
1 Teaspoon Fresh Basil, chopped
1 – 2 Dashes Worcestershire

Skirt Steak Sandwiches
1 Loaf Whole Grain French Bread
1 lb Skirt Steak
Extra Virgin Olive Oil
Kosher Salt
Fresh Cracked Black Pepper

Method:

Onions: In a skillet over medium low heat, combine oil, onions, and kosher salt and sauté for 25 – 30 minutes, stirring on occasion until onions are browned and tender.
Mayo: Combine minced garlic and kosher salt onto a cutting board. Using the flat side of a chef's knife, work the ingredients into a paste on the board. Combine garlic paste with mayo and remaining ingredients. Cover, and keep chilled until ready for service.
Sandwich: Slice French bread into approximately two 6 – inch servings. Next, slice the bread horizontally to create a sandwich top and bottom. Place each slice under a broiler for 30 seconds – 1 minute, or until slightly browned and crispy. Meanwhile, drizzle extra virgin olive oil over the skirt steak and season both sides liberally with kosher salt and fresh cracked pepper. Add steak to a grill/grill pan over high heat and cook for approximately 2 – 3 minutes per side for medium rare. Remove steak from grill and set aside to rest for 3 – 4 minutes. Begin assembling sandwich by spreading a layer of mayo on each side of the toasted bread. Next, thinly slice steak across the grain and add to the bottom portion of the sandwich. Top with caramelized onions and serve.
Skirt Steak Stir-Fry
This quick and simple recipe makes for a great weeknight meal. I've kept it simple by utilizing a bag of frozen prepared vegetables to eliminate hassle and quicken the process. Of course, you can always utilize fresh vegetables if you'd like. (Prep 5 minutes. Cook 15 minutes. Serves 2)
1/3 Cup Soy Sauce
1 Cup Beef Broth
1 Tablespoon Corn Starch
2 Tablespoons Sesame Oil
¼ Cup Yellow Onion, finely diced
¼ Cup Carrots, finely diced
2 Cloves Garlic, minced
1 Tablespoon Fresh Ginger, minced
1 Bag Frozen Stir Fry Vegetables
1 lb Skirt Steak, thinly sliced
Green Onions, sliced
Hot Cooked Rice (to serve)
In a mixing bowl, combine the first three ingredients, stir, and set aside. Next, add oil to a wok or skillet over high heat; add onions and carrots and cook until just tender, about 1 minute. Add garlic, ginger, and frozen vegetables and sauté, stirring often until the vegetables are just tender and slightly charred, about 2 – 3 minutes. Add steak and cook for another minute, or until just browned. Pour in soy sauce mixture and bring to a boil. Remove from heat, and stir to evenly distribute the flavor. Garnish with sliced green onions. Serve over hot cooked rice.
Grilled Skirt Steak with Orzo Pasta Salad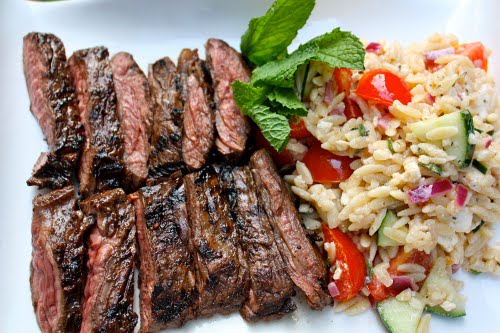 I love the bold flavors and contrasting temperatures featured in this recipe. If you are looking to impress your guests at a late summer cookout–this is your calling card. The juicy, hot steak served alongside a cool and refreshing pasta salad makes for a delectable combination. (Prep 20 minutes. Cook 20 minutes. Serves 2)
Steak
1 lb Skirt Steak
Extra Virgin Olive Oil
2 Tablespoons Balsamic Vinegar
Kosher Salt
Fresh Cracked Pepper
Orzo Pasta Salad
1 Cup Orzo Pasta
1/4 Red Onion, finely diced
1/2 Cucumber, finely diced
8 Cherry Tomatoes, quartered
1/4 Cup Feta Cheese, crumbled
1 Tablespoon Fresh Oregano, chopped
1 Teaspoon Fresh Mint, chopped
3 Tablespoons Red Wine Vinegar
In a shallow baking dish, season steak with kosher salt and fresh cracked pepper and toss in olive oil and vinegar to coat; set aside at room temperature. Meanwhile, heat a salted pot of water to boiling over high heat, add orzo and cook until al dente, 3 – 4 minutes; drain and set in fridge to cool 15 minutes. Heat grill over medium high heat and grill steaks 2 – 3 minutes per side for medium rare; remove from heat and allow steaks to rest. Remove chilled orzo from fridge and add remaining ingredients along with 1/2 cup of extra virgin olive oil. Toss well to combine and plate. Slice steak thin and on the bias and plate next to orzo salad. Serve immediately.
Skirt Steak Fajitas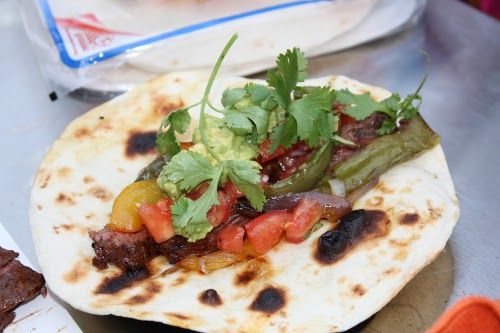 A beloved skirt steak dish that always goes over well when entertaining, this recipe will surely get your party going in the right direction–margaritas not included. If you have time, allow the steaks to marinate overnight in the fridge. Pull them out about 30 minutes before cooking to bring them up to room temperature so that they cook quickly and evenly. (Prep 40 minutes. Cook 30 minutes. Serves 4)
Skirt Steak/Marinade
1/4 Cup Canola Oil
2 Limes, Juiced
4 Cloves Garlic, finely minced
2 lbs Skirt Steak
Kosher Salt
Fresh Cracked Pepper
1 Tablespoon Chili Powder
1 Teaspoon Cumin Powder
Onions/Peppers/Tortillas
1/4 Cup Canola Oil
1 Large Red Onion, sliced into thin strips
1 Large Green Bell Pepper, sliced into thin strips
1 Large Yellow Bell Pepper, sliced into thin strips
Kosher Salt
Fresh Cracked Pepper
8 – 10 Large Flour Tortillas
Toppings/Garnish
Pico de Gallo/Salsa
Sour Cream
Guacamole
Cilantro
First: At least 30 minutes prior to grilling, whisk together the first three ingredients into a mixing bowl, set aside. Next, season the steaks liberally on both sides with the remaining ingredients. Add the seasoned steaks into a large plastic bag and cover with the wet marinade. Marinate for at least 30 minutes at room temperature, or overnight in the refrigerator.
Next: Prepare grill. Preheat half of the grill to high heat, with the other half devoted to low heat. If using coals, pile coals on one side to create a direct and indirect heat surface. Place a small cast iron skillet over direct heat; add 1/4 cup canola oil. Add onions and peppers to the skillet and season with kosher salt and fresh cracked pepper. Sauté until the ingredients are slightly charred and just tender, 3 – 4 minutes. Move skillet to indirect heat and sauté until tender and caramelized, about 20 minutes. As onions and peppers are finishing, remove skirt steaks from bag, shaking off excess marinade. Grill steaks over direct heat for 2 minutes. Flip steaks and grill for another 1 – 2 minutes for medium/medium rare depending on the size and thickness. Remove steaks from grill, tent with foil, and rest for 3 – 4 minutes.
Last: Grill tortillas over direct heat until warmed and slightly charred, about 30 seconds to 1 minute, keep warm. Thinly slice skirt steak across the grain and place a generous portion onto a warmed tortilla. Top the steak with onions and peppers. Finally, finish with any of the desired toppings and serve immediately.
Leftover Skirt Steak Scramble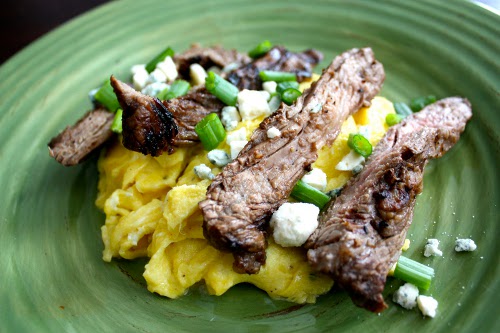 With the size of my portions, leftovers are always inevitable. Live like a king and finish off your steak for breakfast. Life is good. (Prep 5 minutes. Cook 10 minutes. Serves 1)
Extra Virgin Olive Oil
3 Eggs
Kosher Salt
Fresh Cracked Pepper
Leftover Skirt Steak, sliced
Green Onion Tops, sliced
Crumbled Blue Cheese
In a non-stick skillet over medium heat, add a tablespoon of extra virgin olive oil. Whisk eggs together until combined and frothy, season with kosher salt and fresh cracked pepper. Add eggs to pan, waiting to stir until eggs have set. Using a wooden spoon, gently lift the cooked portions from the bottom of the pan, allowing the runny portions to reach the heat. Continue in this manner until no more runny portion remains, careful not to over-scramble. Meanwhile, heat the leftover steak to temperature using a microwave or skillet over medium heat. Plate eggs, topped with sliced steak, and garnish with green onion slices and crumbled blue cheese. Serve.