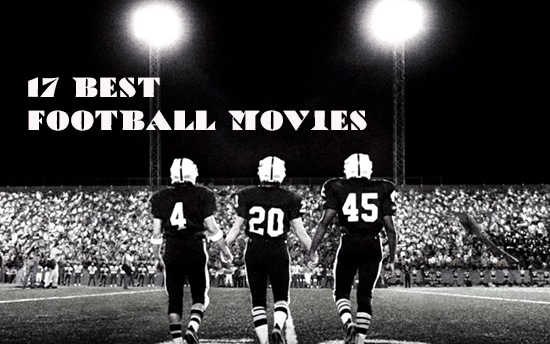 Dwight D. Eisenhower thought that football was the best sport for young men to play because it was the closest sport to war. Football's similarity to battle also explains why it has made for such excellent fodder for movies through the decades. There's violence, bonding, competition, and plenty of drama, both on and off the field. Like war, football has also been the subject of much controversy over whether all the sacrifice and casualties are worth it.
The 17 films and documentaries listed below cover the game from all these angles and more. These gridiron-themed greats are the ones that stick with you long after you've watched them; they make you think, they make you laugh, and most of all, they get you pumped for taking on whatever fight you're faced with.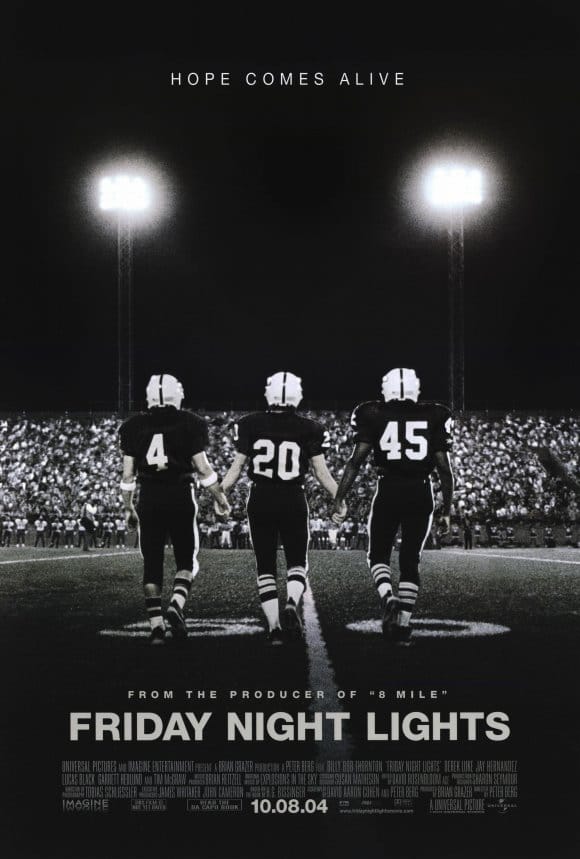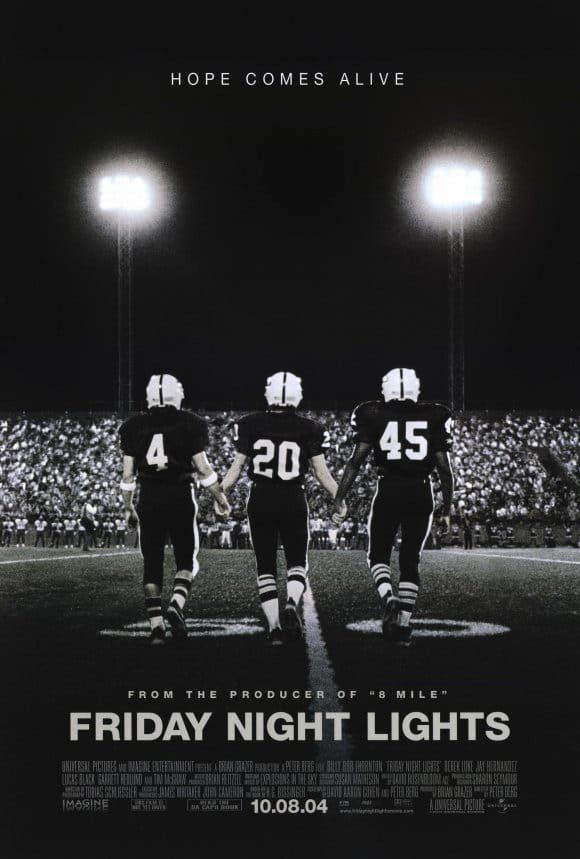 Based on the book by Buzz Bissinger, Friday Night Lights follows the Permian Panthers, a high school football team in Odessa, TX on which an entire town hangs its hopes and aspirations. The movie explores the sometimes toxic dynamic between communities and the high school sports teams they support. On the one hand, it's great to see so many people get behind their young gladiators; but on the other hand, putting so much pressure on young men who aren't even old enough to vote isn't healthy for the boys or for the community. Out of all the movies I've seen about high school football, Friday Night Lights is still the one the rings most true to my own experience playing as a young man. Great action-packed game scenes, and the soundtrack by Explosions in the Sky (part of my thumos soundtrack even today) gives Friday Night Lights an epic feel.
When you've seen the movie, be sure to watch the television series Friday Night Lights — my all-time favorite TV show. Read my post I wrote a few years ago about the lessons I got from FNL.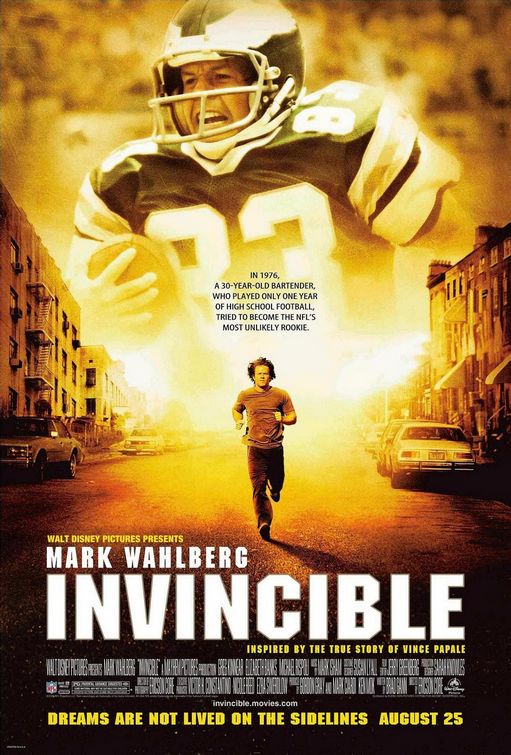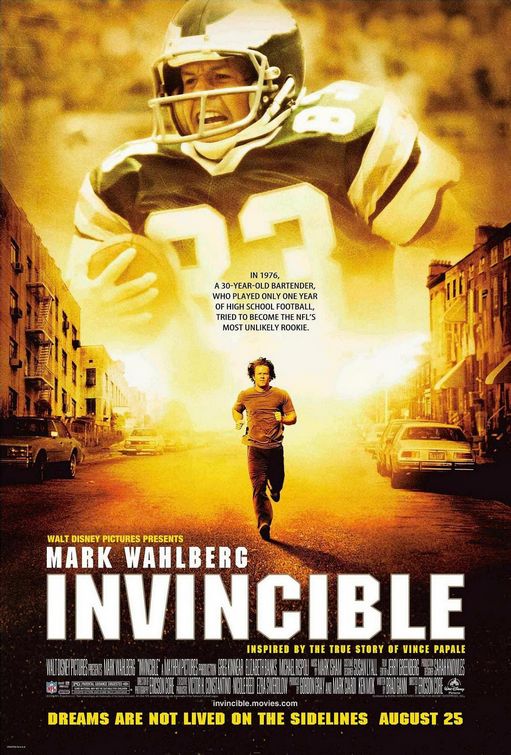 Invincible is based on the true story of Vince Papale, a 30-year-old out-of-work substitute teacher who, against all odds, makes it to the pros. After Vince's wife walks out on him, he decides to try out for his struggling hometown football team, the 1976 Philadelphia Eagles. Vince makes the team, but the challenges just begin as he has to prove to skeptical teammates that he's the real deal. Rock-solid cast in this movie — Mark Wahlberg, Greg Kinnear, and Elizabeth Banks — and according to Uncle Buzz, who spent some time in Philly during the 1970s, the filmmakers did a great job capturing the city's grittiness during that decade. Great movie to remind you that it's never too late to chase after a dream.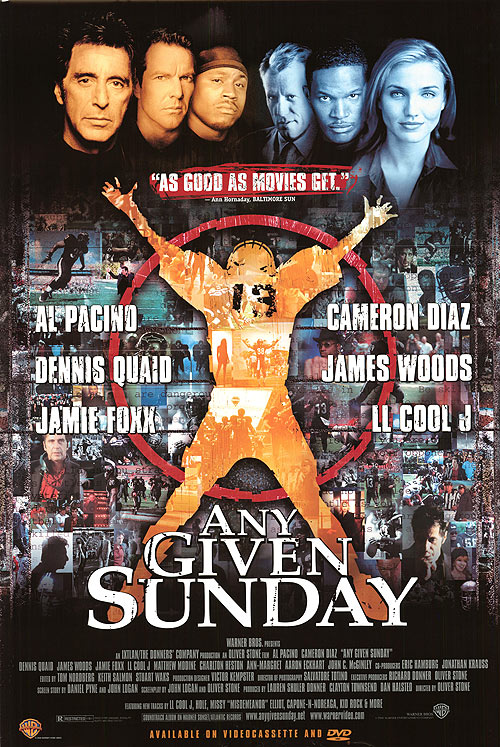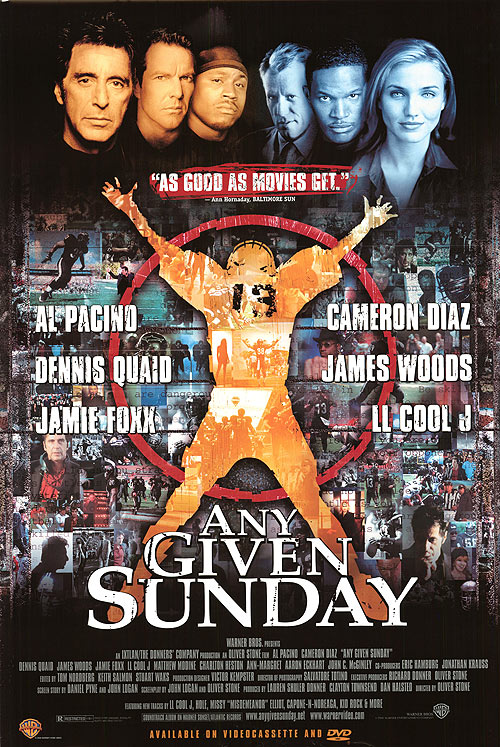 Any Given Sunday is Oliver Stone's take on football and a meditation on its intersection with business, culture, and politics. The cinematography is top-notch, and the football scenes are fast-paced and chaotic. When you're watching, you feel like you're right on the field. And unlike a lot of football movies that just give you the two-minute highlight reel of football games, with Any Given Sunday, you get to watch huge chunks of the fictional football games with scenes ranging from 20 to 40 minutes. The film has an ensemble cast filled with heavy hitters like Al Pacino and Dennis Quaid. Jamie Foxx has a breakout performance in this movie and he put his high school football experience to good use by doing most of the game scenes himself.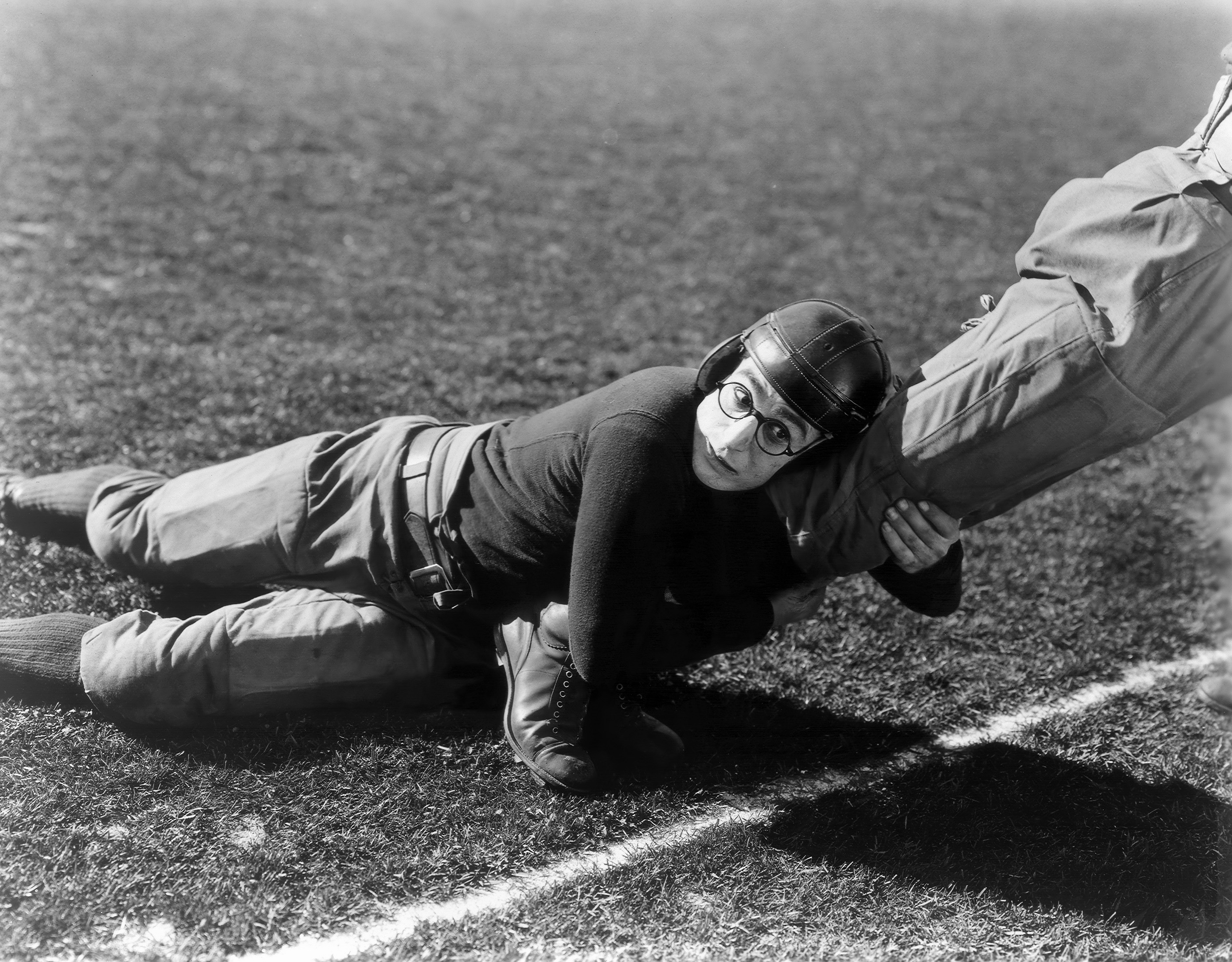 The Freshman is a silent film starring Harold Lloyd. He plays a college freshman who joins the football team to become popular. If you haven't seen a Lloyd film, you're missing out. One of the best physical comedic actors in cinema, second only to Buster Keaton. I typically don't have much patience for silent movies, but this is one I really enjoy watching.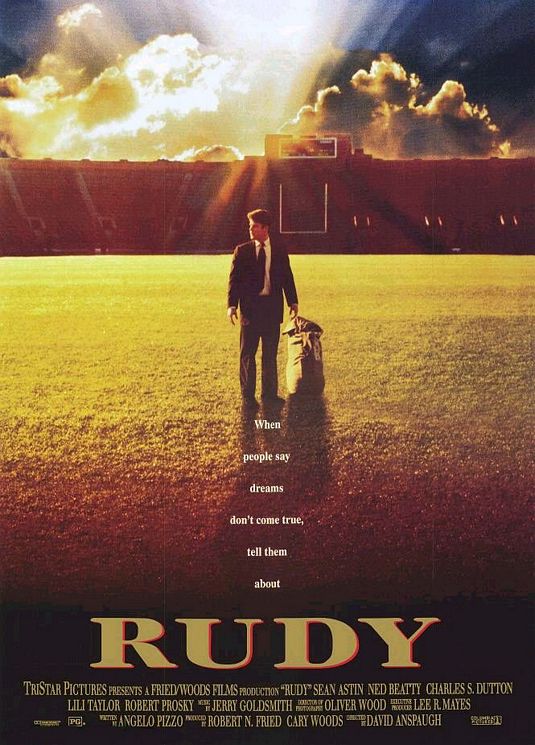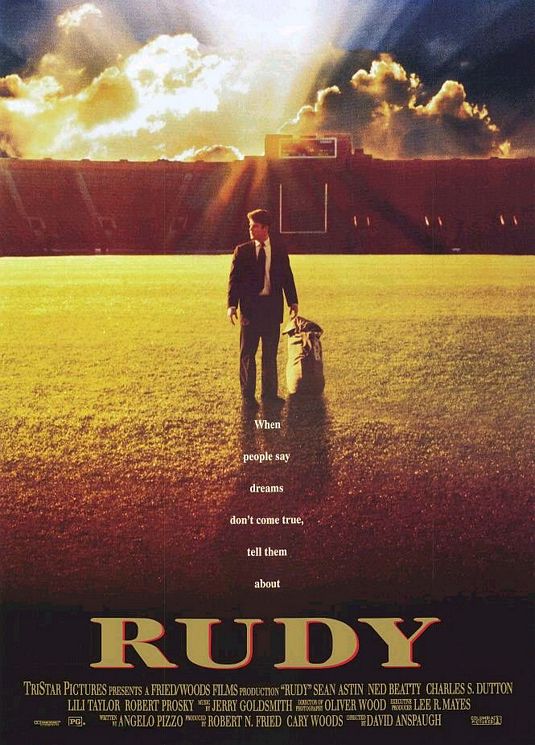 Rudy, a scrappy blue-collar kid, has a dream of playing football with the Fighting Irish of Notre Dame. While Rudy wasn't blessed with the talent or the body to be a star athlete, he's a got a lot of heart and determination. When you're feeling like the underdog in life, sit down for a viewing of Rudy. You'll be ready to "Play Like a Champion" afterwards.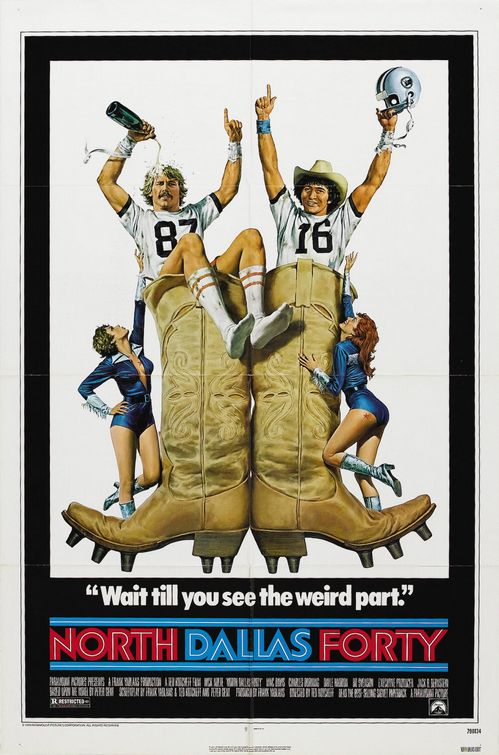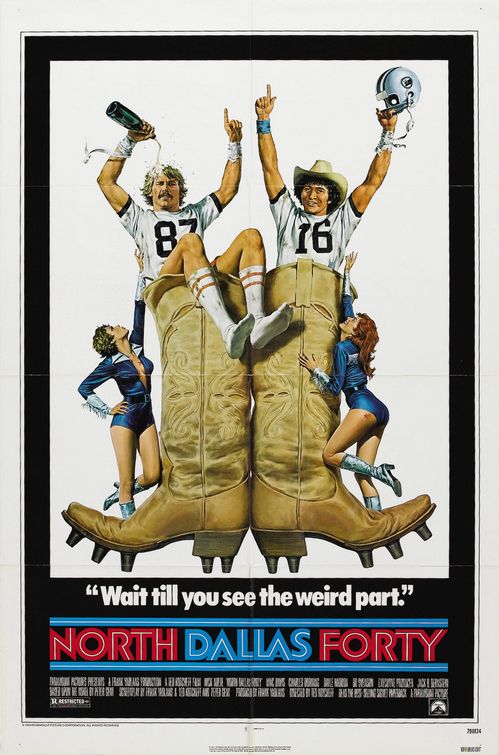 Our culture's criticism of the dark side of professional football may seem like a new phenomenon, but North Dallas Forty was shining a light on it several decades ago. Another one of those gritty, 1970s sports films, the movie depicts the exploitation inherent to the game, with athletes getting shots in their joints so they can keep playing, and owners treating the players like chattel. The screenplay was adopted from the semi-autobiographical novel by Peter Gent, a wide receiver for the Dallas Cowboys in the 1960s. Critics have called it one of the best sports movies in film history.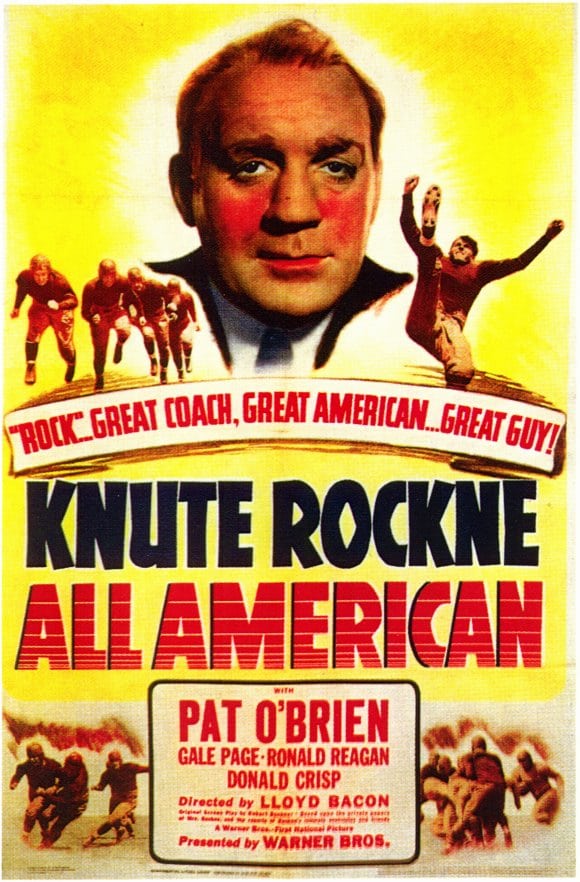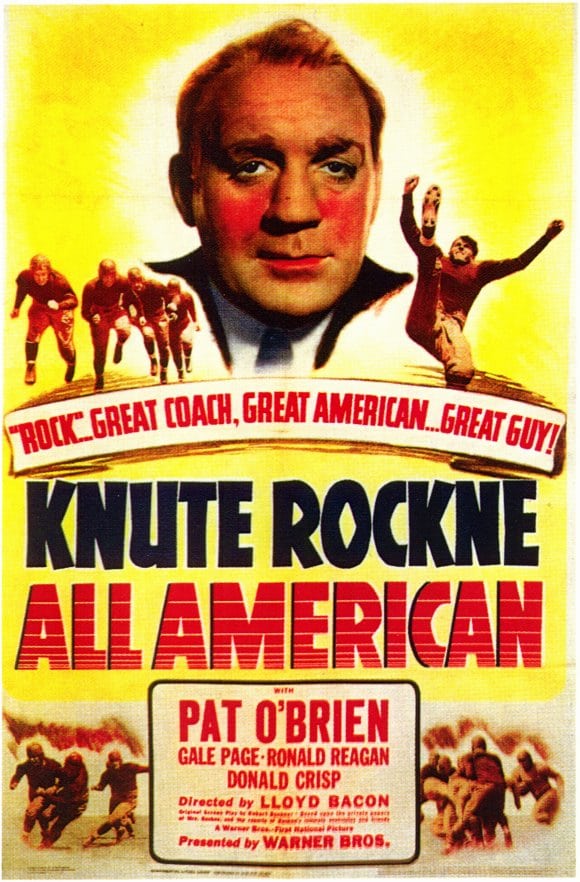 Today, Notre Dame is a dynastic football team, and Knute Rockne was the man who created that dynasty. During his time as head coach of Notre Dame from 1918 to 1930, Rockne racked up 5 undefeated seasons and 6 national championships. Knute Rockne: All American is your typical play-it-straight 1930s sports biopic. You get to watch how Knute learned to love football as a boy and then turned that love into a career as one of college football's winningest coaches. The film also produced one of the most quoted lines in film history — a line uttered by none other than future president Ronald Reagan: "Tell them to go out there with all they've got and win just one for the Gipper."
Once you've watched Knute Rockne: All American, be sure to read up on the real-life lessons in manliness that can be learned from this veritable renaissance man (did you know that Rockne played the flute?).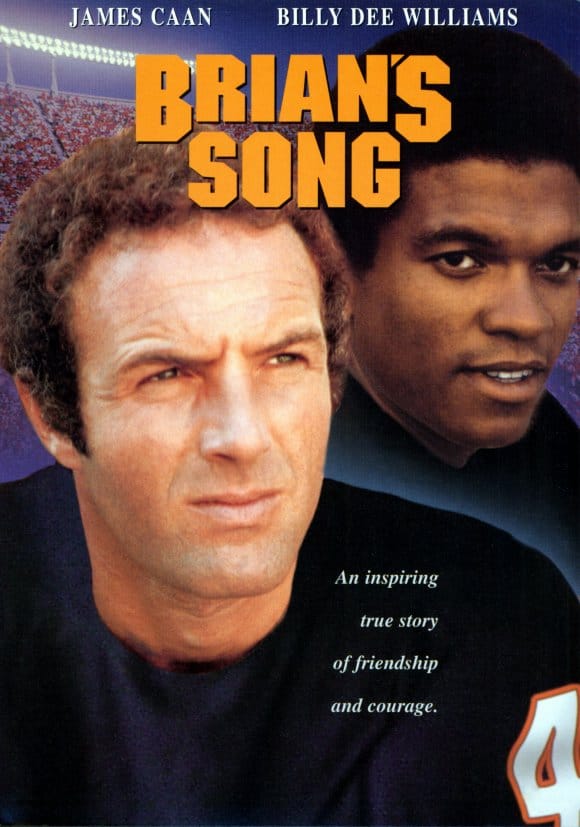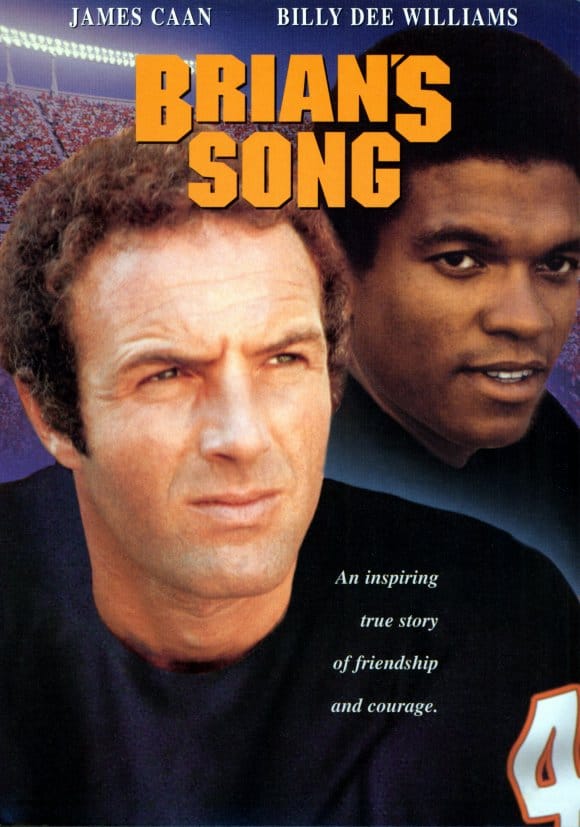 Brian's Song has been called Beaches for men. It's based on the true story of Brian Piccolo and Gale Sayers, two friends and Chicago Bears teammates. Their friendship is put to the test when Piccolo is stricken with terminal cancer. If you're not a blubbering mess by the end of movie, you've got no heart, I tell ya. No heart!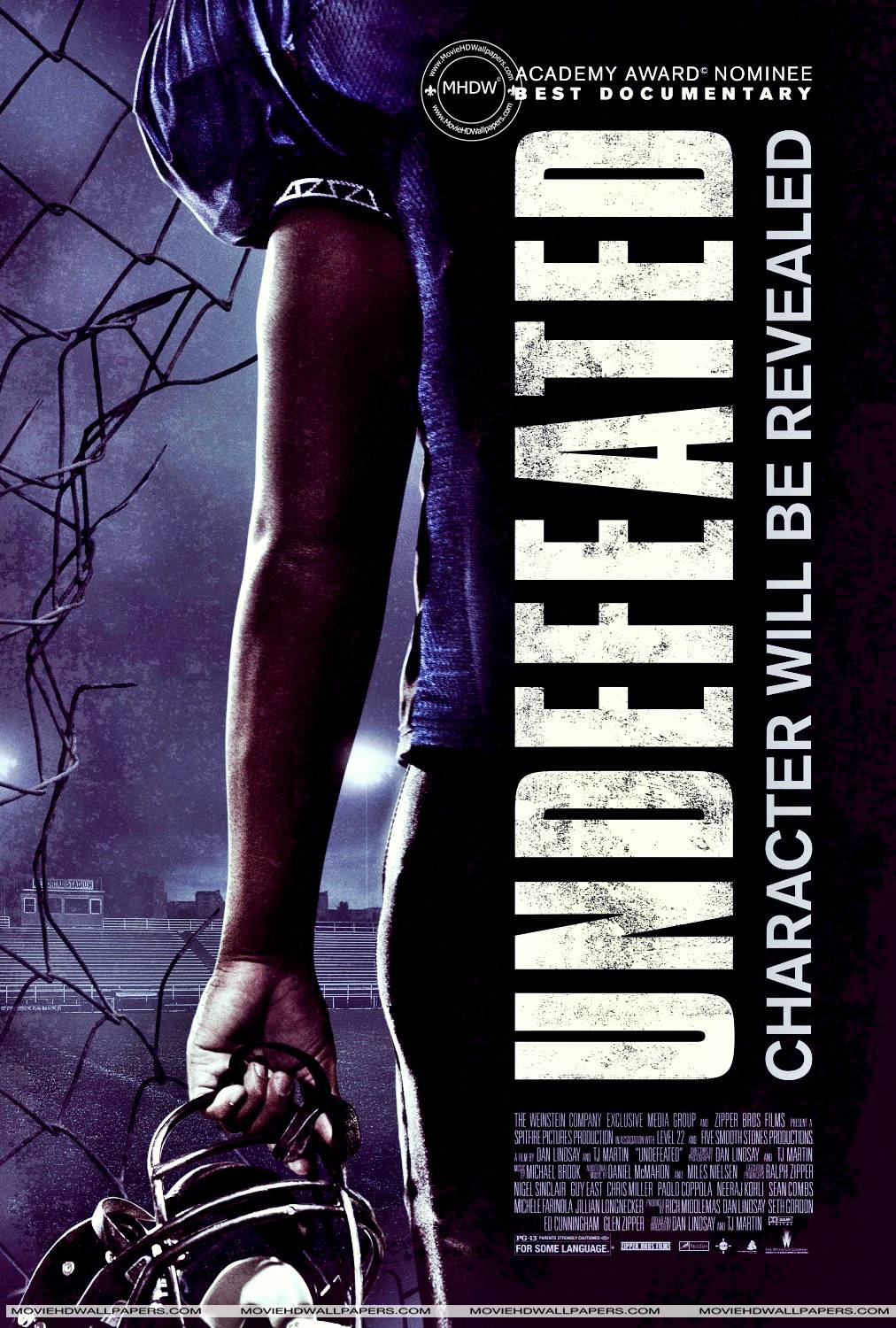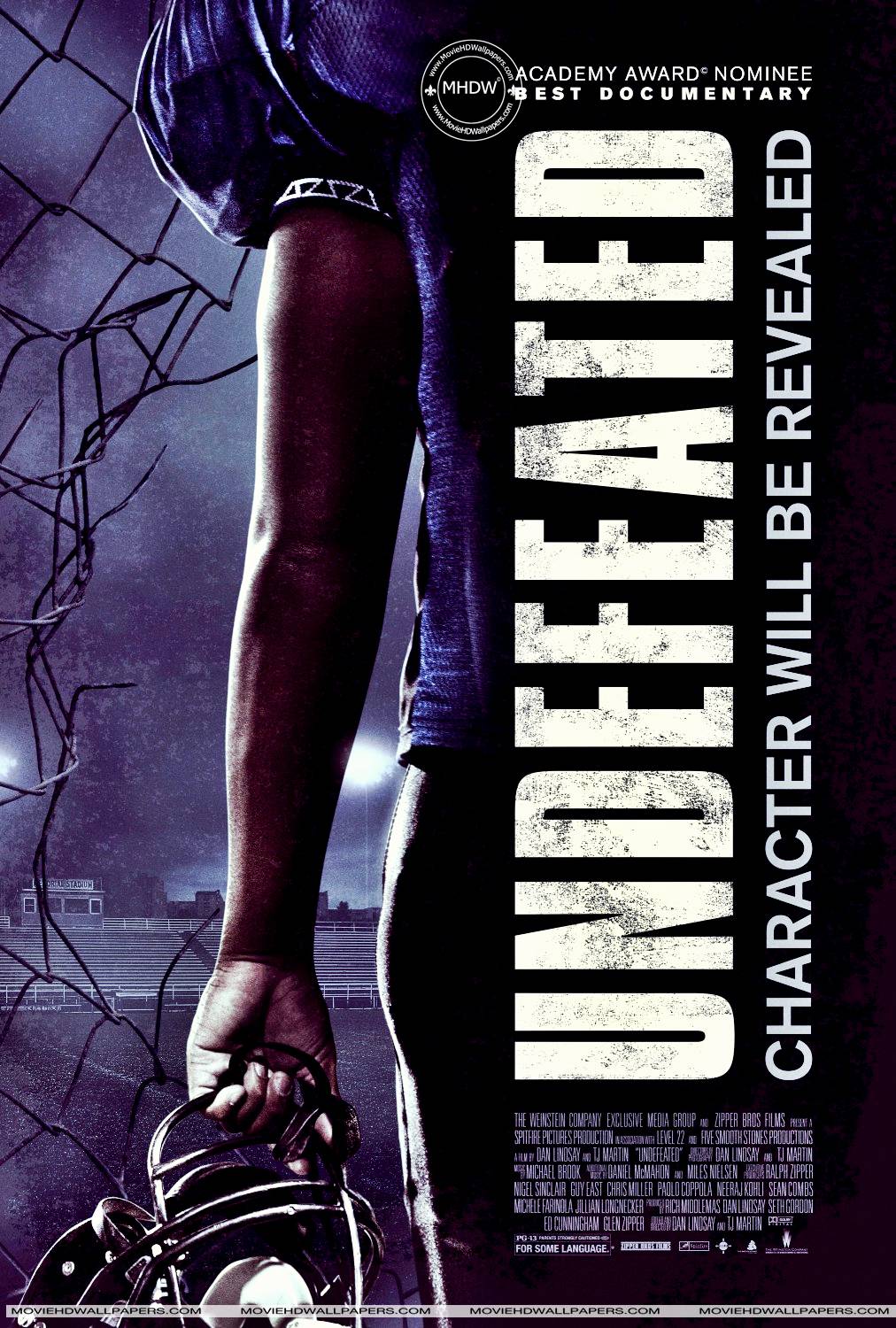 In this Oscar-winning documentary, filmmakers follow the North Memphis Manassas High School football team during their 2009 season. Manassas is a school filled with poor and underprivileged kids and the football team has a history of losing year after year. The idea that things could get better was just a dream for the players on this team. Then a guy named Bill Courtney volunteers to be the head coach and shows the kids how discipline, character development, and putting team before self can lead to success on and off the field. Don't be fooled by the title — this isn't a schmaltzy underdog story. There aren't any immediate happy endings, but the seeds of character sewn during that 2009 season eventually do bear fruit.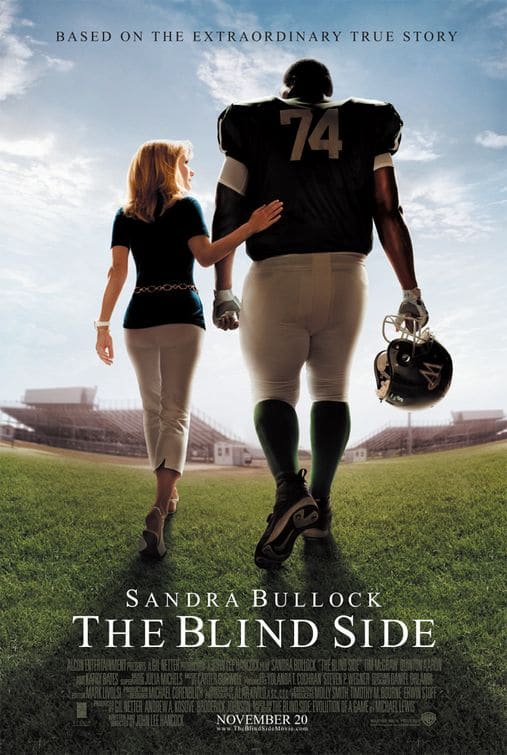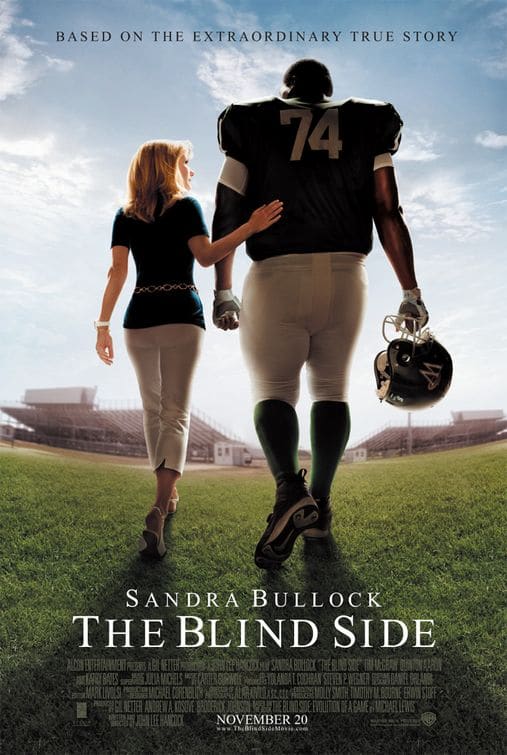 Based on the true story of NFL lineman Michael Oher's path from homelessness to star football player. Yes, the story has been embellished from what really happened (and Oher is apparently none too happy with the effect the movie has had on his real life), but the movie surely is an enjoyable watch, and does a great job of showing the growth that can happen when people step outside of their comfort zones to help those in need.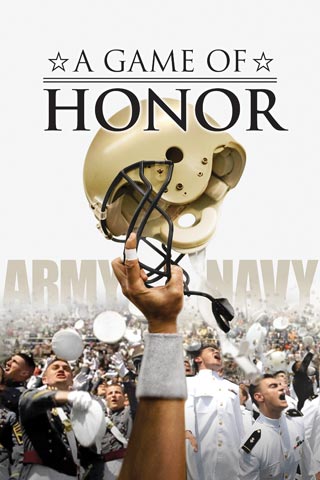 The Army-Navy Game is one of college sports' most storied rivalries. In A Game of Honor, filmmakers follow players on both teams in the lead up to the big game. It's fascinating to see how these guys balance both being Division 1 NCAA football players and enlisted military cadets. Unlike other college football players, Army and Navy athletes have to balance the demands of the sport with a rigorous academic schedule and intense military training (the military readiness requirements is one of the reasons why you don't see 300lb+ linemen on the Army or Navy teams). The players also have a much more difficult path to being drafted by the NFL, as they have to serve out their enlistment (with at least two years on active duty) after graduation. Most then are simply playing for the love of the game. It's college sports at its purest.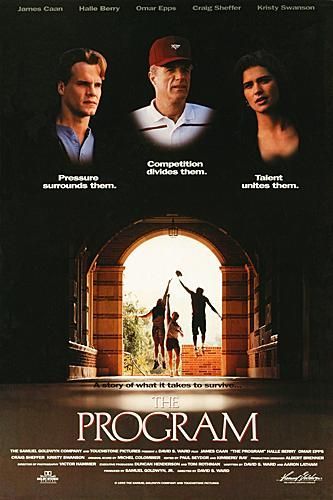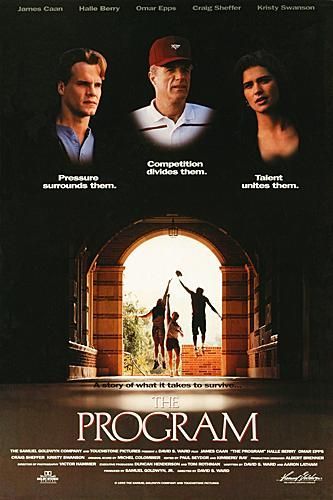 Whenever my high school football team had a long road trip down I-44 to Lawton, OK for a game, we'd watch The Program to get pumped up. The film centers on a fictional college football team and the pressures the players face on and off the field. It's pretty ham-fisted, with over-wrought critiques about college sports and cheesy dialogue, but that's what I love about the movie. It's not trying to be nuanced — it's just a straightforward flick about the awesomeness of playing football. Best scene: when the defensive end goes on a celebratory bashing-in-car-windows-with-his-head spree.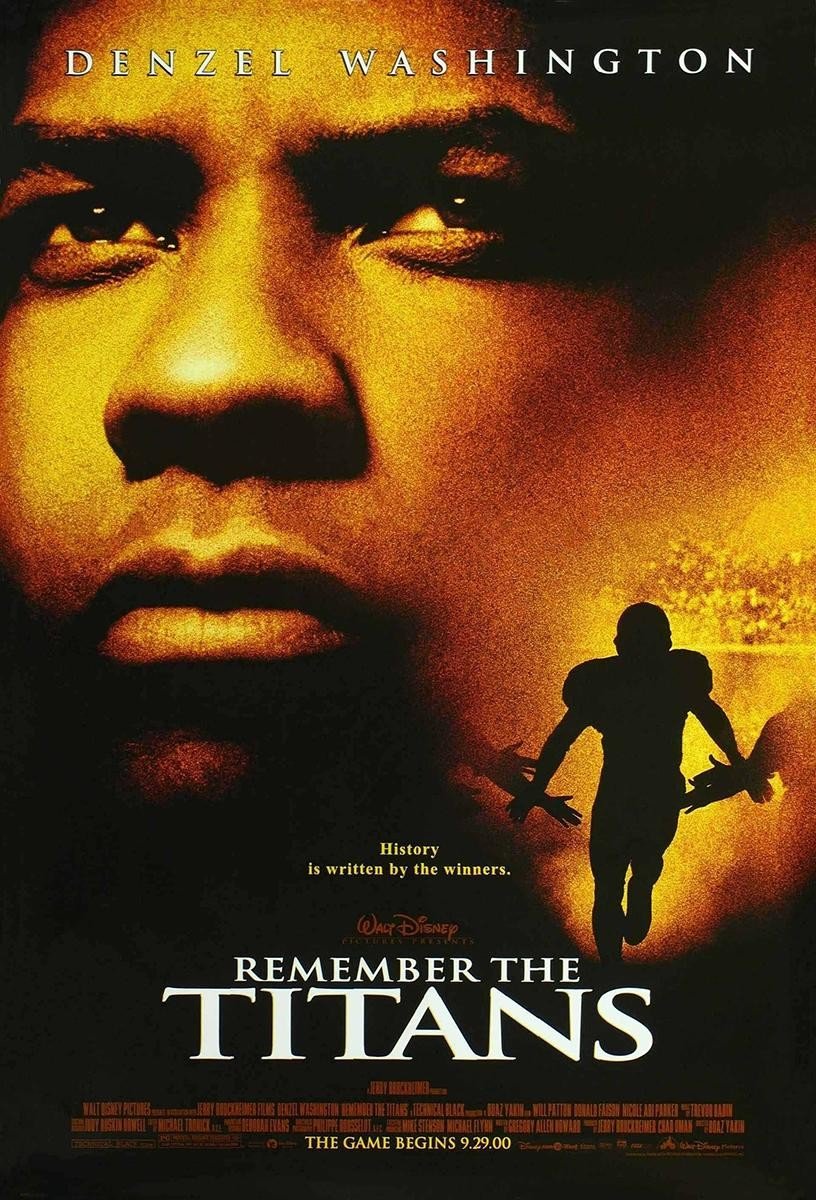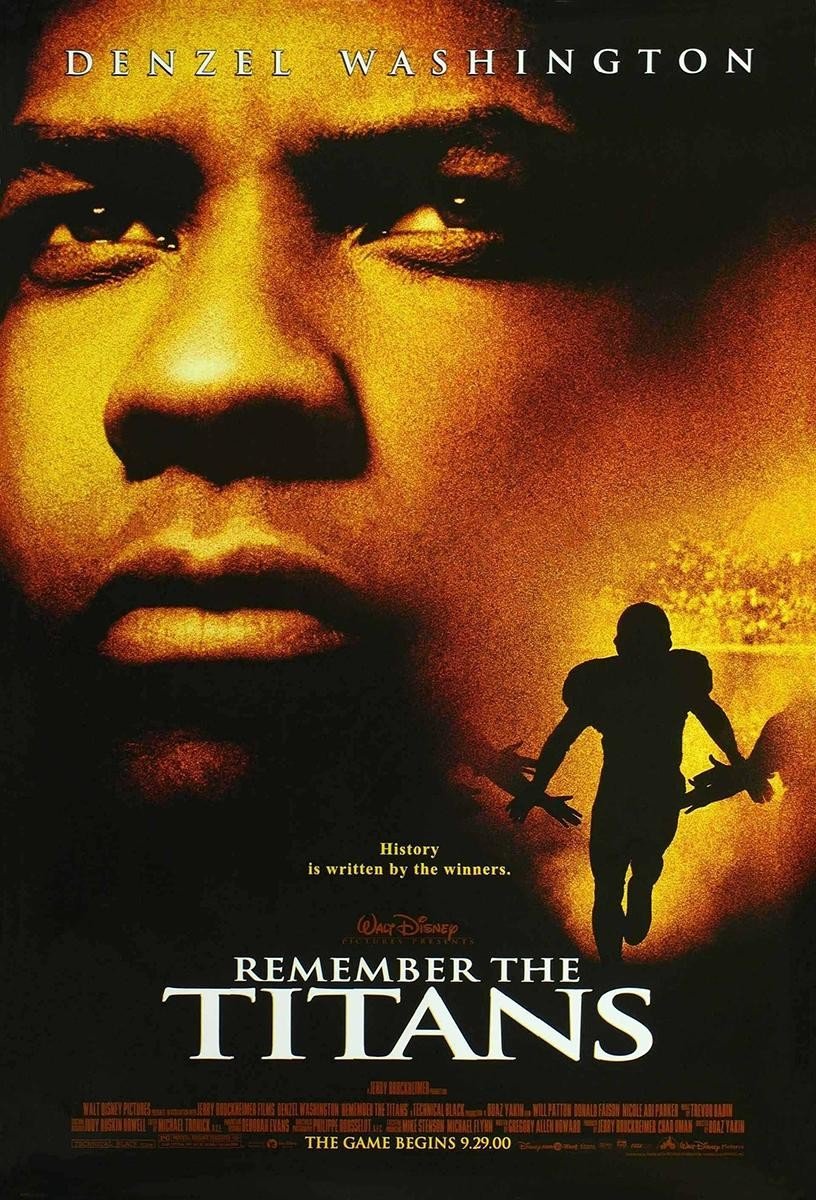 Remember the Titans is another heartwarming movie based (loosely) on a true story. The film takes place in 1970s Virginia in a high school that was recently integrated. Denzel Washington plays Herman Boone, the black head coach charged with piloting the football team through racial tensions among his team and the community. Great football action scenes along with the memorable turning point speech at Gettysburg by Coach Boone.
Horse Feathers (1932)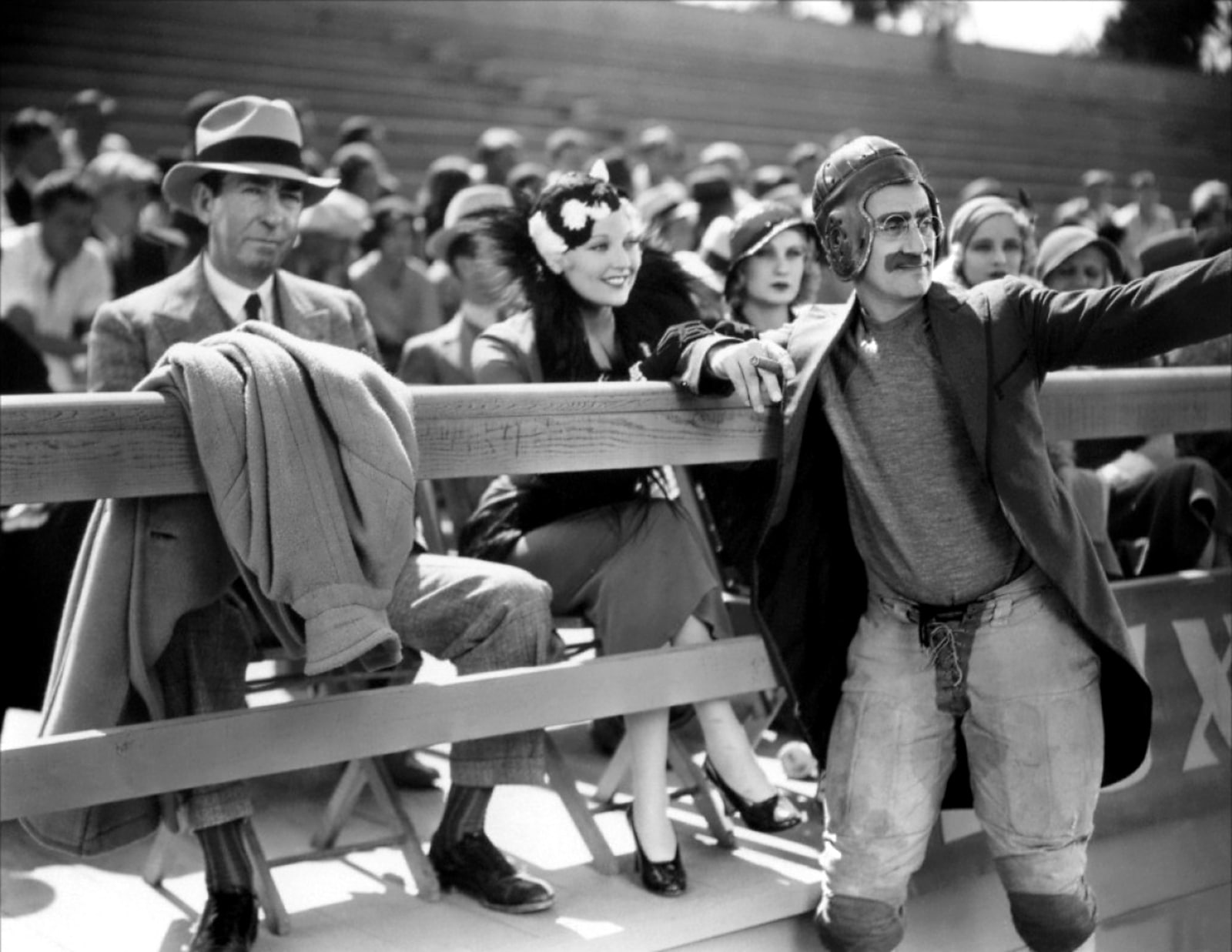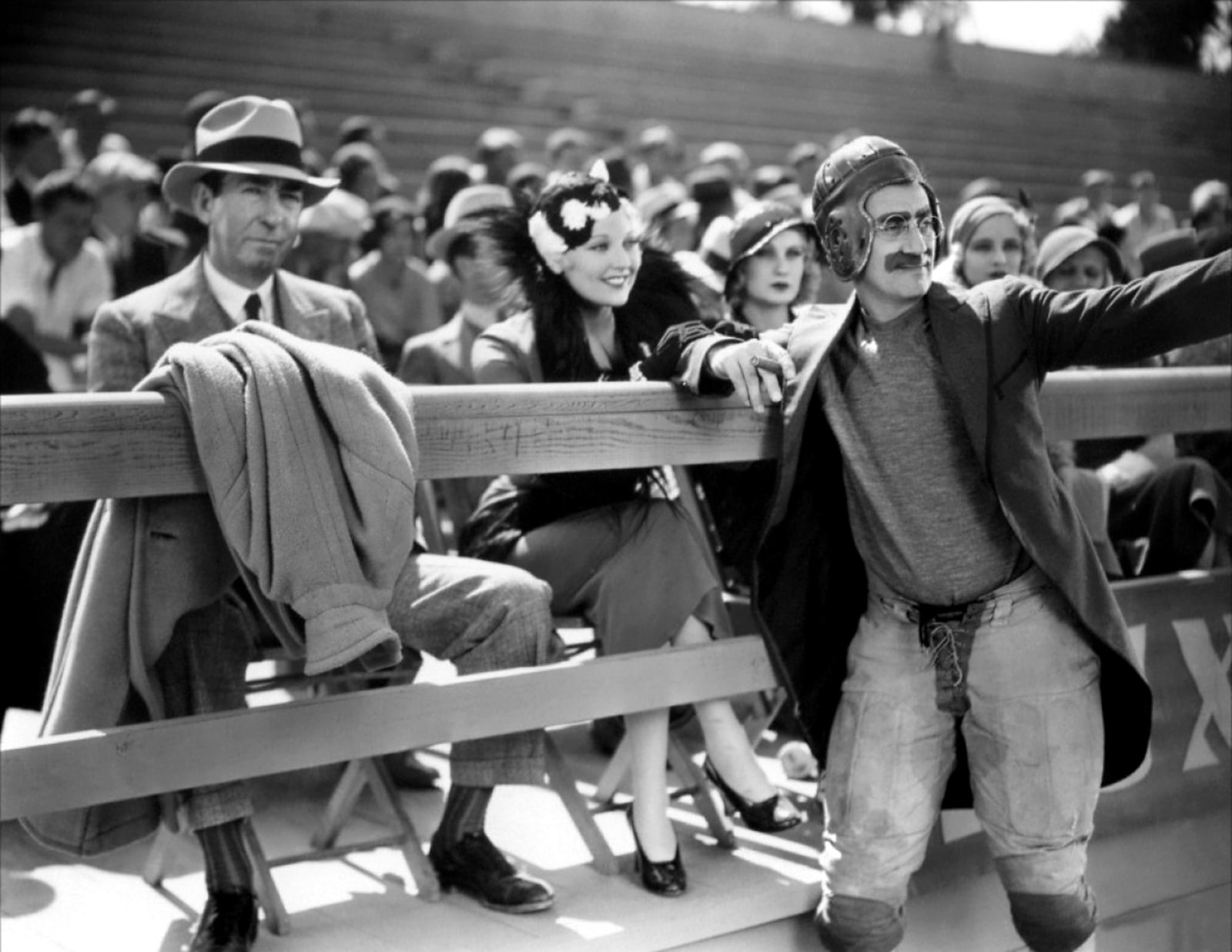 In this classic Marx Brothers film, Groucho Marx plays Quincy Adams Wagstaff, the new president of Huxley College. To help the school's football team win, Wagstaff recruits ringers in the form of professional players. The movie is from 1932, but many of the issues it raises about college athletics are still relevant today. The big game at the end is one of the best and funniest football scenes in cinema history. You can watch it online for free here.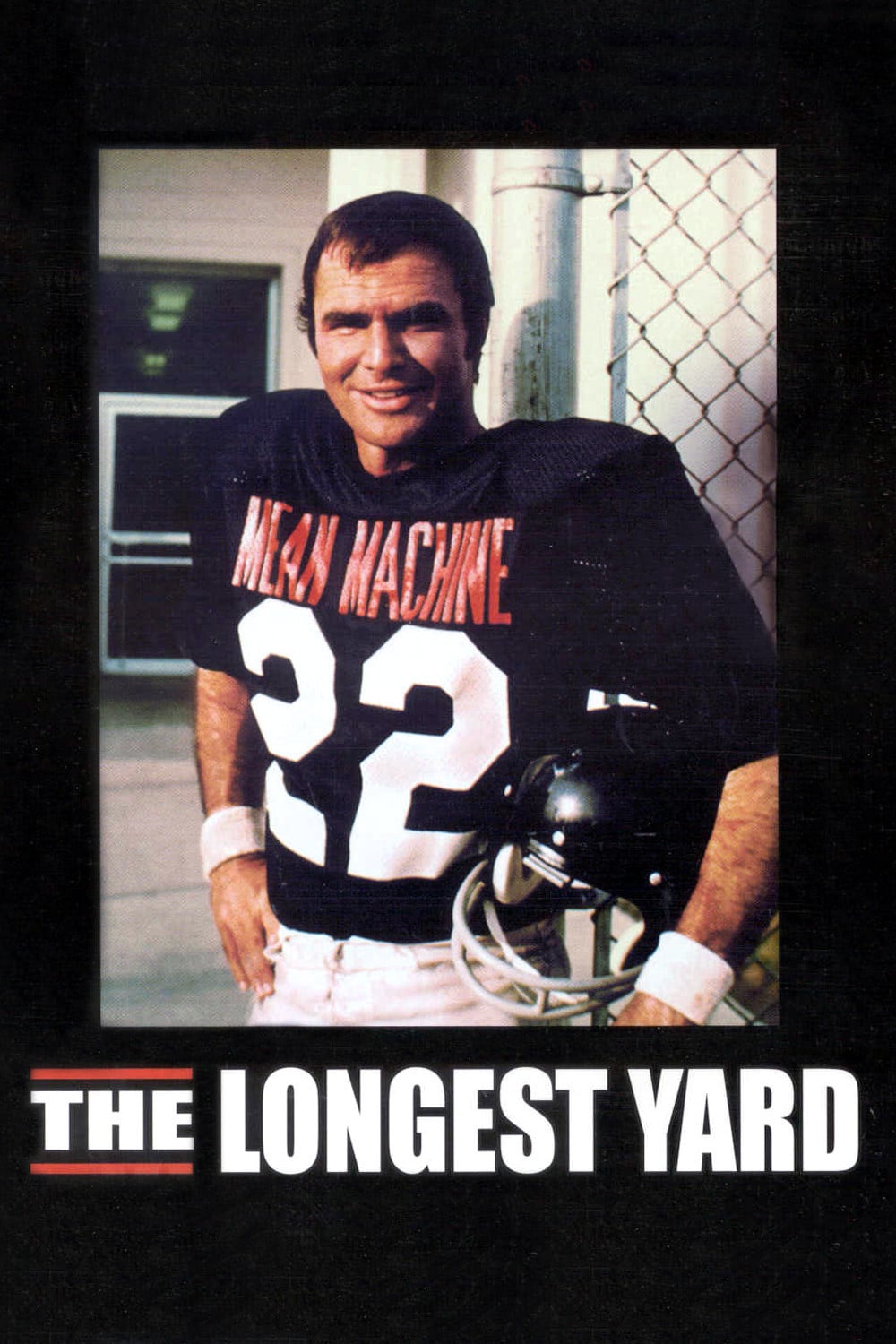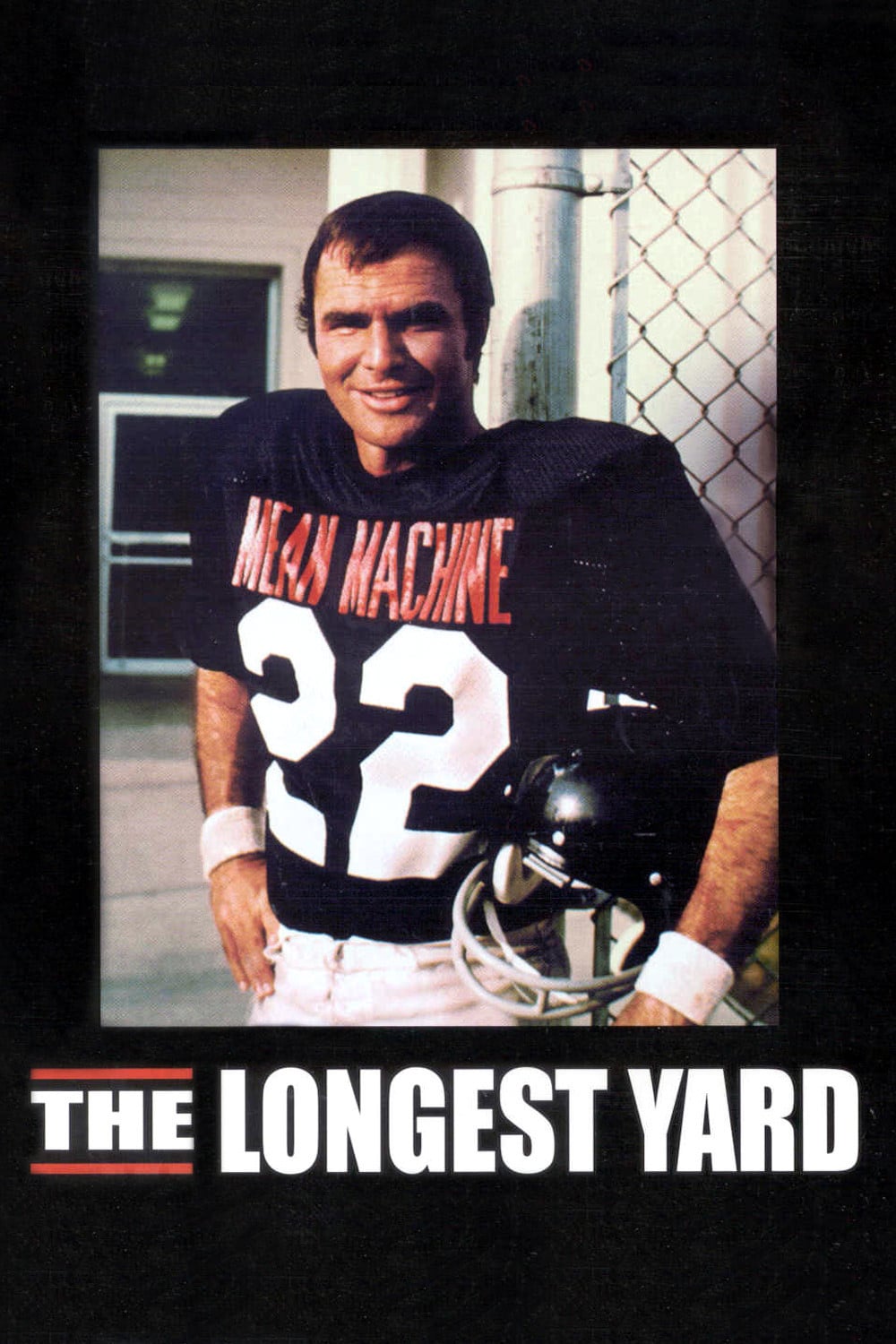 Burt Reynolds plays a disgraced former pro quarterback doing time after leading the police on a wild goose chase in a "borrowed" car. While locked up for his crime, he captains the prisoners' football team to victory against the guards' team. The movie is chock-full of gritty, 1970s B-movie charm. Much better than the Adam Sandler re-make.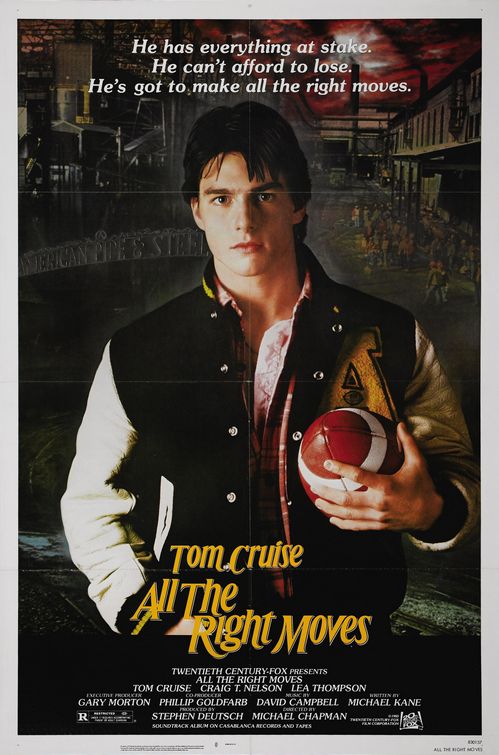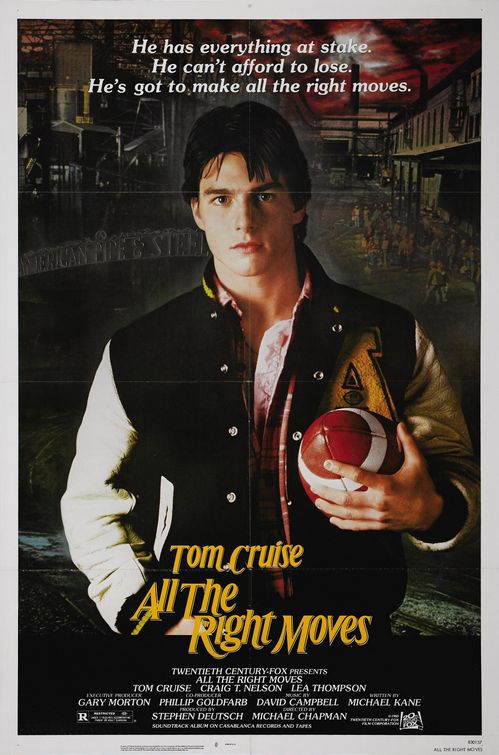 All the Right Moves is your classic tale of a young man trying to escape his hometown. Tom Cruise plays Stefan "Stef" Djordjevic, a talented defensive back who's doing all that he can to get a scholarship so he can leave his economically depressed town and move on to bigger and better things. But Stef encounters some bumps and detours along the way towards his dream. Great coming-of-age story.
In a small town in the rust belt of Ohio, football has been a way of life for the community for over 100 years. Go Tigers! follows the local high school team, the Massillon Tigers, during their 1999 season. The documentary focuses primarily on the three team captains and the pressures and stresses they feel on and off the field. The filmmakers do a good job of being evenhanded with the topic. There's no agenda. With Go Tigers! you just get an intimate look at a part of life that millions of young men across America share and remember well their whole lives through.
Be sure to listen to our podcast on lessons from the gridiron's greatest coaches:
Tags:
Movies