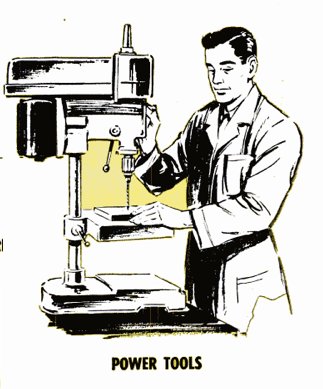 Editor's note: This is a guest post from Marc Lyman of HomeFixated.com.
Tools. They are what separate most of us from the animal kingdom. For a species that started off chipping rocks into spearheads, we've come a long way. Even post-Neanderthal era, building just about anything revolved around hand (not power) tools. As your manly elders are all too happy to remind you, even today, there are plenty of carpentry and construction projects that a hand tool is best suited for. But that's not why you're here. There are far more tasks in the course of a man's life in which power tools put hand tools to shame (or, at least make them look slower than Congress passing a budget). Plus, power tools create noise, make dust, and embody our manly DIY-conquer-all spirit.
Here's a list of four power tool essentials, along with some background, why you need them, and what to look for when you're tool shopping.
Cordless Drill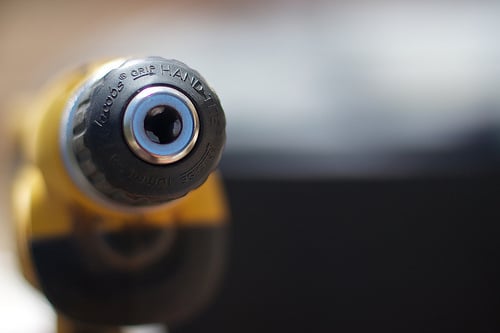 Image by cogdogblog
Background / Why You Need It
A cordless drill is the most essential of essentials when it comes to power tools. Without it, you'll be looking like an Amish carpenter as you hand-bore holes at a rate of one per hour. Nothing wrong with Amish carpenters by any means, but I'll beat their suspenders off any day when it comes to drilling holes. With a solid cordless drill, you'll be able to tackle most drilling tasks from small pilot holes to large holes to run electrical through, and driving fasteners from dainty screws to beefy lag bolts (although you might consider an impact driver if you're doing much in the way of the latter). Let's be clear: there's no such thing as a modern handyman without a cordless drill.
What to Look For
The cordless drill market is filled with compact 12v tools. They're light, high-tech, and strong for their size. But if you're getting a cordless, make it count and get something beefier. There are few things less manly than having your drill whimper to a stop half-way through a piece of wood. An 18v is probably the sweet spot for good power-to-weight ratio, and it can handle most of what you task it with. Companies like DEWALT, Bosch, and Makita (among others) make solid 18v models that get the job done. Don't cheap-out on your drill; it's a tool you'll rely on regularly, and you'll thank yourself in five or ten years for spending a bit more for quality now. Most high-quality 18v models will set you back about $100-$200.
Reciprocating Saw
Image by Toolstop
Background / Why You Need It
Destruction and demolition have been man's work for eons. Few practical tools embody the raw destructive force of a reciprocating saw (known more commonly by the Milwaukee Tool brand name Sawzall).
The reciprocating saw will cut through most metal and wood like butter. I've even cut down trees with one in a pinch. If you're remodeling, demolishing, or doing plumbing or electrical work, a reciprocating saw will get you through 2x material, pipes, etc. in no time. Just don't cut through a wall without knowing what's inside it; a severed live electrical or water line is no fun. Both electrical and water together is even worse.
What To Look For
Unlike the cordless drill, corded is recommended here. Sure there are some pretty beefy cordless versions, but if you have to have one, we think corded will serve you best. It never runs out of battery and most reputable brands and models have plenty of power. Some models have rotating handles which can be useful in certain cutting situations, but for most, it's not a necessity. The venerable Milwaukee Sawzall and Porter Cable are our personal favorites. Expect to spend around $100 for a decent saw. Blades are also critically important. Get a good assortment so you can handle whatever manly jobs come your way.
Oscillating Multi-Tool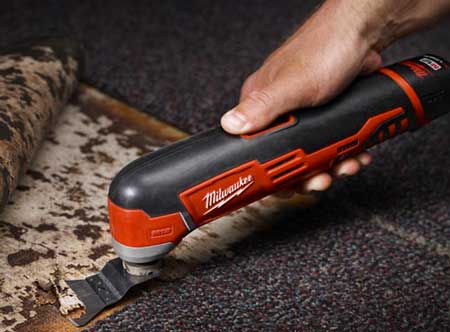 Background/Why You Need It
I won't call it dainty, but this is definitely the least gritty of our power tool suggestions. You're not going to wow the ladies strutting into the room with one of these (at least not until they see it in action). If you're not already familiar with them, an oscillating tool features a long, slender body (which has natural man-appeal), and a head that accepts a variety of attachments for detail sanding, grinding, grout removal, wood cutting, scraping, etc. The beauty of the tool is that the accessory oscillates just enough to make quick work of many small jobs without kicking up a massive dust cloud. It's the surgical scalpel of your power tool arsenal.
Up until a couple years ago, the only true oscillating tool on the market was the Fein Multi-Master. It's a fantastic tool, but also has a reputation of being a spendy tool with very spendy accessories. Then Fein's patent expired, and the renaissance of multi-tools exploded. Just about every major tool manufacturer now has at least one oscillating tool on the market. What used to be a splurge item, has now become so common and affordable, it's really an essential. While you may at first wonder what you'll use the tool for, you'll soon find yourself reaching for it regularly (and marveling at how you survived without it).
What to Look For
This market is changing so fast, features and new models are popping up seemingly hourly rather than yearly. We again say go with corded unless a cord will be a massive pain for your intended uses. Battery life and battery swapping can be a major annoyance on longer projects such as sanding or grinding. OIS (Oscillating Interface System), put out by Bosch, is becoming somewhat of a standard when it comes to accessories. Bosch, Skil, and Milwaukee tools, among others, directly support OIS. Fein remains the cream of the crop, and their quick-change mechanism is still a stand-out feature (although Porter Cable recently released a quick change feature on their multi-tool). Fein and Skil are also the only two that currently come to mind for dust collection support, which can be very useful, particularly on sanding projects. Expect to spend between $100-$200 for most respected models.
Circular Saw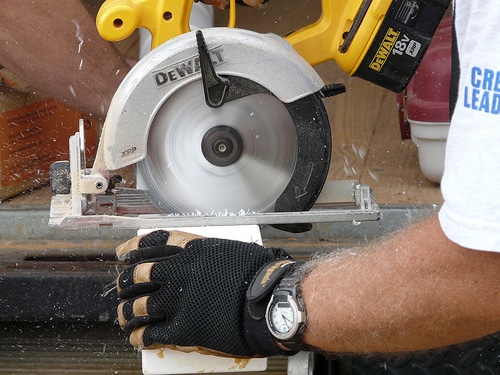 Background/Why You Need It
When it comes to making quick work of cutting through 2x material or sheet goods, nothing compares to a circular saw. If you find yourself needing to cut a piece of wood once or twice a year, you can stick to a handsaw. However, if your wood cutting needs are more regular, a circular saw can cut through a stack of wood in two minutes, where a handsaw might have taken ten times that. Keep in mind circ saws cut through skin and bone just as happily as they do wood, so make sure you follow manufacturer safety recommendations when brandishing this tool (and the others in this article for that matter).
What To Look For
Circular saws comes in cordless and corded varieties. If you're cutting balsa wood for your son's model airplane, cordless might be acceptable. But most people cut some pretty hefty material with circular saws. If you're going to get a circular saw, you should go straight for a corded model. Corded versions breakdown into two camps, smaller, more traditional circular saws, or more heavy-duty "worm drive" saws. If you're a DIY'er and have typical cutting needs, a traditional circ saw with sufficient power is all you need. Worm Drive saws tend to be popular with framers and carpenters. The worm drive saw will cut through material like butter, but they're also heavier and tougher to manage safely with one hand.
That's our list of four key power tools to build an altar for in your man-cave. What are your favorites? Let us know in the comments below.
_____________________________________________________________________________
Marc Lyman is the Editor and Diabolical Mastermind behind www.HomeFixated.com, a tool and home improvement site that threatens to entertain you as much as inform you. Get weekly updates with the latest tool reviews, how-to's, and even a chance to win free tools by subscribing at http://homefixated.com/subscribe/