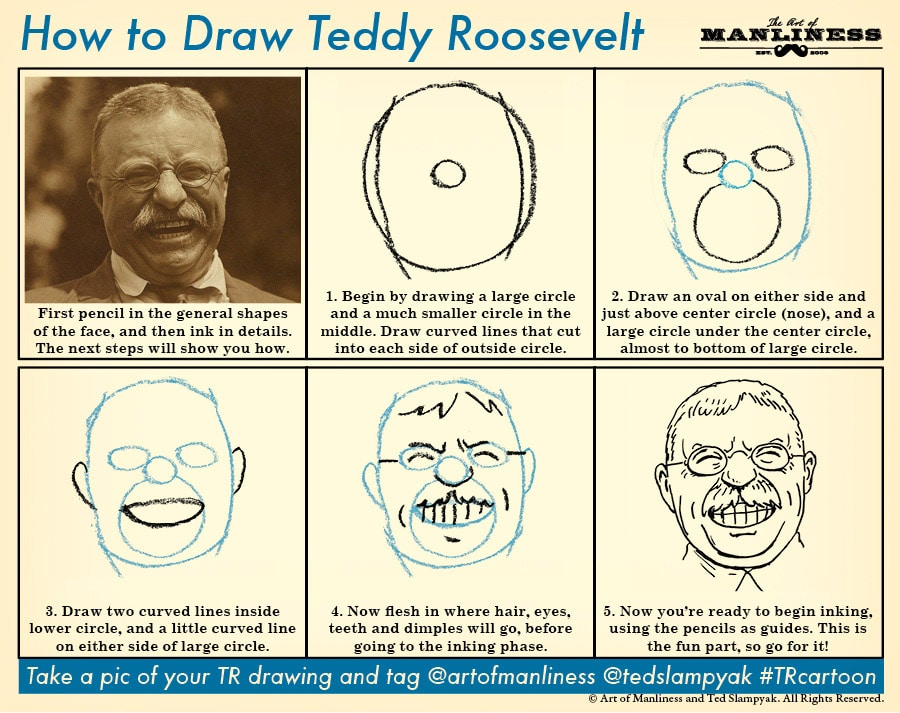 158 years ago today, Theodore Roosevelt, the manliest U.S. president of all time, was born. Throughout his career, Roosevelt was a favorite subject of political cartoonists. His big, toothy grin, framed by his walrus-like mustache, along with his bespectacled eyes, were easy to caricature. It also helped that TR had a larger-than-life personality to match his larger-than-life features.
To celebrate the birthday of the patron saint of the Art of Manliness, we thought it would be fun to tap into this part of TR's history by showing AoM readers how to draw Teddy Roosevelt as a cartoon. AoM illustrator extraordinaire Ted Slampyak created an old school "how to draw" feature for us that breaks down the process step-by-step.
Wish TR a bully birthday by drawing your own version of him and snapping a pic of it on Instagram. Be sure to tag it with @artofmanliness @tedslampyak #TRcartoon so we can see it.
Bully!
Like this illustrated guide? Then you're going to love our book The Illustrated Art of Manliness! Pick up a copy on Amazon.
---
Text Instructions
First pencil in the general shapes of the face, and then ink in details. The next steps will show you how.
1. Begin by drawing a large circle and a much smaller circle in the middle. Draw curved lines that cut into each side outside circle.
2. Draw an oval on either side and just above center circle (nose), and a large circle under the center circle, almost to bottom of large circle.
3. Draw two curved lines inside lower circle, and a little curved line on either side of large circle.
4. Now flesh in where hair, eyes, teeth, and dimples will go, before going to the inking phase.
5. Now you're ready to begin inking, using the pencils as guides. This is the fun part, so go for it.