A couple years ago, we compiled a list of the 17 best Western films ever made. As with all such lists, readers were quick to chime in with those omissions they strongly felt ought to have been included. And indeed, there were many worthy suggestions made. So we compiled this follow-up of the best Westerns, as recommended by you, the readers.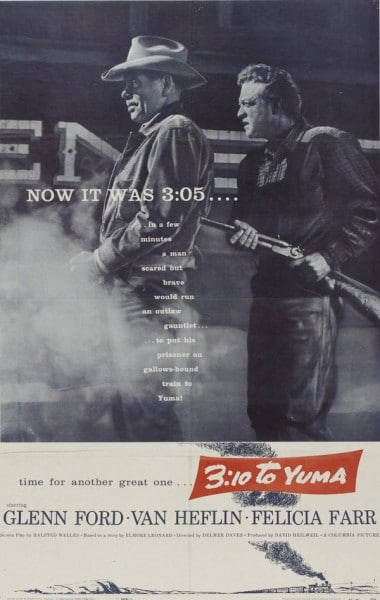 Small-time, down-on-his-luck rancher Dan Evans needs to do something to keep food on the table for his family. So when a stagecoach company offers $200 to transport the outlaw Ben Wade to Contention City in order to put him on the 3:10 train to court, Evans volunteers. But Wade's gang has other plans, and their journey is fraught with danger at every turn. As often happens in Westerns, the demarcation between good and bad becomes a little blurred.
Originally based on a short story by great Western writer Elmore Leonard, 3:10 To Yuma was selected in 2012 to be part of the National Film Registry because of its cultural significance.
Best line: "What are you squeezin' that watch for? Squeezin' that watch ain't gonna stop time."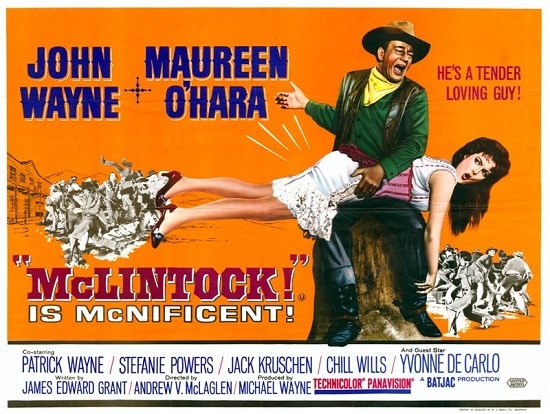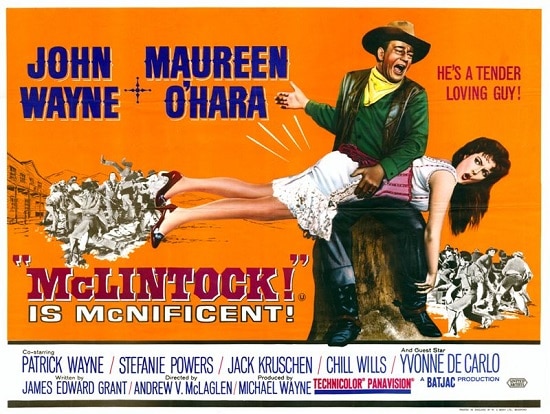 George Washington McLintock, "GW" to friends and foes alike (played by John Wayne), is an aging and wealthy self-made rancher. He has eagerly awaited the return of his daughter Becky, who's been away at school for the last couple years. To his surprise, though, his wife Katherine, who left GW after suspecting adultery, has also returned. And she's intent on taking their daughter back to the state capital with her. That's not the only drama, of course. There are shady bureaucrats, Indians on the verge of forced relocation, plenty of brawls and gunfire, and one of the last and most memorable scenes of cinematic wife spanking.
Best line: "You have to be a man first before you're a gentleman."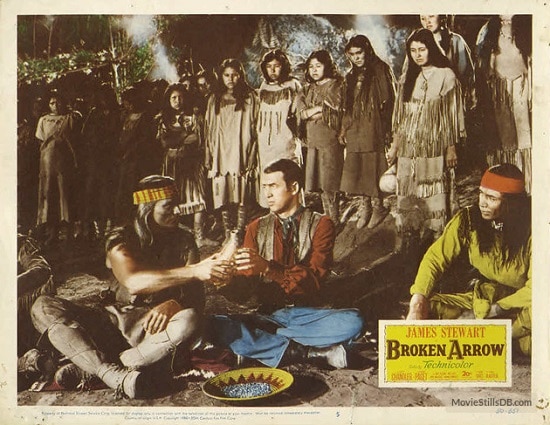 Based on historical characters, but dramatized and fictionalized, of course, this film stars James Stewart as Tom Jeffords, an Army scout and Indian agent who was instrumental in making peace with Chief Cochise and the Apache people. After saving a young Indian boy, Jeffords learns the language and customs of the Apache, and then attempts negotiating for the safe passage of mail riders who are frequently ambushed. He makes a deal, but not everyone agrees with it. Both settlers and Indians are miffed, and it may cost Jeffords everything he holds dear. Broken Arrow was the first Western that took a sympathetic view towards American Indians.
Best line: "To talk of peace is not hard. To live it is very hard."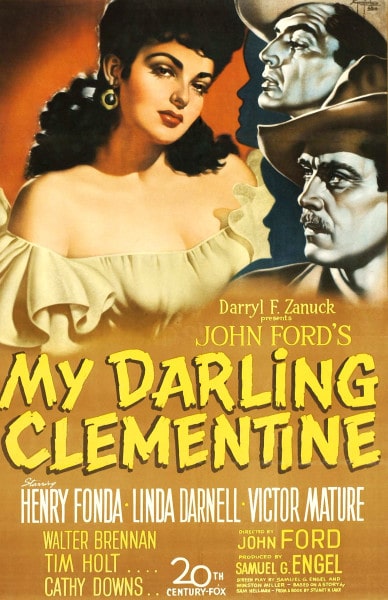 Surprise, surprise, another John Ford film. This one stars Henry Fonda as Wyatt Earp in the period leading up to the gunfight at the OK Corral. Earp and two of his brothers ride into the town of Tombstone, leaving brother James behind to watch the cattle herd. Finding the town mired in lawlessness and without a marshal, Wyatt is the only man willing to handle a dangerous Indian in town. Upon returning to the herd, James is dead and the cattle are stolen. Wyatt vows revenge, and stays in Tombstone as the marshal until the perpetrators are found. You can't be without a love interest, so along the way a gal named Clementine Carter (Linda Darnell) arrives in town and stays in the same hotel as Earp. As with most great Westerns, both sparks and bullets fly in this film.
Best line: "When ya pull a gun, kill a man."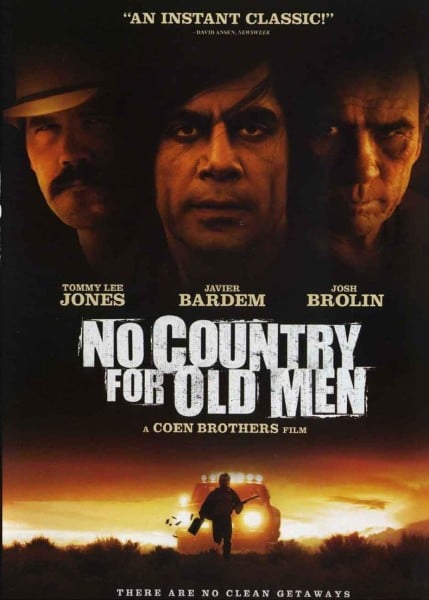 While not fitting neatly into the Western genre, this 2007 thriller definitely has the dusty, country grit that comes with the other films on the list. It won that year's Academy Award for Best Picture, and features one of the scariest villains (Javier Bardem) of all-time.
Set in 1980, Llewelyn Moss (Josh Brolin) finds two million dollars, along with a slew of dead Mexicans, in a desert drug deal gone wrong. He takes the money, but is tracked by hitman Anton Chigurh (Bardem), so he sends his wife away to her mother's house. On the run, Moss finds himself in trouble at every turn, and reluctantly accepts the help of both his wife and Sheriff Ed Tom Bell (Tommy Lee Jones). Gunfights, games of chance, aging lawmen — this film really does carry all the elements of a Western, but with the twist of the modern thriller. In staying with the genre, it may not have a neat and tidy ending, but it's one that leaves you satisfied with the story. The book is great too.
Best line: "I always figured when I got older, God would sorta come inta my life somehow. And he didn't. I don't blame him. If I was him I would have the same opinion of me that he does."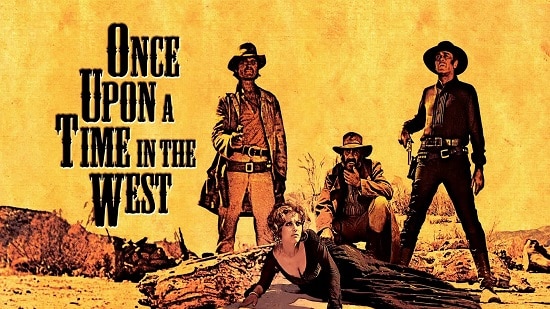 The Good, the Bad and the Ugly was supposed to be Sergio Leone's last Western. But then Paramount Pictures offered him access to Henry Fonda (who plays the villain), and he couldn't say no. Although Clint Eastwood turned down the role of protagonist, Charles Bronson did not, and over time the film has come to be known as one of the best Westerns of all-time, even though it didn't gain critical or box office success when it first came out.
The story revolves around Jill McBain, who has just moved from New Orleans to the Utah frontier, only to find her new husband and his children brutally murdered. She's joined in the hunt for the killer by outlaw Cheyenne and the mysterious fellow named Harmonica (Bronson), who knows a few tunes on both his classic cowboy instrument and his gun.
Famous directors like Martin Scorsese, Quentin Tarantino, and George Lucas credit this film with influencing them, so you know it must be good!
Best line: "How can you trust a man that wears both a belt and suspenders? Man can't even trust his own pants."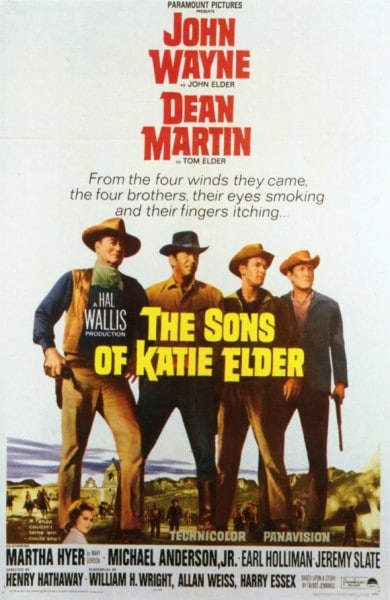 Another John Wayne classic, this one co-stars Dean Martin. Katie Elder had four adult sons: John (Wayne) — an (in)famous gunman, Tom (Martin) — a professional gambler, as well as Bud and Matt. The brothers meet up at their mother's funeral, bemoaning the fact that they shouldn't have neglected her like they did. They'd like to re-take the family ranch, which has been nefariously seized by one of the townspeople. As you can imagine, plenty of ruckus ensues, and the Elder brothers do all they can to make their dear, departed mother proud. The popular 2005 movie Four Brothers is loosely based on this story, with a more modern and urban take, and is also worth a watch (really anything starring Marky Mark is, amirite?).
Best line: "Texas is a woman, she used to say, a big, wild, beautiful woman. You raise a kid to where he's got some size, and there's Texas whispering in his ear and smiling, saying, 'Come and have some fun.' It's hard enough to raise children, she'd say. But when you've got to fight Texas, a mother hasn't a chance."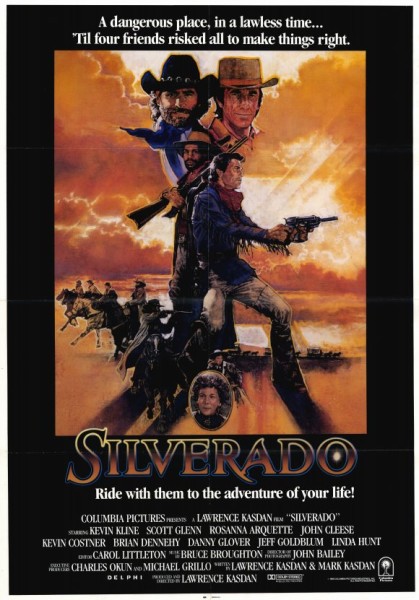 This 1985 flick features quite the ensemble cast: Kevin Costner, Jeff Goldblum, Danny Glover, Brian Dennehy, Linda Hunt, and more. Set in 1880, four men find themselves brought together in the midst of gunfights and jail breakouts. They end up in the town of Silverado, and although they part ways, are quickly reunited by their desire to fight the town's injustices. After fighting common foes, the men also avenge their personal demons, and although they end up going their separate ways, will always retain the kinship of fighting together for the justice of a small Western town.
Best line: "I always figure you might as well approach life like everybody's your friend or nobody is; don't make much difference."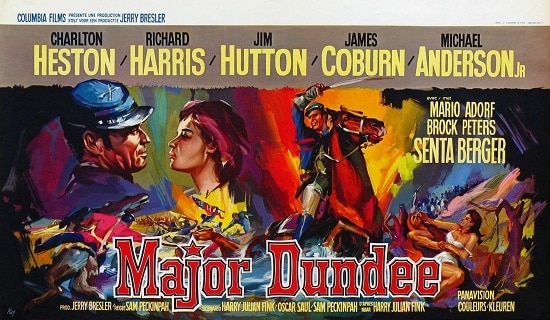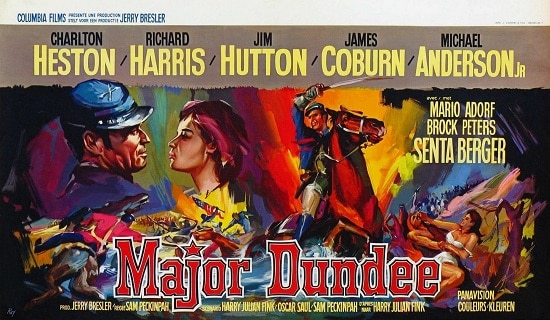 Union cavalry officer Major Amos Dundee (Charlton Heston) has been assigned to a POW camp in New Mexico after making a tactical error in the Battle of Gettysburg. After an Apache war chief named Sierra Charriba, along with his band of comrades, massacres a family of ranchers and a group of cavalrymen, Dundee takes it upon himself to get revenge. So he recruits a private army of Union soldiers, Confederate prisoners, Indian scouts, and even mercenaries. They venture into Mexico to fight the Apache, with whom they engage in several bloody battles. Dundee is able to show off his tactical prowess, and we see how even enemies can come together in the face of a common foe. While this film wasn't held in terribly high regard when it came out, in the last decade or so that tide has been turning; one modern reviewer describes it as "likely the most gritty and realistic Western ever made."
Best line: "I have only three commands. When I signal you to come, you come. When I signal you to charge, you charge. And when I signal you to run, you follow me and run like hell!"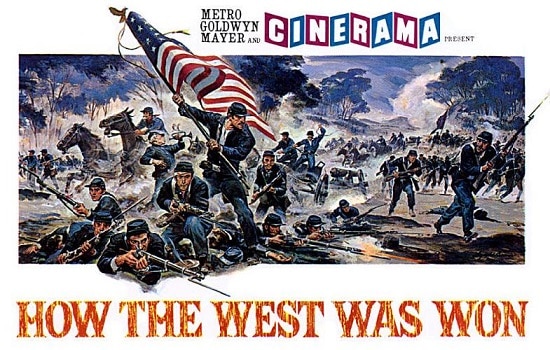 This 1963 film has perhaps the most star-studded cast ever assembled: John Wayne, Gregory Peck, James Stewart, Carroll Baker, Henry Fonda, Debbie Reynolds, and more. It's an epic, so rather than focusing on a single story or time period, it follows four generations of a single family over 50 years in the mid-1800s as they move westward. You get a little bit of everything: river fordings, Indian raids, plains crossings, Civil War battles, gold rushes, railroad construction, and skirmishes with outlaws. Over the course of almost three hours you span nearly every subject covered by the genre. And it's not like today's celebrity-stuffed films that are poorly made and clearly just vying for more eyeballs; How the West Was Won has a perfect 100% rating on Rotten Tomatoes. It's a dang good film, and one that stands out not just among Westerns, but among all genres.
Best line: "The west that was won by its pioneers, settlers, adventurers is long gone now. Yet it is theirs forever, for they left tracks in history that will never be eroded by wind or rain — never plowed under by tractors, never buried in compost of events. Out of the hard simplicity of their lives, out of their vitality, of their hopes and sorrows grew legends of courage and pride to inspire their children and their children's children."
Some Westerns are big-budgeted affairs loaded with stars and running for up to a few hours. While those are great, sometimes you want to see what the smaller-budget guys can do with just a couple good actors and a solid story. That's where Comanche Station comes in, having recently been noted by some as one of the great underrated Westerns. With a running time of just 74 minutes, there's no fluff. When loner Jefferson Cody trades with a band of Comanches to release a white woman, he assumes that getting Mrs. Lowe back to her husband will be a piece of cake. But with a handsome reward on the line for Mrs. Lowe's return and a couple of nasty outlaws, the going ain't so easy.
Best line: "Not talkin' about right. Talkin' about stayin' alive."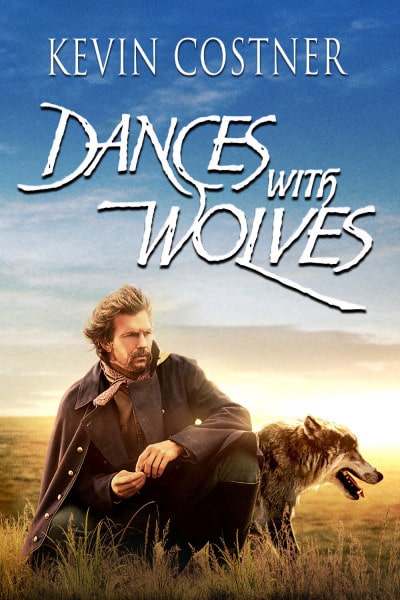 Kevin Costner both starred in and directed this 1990 Best Picture winner (one of only three Westerns to win the prestigious Academy Award). During the Civil War, Lt. John Dunbar becomes a Union hero for an act of bravery he did not intend to commit. Wanting to get away to the Western frontier, he requests a posting at a remote fort. Finding it abandoned, he mans the outpost alone, and quickly befriends not only the local Indians, but a wolf too, which he names Two Socks. He also finds a white woman who's been raised by the tribe, and comes to earn the trust and respect of the native people. This doesn't exactly sit well with the military, though, and Dunbar soon has to choose where his loyalty really lies.
Best line: "It seems every day ends with a miracle here. And whatever God may be, I thank God for this day."
Starring Gary Cooper and Burt Lancaster, 1954's Vera Cruz was one of the first big Westerns to feature morally ambiguous characters who were nonchalant towards violence. It paved the way for those themes to be realized in big Hollywood fashion in the late 50s and 60s.
Set during the Franco-Mexican War of 1861, Cooper plays ex-Confederate soldier Ben Trane. He's gone down to Mexico looking for work as a mercenary and teams up with gunslinger Joe Erin (Lancaster). They are hired by Emperor Maximillian I to escort the Countess Duvarre (Denise Darcel) to the port city of Vera Cruz. Trane and Erin discover that the locomotive they're traveling aboard has a stash of $3 million. As you can imagine, a lot of people want that gold, and I don't need to tell you the rest of the story.
Best line: "Don't take any chances you don't have to. Don't trust nobody you don't have to trust, and don't do no favors you don't have to do."