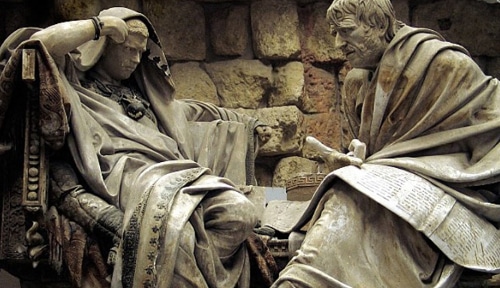 Editor's note: Our recent posts on the simple power of aphorisms and the need to direct your attention towards that which matters most brought to my mind these excerpts from the writings of Seneca. In them, the ancient Stoic philosopher answers the question of why we should continue to study things we already know and continually remind ourselves of advice that the less wise dismiss as merely common sense.
From "On the Value of Advice"
Letter 94, Moral Letters to Lucilius
By Seneca
People say: "What good does it do to point out the obvious?" A great deal of good; for we sometimes know facts without paying attention to them. Advice is not teaching; it merely engages the attention and rouses us, and concentrates the memory, and keeps it from losing grip. We miss much that is set before our very eyes. Advice is, in fact, a sort of exhortation.The mind often tries not to notice even that which lies before our eyes; we must therefore force upon it the knowledge of things that are perfectly well known.
You know that friendship should be scrupulously honored, and yet you do not hold it in honor. You know that a man does wrong in requiring chastity of his wife while he himself is intriguing with the wives of other men; you know that, as your wife should have no dealings with a lover, neither should you yourself with a mistress; and yet you do not act accordingly. Hence, you must be continually brought to remember these facts; for they should not be in storage, but ready for use. And whatever is wholesome should be often discussed and often brought before the mind, so that it may be not only familiar to us, but also ready at hand. And remember, too, that in this way what is clear often becomes clearer.
Precepts which are given are of great weight in themselves, whether they be woven into the fabric of song, or condensed into prose proverbs, like the famous Wisdom of Cato: "Buy not what you need, but what you must have. That which you do not need, is dear even at a farthing." Or those oracular or oracular-like replies, such as: "Be thrifty with time!" "Know thyself!" Shall you need to be told the meaning when someone repeats to you lines like these:
Forgetting trouble is the way to cure it.

Fortune favors the brave, but the coward is foiled by his faint heart.
Such maxims need no special pleader; they go straight to our emotions, and help us simply because Nature is exercising her proper function. The soul carries within itself the seed of everything that is honorable, and this seed is stirred to growth by advice, as a spark that is fanned by a gentle breeze develops its natural fire. Virtue is aroused by a touch, a shock. Moreover, there are certain things which, though in the mind, yet are not ready at hand but begin to function easily as soon as they are put into words. Certain things lie scattered about in various places, and it is impossible for the unpracticed mind to arrange them in order. Therefore, we should bring them into unity, and join them, so that they may be more powerful and more of an uplift to the soul.