March 4, 1865; Washington, D.C.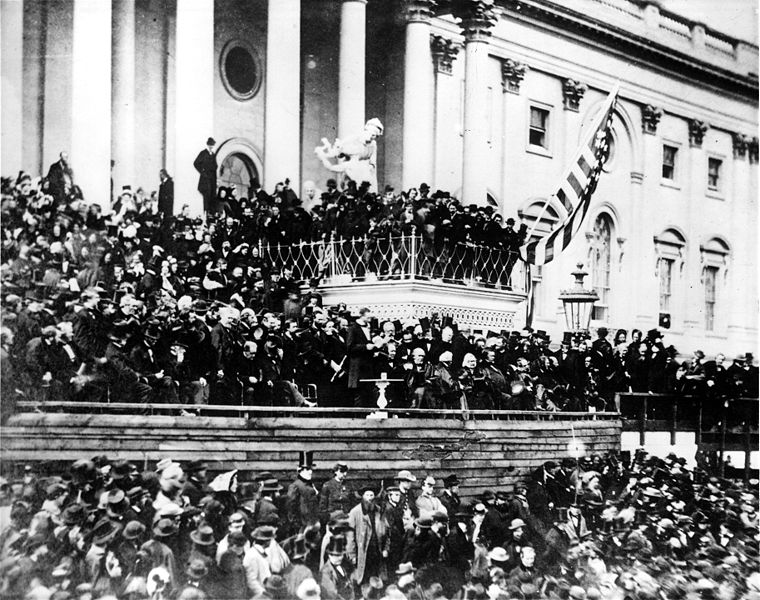 The Union's victory was but a month away as Abraham Lincoln began his second term as president of a bitterly ruptured United States. Like the Gettysburg Address, Lincoln keeps this speech only as long as needful. While there are those who still debate whether the Civil War was truly fought over slavery or not, Lincoln certainly believed so. To him, slavery was a great national sin, and the blood shed during the war was the atoning sacrifice for that evil.
He does not relish the prospect of coming victory; instead, he appeals to his countrymen to remember that the war was truly fought between brothers. When the war was over and the Confederacy forced to return to the Union, Lincoln was prepared to treat the South with relative leniency. He did not believe secession was truly possible, and thus the South had never truly left the Union. Reconstruction would not mean vengeance, but the return home of a terribly errant son.
Worthy Excerpt:
Fondly do we hope, fervently do we pray, that this mighty scourge of war may speedily pass away. Yet, if God wills that it continue until all the wealth piled by the bondsman's two hundred and fifty years of unrequited toil shall be sunk, and until every drop of blood drawn with the lash shall be paid by another drawn with the sword, as was said three thousand years ago, so still it must be said "the judgments of the Lord are true and righteous altogether."

With malice toward none, with charity for all, with firmness in the right as God gives us to see the right, let us strive on to finish the work we are in, to bind up the nation's wounds, to care for him who shall have borne the battle and for his widow and his orphan, to do all which may achieve and cherish a just and lasting peace among ourselves and with all nations.
Read full text of speech here.
March 23, 1775; Richmond, VA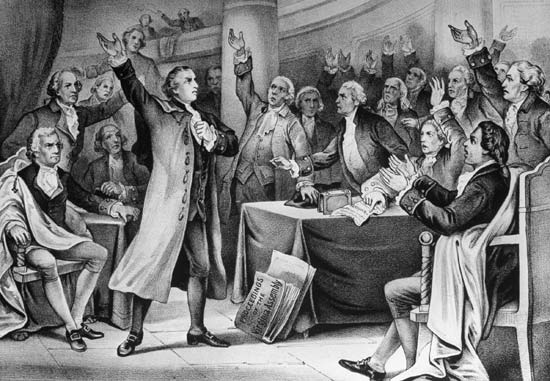 For a decade, revolutionary sentiments had been brewing in Virginia and Patrick Henry had always been in the thick of it, stirring the pot. Henry became particularly enflamed by the Stamp Act of 1764, which prompted him to give his so-called "treason speech," spurring the Burgesses to pass the Virginia Resolves banning the act. Tensions between the colonies and the Crown continued to build, and in 1775, Massachusetts patriots began making preparations for war. Henry believed that Virginia should follow suit. At a meeting held in St. John's Church in Richmond, Henry presented resolutions to make ready Virginia's defenses. Seeking to persuade his fellow delegates of the urgency of his message, he gave a rousing and memorable speech, climaxing is that now famous line, "Give me liberty of give me death!"
Worthy Excerpt:
The battle, sir, is not to the strong alone; it is to the vigilant, the active, the brave. Besides, sir, we have no election. If we were base enough to desire it, it is now too late to retire from the contest. There is no retreat but in submission and slavery! Our chains are forged! Their clanking may be heard on the plains of Boston! The war is inevitable — and let it come! I repeat it, sir, let it come!

It is in vain, sir, to extenuate the matter. Gentlemen may cry, "Peace! Peace!" — but there is no peace. The war is actually begun! The next gale that sweeps from the north will bring to our ears the clash of resounding arms! Our brethren are already in the field! Why stand we here idle? What is it that gentlemen wish? What would they have? Is life so dear, or peace so sweet, as to be purchased at the price of chains and slavery? Forbid it, Almighty God! I know not what course others may take; but as for me, give me liberty, or give me death!
Read full text of speech here.
June 6, 1984; Pointe du Hoc, France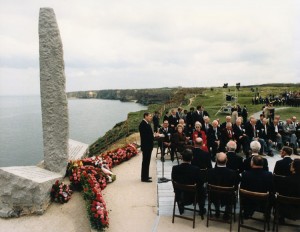 What the Army Rangers did on D-Day at Pointe Du Hoc is a tale every man worth his salt should be familiar with. Pointe du Hoc was a sheer 100 foot cliff located in-between Omaha and Utah beaches. Perched atop the cliff sat six casemates capable of being manned, armed, and taking out the men on the beaches. As the Germans fired upon them, the Rangers scaled the cliff using ropes and ladders, found the guns (which had been moved from the casemates) and destroyed them. Without reinforcements for two days, the Rangers alone held their position and fended off German counterattacks. These skirmishes proved deadly; only 90 of the original 225 Ranger landing force survived.
On the 40th anniversary of D-Day, President Reagan gave a moving tribute to these men, many of whom were present at the occasion.
Worthy Excerpt:
These are the boys of Pointe du Hoc. These are the men who took the cliffs. These are the champions who helped free a continent. These are the heroes who helped end a war.

Gentlemen, I look at you and I think of the words of Stephen Spender's poem. You are men who in your 'lives fought for life…and left the vivid air signed with your honor'…

Forty summers have passed since the battle that you fought here. You were young the day you took these cliffs; some of you were hardly more than boys, with the deepest joys of life before you. Yet you risked everything here. Why? Why did you do it? What impelled you to put aside the instinct for self-preservation and risk your lives to take these cliffs? What inspired all the men of the armies that met here? We look at you, and somehow we know the answer. It was faith, and belief; it was loyalty and love.

The men of Normandy had faith that what they were doing was right, faith that they fought for all humanity, faith that a just God would grant them mercy on this beachhead or on the next. It was the deep knowledge — and pray God we have not lost it — that there is a profound moral difference between the use of force for liberation and the use of force for conquest. You were here to liberate, not to conquer, and so you and those others did not doubt your cause. And you were right not to doubt.
Read full text of speech here.
John F. Kennedy, "The Decision to Go to the Moon"
May 25, 1961; Houston, TX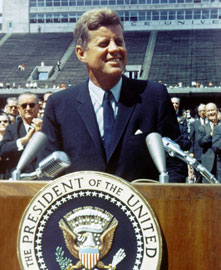 On April 12, 1961, the Soviets launched the first man into space. Khrushchev used this triumph as prime evidence of communism's superiority over decadent capitalism. Embarrassed, the United States feared it was falling behind the Soviet Union and losing the "space race." After consulting with political and NASA officials, Kennedy decided it was time for America to boldly go where no man had gone before by putting a man on the moon. The feat would not only catapult the nation over the Soviet Union, but also allow man to more fully explore the mysteries of space. And this mission would be accomplished by the end of the 1960′s. When was the last time a president had the cajones to publicly issue a straightforward, ambitious goal and set a timeline for its success?
Worthy Excerpt:
There is no strife, no prejudice, no national conflict in outer space as yet. Its hazards are hostile to us all. Its conquest deserves the best of all mankind, and its opportunity for peaceful cooperation many never come again. But why, some say, the moon? Why choose this as our goal? And they may well ask why climb the highest mountain? Why, 35 years ago, fly the Atlantic? Why does Rice play Texas?

We choose to go to the moon. We choose to go to the moon in this decade and do the other things, not because they are easy, but because they are hard, because that goal will serve to organize and measure the best of our energies and skills, because that challenge is one that we are willing to accept, one we are unwilling to postpone, and one which we intend to win, and the others, too.
Read full text of speech here.
July 5, 1852; Rochester, NY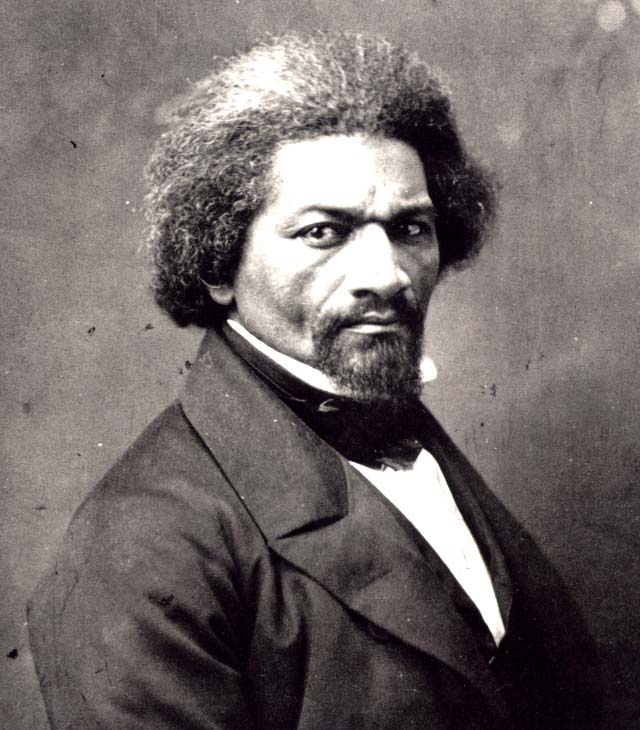 Frederick Douglass, former slave, abolitionist, and engineer on the underground railroad, was a popular speaker on the anti-slavery circuit. He traveled thousands of miles each year, giving hundreds of speeches. Yet the money he earned from lecturing was not enough to become financially comfortable, and he and his family struggled. Douglass was disillusioned by the repercussions of the Fugitive Slave Act, and his abolitionist leanings grew more strident and bold. If the citizens of Rochester, New York had expected to be flattered by Douglass when they asked him to speak on the Fourth, they were soon disavowed of that idea. Douglass took the opportunity to defiantly point out the ripe hypocrisy of a nation celebrating their ideals of freedom and equality while simultaneously mired in the evil of slavery. While the speech surely made even the most liberal audience members squirm; nonetheless, the crowed let loose in "universal applause" when Douglass finished.
Worthy Excerpt:
I am not included within the pale of this glorious anniversary! Your high independence only reveals the immeasurable distance between us. The blessings in which you this day rejoice are not enjoyed in common. The rich inheritance of justice, liberty, prosperity, and independence bequeathed by your fathers is shared by you, not by me. The sunlight that brought life and healing to you has brought stripes and death to me. This Fourth of July is yours, not mine. You may rejoice, I must mourn. To drag a man in fetters into the grand illuminated temple of liberty, and call upon him to join you in joyous anthems, were inhuman mockery and sacrilegious irony. Do you mean, citizens, to mock me, by asking me to speak today?
Read full text of speech here.
May 12, 1962; West Point, New York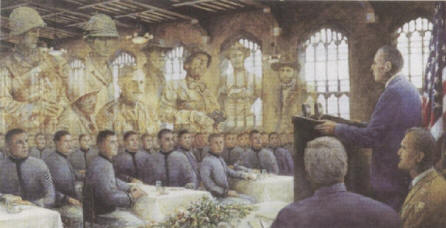 General Douglas MacArthur, General of the Army and a man who fought in three wars, knew something of "Duty, Honor, Country." In 1962, MacArthur was in the twilight of his life and came to West Point to accept the Sylvanus Thayer Award and participate in his final cadet roll call. His address reflects upon and celebrates the brave and courageous men who came before, men he personally led, men who embodied "Duty, Honor, Country."
There are many great speeches in this list, but I hope you will pause to read the entirety of this one. Picking an excerpt was quite difficult, as so many of the passages are inspiring. A must read for all men.
Worthy Excerpt:
You are the leaven which binds together the entire fabric of our national system of defense. From your ranks come the great captains who hold the nation's destiny in their hands the moment the war tocsin sounds. The Long Gray Line has never failed us. Were you to do so, a million ghosts in olive drab, in brown khaki, in blue and gray, would rise from their white crosses thundering those magic words: Duty, Honor, Country.

This does not mean that you are war mongers.

On the contrary, the soldier, above all other people, prays for peace, for he must suffer and bear the deepest wounds and scars of war.

But always in our ears ring the ominous words of Plato, that wisest of all philosophers: "Only the dead have seen the end of war."

The shadows are lengthening for me. The twilight is here. My days of old have vanished, tone and tint. They have gone glimmering through the dreams of things that were. Their memory is one of wondrous beauty, watered by tears, and coaxed and caressed by the smiles of yesterday. I listen vainly, but with thirsty ears, for the witching melody of faint bugles blowing reveille, of far drums beating the long roll. In my dreams I hear again the crash of guns, the rattle of musketry, the strange, mournful mutter of the battlefield.

But in the evening of my memory, always I come back to West Point.

Always there echoes and re-echoes: Duty, Honor, Country.
Read full text of speech here.
April 23, 1910; Paris, France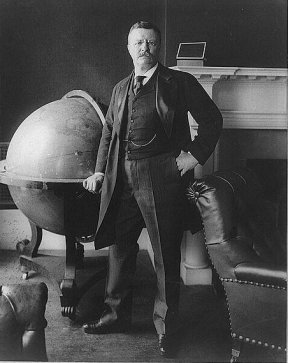 At the end of Theodore Roosevelt's second term in office, he set out to tour Africa and Europe, hoping to allow his successor, President Taft, to step into the enormous shoes TR had left and become his own man. After a safari in Africa, he traveled throughout Europe. While in France, he was invited to speak at the historic University of Paris. Roosevelt used the opportunity to deliver a powerful address on the requirements of citizenship, the characteristics which would keep democracies like France and the United States robust and strong. This speech is famous for the "man in the arena" quote, but the entire speech is an absolute must read.
Worthy Excerpt:
Let the man of learning, the man of lettered leisure, beware of that queer and cheap temptation to pose to himself and to others as a cynic, as the man who has outgrown emotions and beliefs, the man to whom good and evil are as one. The poorest way to face life is to face it with a sneer. There are many men who feel a kind of twister pride in cynicism; there are many who confine themselves to criticism of the way others do what they themselves dare not even attempt. There is no more unhealthy being, no man less worthy of respect, than he who either really holds, or feigns to hold, an attitude of sneering disbelief toward all that is great and lofty, whether in achievement or in that noble effort which, even if it fails, comes to second achievement. A cynical habit of thought and speech, a readiness to criticise work which the critic himself never tries to perform, an intellectual aloofness which will not accept contact with life's realities – all these are marks, not as the possessor would fain to think, of superiority but of weakness. They mark the men unfit to bear their part painfully in the stern strife of living, who seek, in the affection of contempt for the achievements of others, to hide from others and from themselves in their own weakness. The rôle is easy; there is none easier, save only the rôle of the man who sneers alike at both criticism and performance.

It is not the critic who counts; not the man who points out how the strong man stumbles, or where the doer of deeds could have done them better. The credit belongs to the man who is actually in the arena, whose face is marred by dust and sweat and blood; who strives valiantly; who errs, who comes short again and again, because there is no effort without error and shortcoming; but who does actually strive to do the deeds; who knows great enthusiasms, the great devotions; who spends himself in a worthy cause; who at the best knows in the end the triumph of high achievement, and who at the worst, if he fails, at least fails while daring greatly, so that his place shall never be with those cold and timid souls who neither know victory nor defeat.
Read full text of speech here.
May 13, 1940; House of Commons, London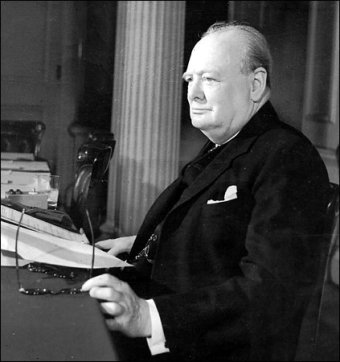 Winston Churchill's first speech to the House of Commons as Britain's new Prime Minister got off to an auspicious start. His welcome to that assembly was quite tepid, while outgoing PM Neville Chamberlain was enthusiastically applauded (the world did not yet know just how disastrous his appeasement policies would prove and did not trust Churchill). But Churchill's first speech, the first of three powerful oratories he gave during the Battle of France, would prove that England was in more than capable hands. A seemingly unstoppable Hitler was advancing rapidly across Europe, and Churchill wasted no time in calling his people to arms. While TR had actually been the first to utter the phrase, "blood, sweat and tears," it was Churchill's use of these words that would leave an inedible and inspiring impression upon the world's mind.
Worthy Excerpt
I say to the House as I said to ministers who have joined this government, I have nothing to offer but blood, toil, tears, and sweat. We have before us an ordeal of the most grievous kind. We have before us many, many months of struggle and suffering.

You ask, what is our policy? I say it is to wage war by land, sea, and air. War with all our might and with all the strength God has given us, and to wage war against a monstrous tyranny never surpassed in the dark and lamentable catalogue of human crime. That is our policy.

You ask, what is our aim? I can answer in one word. It is victory. Victory at all costs – Victory in spite of all terrors – Victory, however long and hard the road may be, for without victory there is no survival.
Read full text of speech here.
December 8, 1941; Washington, D.C.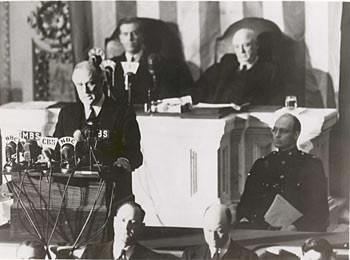 The attack on Pearl Harbor, December 7, 1941, shocked the United States to its core, outraging a nation that had hoped to stay out of the mounting turmoil in Asia and Europe. Overnight, the country united in desire to enter the war. The day after the attacks, FDR addressed the nation in a brief, but electrifying speech, declaring war on Japan and giving assurance that the United States would attain victory.
Be sure to listen to the audio of the speech. Imagine every American family, rattled and worried, listening around the radio to what their president would say. They knew their whole world was about to change forever. Listen to the reaction of Congress as they applaud and cheer FDR's words. The emotion is so very real and palatable; it truly transports you back to that critical moment in time.
Worthy Excerpt:
Mr. Vice President, Mr. Speaker, members of the Senate and the House of Representatives: yesterday, December 7, 1941-a date which will live in infamy-the United States of America was suddenly and deliberately attacked by naval and air forces of the Empire of Japan…..

But always will our whole nation remember the character of the onslaught against us. No matter how long it may take us to overcome this premeditated invasion, the American people in their righteous might will win through to absolute victory.

I believe that I interpret the will of the Congress and of the people when I assert that we will not only defend ourselves to the uttermost but will make it very certain that this form of treachery shall never again endanger us.

Hostilities exist. There is no blinking at the fact that our people, our territory and our interests are in grave danger.

With confidence in our armed forces-with the unbounding determination of our people-we will gain the inevitable triumph-so help us God.
Read the full text here.
Jesus Christ, "The Sermon on the Mount"
33 A.D.; Jerusalem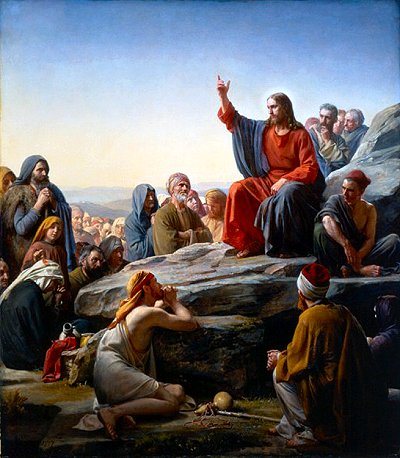 Whether one believes that Jesus of Nazareth was the Son of God or simply a wise teacher, it is impossible to deny the impact of perhaps the world's most famous speech: The Sermon on the Mount. No speech has been more pondered, more influential, or more quoted. It introduced a prayer now familiar the world over and uttered in trenches, churches, and bedsides around the globe. It introduced a code of conduct billions of believers have adopted as their lofty, if not not always attainable, goal. While much of the sermon has roots in Jewish law, the advice given in the Beatitudes represented a dramatic and radical departure from the eye for an eye system of justice known in the ancient world. The standards of behavior outlined in the sermon have given believers and non-believers alike plenty to contemplate and discuss in the two thousand years since it was given.
Worthy Excerpt:
Blessed are the poor in spirit: for theirs is the kingdom of heaven.

Blessed are they that mourn: for they shall be comforted.

Blessed are the meek: for they shall inherit the earth.

Blessed are they which do hunger and thirst after
righteousness: for they shall be filled.

Blessed are the merciful: for they shall obtain mercy.

Blessed are the pure in heart: for they shall see God.

Blessed are the peacemakers: for they shall be called the
children of God.

Blessed are they which are persecuted for righteousness' sake:
for theirs is the kingdom of heaven.
See Matthew Chapter 5-7 for full text.
August 28, 1963; Washington, D.C.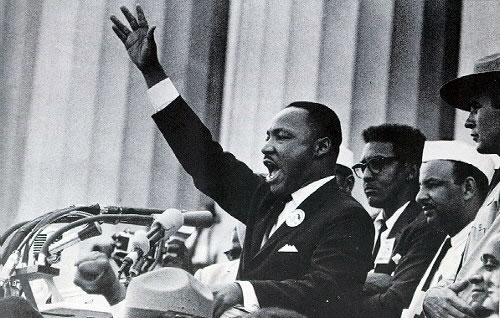 Martin Luther King Jr.'s "I Have a Dream Speech" is hands down one of the greatest, if not the greatest, pieces of oratory in American history. King's charisma, skills in rhetoric, and passion, place him in a league of his own. A century after slavery ended, a century after African-Americans were promised full equality, black children were being hosed down in the streets, spat upon, bused to separate schools, turned away from restaurants, and denied treatment as full human beings. In this midst of this egregious track record, Dr. King voiced a clear, compelling message of hope, a dream that things would not always be as they were, and that a new day was coming.
Many people have seen excerpts of the speech, but a surprisingly number of adults my age I have never sat down and watched the speech in its entirety. I challenge you to do just that. It is just as electrifying and moving today as it was in 1963.
Worthy Excerpt:
I have a dream that one day down in Alabama, with its vicious racists, with its governor having his lips dripping with the words of interposition and nullification – one day right there in Alabama little black boys and black girls will be able to join hands with little white boys and white girls as sisters and brothers.

I have a dream today.

I have a dream that one day every valley shall be exalted, and every hill and mountain shall be made low, the rough places will be made plain, and the crooked places will be made straight, and the glory of the Lord shall be revealed and all flesh shall see it together.

This is our hope. This is the faith that I go back to the South with. With this faith we will be able to hew out of the mountain of despair a stone of hope. With this faith we will be able to transform the jangling discords of our nation into a beautiful symphony of brotherhood. With this faith we will be able to work together, to pray together, to struggle together, to go to jail together, to stand up for freedom together, knowing that we will be free one day.

This will be the day, this will be the day when all of God's children will be able to sing with new meaning "My country 'tis of thee, sweet land of liberty, of thee I sing. Land where my father's died, land of the Pilgrim's pride, from every mountainside, let freedom ring!"
Read full text of speech here.
Listen to the speech here.