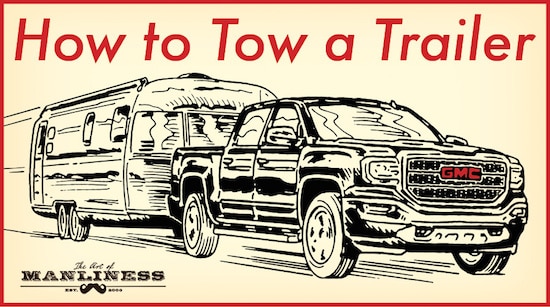 | | |
| --- | --- |
| | This post is brought to you by the 2016 GMC Sierra. Through precision, great trucks and great men are made. THIS IS THE PRECISION OF PROFESSIONAL GRADE. What's this? |
It's not enough to just have a great truck and a great trailer. You need to know how to properly use them first.
It's to that end that we've consulted a few experts in the field to put together this: a critical step-by-step guide to towing a trailer. Do try this at home.
Know Your Towing Capacity
Like with anything in life, it's important to understand your limits. In this case, before you connect a trailer to your truck, you'll need to know your truck's GCWR, or gross combination weight rating. This will tell you the maximum allowable combined mass of your truck, passengers and cargo in the tow vehicle, plus the mass of the trailer and the cargo in the trailer. Relax, it's a lot less math-y than it sounds. Just consult your truck's manual for the necessary specifications.
Align Your Truck and Your Trailer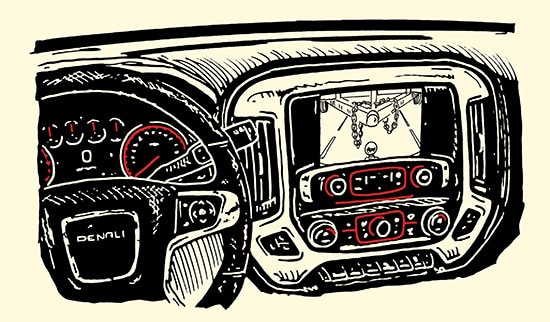 Slow and steady is the key here. Try to center your truck with your trailer before backing up. This step is made infinitely easier if your vehicle has a rear-vision camera built into the console. If not, having a spotter to assist is a wise idea.
Find the Right Hitch
The good old ball hitch mounted to a draw bar or step bumper is ideal for light to medium loads. Heavier trailer-ing will require a weight-distribution hitch, which will distribute some of the weight up front. Large travel trailers and horse trailers might need a fifth wheel or gooseneck hitch.
Unite Truck to Trailer
When using the ball hitch or weight-distribution hitch, you'll elevate the trailer with a tongue jack until it matches up to your truck's hitch platform. Keeping your hitch unlocked, you'll then lower the trailer onto the ball. Use a padlock or coupler safety pin to secure the tongue in place.
Chain It Up
Always attach safety chains between your vehicle and your trailer. You'll want to cross them under the tongue of the trailer as a precaution in the event that the hitch gets separated. Should this happen, you will have increased the chance that the trailer doesn't drag. And that's a good thing. Oh, important tip: make sure to leave enough slack in the chains so you can corner in your truck without impeding the movement of the trailer.
Let There Be Lights
Your next move is to make sure your trailer displays your truck's turn signals and brake lights. Most newer trucks, including the 2016 GMC Sierra, come with a "plug and play" system that will allow you to directly connect the wiring harness from the trailer to the truck. Simple. Easy. Innovation is a great thing.
Weigh Your Hitch
You'll want an accurate measure of how much weight is borne by your hitch. The weight should be about 10% to 12% of your trailer's total weight. An equalizer bar can help shift the load between the truck's front and rear axles, if you want to take some pressure off the hitch (never a bad idea).
Secure Your Valuables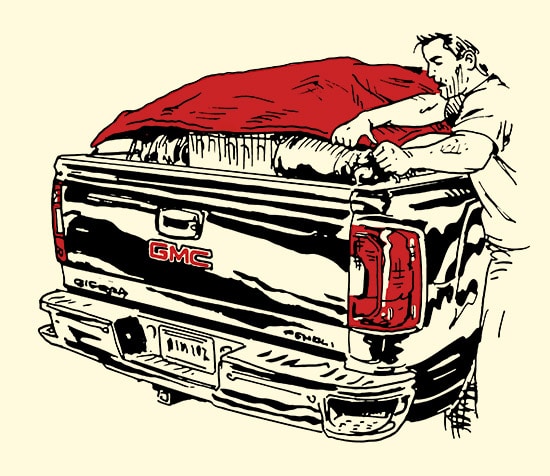 If you're going to be loading additional cargo into your truck bed, you'll want to make sure everything is tied down and secured under a tonneau cover. The 2016 GMC Sierra makes loading and unloading the bed more efficient with its EZ Lift-and-Lower tailgate, as well as its cargo box LED lighting system that makes inspecting gear in the dark possible.
Get to Know Your Trailer
You'll want to make short practice runs in some sparsely inhabited places with your trailer attached before taking it out into traffic. First, get to know the height and length of your trailer using a tape measure, to make sure you can fit under and through important passages. Practice using your side mirrors. Next, get used to accelerating and braking more slowly with the extra weight. If you're towing with the 2016 GMC Sierra, you can use the truck's Integrated Trailer Brake Control, which allows you to sync up the trailer with the Sierra's antilock brake system to help provide immediate and measured brake force.
Hit the Road and Stay Safe
The road is long. The road is hard. Things happen. So make sure you check, double check, then triple check your connection often when pulling over to get gas or grab something to eat. And if you're in a 2016 GMC Sierra, you'll be able to take advantage of capabilities like the Trailer Sway Control feature (helps control excessive trailer movement by applying the vehicle and/or trailer brakes), Hill Descent Control (allows for controlled descent when traveling downhill) and Hill Start Assist (provides extra time to switch from brake to accelerator in order to prevent rollback). A safe ride is a comfortable ride.
Watch the Tank
You're heavier now, so expect to use more gas along your journey than usual. Oh well, just think of it as an excuse to stretch your legs.