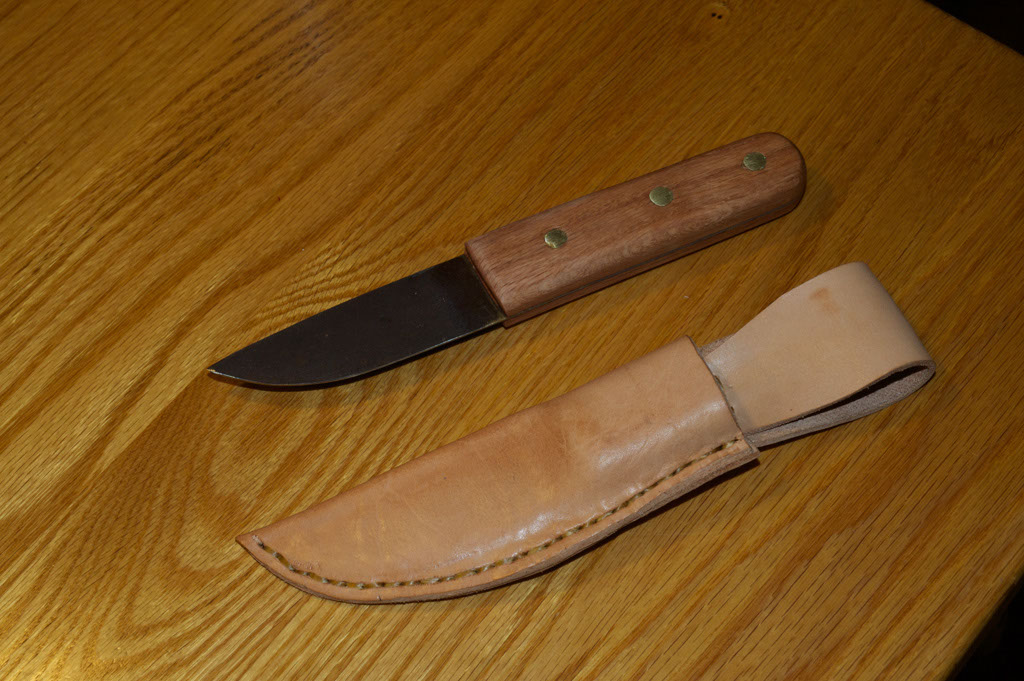 Sometimes you want an item close at hand: not in a pocket, but right there where you need it. A pocket watch, compass, knife, cell phone, or any other item you don't want to dig for are all great candidates for a leather sheath. You might want to make something to hold a multi-tool or any specialized tool you may want to keep handy at all times. If you're a widget lover and can't find a case for your widget, just substitute widget wherever it says knife.
This article is useful for the knife you (might have) made, but also teaches the method of wet-shaping leather. When saturated, leather can be stretched and molded to fit different objects.
Materials and Tools
Leather, medium weight (5 to 6 ounces)
Rotary cutter or X-Acto knife
Pencil
Cardboard from file folder
Rowel wheel
Fid
Groover tool
Waxed artificial sinew or thread
Leather-stitching needles
Pie pan of water
Spring clips
Saran wrap
Tape
Dishtowel
How to Make a Leather Sheath



Step 1: Draw Your Pattern
Step 2: Cut Out and Assemble Your Pattern

Step 3: Trace and Cut Your Piece of Leather

Step 4: Start Forming the Leather
Step 5: Trim the Sheath and Prepare to Stitch the Seam
Using the rotary cutter, trim the sheath to size by taking off the rough edges and following the contour of the blade and handle. You're cutting through two layers of leather that has been water-hardened so it'll take a little more pressure. Go slow and don't cut yourself.
Step 6: Sew the Belt Loop in Place

It's much easier to sew the belt loop now before stitching up the sheath. Fold your belt flap over to the front and adjust it so it's the size you want, and trim it to size. It should fasten just below the top of the sheath. Any deeper and you may run into problems with the handle not seating well in the sheath.
Step 7: Sew the Seam
Once you reach the tip of your sheath, turn around and go up from the bottom, doing the opposite of what you just did. The effect is to create a stitch that will not unravel, and with the groove in the leather, the thread is protected and sits flush or below the surface of the leather. Tie off your knots, then thread your needle in and out the end holes a few times, finishing by threading the needle through one layer of leather and then pull tight. Cut the lacing flush with the seam and it will be hidden.
Using the wooden end of your fid, burnish the seam of your sheath to even out the stitching and push the stitches down into the sheath.
Step 8: Insert Knife or Other Object