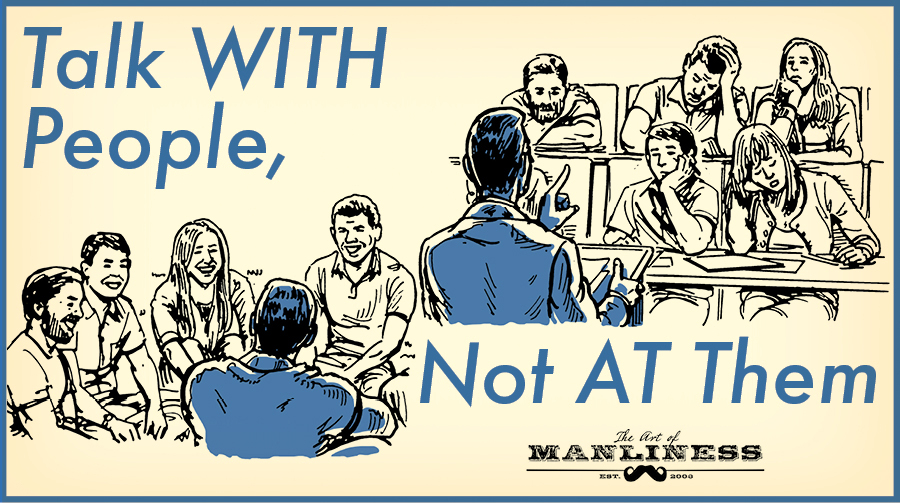 One of the insidious things about trying to judge our own social skills, is that if an interaction went well for us, then we assume the other person thought it went well too. While you've probably never consciously thought about it, if you had a good time talking to someone, you think they felt the same. But this just isn't the case. It's very possible for you to walk away from an interaction feeling grand, while the other person walks away feeling annoyed, bored, or burdened.
What usually happens in these lopsided engagements is that you talked a lot about yourself and your interests, an act which is enjoyable and makes humans happy. We like to talk about ourselves! But, the other person didn't get to talk much about him or herself, and thus left the conversation without a corresponding level of elevation.
While dominating a conversation simply by talking a lot is almost guaranteed to be a charm-killer, the worst kind of one-sided interaction is when you talk at someone, rather than with them.
Talking At Vs. Talking With
Valerie White and (former AoM podcast guest) Ann Demarais, doctors of psychology and authors of First Impressions, define the "talking at" dynamic as "forcing others to react rather than interact." It manifests itself when one party takes on the role of teller/entertainer, and the other is forced into the role of audience.
While being part of an audience can be enjoyable when that is what one is expecting and desiring (e.g., watching a movie), people do not expect to be an audience member during face-to-face social interactions. Feeling like a spectator in this context is dull and irritating, because the role is so passive. A conversation is a cooperative, almost artistic endeavor — much like symphonic music — in which each person gets satisfaction from engaging, contributing, creating. They don't want to watch and clap.
Demarais and White describe 4 common forms that "talking at" takes, each of which can be flipped in a way that gets you "talking with" your social partner:
Lecturing
When you're in lecturing mode, you're imparting facts in a very one-sided way. You want to tell someone something, but you're not expecting or eliciting a real response. They're the passive audience for your knowledge dump. Lecturing feels great for the lecturer — you're amped up on the status you get from feeling in the know, and sharing information you hold as uniquely yours. But your listener is likely to see you as boring and self-important.
How to share knowledge with your social partner. Talk about subjects in which you and your partner are mutually interested, and watch for signs that they're engaged — "Uh-huhs," nodding, saying things like "That's interesting." In the absence of such cues, stop your monologue. And even when they are manifested, pause intermittently to see if the other person wants to respond, or add something, or has a question. If they don't interject anything, you should probably wrap it up and change the subject.
Additionally, how you introduce a subject matters, as Demarias and White explain:
"A hallmark of a lecture is the speaker's implicit ownership of the information.

When you present something as your own, you may intend to appear smart but actually may appear bombastic and egotistical. On the other hand, when you mention where you learned your information—as in 'I read an editorial in the paper that said…'—or the genesis of your idea—as in 'I saw something on TV, and then thought…'—you show an open mind and a more modest assessment of your own intellectual value."
When you say, "I heard/read X the other day," people don't feel like you've already fixed your opinion about it, but rather that you're opening up a dialogue on the subject, making them more likely to offer their own thoughts and engage with you.
Storytelling
The great paradox of stories is that they can be both the most compelling and the most boring form of communication. A good story can entertain, engage, and build connection. But as Demarias and White observe, stories can easily go wrong when they're "long, detailed, and about people your conversational partner doesn't know."
How to share stories with your social partner. Bad storytelling is an easy trap to fall into, because the characters and plots in our anecdotes seem so interesting and salient to us. We know our friends, and children, and boss — they loom large in our own lives, and we can vividly picture their facial expressions and have all the context to understand why their behavior is so adorable/comical/outrageous. It's subconsciously difficult to realize that other people, who lack this context, won't find these people and places equally compelling.
But they don't. The difference can be likened to the way you're interested in a story about your favorite NBA player, but have no interest in news about a professional Chinese athlete you've never heard of. Unless a story connects to universal aspects of the human experience (training for a race; dealing with an incompetent boss; getting in an accident) or intersects in some way with the other person's life, it's going to be Dullsville.
Even if a story does include those elements (touches on shared human experience; connects with the other person's life), you should still keep it short and to the point. Dole out the story in small chunks, watching to see if the other person shows interest and asks things like, "What did you decide to do?" or "How did he respond to that?" before continuing the tale.
When a story of any kind goes on too long, you turn your social partner into an audience member who passively spectates instead of actively engages.
Sermonizing
Sermonizing occurs when you're trying to persuade someone to your point of view. The subject matter is usually something around morality, religion, or politics, and while this kind of conversational mode can be okay in the company of long-time friends and family who enjoy spirited debate and verbal jousting, it's a turn-off for new acquaintances who don't know you well enough to put your opinions into context and to realize there's more to you than a zeal for some particular issue. They're likely to get defensive or disgusted or just plain annoyed.
How to have a weighty discussion with your social partner. You don't have to rigidly follow the old adage about avoiding talk of politics, religion, and money, even with new people, as long as you follow a few guidelines we've offered here, the gist of which is to strive to have a discussion rather than an argument. A wise writer put the distinction this way:
"in discussion you are searching for the truth, and in argument you want to prove that you are right. In discussion, therefore, you are anxious to know your neighbor's views, and you listen to him. In argument, you don't care anything about his opinions, you want him to hear yours."
When you're aiming a sermon at someone, Demarias and White note, "The implicit message is 'you're wrong and I'm right.'" When you're having a discussion with them, in contrast, you seek to understand how they've arrived at their convictions, where your positions differ, and the common ground you share.
Telling Jokes
A great sense of humor is one of the most charming of qualities. But too much humor reaches a tipping point where it stops adding to the collective "music" of the conversation and becomes a one-sided performance, turning the speaker into an entertainer and the listener into an audience. Instead of getting to interact, the latter is forced to simply react to the constant stream of quips and witticisms — a role for which they soon grow bored.
How to share humor with your social partner. Jokes serve better as the seasoning of a conversation, rather than its main dish. Instead of interspersing everything you say with a quip, just pepper them in here and there between sustained stretches of neutral talking and showing sincere interest in the other person.
When it comes to being socially adept, Demarias and White note that "how you talk about topics matters more than what you actually talk about. You can make a fascinating ethical issue boring if you simply lecture someone about it. On the other hand, you can turn your model airplane hobby into a stimulating conversational topic if you talk about it in a fun and engaging manner."
To avoid your conversations turning into one-sided monologues where you simply talk at people, toss out subjects of reciprocal interest and see what people bite on; like volleyball players, hit the ball back and forth over the net. Show that you're curious, open-minded, and interested in other people's experiences and perspectives. Interact rather than making the other person solely react to what you say and do; create a little theater/dialogue/symposium/comedy together, rather than having them watch you from the gallery.
Create something special with the people you meet.