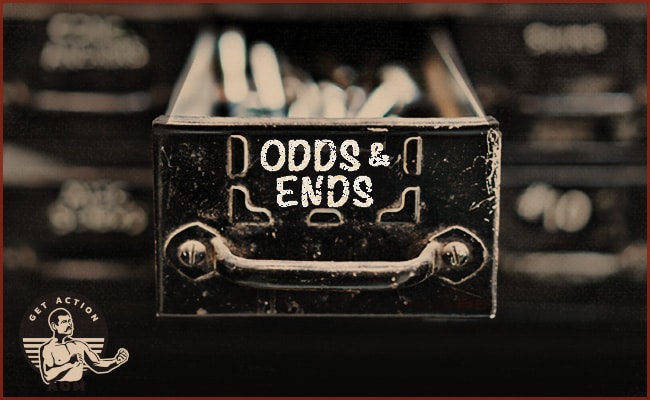 "Cien Años" by Pedro Infante. Pedro Infante was a Mexican singer and actor who was one of the biggest stars of the golden age of Mexican cinema. For us Americans, he was like Frank Sinatra. The character Ernesto de la Cruz in Coco was partly inspired by Infante. "Cien Años" was one of his biggest hits and a great example of ranchera music from that time. It's all about a dude being sad that the mujer he loved forgot all about him. Aye! Qué lástima! Me deule tanto. Check out this playlist on Spotify for more Infante.
Huckberry Mother's Day Store. Mother's Day is on May 14. If you're looking for gift ideas for the moms in your life, check out this nicely curated Mother's Day Store at Huckberry. A couple things that caught Kate's eye: this Cast Iron Always Pan (she's intrigued by the idea of enameled cast iron that browns without the need for seasoning) and these Rose Cut Blue Kyanite Earrings.
Richard Feynman's Letter to His Departed Wife. In researching this week's article on Richard Feynman's 12 favorite problems, we came across this touching letter he penned to his wife who died when she was 25 and he was 27. Feynman wishes he could discuss his favorite problems with her and do fun projects together, as she was "the 'idea-woman' and general instigator of all our wild adventures." He explains to her that while he imagines she'd hope he'd find happiness with someone else, he can't yet move on because "You, dead, are so much better than anyone else alive."
Education of a Wandering Man by Louis L'Amour. Western writer Louis L'Amour was one of the most prolific authors of all time, cranking out over 100 published works. Education of a Wandering Man is his autobiography, which could also be called a love letter to lifelong learning. L'Amour left school at age 15 to roam the world. His various experiences include: hobo on the railroads, Texas cattle skinner, seaman in Singapore and the West Indies, itinerant bare-knuckled boxer, and more. Through it all, he was never far from a book. He read 100-120 of them a year, and by the end of his life he had amassed a library of over 10,000 volumes. Inspiring as all get out, L'Amour's example will have you asking what on earth you're doing with all your free time.
Quote of the Week
What we do upon some great occasion will probably depend on what we already are; and what we are will be the result of previous years of self-discipline.

—H.P. Liddon