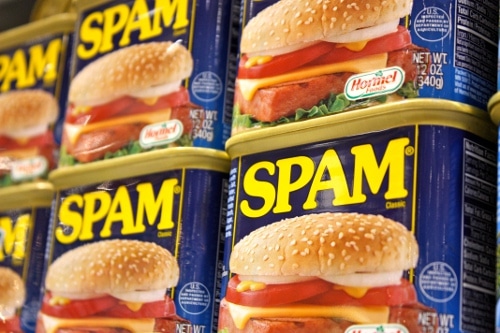 On a typical Friday night, you can find me down at
Robert's Western World
, a honky-tonk located on Broadway Street in downtown Nashville. Robert's has always been considered a Mecca for fans of the Rockabilly and Country & Western genres. Yet, local Nashvillians will also tell you that Robert's has arguably always been the best place to snag a burger after a night of imbibing oneself on rhythms and brews.
So, it was to my delight when Robert's unveiled its "recession special" as the economy tanked in 2008. For a mere five ($5) dollars, patrons could indulge in a fried bologna sandwich, a bag of potato chips, a cold beer, and a choice between either a Moonpie or a Goo Goo Cluster. In a town full of poor, struggling musicians, Robert's "recession special" was a hit. Simple, cheap food–and alcohol–served at a wholesale price.
Nevertheless, after a few years of turmoil the economy seemed to be on an uptick. Of course, this was great news for the American economy. But for those of us here in Nashville, the "recession special" went by the wayside . . . it was back to paying full prices. Bummer.
Nowadays, economists, politicians, and business executives continue to debate whether or not our country is headed for a "double-dip recession," but one need only to look around to realize that we are not living in the golden age. Corporate layoffs, stock market roller coaster rides, and rising fuel and food prices don't make the situation any easier. Most of us are looking around the corner for our own "recession special."
Allow me to help you. The AoM archives offer many articles featuring creative tips and advice on ways to save money. And so naturally, as the food contributor, I felt it time to do my part.
When times are tough, the dollar-menu at fast food restauranteurs can be rather alluring. Sure, it's not a very healthy option, but when you're really in a pinch, calories are calories. But it is possible to give Mickie D's a run for its money and cook cheaply at home. So for those looking for drive-thru alternatives, I'm providing you with some cheap, tasty, and relatively healthy meals that neither come from a box, nor break the bank. In fact, these meals all come in at just under a few dollars per serving–or in fast food terms–less than the cost of a value fry, burger, and drink. So, enjoy some of my "recession specials." I'm heading down to Roberts.
Live simply,
MM
Shopping note: Wholesale clubs (Sam's, Costco, BJ's, etc) are all great places to stock up and save on food. For a minimal yearly membership fee, you can take advantage of some great bargains. However, the quantities of most items tend to be quite large. For small families or singles, consider splitting membership fees, shopping trips, and food items with others to take advantage of these great savings without letting any food go to waste. In addition to regular coupons and membership cards, large retail grocery stores offer additional discounts and savings flyers online. Save gas and time by perusing discounts online before making a trip to the store. Last but not least, don't forget about your local farmers' markets. Oftentimes, you can find great deals on fresh produce grown locally because transportation and storage costs are not included–not to mention locally grown products are often superior in taste.
Cuban Style Rice + Beans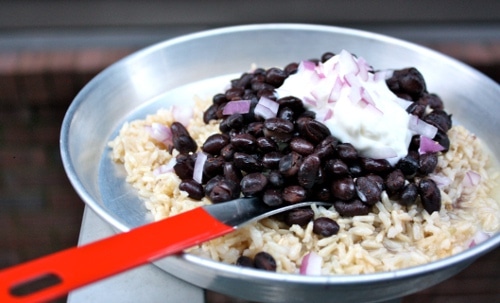 Rice and beans have always been a fixture of low-budget cuisine. I've jazzed these up with a little spice in the seasoning, and rounded them out with some cool sour cream to finish. To save even more money, go with dried beans. Soak them overnight in water, and then simmer for a few hours until tender. (Prep: 5 minutes, Cook: 30 minutes, Serves: 4)
Rice

2 Tablespoons Butter
2 Cups Converted Rice
4 Cups Water
1 Tablespoon Salt
Bring all ingredients to a boil over high heat in a small pot. Allow mixture to continue to boil, until water has just reached the top of the rice mixture. Reduce heat to low, cover, and simmer for 20 minutes until all of the water has evaporated and rice is firm.
Beans

2 16 oz Cans Black Beans
1 Tablespoon Cajun Seasoning
Bring beans to a slow simmer over medium low heat, 20 minutes.
Toppings
½ Small Red Onion, finely diced
½ Cup Sour Cream
To serve, place a generous portion of rice into a shallow bowl. Top the rice with the beans, followed by a tablespoon of sour cream and a sprinkle of red onions.
Slow Cook Pasta Bolognese
For busy families, slow cookers and crock pots are a lifesaver. With minimal prep in the morning, you can let this sauce simmer away all day, and return to a meal that tastes like you've been working in the kitchen for hours. In a pinch, you can also make this recipe on the fly–just allow the sauce to simmer for at least 15 minutes before serving to impart as much flavor as possible. (Prep: 10 minutes, Cook: 6 – 8 hours unattended, Serves: 4)
2 Tablespoons Extra Virgin Olive Oil
1 Medium Onion, finely diced
4 Cloves Garlic, minced
1 lb 80/20 Ground Beef
1 Teaspoon Kosher Salt
1 Teaspoon Fresh Cracked Pepper
1 Bay Leaf
4 Tablespoons Tomato Paste
1 28 oz Can Tomato Puree
1 lb Dried Spaghetti Pasta
Parmesan Cheese, grated
In the morning, add oil to a skillet over medium heat. Add onions and sauté until just tender, about 2 minutes. Next add garlic and ground beef, cook until beef is no longer pink. Remove from heat, drain excess grease, and add to a slow cooker over low heat. Add the next 5 ingredients, mix thoroughly, cover and cook for 6 – 8 hours undisturbed. When ready to serve, boil pasta for 10 – 12 minutes, or al dente. Plate pasta, top with Bolognese sauce, and garnish with parmesan cheese to taste.
Smoked Sausage Jambalaya
A classic comfort food of bayou cooking, this one skillet meal is sure to satisfy the entire family. Pick up a bag of frozen and diced peppers and onions to save time and money. (Prep: 5 minutes, Cook: 30 minutes, Serves 4)
2 Tablespoons Butter
1 Cup Frozen Diced Bell Peppers and Onions
2 Cloves Garlic, minced
1 lb Smoked Sausage, cut into ½ inch diagonal slices
2 Cups Converted Rice
3 Cups Water
1 16 oz Can Stewed Tomatoes
1 ½ Teaspoons Cajun Seasoning
Sliced Green Onion Tops, garnish
Melt butter in a large skillet over medium heat. Carefully add frozen onions and peppers and sauté for 2 – 3 minutes. Add garlic and sausage and cook until sausage is just browned and warmed through, about 5 minutes. Add rice, and stir to coat the grains in the drippings of the pan. Increase heat to high, add water, tomatoes, and seasoning; bring to a boil. When mixture reaches a steady boil, reduce heat to low, cover and simmer for 20 – 25 minutes. Serve, garnish with sliced green onions.
Beef Stroganoff
A play on that boxed version, this satisfying and simple meal is always a family favorite. I've lightened this recipe up a bit by utilizing lean ground beef, reduced fat sour cream, and whole grain pasta. Trust me, your taste buds won't notice a difference, but your waistline will. (Prep: 5 minutes, Cook: 20 minutes, Serves 4)
2 Tablespoons Butter
1 Small Onion, finely diced
8 oz Sliced Mushrooms
1 lb Lean Ground Beef
1 Teaspoon Kosher Salt
1 Teaspoon Fresh Cracked Pepper
1 Cup Beef Broth
1 Cup Sour Cream
1 lb Whole Grain Wide Noodle Pasta
Chopped Parsley, garnish
Melt butter in a large skillet over medium-high heat. Sauté onions and mushrooms for 5 minutes. Next add beef, season with salt and pepper, and cook until no longer pink. Add broth and bring to a slow simmer. Reduce heat to low, stir in sour cream. Meanwhile cook pasta for 10 – 12 minutes, or just short of al dente. Drain pasta and add into the stroganoff mixture. Toss and continue to cook for another few minutes. Plate mixture into shallow bowls and garnish with chopped parsley. Serve.
SPAM and Green Pea Risotto
Sure, Italians everywhere are probably crying foul over my use of SPAM in their beloved risotto. Truth be told, I know quite a few people who will actually admit that eating SPAM is a guilty pleasure. In any event, we are making the most of this cheap, canned meat by giving it a little bit of texture in the beginning stages of the recipe. After that, we'll build a classic risotto, utilizing Mahatma Brand Valencia rice, as it's about half the price of most Arborio versions you'd typically use in risotto. (Prep: 5 Minutes, Cook: 35 minutes, Serves 4)
4 Tablespoons Extra Virgin Olive Oil, divided
1 12 oz Can SPAM, diced into ½ inch squares
3 Cloves Garlic, minced
2 Cups Mahatma Short Grained Valencia Rice
8 Cups Chicken Stock, warmed
½ Teaspoon Salt
½ Teaspoon Fresh Cracked Pepper
1 ½ Cups Frozen Green Peas
Parmesan Cheese, grated
Add two tablespoons of olive oil into a skillet over medium high heat. Add SPAM, cook for a minute or two, until browned, stir well, and cook for another few minutes; remove from pan. Next, add the remaining oil followed by the garlic; sauté 1 minute. Mix in the rice, and using a wooden spoon, mix the rice and coat the grains in oil, 2 minutes. Begin adding 1 cup of stock at a time, allowing the mixture to simmer until more broth is needed; keep stirring. Continue in this manner until the rice is al dente and creamy, approximately 25 – 30 minutes. Note: Not all of the broth may be used. When the mixture is creamy and the rice is cooked, fold in the peas and cooked Spam until heated through. Remove from heat, garnish with cheese, and serve.
______________________________
Do you have any recipes for great frugal meals? Share them with us in the comments!
Tags:
Recipes