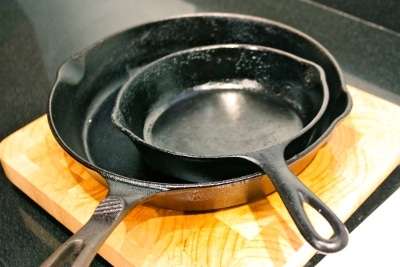 Editor's note: This is a guest post from Matt Moore.
Last week, I casually mentioned to a friend that I had gone to see a movie by myself. Personally I've never thought it strange to catch an afternoon matinee without accompaniment. Besides, watching a movie is a great exercise in time out of mind: I firmly believe it's an activity that does not require assistance from others.
Apparently, her sentiment was not the same. I was, as she put it, "one of those sad people." Her mental picture of my experience must have been much different than my reality: legs propped, casually dressed, and enjoying Sour Patch Kids until my tongue resembled sand paper.
The fact of the matter is that it's okay to do certain things on your own. Though society and our friends may tell us differently, there's nothing wrong with enjoying a movie, taking a walk, or eating a meal alone. As much as I'd like to say otherwise, writing a book on entertaining and dining with others (Have Her Over for Dinner: A Gentleman's Guide to Classic, Simple Meals) does not mean my kitchen is a revolving nightly scene of endless girls and extravagant meals. I still eat alone. I'll even go a step further by admitting that I sometimes prefer to enjoy a meal without distractions.
At the risk of sounding cynical, let me make clear that great food shared in the company of others is one of life's true pleasures. Reality, however dictates that sometimes we may not always be able to 'line up' a dining partner. Between work, travel, family, and personal schedules we are bound to sometimes eat alone. Getting back to the movies, don't let Lloyd Christmas' quote, "Man, you are one pathetic loser" to Harry Dunn in Dumb and Dumber take root in your mind. Instead, use this opportunity as a chance to unwind and relax from a busy day.
For many of you, the idea of cooking for yourself doesn't really sound like a time to unwind and relax. I get it. With all of the restaurants and take-out options at your fingertips, it's easier to let someone else do the work. However, you should take note that these establishments typically do not have your best interests at heart. The truth is it's easy to make food taste good. Mom's trick of adding cream, butter, and cheese always made us eat our vegetables. It's likely that your favorite restaurant meals are laden with extra fat and calories.
I prefer to take a realistic and health conscious approach to dining alone. Realizing that simplicity is a must, I've outlined 5 meals that can all be prepared relatively quickly using only one skillet. My goal is to provide you with straightforward, healthy meals that can be made without much hassle or clean up.
Turn on some tunes, crack open a cold beer or pour a glass of wine, and get to work.
After all, we are not sad people. We are realistic.
Tools of the Trade
In order to maximize flavor and results, I suggest you invest in my favorite piece of cookware: the cast iron skillet. Cast iron has been used in kitchens for centuries. It cooks items evenly, retains heat, and it is believed to keep you healthy by supplying a steady dose of iron to your diet. Above all, it's fairly inexpensive and lasts a lifetime when cared for properly.
The following recipes will involve using the skillet on both the stovetop and in the oven. Using the skillet on the stovetop over high heat is perfect for pan searing ingredients to create great textures. For thicker cuts of meat or for dishes that require more cooking time, the skillet can be placed directly into a heated oven. Always use an oven mitt to prevent burns when removing pans from the oven or stovetop.
Nowadays, most skillets come pre-seasoned from the manufacturer. It's important to never put your cast iron cookware in the dishwasher. Instead, rinse the skillet with warm water, using soap only if necessary. Between uses, coat the pan with a bit of oil to prevent rust from forming.
Seasoning cast iron cookware is fairly simple. Make sure your skillet is completely clean and dry. Coat the entire skillet in a thin layer of vegetable shortening and place the cookware, upside down, into an oven heated to 350 – 400 degrees F for one hour. Turn off the oven and allow the cookware to cool. After a few hours, carefully remove the cookware from the oven and store for later use.
Lodge Cast Iron out of South Pittsburgh, Tennessee makes great cast iron cookware in all shapes and sizes. For high-end, including professional cookware, check out Le Creuset.
5 Simple, One Skillet Meals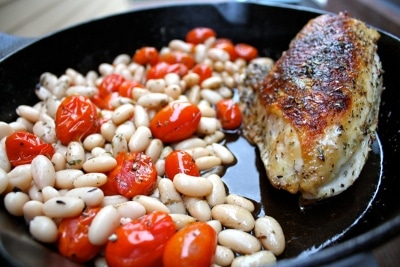 Pan Roasted Chicken Breast with Roasted Tomatoes and White Beans – this rustic, Italian inspired dish evokes all of the flavors of comfort food without the guilt. Utilizing a bone-in chicken breast adds flavor and keeps the chicken moist. We create a nice crispy skin on the outside of the chicken by pan searing the breast, skin side down, on the stovetop. After that, the flavors meld together while finishing off and roasting in the oven. This dish pairs well with a crisp Pilsner (Beer) or dry Chardonnay/Sauvignon Blanc (Wine).
2 Tablespoons Extra Virgin Olive Oil
1 8 oz Bone-in Chicken Breast, skin on
Kosher Salt
Fresh Cracked Pepper
Italian Herb Seasoning Blend
1 Cup Cherry Tomatoes
4 Cloves Garlic, peeled
1 Cup Canned Great Northern/Navy/White Beans, drained
Preheat oven to 425 degrees F. On the stove top, preheat skillet over medium high heat; add oil and heat until oil shimmers in the pan and just begins to smoke. Add chicken breast, skin side down, and sear (do not touch) for 3 minutes. Flip chicken breast, and add cherry tomatoes and garlic cloves to pan. Season the entire dish lightly with kosher salt, fresh cracked pepper, and Italian herb seasoning. Add the skillet to the oven and roast, 18 – 22 minutes, internal temperature should be 160 degrees F. With 5 minutes remaining, add beans to skillet with the tomatoes, stir and add back into the oven to heat through. Remove skillet from oven and plate, discarding garlic cloves. Serve.
Skirt Steak Stir-Fry with Vegetables and Brown Rice – though I always strive to use fresh ingredients, sometimes my schedule demands otherwise. In these instances, I like to rely on a few modern conveniences. Quite honestly, frozen vegetables and fruits are picked and frozen at their peak of freshness, retaining their natural vitamins and ensuring outstanding flavor. Ready rice is a life saver in a pinch, especially for preparing brown rice as the conventional method typically takes 35 – 40 minutes. Brown rice is nuttier in flavor, and it has a lower glycemic index (better carbohydrates) and contains more fiber than processed white rice. One word of caution: avoid using vegetables or rice that come pre-seasoned, as the sodium content is typically well beyond your suggested daily value. By combining technology with practicality, you will have this meal out in no time. Pair with a dry Pilsner/Lager (Beer) or Pinot Noir (Wine).
2 Tablespoons Sesame or Canola Oil
1 Clove Garlic, minced
2 Cups Frozen Stir Fry Vegetable Blend
1 6 – 8 oz Skirt or Flank Steak, cut into ¼ inch thick strips, across the grain
Kosher Salt
Fresh Cracked Pepper
2 Teaspoons Low-Sodium Soy Sauce, divided
½ Package Uncle Beans Ready Rice™, Whole Grain Brown
Scallions, sliced
Heat a cast iron skillet over medium high heat on the stove top; add oil and heat until oil shimmers in the pan and just begins to smoke. Carefully add garlic and frozen vegetables (avoid adding vegetables with any ice crystals) and sauté for 2 – 3 minutes until just tender and cooked through. Next, add strips of steak, lightly season ingredients with salt, pepper, and 1 teaspoon of soy sauce, and cook for 1 – 2 minutes for medium rare/medium. Remove items to a serving plate and add the rice into the skillet. Season the rice with remaining tablespoon of soy sauce and cook, stirring often, until warmed through; about 1 – 2 minutes. Remove rice from skillet and plate alongside stir fry vegetables and steak. Garnish with sliced scallions and serve with soy sauce on the side. Serve.
Roasted Salmon with Sliced Sweet Potatoes and Asparagus – when preparing entire meals in one skillet, it's important to utilize different techniques and divide ingredients amongst the surface. In this recipe, we will begin by utilizing the entire surface of the skillet to cook the potatoes. As we add more ingredients, we divide each area of the pan until we finally have 3 distinct cooking areas for each ingredient. This entire dish is cooked in the oven, adding our ingredients at different intervals to ensure each item is cooked appropriately. Pair with Pale Ale (Beer) or Zinfandel (Wine).
1 Sweet Potato, diced into ½ inch cubes
2 Tablespoons Extra Virgin Olive Oil
Kosher Salt
Fresh Cracked Pepper
1 8 oz Salmon Filet
1 Handful Fresh Asparagus, stem removed, sliced in half
½ Lemon, juiced
Preheat oven to 425 degrees F. Lay out diced potatoes into single layer in the cast iron skillet. Drizzle with oil and season potatoes with kosher salt and fresh cracked pepper; toss to coat evenly. Add skillet to oven and roast potatoes 20 – 25 minutes. Meanwhile, coat the salmon filet and asparagus in a thin layer of remaining olive oil and season lightly with kosher salt and fresh cracked pepper. Remove skillet from oven, push potatoes to one side and add salmon filet, flesh side down to the surface of the skillet. Return skillet to oven and roast 3 – 4 minutes. Remove skillet from oven, flip salmon filet, and place to the side to create room for asparagus. Add asparagus to the skillet and drizzle the juice of ½ lemon over the asparagus and salmon filet. Return to oven and roast for another 5 – 7 minutes, or until asparagus is tender and salmon is cooked through. Remove entire skillet from oven and plate. Serve.
Pan Seared Pork Chops with Roasted Mixed Vegetables – one of my favorite parts of cooking everything together in one skillet is the blending of flavors from different ingredients. In this instance, the savory flavor of the pork chop and its juices add a nice essence to the roasted vegetables. This is a delicious, low carbohydrate meal that pops with incredible color and flavor. Similar to the last recipe, we sear the pork chop on the stove top to lock in all the juices. After that, we simply finish by roasting the chop with the vegetables in the oven. Pair with Brown Ale (Beer) or Merlot/Syrah Blends (Wine).
½ Yellow Squash, sliced into ½ inch slices
½ Zucchini, sliced into ½ inch slices
1 Red Pepper, sliced into ½ inch slices
¼ Red Onion, sliced into ½ inch slices
2 Tablespoons Extra Virgin Olive Oil
1 Tablespoon Balsamic Vinegar
Kosher Salt
Fresh Cracked Pepper
1 Large 8 – 10 oz Bone-in Pork Chop
Preheat oven to 425 degrees F. Combine the first 6 ingredients into a mixing bowl, season with kosher salt and fresh cracked pepper, and toss to ensure an even coat; set aside. On the stove top, preheat skillet over medium high heat; add another 2 tablespoons of oil and heat until oil shimmers in the pan and just begins to smoke. Add pork chop and sear (do not touch) for 2 minutes. Flip chop, and season with kosher salt and fresh cracked pepper. Add vegetables around the pork chop and add the skillet into the oven; roast for 15 – 20 minutes, or until chop is firm to the touch and vegetables are tender and just beginning to brown. Remove skillet from the oven and plate. Serve.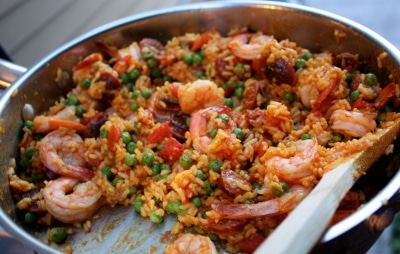 Shrimp and Chorizo Paella – though this traditional meal is typically used to entertain large groups of people, it's an incredibly comforting and satisfying dish to end a busy day. By utilizing some store bought ingredients and simplifying the process, you can enjoy this meal on your own, including enough leftovers for lunch later in the week. Pairs well with Amber Ales (Beer) or Rioja/Malbec (Wine)

½ lb Spanish Chorizo Sausage, sliced into ½ inch slices
1 Tablespoon Extra Virgin Olive Oil
½ Medium Yellow Onion, finely diced
1 5 oz Package Mahatma™ Saffron Yellow Rice
1 Cup Canned Petite Diced Tomatoes
2 Cups Chicken Stock
½ lb Large Shrimp, peeled and deveined with tails on
1 Cup Frozen Green Peas, thawed
On the stove top, heat skillet over medium high heat; add chorizo and brown for 2 – 3 minutes. Remove chorizo and place on a paper towel lined plate to drain excess grease and cool. Add oil and onions to the skillet and cook for 3 – 4 minutes, or until onions become translucent and tender. Next, add entire contents of the rice package to the skillet, and stir well to coat the grains in oil. Next, add tomatoes and stock and bring to a boil. When mixture reaches a boil, reduce heat to medium low and simmer for 20 – 25 minutes. With 10 minutes remaining on the rice, fold in the chorizo, shrimp, and peas (allowing the ingredients to 'steam' in the rice). Continue to cook until the rice is al dente and the shrimp are bright pink and firm. Remove from heat and plate. Serve.
______________________________________________________________
Matt Moore is the author of the cookbook Have Her Over for Dinner: A Gentleman's Guide to Simple, Classic Meals. You can check out more of Matt's great recipes over on his blog of the same name.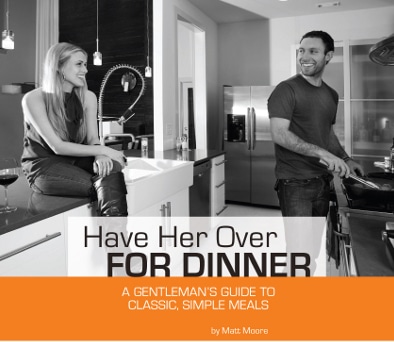 Tags:
Recipes