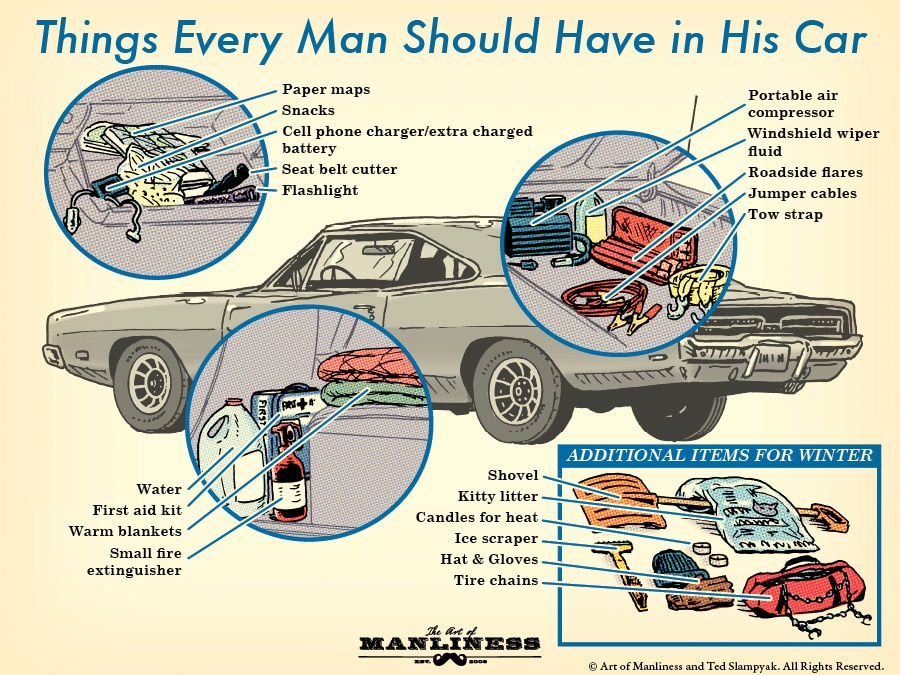 When I was growing up, I noticed that my dad kept his car well-stocked with supplies. A lot of the equipment was for his job busting poachers as a game warden, but most of the things were for emergency situations. And there were plenty of times when my dad was able to put those supplies to work. Be it a maintenance issue or a snowstorm, keeping these items in your vehicle can save you time and discomfort, and perhaps even your very life, should an emergency arise.
Things every man should have in his car
– Snacks
– Cell phone charger/extra charged battery
– Seat belt cutter
– Flashlight
– Portable air compressor
– Windshield wiper fluid
– Roadside flares
– Jumper cables
– Tow strap
– Water
– First aid kit
– Small fire extinguisher
– Shovel
– Kitty litter
– Candies for heat
– Ice scraper
– Hat & gloves
– Tire chains
Like this illustrated guide? Then you're going to love our book The Illustrated Art of Manliness! Pick up a copy on Amazon.